After "Venomizing" Groot, Hot Toys turns their attention to another Marvel superhero: Iron Man! Inspired by Marvel's Spider-Man: Maximum Venom animated series, this new 1/6th scale Artist Collection depicts a Venomized Iron Man!
Designed by popular and iconic Hong Kong comic artist Khoo Fuk-Lung, Venomized Iron Man features two newly developed head sculpts including a half Venom and half Iron Man appearance with LED light-up function, and a Venom head sculpt; two interchangeable long protruding tongues for different expressions; high-structural diecast components and Iron Man armor parts painted in metallic red and gold colors; arms and legs partially crafted with vinyl material, skillfully painted in black with beautiful metallic bluish purple sheen; multiple articulated pincers outstretched from the chest; LED light-up function on Arc Reactor and left palm; as well as matching interchangeable hands specially designed for Venom and Iron Man half.
Moreover, a Special Edition available in selected markets will include a symbiote sword that's interchangeable onto the incredible figure, recreating the times when Venom turns his symbiote into a weapon.
Release date: Approximately Q2 – Q3, 2022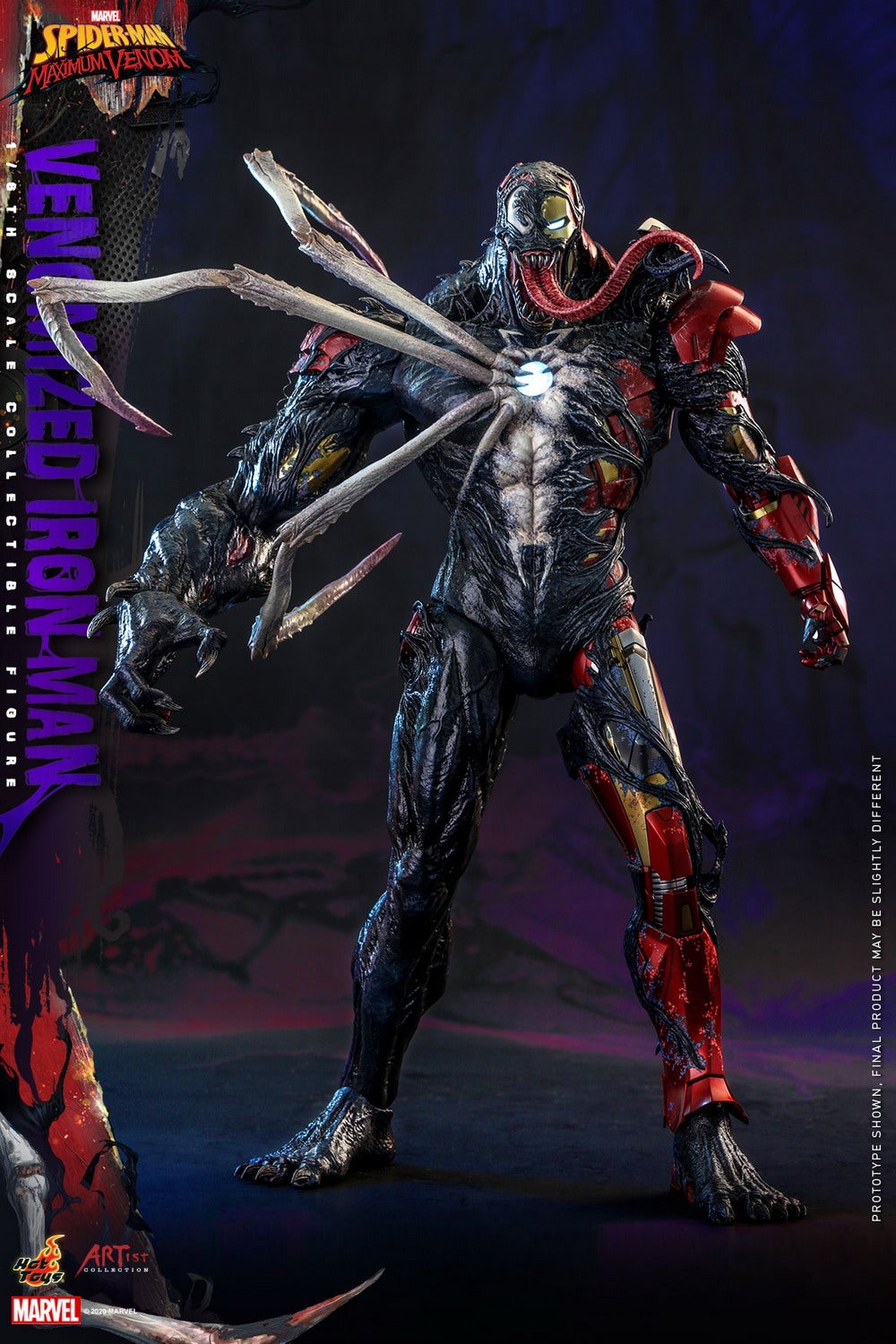 Hot Toys – [AC04] – Marvel's Spider-Man: Maximum Venom – 1/6th Venomized Iron Man Collectible Figure
– Hong Kong graphic designer and illustrator, Khoo Fuk-Lung (邱福龍)'s distinctive art style mixes with the design of Venomized Iron Man from Marvel's Spider-Man: Maximum Venom
– One (1) newly developed head sculpt of half Venom and half Iron Man with LED light-up function on left eye (white light, battery operated)
– One (1) newly developed Venom head sculpt
– Two (2) pieces of interchangeable gestured protruding tongue
– Skillfully painted with white eyes and sharp silver teeth, accurate facial expressions with detailed skin texture
– Approximately 35cm tall
– Contains diecast material
– Arms and legs are partially crafted with vinyl material
– Giant muscular black-skinned body featuring detailed skin texture and tendons
– Metallic red, gold and silver colored painting on the Iron Man armor design
– Arc reactor on chest with LED light-up function (white light, battery operated)
– Three (3) pieces of articulated pincers
– Three (3) pieces of interchangeable Iron Man left hands including:
– One (1) fist
– One (1) hand with articulated fingers and light-up repulsors (white light, battery operated)
– One (1) battle hand with light-up repulsor (white light, battery operated)
– Two (2) pieces of interchangeable Venom gestured right hands
Accessory:
– A specially designed character themed figure base with graphic card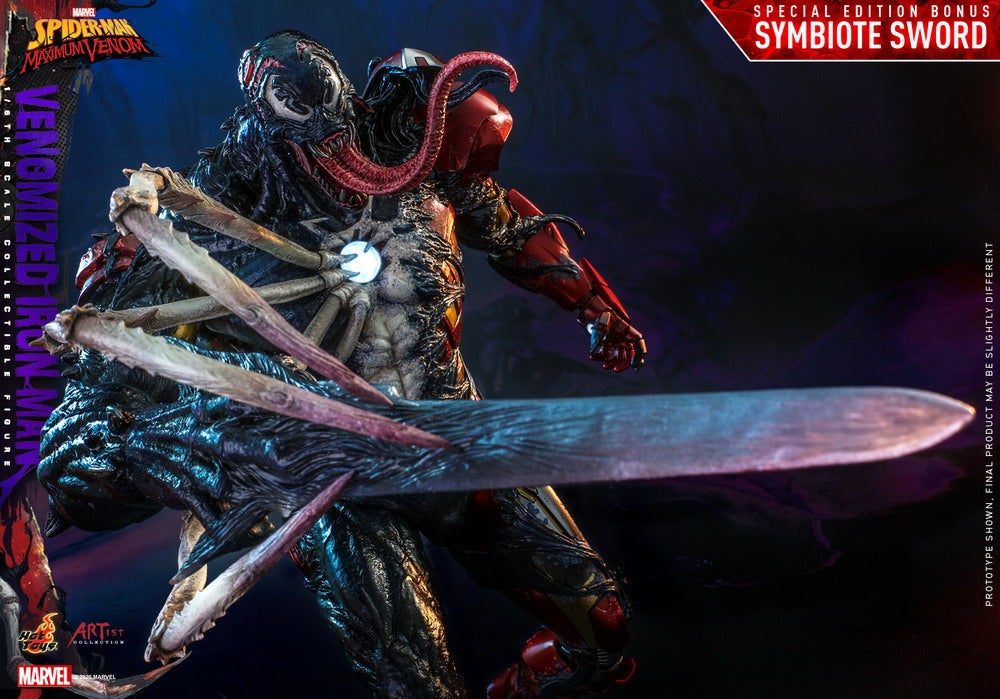 Exclusive Bonus Accessory for Special Edition:
– One (1) symbiote sword interchangeable for the right hand
Artists:
– Figure Designed by Khoo Fuk-Lung (邱福龍)
– Figure Sculpted by Joseph Tsang
– Figure Painted by Lok Ho
**Prototype shown, final product may be slightly different
**Product concept art by James Khoo Fuk-Lung
**Battery included for collectible figure, button cells are required
**Product details can subject to change without further notice
---