It's almost September, which means the September PREVIEWS catalog is on its way to comic shops around the world! In those pages you'll find the latest offerings from Diamond Select Toys, including a dozen items you'll have in your hot little hands come February. Toys based on Avatar: The Last Airbender, Disney, Iron Giant and Marvel Comics; busts and statues based on Kingdom Hearts and Marvel Comics; and PVC dioramas based on Marvel Comics, Mortal Kombat and Castlevania! It's the best of all worlds! Read on for details, then pre-order through your local comic shop!
Disney D-Formz PVC Figurine Counter Display
Time for Disney to D-Form! The D-Formz line of super-cute PVC figurines expands into the Disney Universe with this all-new assortment. Featuring stylized sculpts of Tron, Jack Sparrow, VINCENT, Kermit, the Mad Hatter and the Rocketeer, each approximately 3-inch figure comes packaged in a full-color blind box. With 12 figures in every counter display, you're guaranteed to get two of each figure! Designed by Barry Bradfield, sculpted by Rocco Tartamella. (Item #SEP201917, SRP: $7.99/ea.)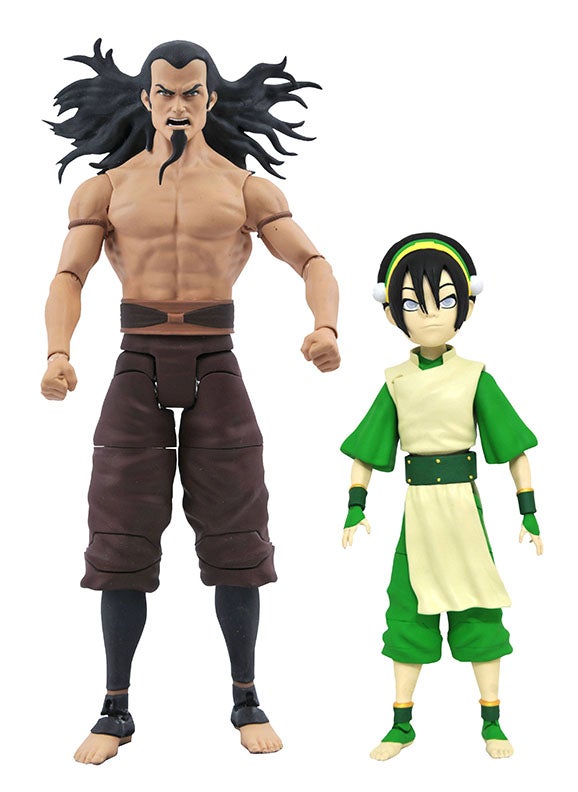 Avatar: The Last Airbender Deluxe Action Figures Series 3 Asst.
Get ready to feel the earth move! Fan-favorite earthbender Toph joins the action figure line based on Avatar: The Last Airbender in this epic third assortment! Toph is joined by Firelord Ozai, dressed as he appears in the Battle at Wulong Forest. Each 7-inch-scale figure features approximately 16 points of articulation and includes alternate hands and element-bending accessories. Packaged in deluxe window box packaging. Designed by Eamon O'Donoghue, sculpted by Richard Force! (Item #SEP201915, SRP: $24.99/ea.)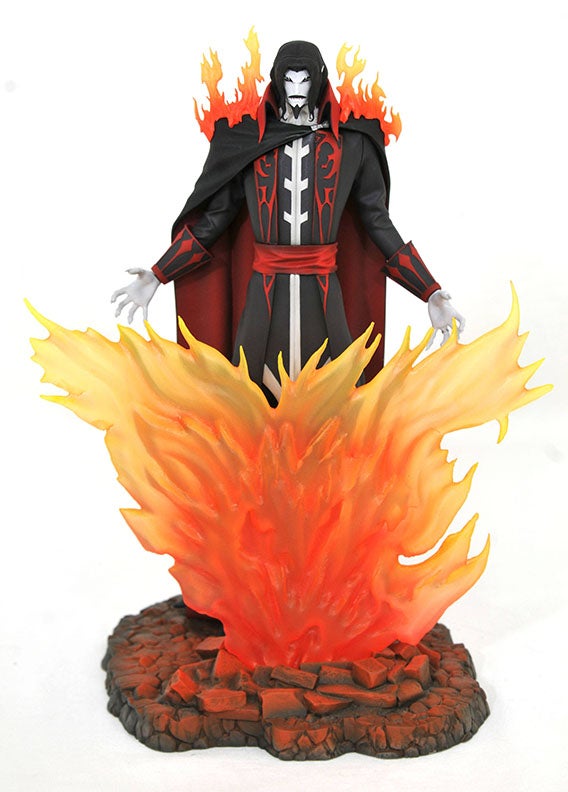 Castlevania Gallery Dracula PVC Diorama
A Diamond Select Toys release! The antagonist of the Castlevania animated series on Netflix, Dracula rises from the flames in this dramatic Gallery Diorama. Crafted from high-quality PVC, it features detailed sculpting and paint applications and comes packaged in a full-color window box. Designed by Caesar, sculpted by Alterton. Formerly a GameStop exclusive. (Item # SEP201927, SRP: $49.99)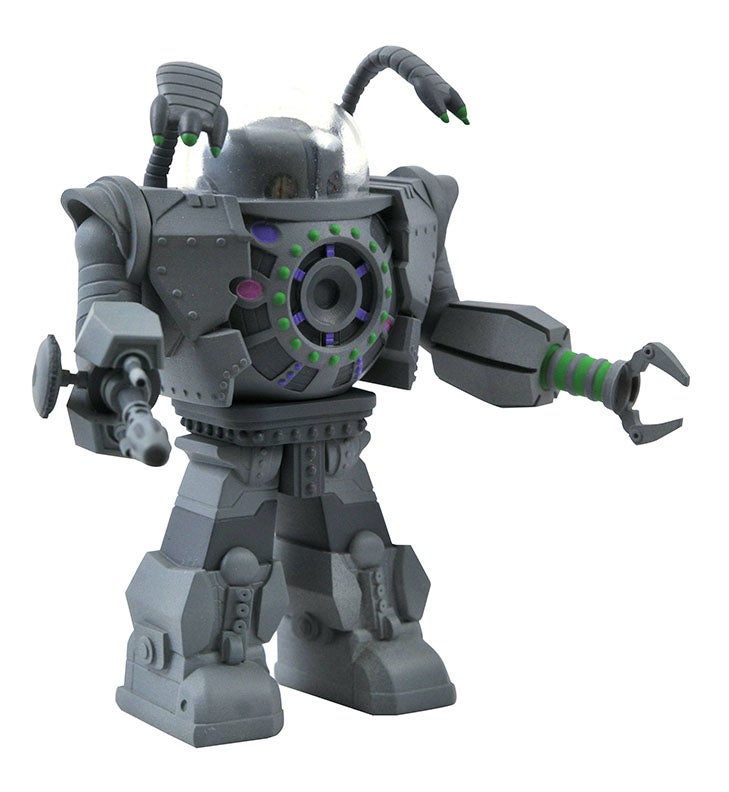 Iron Giant Vinimates Attack Mode Iron Giant 4" Vinyl Figure
The Iron Giant goes into full-on Attack Mode in this all-new Vinimates vinyl figure! Depicting him with his dome up, chest plate open and all weapons live, no one is safe from his extraterrestrial onslaught! Measuring approximately 4 inches tall, this vinyl figure features detailed sculpting and paint applications, and comes packaged in a full-color window box. Designed by Barry Bradfield! (Item #SEP201924, SRP: $9.99)
Legends in 3D Video Game Kingdom Hearts Mickey Mouse 1/2 Scale Bust
Hail to the King! Kingdom Hearts' resident royal Mickey Mouse gets the Legends in 3D treatment with this half-scale resin bust. Measuring approximately 10 inches tall, it depicts a portrait of Mickey in his black Organization 13 robes atop a pedestal. Limited to only 1,000 pieces, it comes packaged in a full-color box with a certificate of authenticity. Designed by Joe Allard, sculpted by Varner Studios! (Item #SEP201916, SRP: $175.00)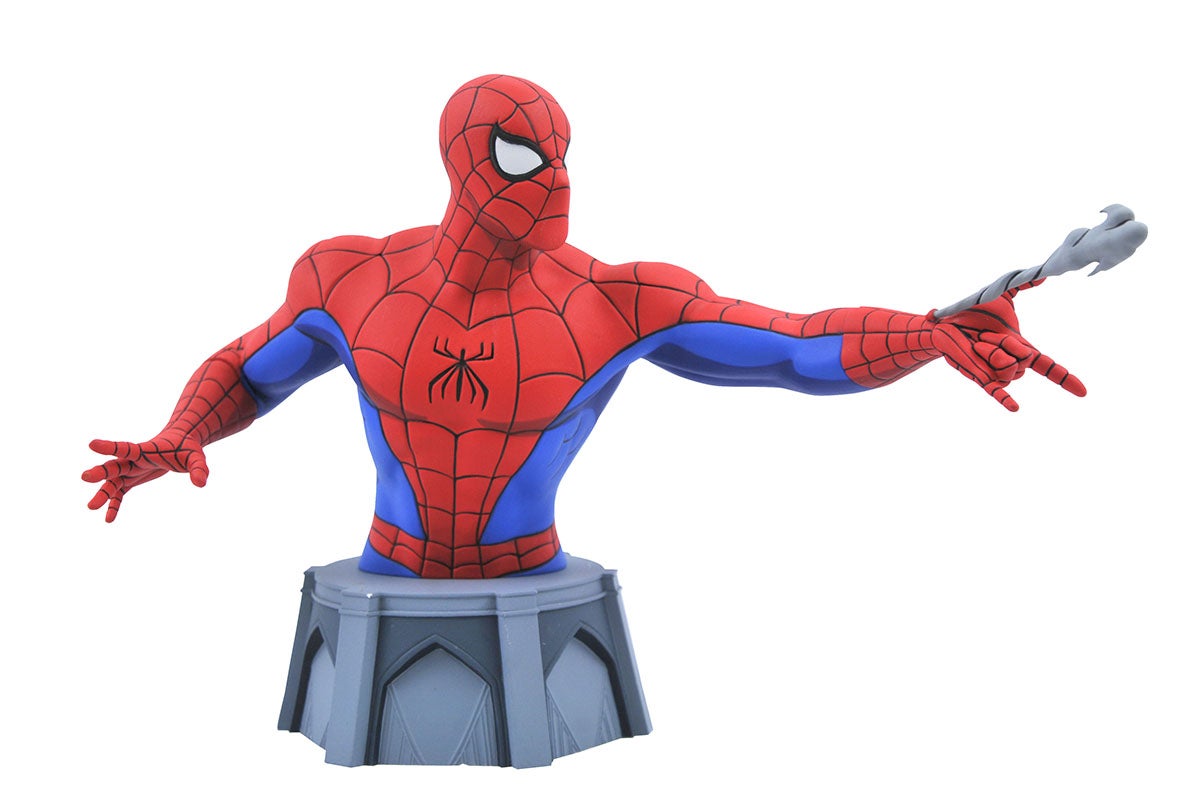 Marvel Animated Spider-Man 1/7 Scale Resin Bust
Cue guitar riff! The theme song to Spider-Man: The Animated Series will definitely run through your head every time you look at this resin bust based on the hit cartoon! Sculpted in 1/7 scale and standing approximately 6 inches tall, this bust depicts a 1990s animated-style Spidey spraying a webline and preparing to swing. Limited to only 3,000 pieces, it comes packaged in a full-color box with a certificate of authenticity. Designed by Barry Bradfield, sculpted by Paul Harding! (Item #SEP201920, SRP: $59.99)
Marvel Comic Gallery Days of Future Past Wolverine PVC Diorama
Fight the future! Sporting his look from the dystopic future that is the "Days of Future Past" storyline, Wolverine rocks a leather jacket and grey temples in this all-new Gallery Diorama! With his claws fully extended and standing on some rubble, Logan looks ready for a tussle, and stands approximately 9 inches tall. This piece is made of high-quality PVC and comes packaged in a full-color window box. Designed by Caesar, sculpted by Alejandro Pereira. (Item #SEP201921, SRP: $49.99)
Marvel Comic Premier Collection Silver Surfer Resin Statue
Watch out Thor, the Surfer is coming! Swooping down to the surface at incredible speed, the Silver Surfer rides his shimmering surfboard in this dynamic statue. Hand-sculpted by Clayburn Moore based on a classic Marvel Comics cover, this statue pairs well with the Premier Collection Thor statue, and stands approximately 12 inches tall. It is limited to 3,000 pieces and comes packaged in a full-color box with a certificate of authenticity. (Item #SEP201922, SRP: $175.00)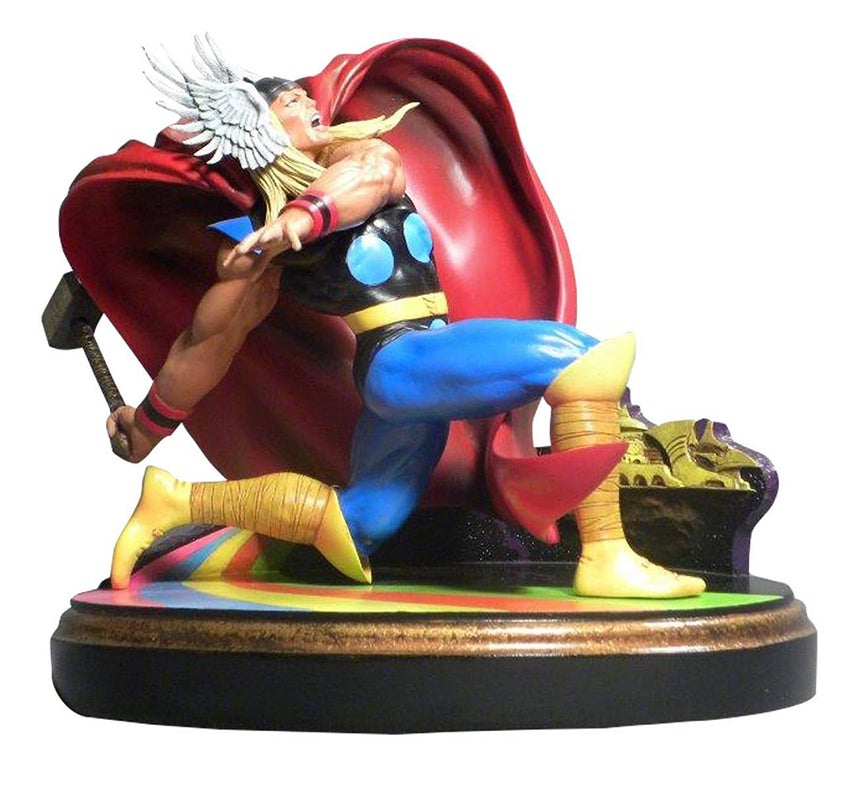 Marvel Comic Premier Collection Thor Resin Statue
Thou shalt not pass… without checking out this statue! The second full-size resin statue in the all-new Marvel Premier Collection is none other than Thor, God of Thunder! Based on a famous 1969 cover image, Thor wears his timeless classic outfit and swings his hammer as if preparing to hurl it skyward. Crouching on a circular base designed to represent Bifrost, the rainbow bridge of Asgard, this approximately 9″ statue of Thor is limited to only 3,000 pieces, and comes packaged with a certficate of authenticity in a full-color box. Sculpted by Clayburn Moore! (Item #OCT152201, SRP: $150.00)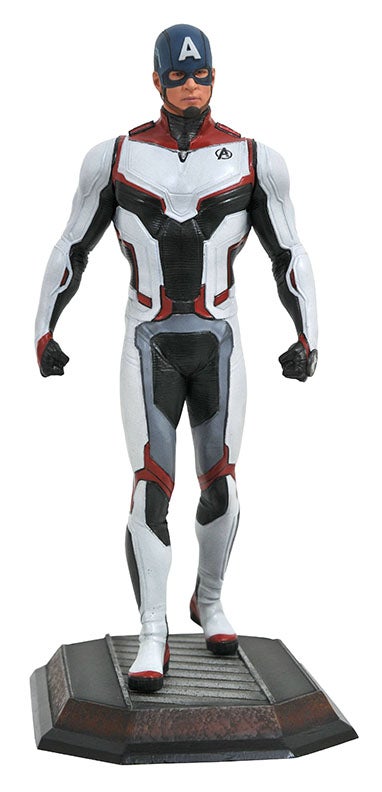 Marvel Movie Gallery Team Suit Captain America PVC Diorama
Whatever it takes! Captain America suits up to avenge his fallen comrades in the newest Marvel Gallery PVC Diorama from Diamond Select Toys! Based on his appearance in Avengers: Endgame, Cap strides towards the viewer in his white Quantum Realm suit in this approximately 9-inch sculpture featuring the likeness of Chris Evans. Crafted of high-quality PVC, it features detailed sculpting and paint applications, and comes packaged in a full-color window box with fifth-panel door. Sculpted by Rocco Tartamella! Formerly a GameStop exclusive. (Item #SEP201926, SRP: $49.99)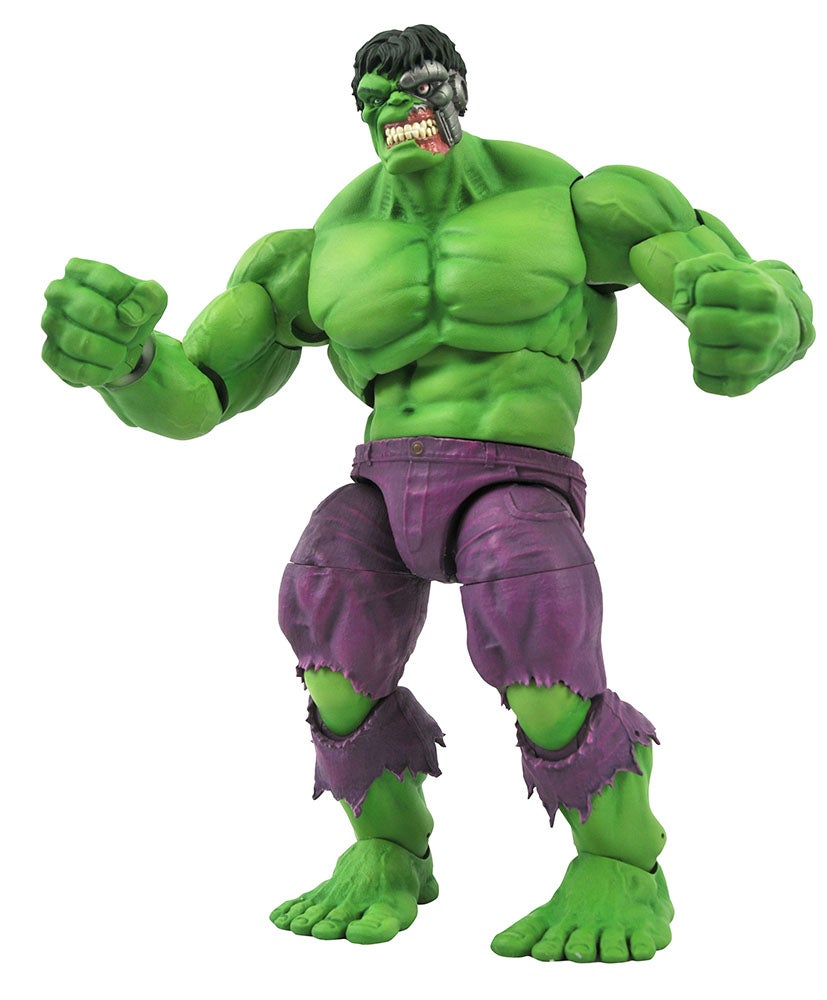 Marvel Select Rampaging Hulk Action Figure
It's the Hulk of a lifetime! For years, fans have asked Diamond Select Toys to make a classic-style Hulk action figure, and now they have! Measuring approximately 9.75 inches tall with 16 points of articulation, this iconic character will become a centerpiece in any Marvel figure collection. Includes one set of alternate fists and an alternate Cosmic Hulk head. It comes packaged in display-ready Select figure packaging with side-panel artwork for shelf display. Designed by Yuri Tming, sculpted by Gentle Giant Studios. (Item #SEP201919, SRP: $29.99)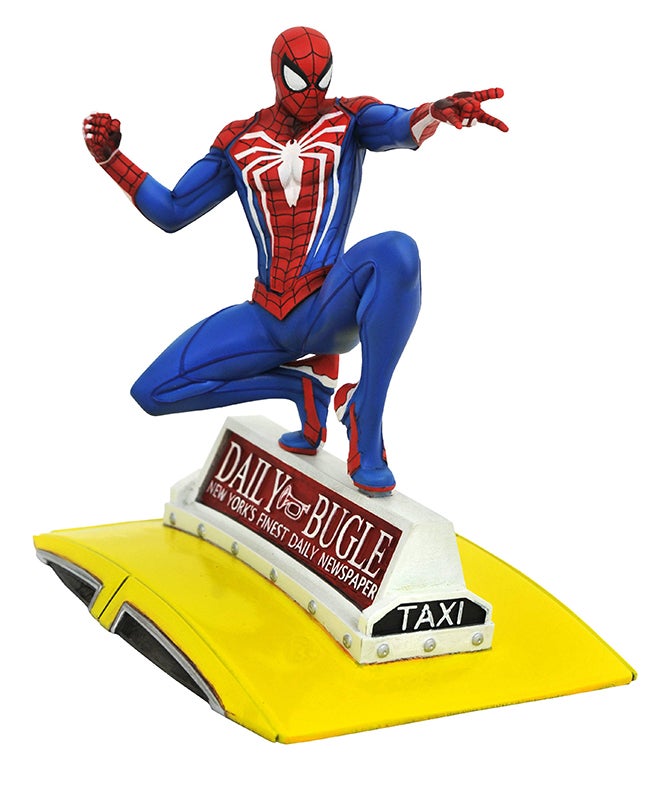 Marvel Video Game Gallery Spider-Man on Taxi PVC Diorama
The hit video game Spider-Man is now the newest Gallery Diorama! The web-slinger hitches a ride to the hit sculpture line in style, crouched on a Daily Bugle sign atop a New York City cab in his new, already-iconic costume. Measuring approximately 9" tall, this sculpture of Spidey preparing to fire a web is made of high-quality PVC and comes packaged in a full-color window box. Sculpted by Cortes Studios. Formerly a GameStop exclusive. (Item #SEP201925, SRP: $49.99)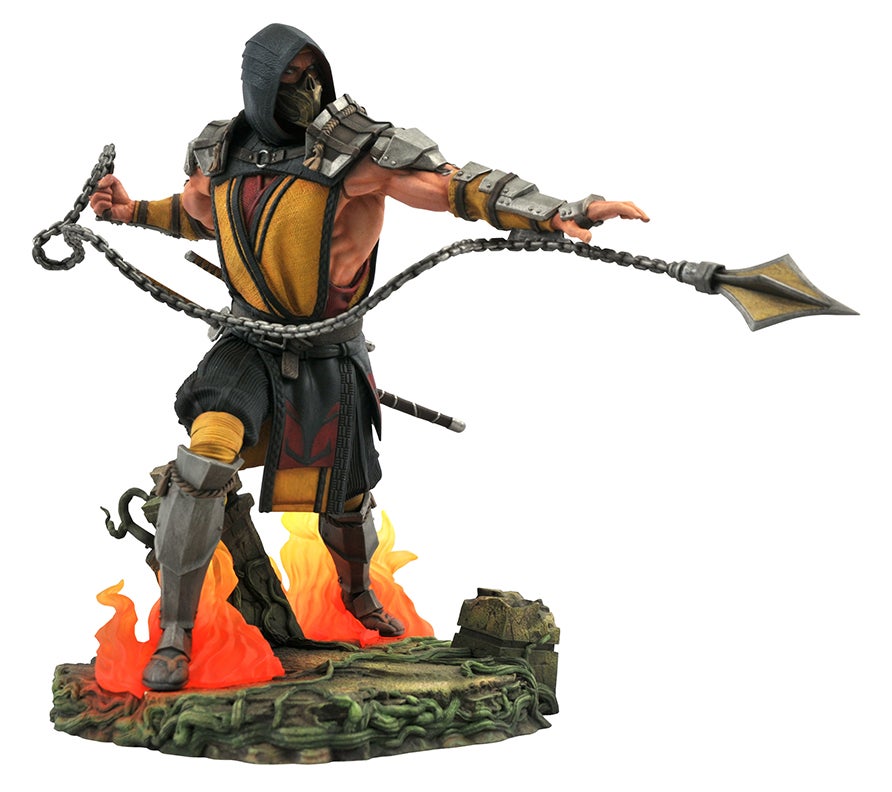 Mortal Kombat Gallery Scorpion Deluxe PVC Diorama
Get over here! From the hit Mortal Kombat video game franchise, wearing his outfit from Mortal Kombat 11, Scorpion launches his kunai (chain-spear thingy) at an opponent in this dynamic, deluxe Gallery Diorama. Cast in high-quality PVC, it features detailed sculpting and paint applications, and comes packaged in a full-color window box. Designed by Nelson X. Asencio, sculpted by Salvador Gomes. (Item #SEP201918, SRP: $74.99)
---