Hot Toys presents Wonder Woman as she appears in her upcoming movie, Wonder Woman 1984. This version joins Hot Toys' previous WW84 Golden Armor version (see our story HERE).
Beautifully crafted based on the appearance of Gal Gadot as Diana Prince/ Wonder Woman in the movie, the 1/6th scale figure features a newly developed head sculpt with astonishing likeness and long curly dark brown hair sculpture, Wonder Woman's signature tiara, a specialized body tailored with enhanced articulation on shoulders, Wonder Woman's iconic blue and red battle suit, a pair of Wonder Woman's signature "Bracelets of Submissions", her "Lasso of Truth", sparkling effect accessories in different sizes, and a figure stand.
Furthermore, a Special Edition available in selected markets will include as additional Lassoing in Motion as bonus item exclusively for collectors.
Release date: Approximately Q1 – Q2, 2022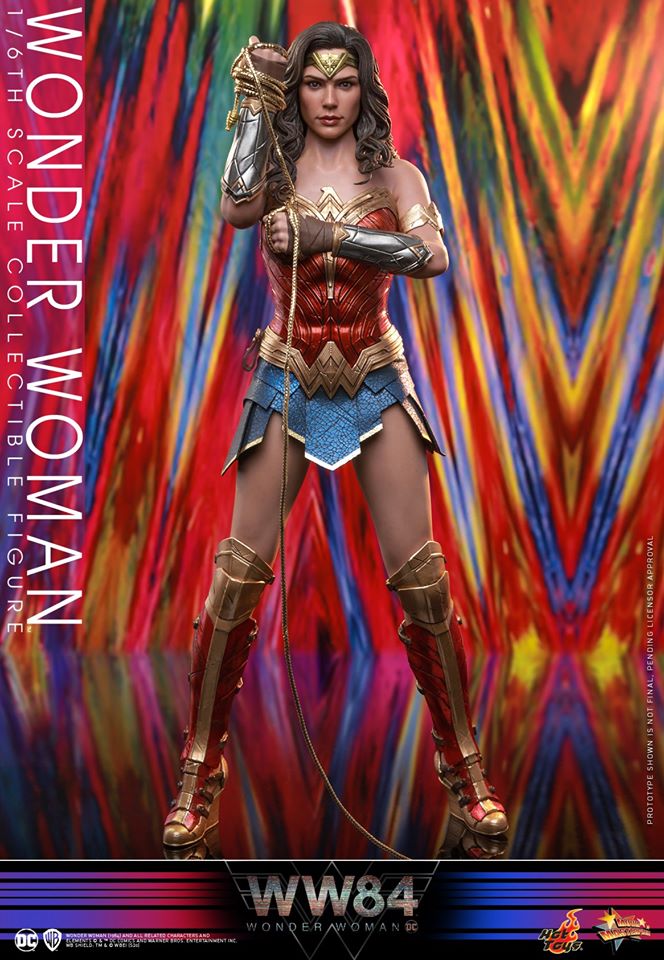 Hot Toys – MMS584 – Wonder Woman 1984 – 1/6th scale Wonder Woman Collectible Figure
– Newly developed head sculpt with authentic and detailed likeness of Gal Gadot as Wonder Woman in Wonder Woman 1984
– Movie-accurate facial expression, make-up, and removable gold colored tiara
– Highly-detailed long curly dark brown hair sculpture
– Newly developed specialized body with over 17 points of articulations
– Approximately 30.5 cm tall
– Eight (8) pieces of interchangeable hands including:
– One (1) pair of relaxed hands
– One (1) pair of fists
– One (1) pair of hands for holding Lasso of Truth
– One (1) pair of gesture hands
– Enhanced articulations on shoulders allowing flexible movement
Costume:
– One (1) newly tailored red, blue, and gold colored Wonder Woman armor
– One (1) pair of gold and silver colored Bracelets of Submission
– One (1) pair of red and gold colored boots with weathering and battle damaged effect
Weapon:
– One (1) piece of gold colored rope (Lasso of Truth) (attachable to figure's waist)
Accessories:
– Three (3) pieces of magnetic sparkling effect accessories in small, medium and large size (attachable to Bracelets of Submission)
– A specially designed figure stand with character nameplate and movie logo
Exclusive Bonus Accessory for Special Edition:
– One (1) piece of Lassoing in Motion
Artists:
– Head Sculpted by So Young Jang & Tae Ho Kang
– Head Painted by JC. Hong
– Head Art Directed by Ji Ho Lee
**Prototype shown is not final, pending licensor approval
**Product details could be subjected to change without further notice
---