Do you know the name YuMe Toys? Well, if not you will! First off, YuMe has a 20 year history making promotional toys for others, but now they're bringing their own products to retail and we got to check out their upcoming offerings at Toy Fair New York 2019. Scroll down for a complete look at their showroom in our photo gallery where you'll see:
Horror: YuMe's focus here is on cute, non-threatening but iconic looks on plush toys and more. The main product format here is the "Huggable," a big, soft character plush you can really squeeze and love on. Characters showing up here will include It, Beetlejuice, Jason Voorhees, and Annabelle from the Conjuring Universe, and even more like Freddy Krueger and Gremlins in their smaller plush lines. The modern Pennywise can also be brought home in two formats with motion sensors; one speaks phrases from the movie and the other, mounted on suction cups facing away from you, turns its head around to look at you! And if you like Halloween and spooky things but not necessarily these horror icons there are generic Halloween monster characters that are super cute. All of those characters are also being turned into unique flip-out bag plushes, adorable little figures hiding a fabric bag inside of them!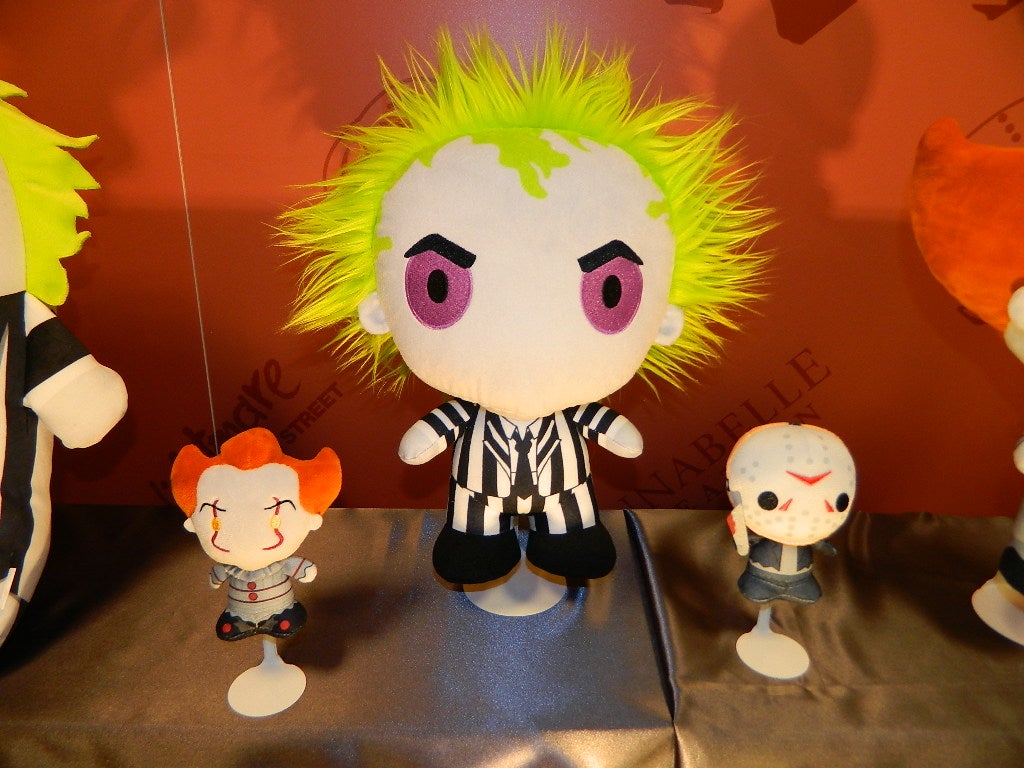 Harry Potter: Yule Ball ornament plush figures, award-winning talking Sorting Hat, Broomstick Plush figures (prototypes on display), flip-out bag plush figures, blind bag plushes, and the sizable Hogwart's Express plush carrier. The most impressive item here was the "Infinity Box," a super cool package that rotates and opens in an innovative way and will include 24 gifts – plush figures, novelties, and more.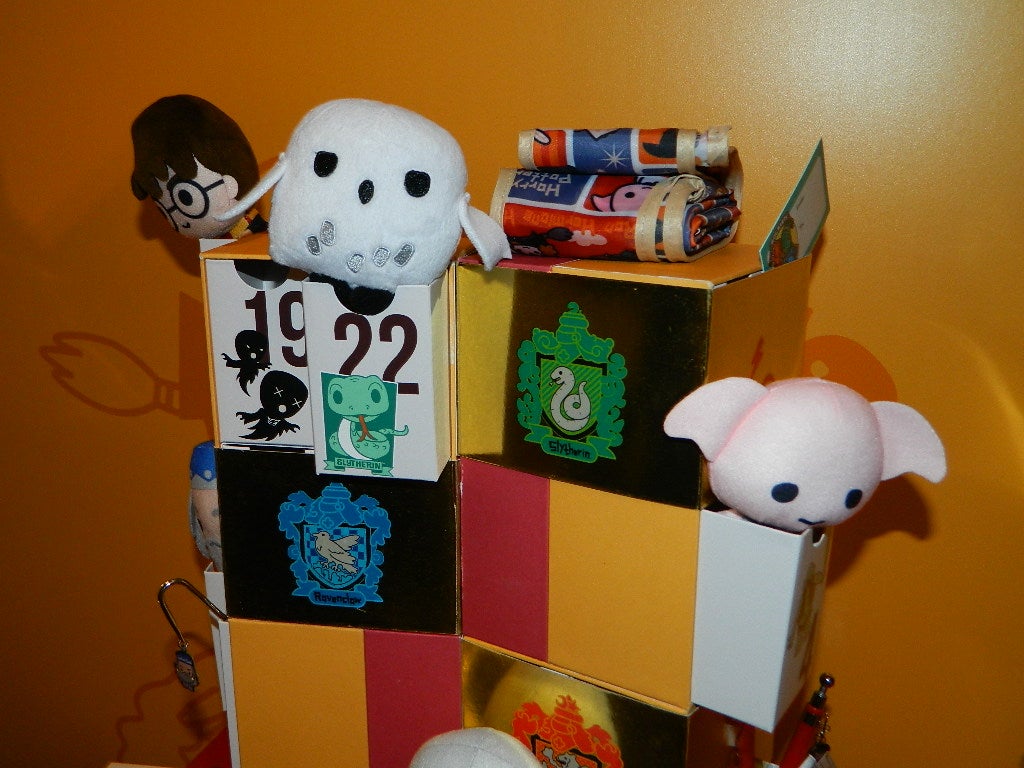 Fantastic Beasts and Where to Find Them: The Nifflers are the stars of the show here, with plushes and two types of banks. One of them is a Niffler plush that "eats" coins (dropping them into a coin pouch) while the second is a replica of Scamander's case; when you put a coin on the top it opens and a Niffler reaches out to grab it.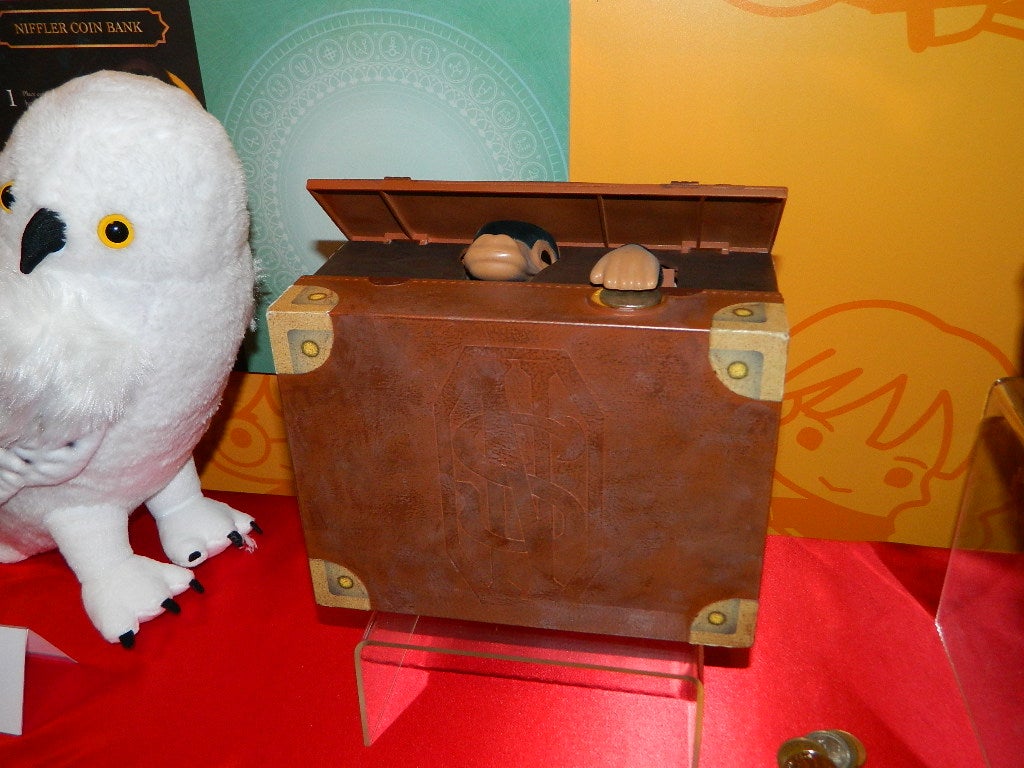 Batman: It's a big celebration of Batman's 80th anniversary this year starting with plush Huggables of the Dark Knight. Ideal for collectors and kids alike is the Wheels of Gotham blind box set bringing you miniature Batmobiles with little Batman figures, while the electronic 1989 Batman movie Batmobile connects to your Google Home/Siri (Alexa will be added), operates via talking to Alfred, and projects the bat-signal on your ceiling. The gigantic Biggables Batman is 36 inches tall, an inflatable plush figure that will retail for about $70. Last but not least is the DZNR line of Batman plushes with multiple different designs that come in snazzy display boxes. There will be five offered at launch in August, with four more exclusive releases coming later in the year including a black version for the 80th anniversary. Joker is coming too!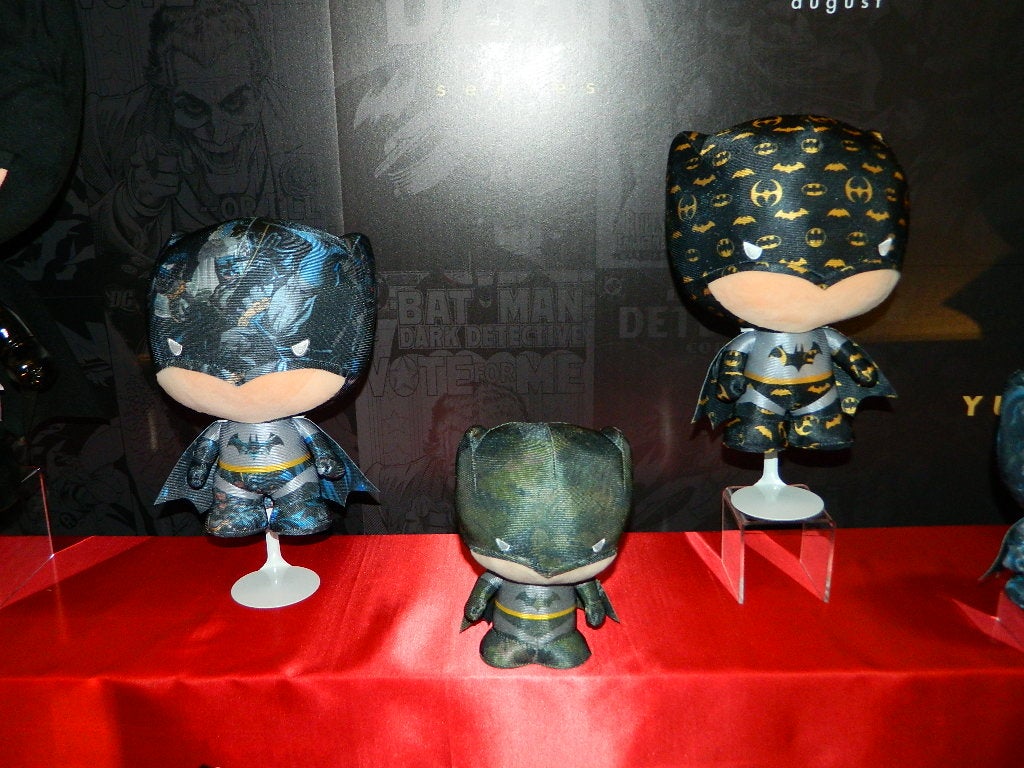 DC Heroes: Chibi plush blind bag series, Wonder Woman bendable plush figure, and big Huggables
Looney Tunes: with the new Space Jam movie coming out this is the perfect time for some Looney Tunes goodness, and YuMe is bringing classic chibi designs in small plushes and Huggables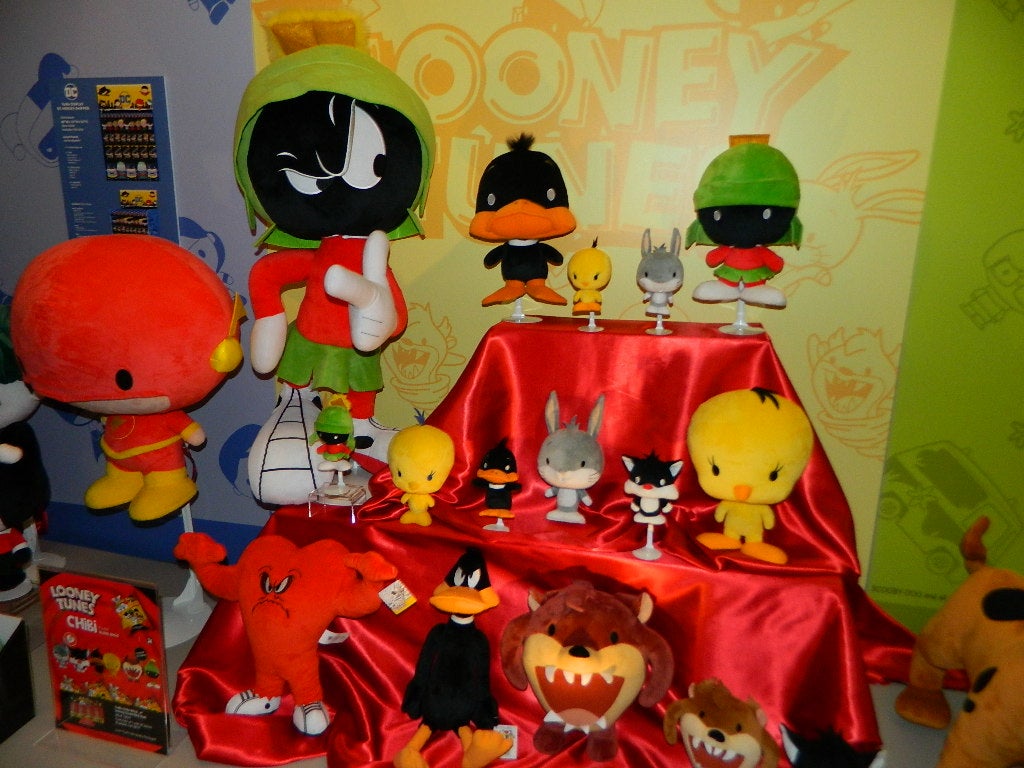 Scooby Doo: to coincide with a new animated movie will be chibi plushes, a Mystery Machine plush carrier, Scooby Biggable, and anniversary gold Scooby. YuMe will also be producing Scooby kid's toys for KFC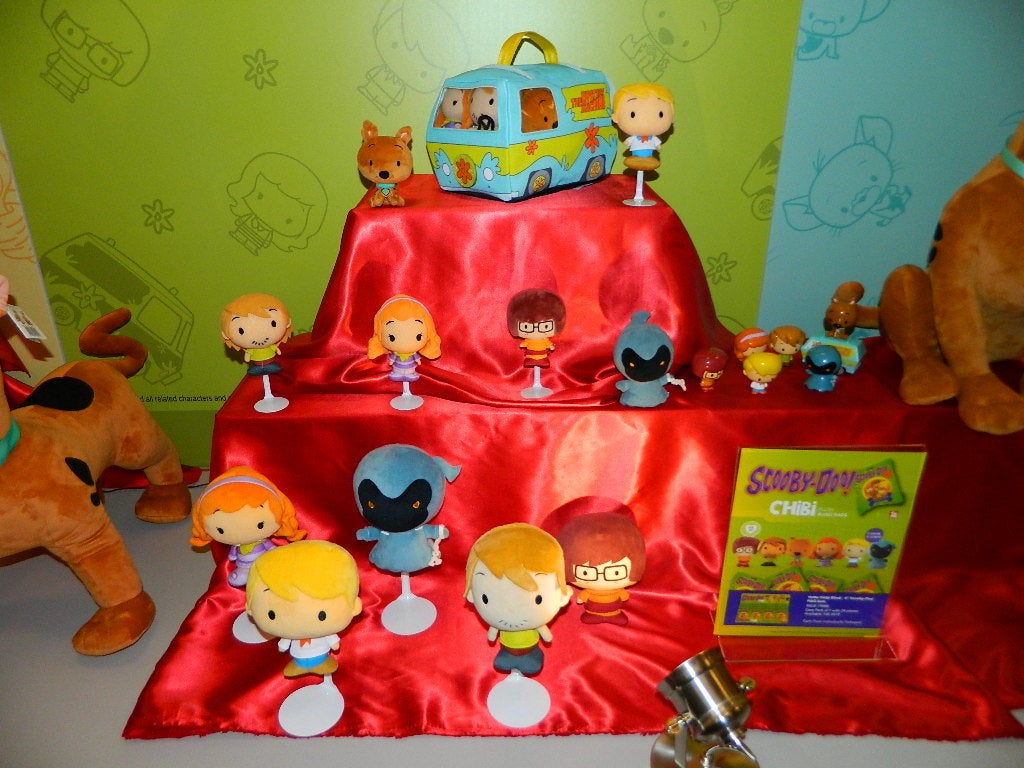 Tom & Jerry: really cute chibis and plushes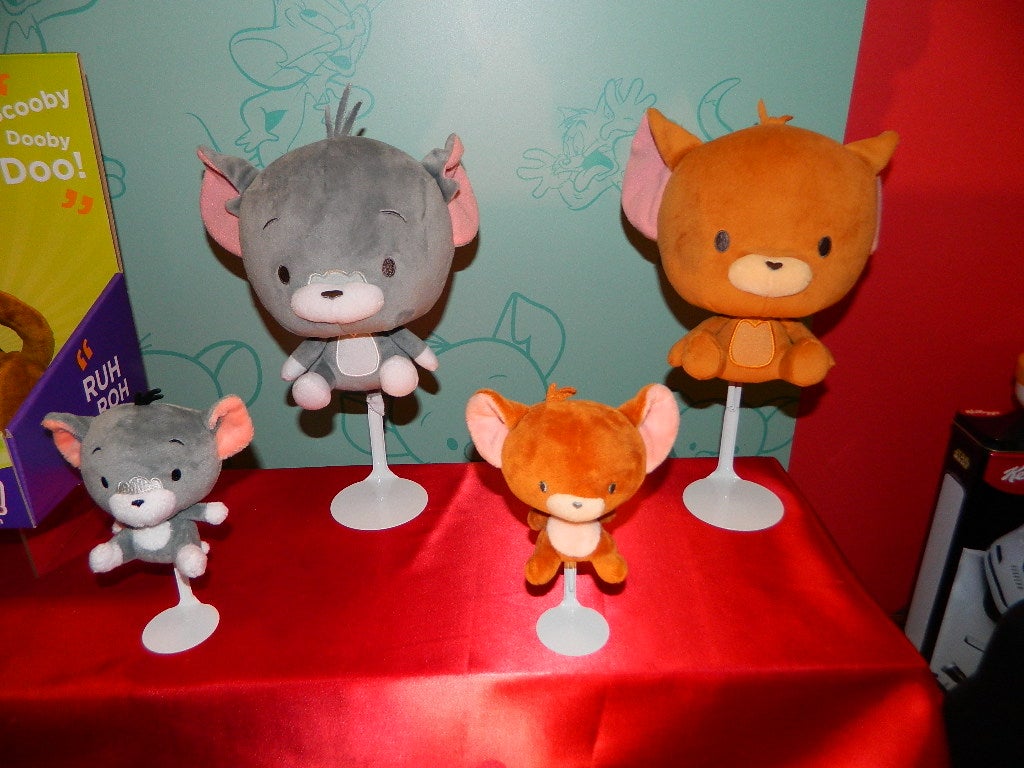 -Scott Rubin
---
Keep up with all the latest toy news by following Figures.com on Facebook and Twitter!
To buy action figures, take a look at Hobby Link Japan, BigBadToyStore.com, TheToySource.com, Toynk.com, and BriansToys.com.