GET A LOOK AT CRYPTOZOIC'S NEW YORK TOY FAIR 2018 DISPLAY IN OUR PHOTO GALLERY HERE!
Cryptozoic's collectibles continue to delight fans and collectors, and we were keen to check out their sizable booth presentation at New York Toy Fair 2018. Aside from an entire wall dedicated to their games (and there are a lot of great ones!), we focused on their DC Comics, Street Fighter, Rick and Morty, and original properties with over 100 photographs in our gallery, so click on the link at the top or bottom of this page to see them all. We saw:
A super cool display case full of this year's exclusive offerings! SDCC 2018 will be Golden Goddess Series 2 Bombshells, Golden Goddess Knockouts Chun-Li, DC Teekeez Obsidian Idol Batman, Lil Bombshells Ravishing Red Wonder Woman, and Street Fighter Lil Knockouts Metallic Green Blanka and Cammy. For WonderCon 2018 they've got lined up a Metallic Blue Lil Knockouts Chun-Li, DC Teekeez Golden Idol Wonder Woman, Lil Bombshells Ravishing Red Supergirl, DC Pumps Black & Gold Harley Quinn, and Cryptkins Midnight Chupacabra, while at New York Comic Con 2018 will be Lil Knockouts Metallic Purple Akuma, DC Teekeez Ruby Idol Harley Quinn, and Lil Bombshells Halloween Batgirl.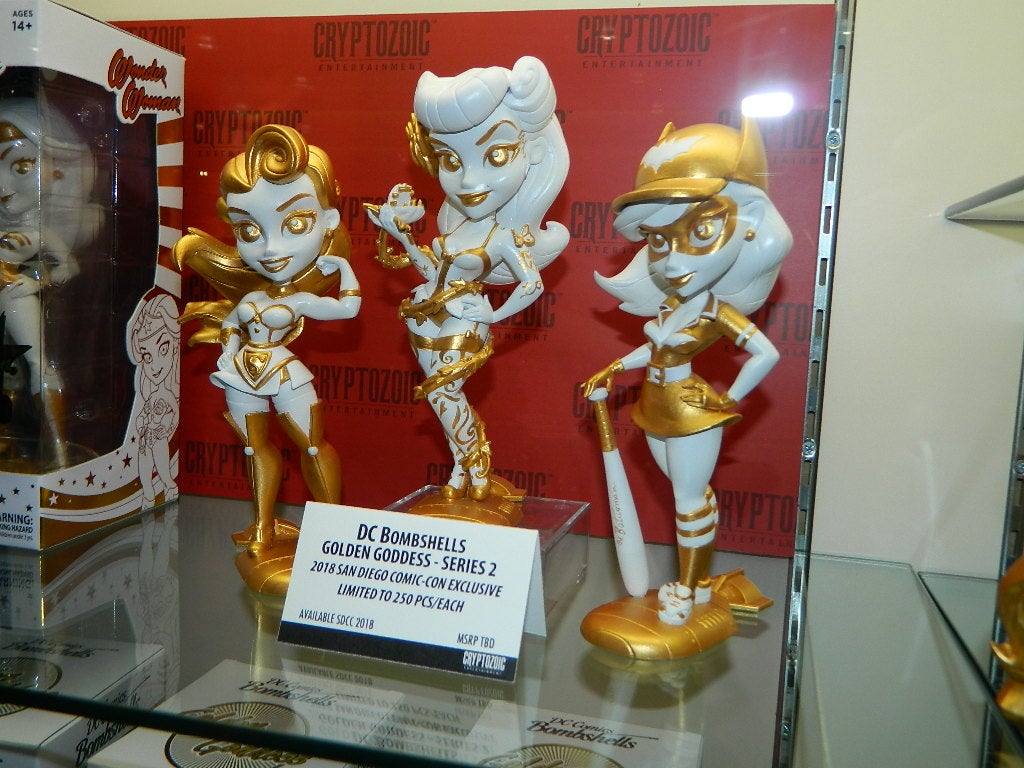 The highly anticipated Outlander Jamie Fraser vinyl figure due out by SDCC. It's been affectionately dubbed the "Scot on the Rocks" by fans and so Cryptozoic has played into the joke with packaging artwork resembling that which might hold a liquor bottle.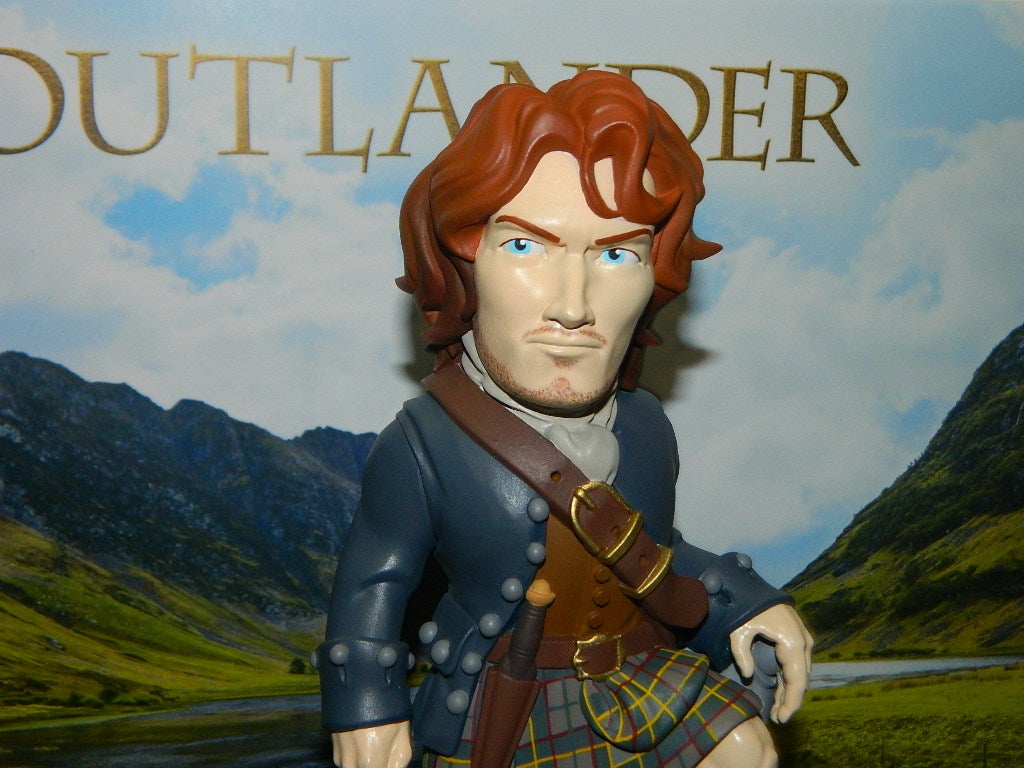 DC Teekeez Stackable Vinyl Figures: a future series 2 was on display alongside series 1 and features Catwoman, Flash, Two-Face, Poison Ivy, and a really cool Aquaman with wave effects behind him. Also on hand was an early prototype for a "deluxe" Superman Teekeez figure with light up heat vision eyes!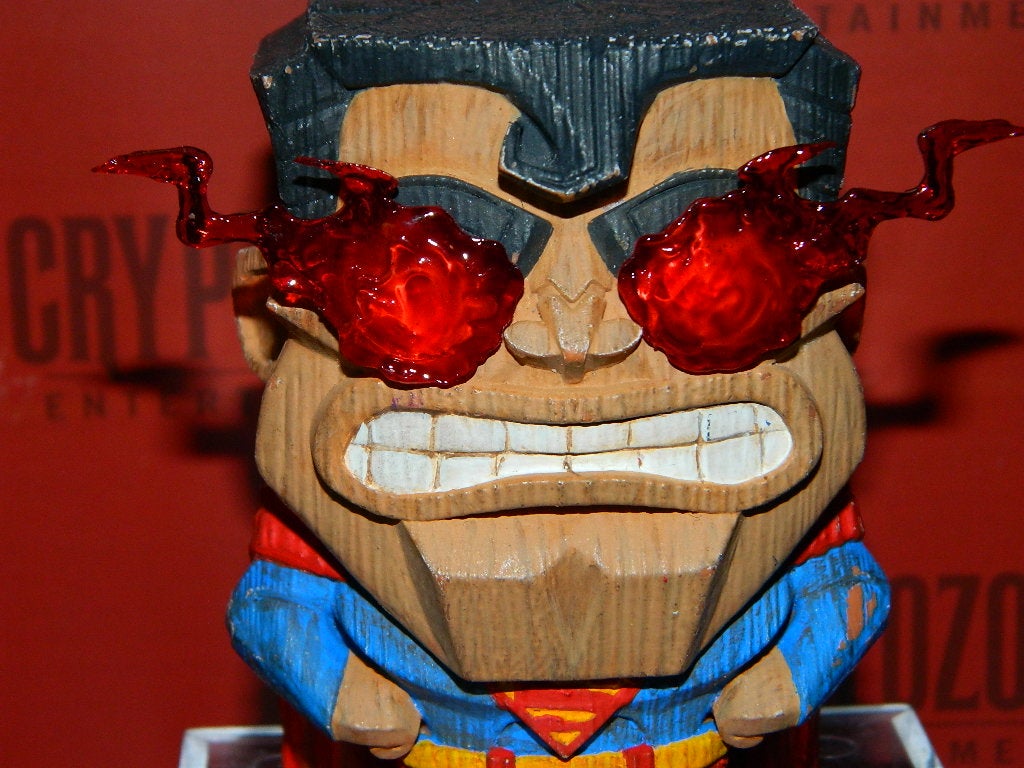 DC Future Projects: Art cards showing off designs for a Rockabilly Harley Quinn holding a Joker bomb, deluxe DC Pumps (Catwoman, Harley Quinn, and Wonder Woman), and Gotham City Garage Vinyl Figures (Harley Quinn, Wonder Woman, Batgirl).
The Harley Quinn Hula Girl statue was so popular that they're shrinking it down to a 4 inch figure complete with shaking waist and sticker so you can mount it in your car, and art cards showed off potential follow ups with Poison Ivy, Wonder Woman, and Supergirl!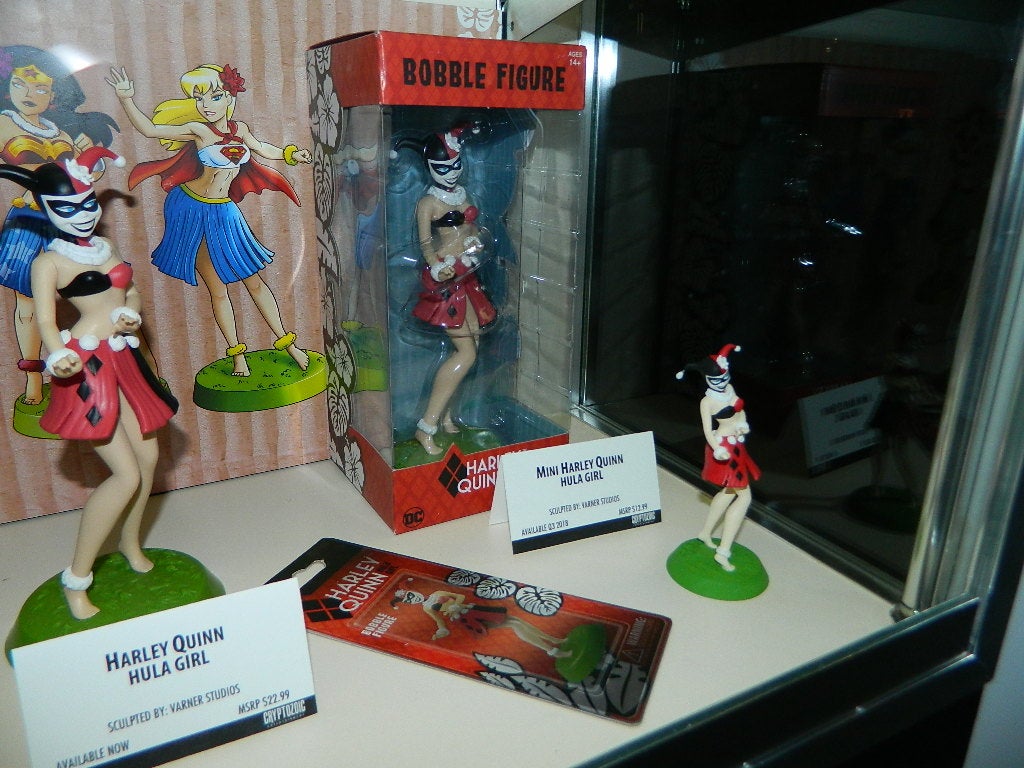 DC Comics Bombshells series 3 coming later this year will bring Harley Quinn, Black Canary, and a jaw-dropping Mera.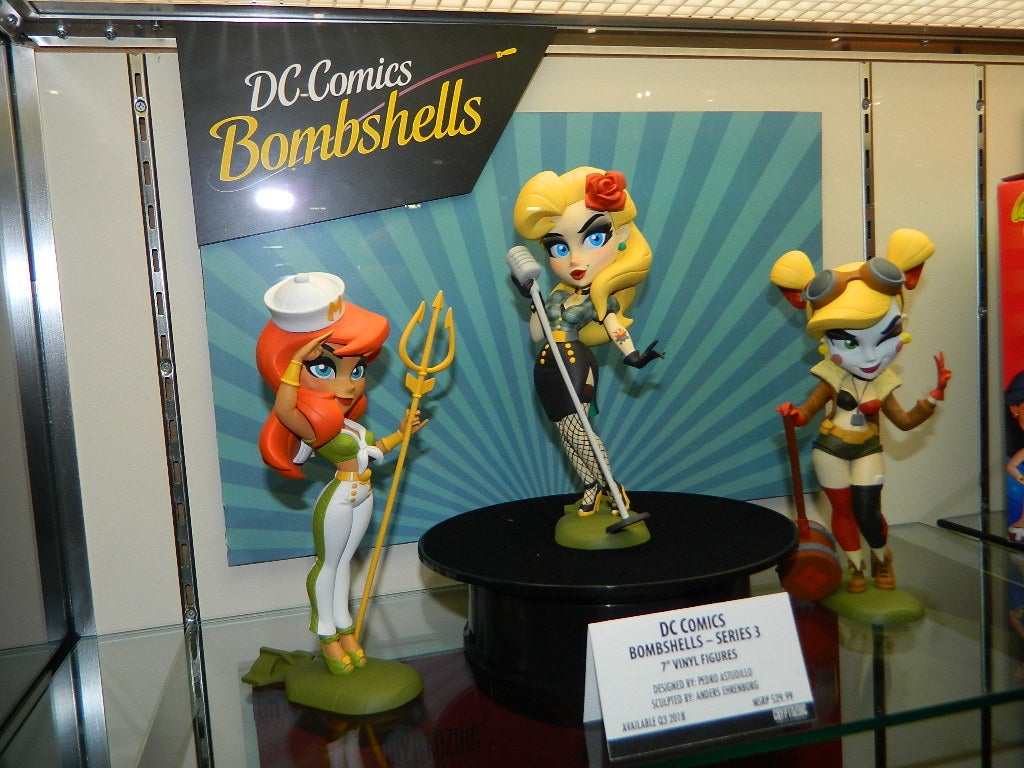 The beautiful Lynda Carter as Wonder Woman features a Cape Version exclusive to Cryptozoic while a Black and White version is available through Grosnor.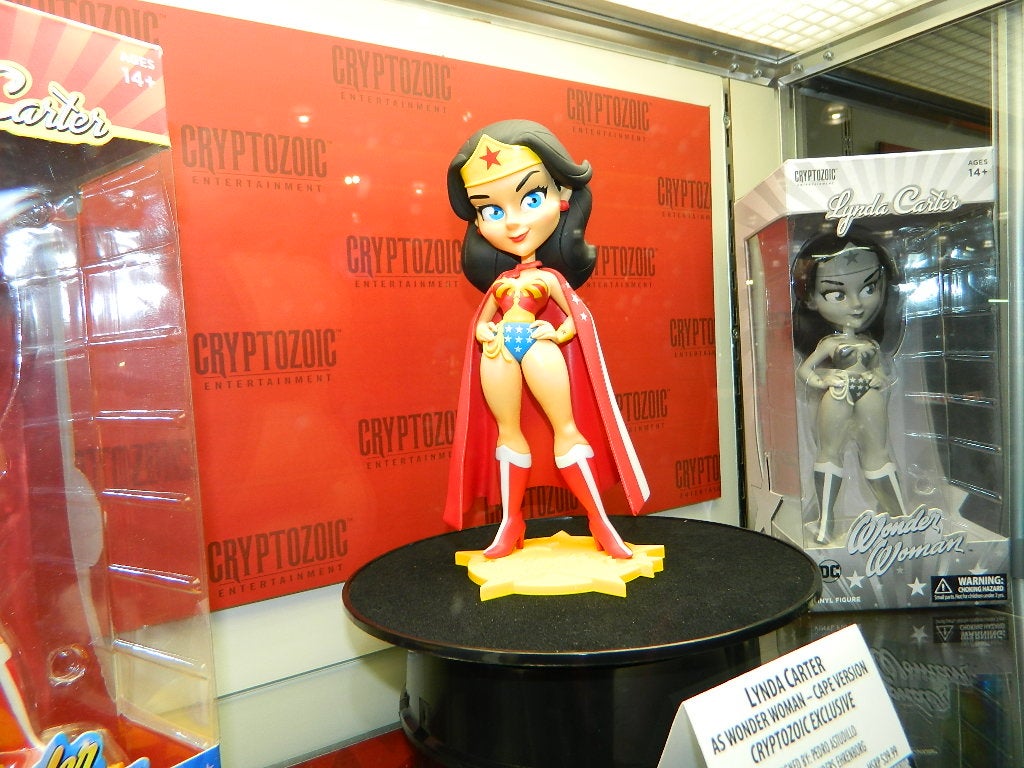 Gal Gadot as Wonder Woman 7 inch vinyl figure – the prototype on display has an outdated face (there's a new one but it didn't make it to Toy Fair). This figure will come with two different shields and two different swords from the Wonder Woman movie and BvS; the shields can be attached to her back while the swords will be interchangeable in her hand. Look for this figure late 2018 or early 2019.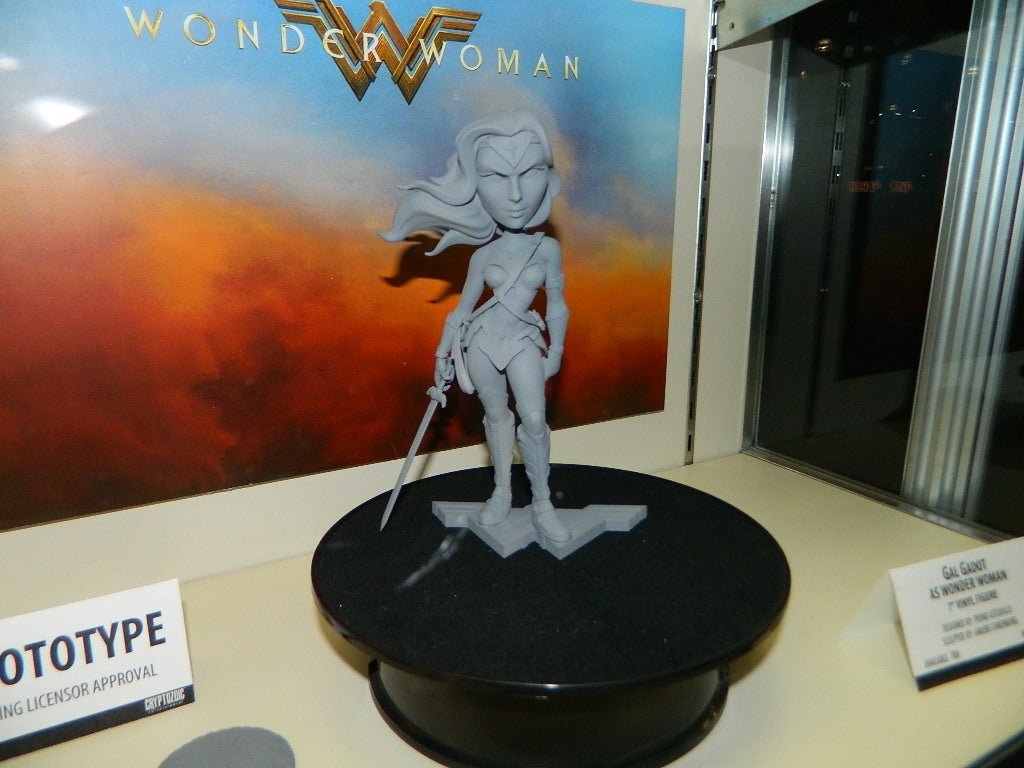 Lil Bombshells! Series 2 is out now, and we got to check out series 3 coming later this year with a whopping 12 characters. There are possible changes coming to the eye colors on some of the prototypes. Cryptozoic is also taking some of the most popular Lil Bombshells, shrinking them down and turning them into backpack clips, and giving them blind bag packaging just in time for back to school this year.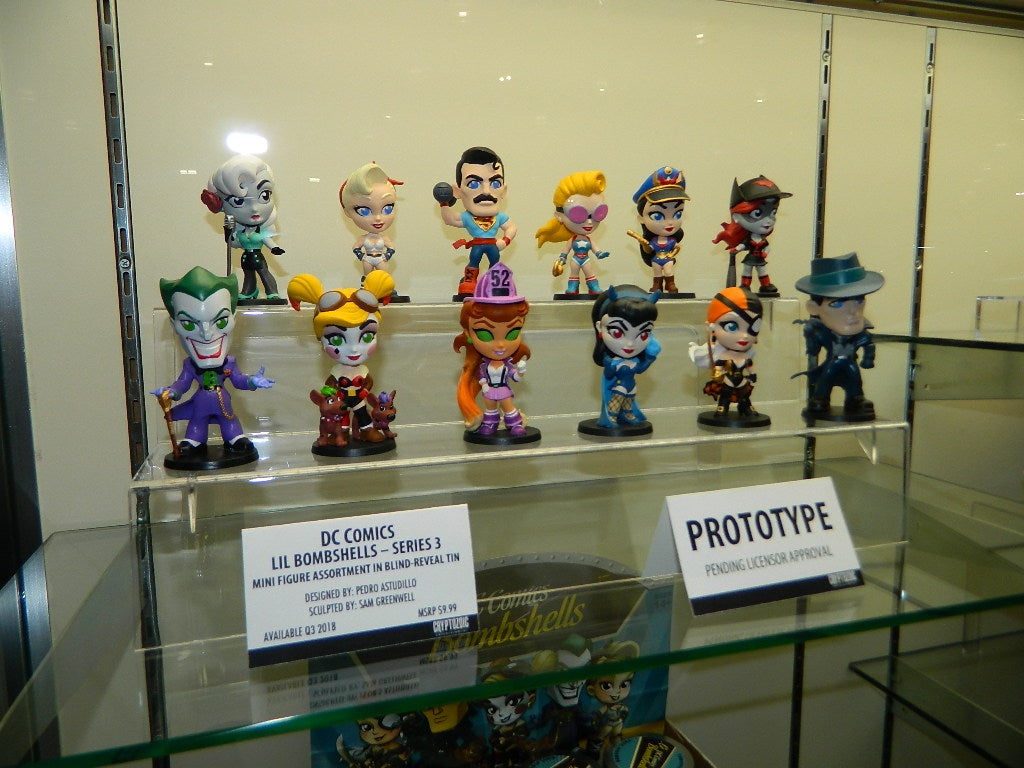 Lastly in the collectibles area was the original Cryptkins line of cute blind box monsters! Each figure will come with a card featuring artwork of the monster plus a bio on the back; this card and the figure will be secured in an opaque green bag inside the blind box that has holes for the creatures to "breath." You can also collect and play with Cryptkins and other Cryptozoic things on the Quidd app.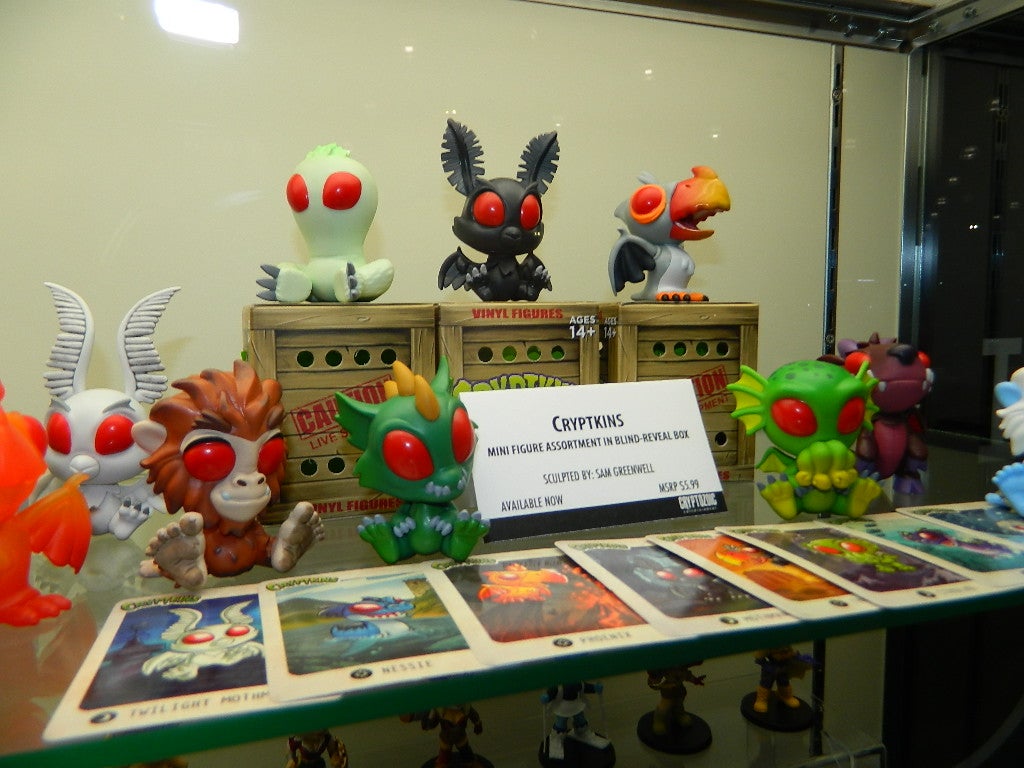 We couldn't resist checking out the strange Pickle Rick in the display case and learned that it's actually the package for Rick and Morty – The Pickle Rick Game! It will be a tile exploration, asymmetrical battle game with two unpainted miniatures and endless replayability.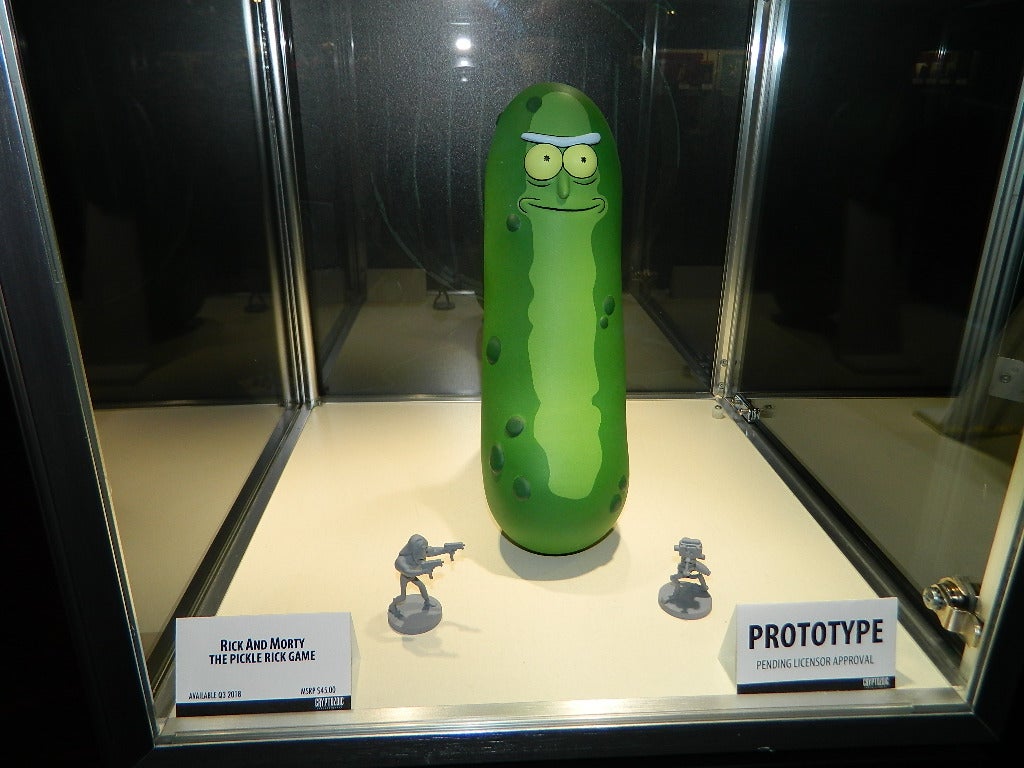 And more!
GET A LOOK AT CRYPTOZOIC'S NEW YORK TOY FAIR 2018 DISPLAY IN OUR PHOTO GALLERY HERE!
– Scott Rubin
Keep up with all the latest toy news by following Figures.com on Facebook and Twitter!
To buy action figures, take a look at Hobby Link Japan, BigBadToyStore.com, TheToySource.com, Toynk.com, BriansToys.com, ToyWiz.com, and EntertainmentEarth.com.