The Beasts of the Mesozoic Raptor Series Kickstarter was a huge success, and soon the first sixth scale dinosaurs will begin shipping out to excited fans and collectors across the world. If you missed out on the Kickstarter, you still have the opportunity to order them HERE! The pre-order store will be up until fulfillment shipping begins, which is estimated to be July 2017. Quantities are limited.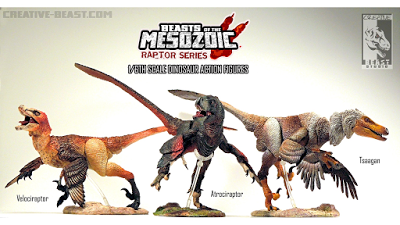 However, these won't be the only dinosaurs that the artisans at Creative Beast Studio will be bringing back from extinction! Joining the Raptors is a new series of Mesozoic beasts centered around Ceratopsians, the same family of saurians that includes the likes of Triceratops, Styracosaurus, Kosmoceratops and more!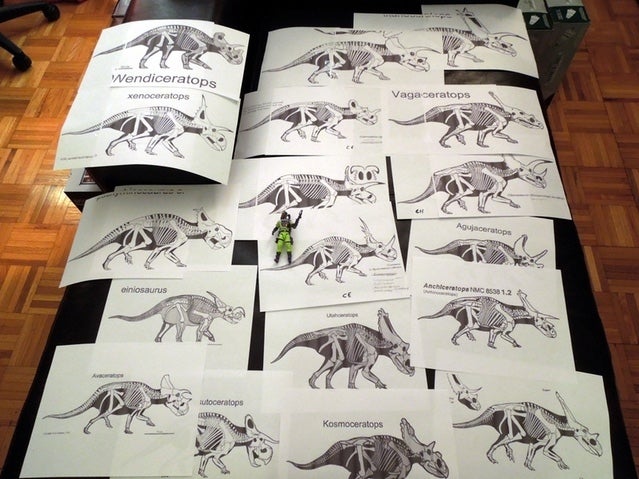 Studio head David Silva offers a glimpse at some of the dinosaurs that could be making up the second wave of Beasts of the Mesozoic figures (pictured above) and states:
Still in the planning stages for the Ceratopsian series. There are MANY species I want to try to cover. If I plan it correctly, I should be able to do most (maybe all?) of them. The line is not limited to this reference, nor will all of these necessarily be included, but these skeletal drawings are in scale and the 4″ GI Joe figure there  gives you an idea of the size. Aside from the Protoceratopsids being in 1/6th scale (like the raptors), I have decided to keep the rest of the line at 1/18th scale. It'll be a big undertaking, but I'm up for it! I'm planning to begin sculpting later this month.
What Ceratopsians would you like to see in Series 2?
---
Keep up with all the latest toy news by following Figures.com on Facebook and Twitter!
To buy action figures, take a look at BigBadToyStore.com, TheToySource.com, Toynk.com, BriansToys.com, ToyWiz.com, and EntertainmentEarth.com.