The Teenage Mutant Ninja Turtles are back!  WizKids Games introduced the iconic amphibians (along with their allies and enemies) to the game of HeroClix earlier this year, and THIS WEEK the follow up hits shelves with the Heroes in a Half Shell expansion.  The latest brings another single figure blind booster figure series as well as a Fast Forces pack with alternate dials for six of your favorite heroes.  And just as with the first set of TMNT HeroClix, Heroes in a Half Shell includes characters from across the franchise's history, this time focusing on the 1987 and 2012 cartoons and 1984 and 2011 comic book series.  Naturally the figures come with the new HeroClix card design making it easier than ever to learn what they do and get into the game.  Today we'll check out the Fast Forces pack and a display of Heroes in a Half Shell boosters to see some of the figures you might pull… and they include the fan-demanded Bebop and Rocksteady!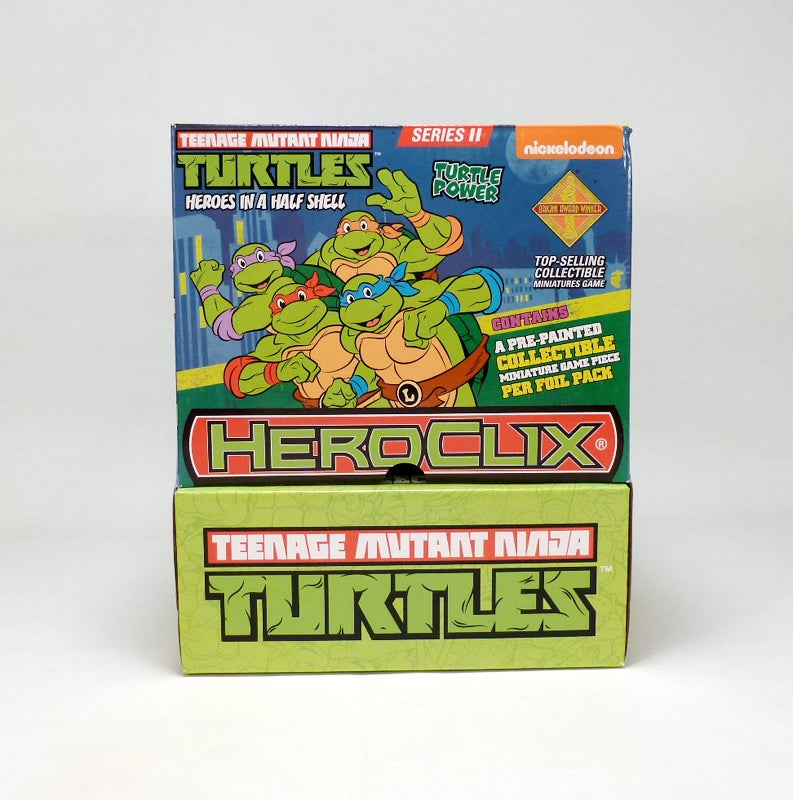 The flagship product for Heroes in a Half Shell is the gravity feed, a set of more than 30 figures available in single-figure sealed foil packs.  You'll see the bright green box a mile away, and it's loaded up with the iconic TMNT fonts and logos plus images of the foursome in the 1987 cartoon style.  The sides of the box reveal a handful of the figures you might find in your boosters, and the individual foil packs themselves give you another look at the fun artwork and 3D renders of the headlining Turtle figures.  Let's take a look at the figures we opened in this gravity feed box (and of course your results will vary):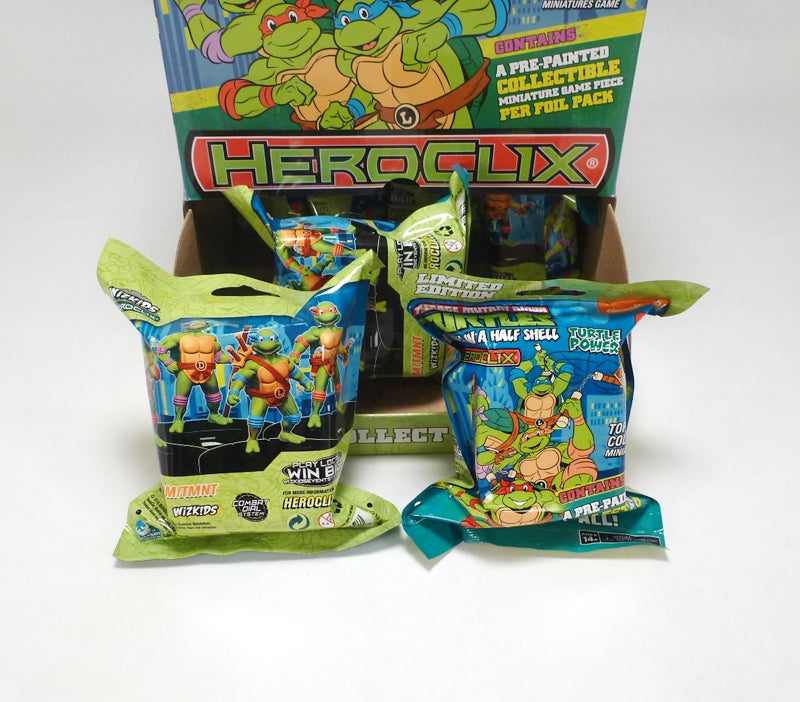 Commons (including multiples of Foot Ninjas)
001 Raphael
002 Michelangelo
003 Donatello
004 Leonardo
005 Casey Jones
006 Foot Ninja (Katar)
007 Foot Ninja (3-Segment Staff)
008 Foot Ninja (Shuriken)
009 Foot Ninja (Twin Katanas)
010 Triceraton
Uncommons
011 April O'Neil
012 Irma
013 Fugitoid
015 Squirrelanoid
016 Bebop
017 Rocksteady
018 Shredder
Rares
019 Splinter
023 Zog
026 Leonardo
Super Rare
Chase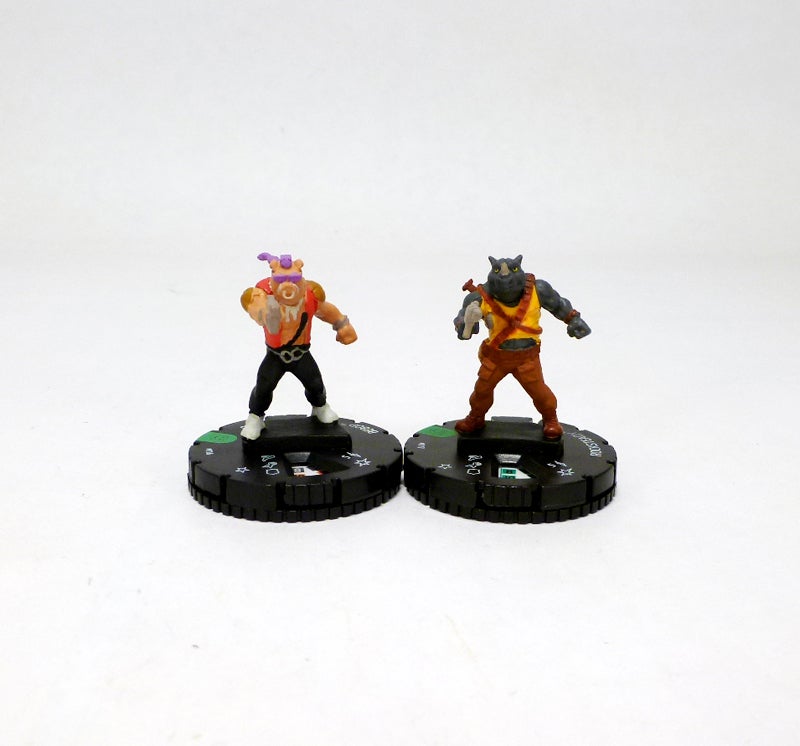 And if you're interested, the breakdown by source material looks like this:
1984 Comic Book Series
006 Foot Ninja (Katar)
007 Foot Ninja (3-Segment Staff)
008 Foot Ninja (Shuriken)
009 Foot Ninja (Twin Katanas)
010 Triceraton
013 Fugitoid
018 Shredder
023 Zog
034 Shellectro
1987 Animated Series
001 Raphael
002 Michelangelo
003 Donatello
004 Leonardo
005 Casey Jones
011 April O'Neil
016 Bebop
017 Rocksteady
019 Splinter
2011 Comic Book Series
026 Leonardo
028 Michelangelo
2012 Animated Series
012 Irma
015 Squirrelanoid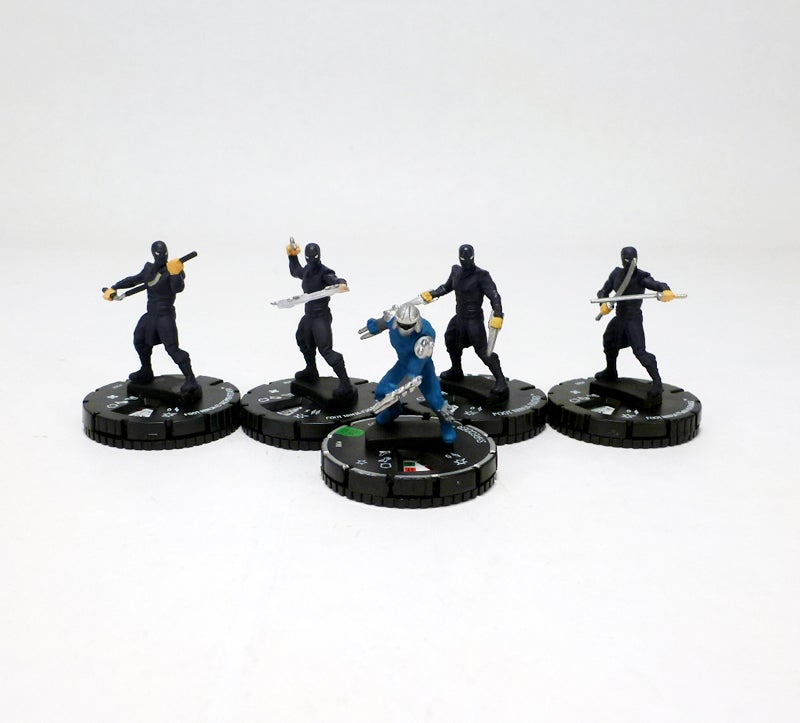 If every box has collation like this I think a lot of players and collectors will be very happy.  There was one each of all the main characters (1987 Turtles, April, Splinter, Shredder, Casey, Bebop, Rocksteady), at least one of each Foot Ninja and a couple duplicates for army building, a nice selection of the stranger characters like Irma and Squirrelanoid, a super rare, and a chase!  As with the previous set WizKids has included a secondary set of the Turtles (in this case from the 2011 comic series) that straddles the rare/super rare categories, and this box held Leonardo and Michelangelo.  Finally, the chases in this set are alternate reality superpowered versions of the Teenage Mutant Ninja Turtles from the 1980s Mirage comic book series, and this box yielded the electrical Donatello as Shellectro!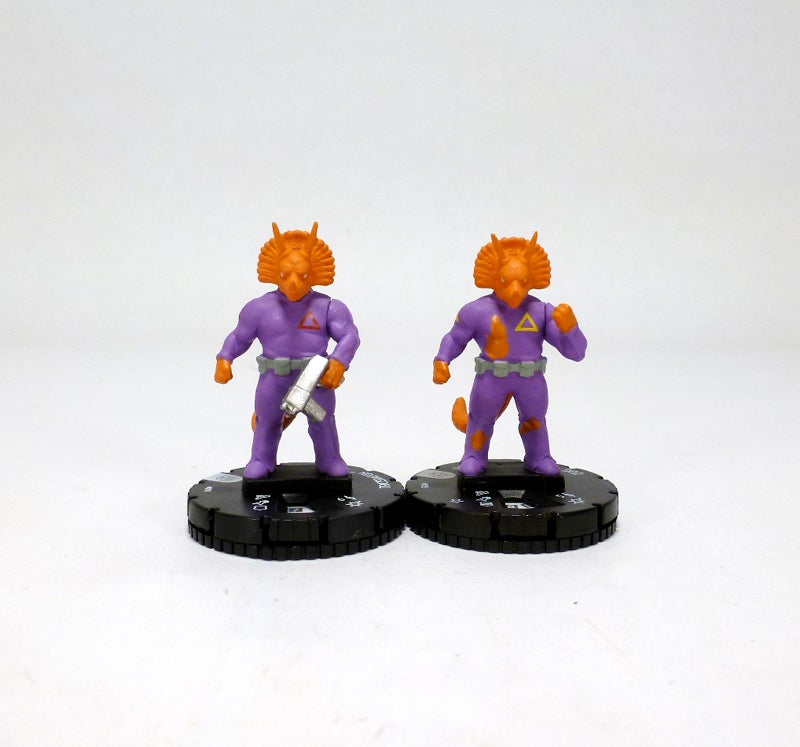 While superheroes and villains can be colorful and dynamic, there's really a different energy when it comes to the figures in a Teenage Mutant Ninja Turtles set.  The characters are immediately recognizable, even as different versions capture their incarnations across the years and different media.  This second set brings probably the most iconic Turtles, from the 80s cartoon, to life, and while it's sometimes hard to translate the wholesome and bright feel of that show these guys nail it.  Raphael, Leonardo, Donatello, and Michelangelo look fantastic, evoking that nostalgia with their bold poses and spot on paint jobs.  Yes, they're rounded and their proportions don't look overtly threatening, but that's exactly as it should be!  They all look like they're ready for adventure, fun, and pizza, and their glossy sheen works well with their bright green skin and individually colored pads and bandanas.  Likewise, this set brings the distinctive 80s cartoon brushy Splinter, April with her bright yellow jumpsuit and camera, everyone's favorite versions of Bebop and Rocksteady, and the coolest Casey Jones ever with a fearsome hockey mask and an array of sports equipment.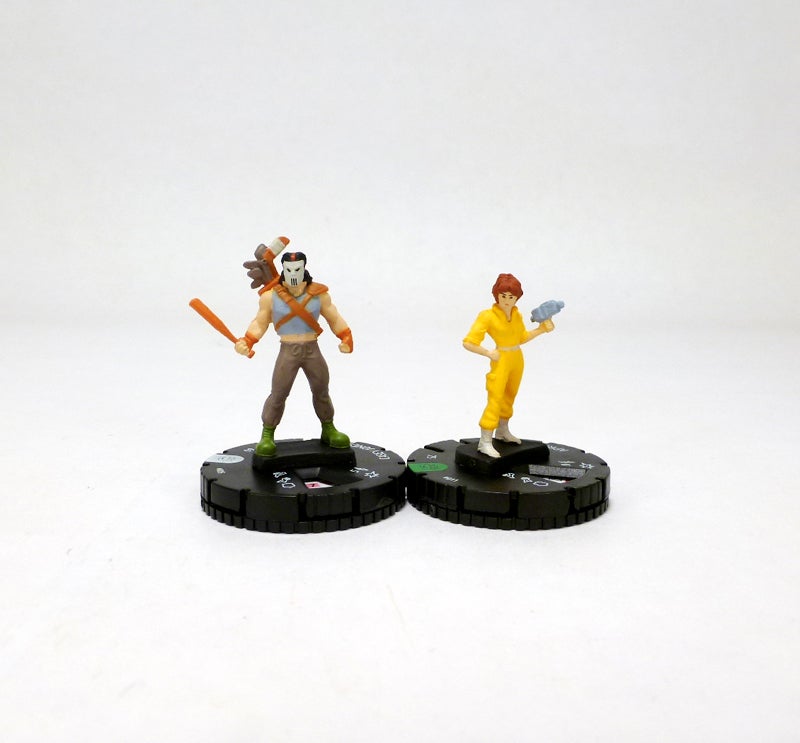 Some of the more unique and varied figures come courtesy of the 1984 comic and 2012 cartoon.  The new Foot Ninjas with a variety of martial arts weapons offer a somewhat darker option than the lighter purple robot versions from the previous set, and likewise this Shredder is a crouching armored menace as opposed to his grandstanding predecessor.  Since I first saw them in the comics all those years ago I've been a fan of the Triceratons, and it was awesome to open boosters and see the generic dinosaur man soldier as well as the battle-damaged and defiant Zog!  Then we get two ends of the spectrum with a normal-looking girl in Irma and the bizarre Xenomorph-inspired bright red Squirrelanoid.  The 2011 comic Turtles, Leonardo and Michelangelo, look amazing with their intense battle poses, Leo's twin swords held out as he crouches and Mikey flipping through the air with one nunchuk spinning.  Finally the chases like Shellectro here give us superhero amphibians, in this case Donatello reaching up into the sky with translucent yellow electricity arcing between his hands.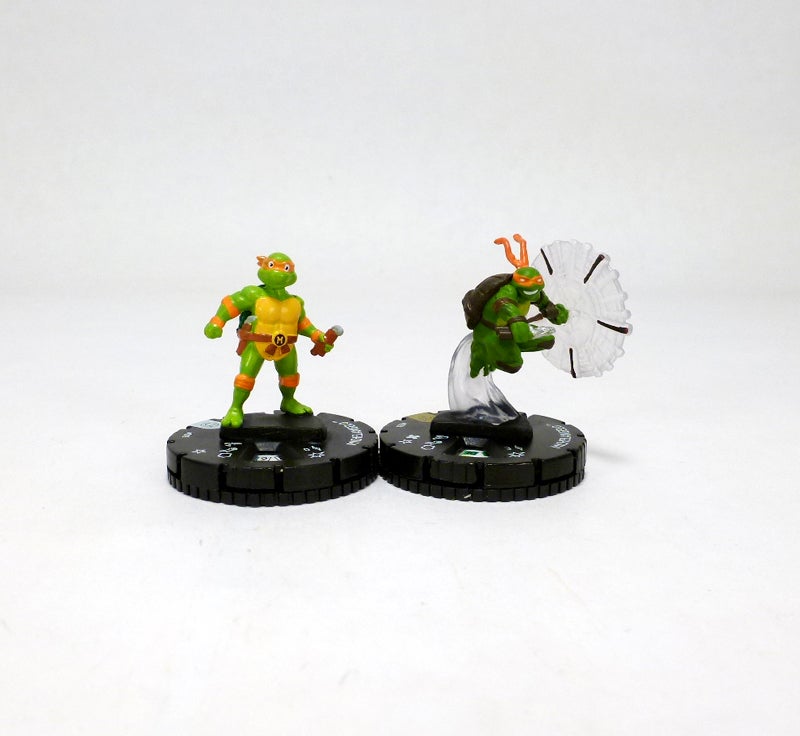 In addition to the booster set there's another major component to the Heroes in a Half Shell Teenage Mutant Ninja Turtles HeroClix expansion, the Fast Forces pack!  As always, the set comes in a tall, clear plastic clamshell through which the six figures are visible.  As with the gravity feed box this package is decorated with radical retro artwork of the 80s cartoon characters including their two human allies.  The Fast Forces consists of Raphael, Leonardo, Donatello, Michelangelo, April, and Casey Jones, all based on their original animation appearances and sharing the same sculpts as their booster set counterparts.  That means another dose of bright green, happy-looking Turtles, an 80s-fabulous April in a bright yellow jumpsuit holding a video camera, and the intimidating Casey wearing a hockey mask and wielding a baseball bat.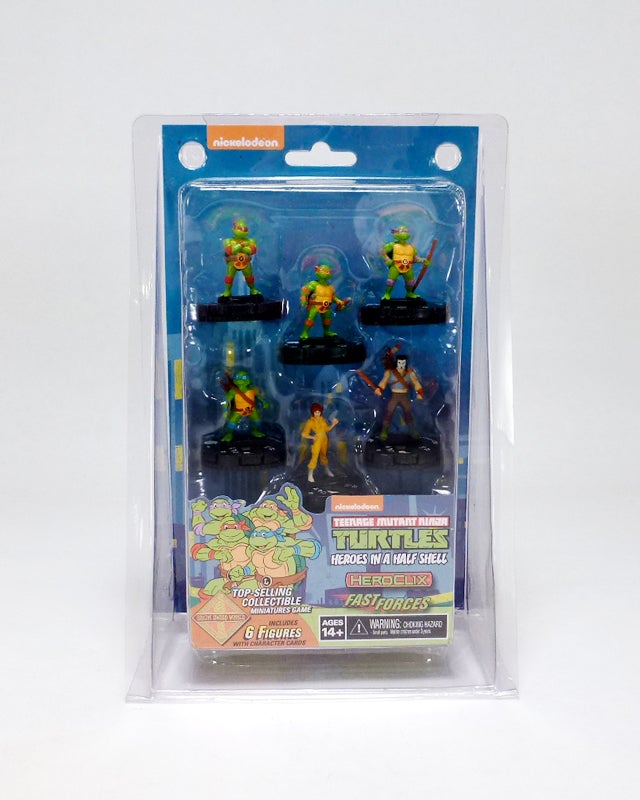 While these figures share sculpts they come with brand new dials (and the cards to match).  The Turtles are each 75 points, slightly more powerful than the ones in the booster set at 60.  The Fast Forces foursome all have the Swim symbol, no range, one starting click of Invulnerability ("hard shell"), and a trait giving them an attack boost against low point enemies and a damage bump against Robots!  Each Turtle is then differentiated with character-appropriate standard powers (Leadership for Leo, Leap/Climb for Mikey, etc.) and a unique special power (Donny turns off defense powers on enemies he hits, Raph can use Incapacitate from "Break Open a Fire Hydrant").  Casey Jones has a straightforward 50 point dial with a pretty amazing trait that lets his actions not count toward your action total!  And finally April is only 25 points with some incredible utility.  Her trait "We've Gotta Save April" makes her functionally immortal; when she would be KO'd she's placed on her attacker's card and TMNT Ally figures get +1 attack against that figure.  When it's KO'd she returns to the board on click #1!  She also has a special power letting you heal one TMNT keyword ally for a free action or use a power action to heal all adjacent TMNT figures.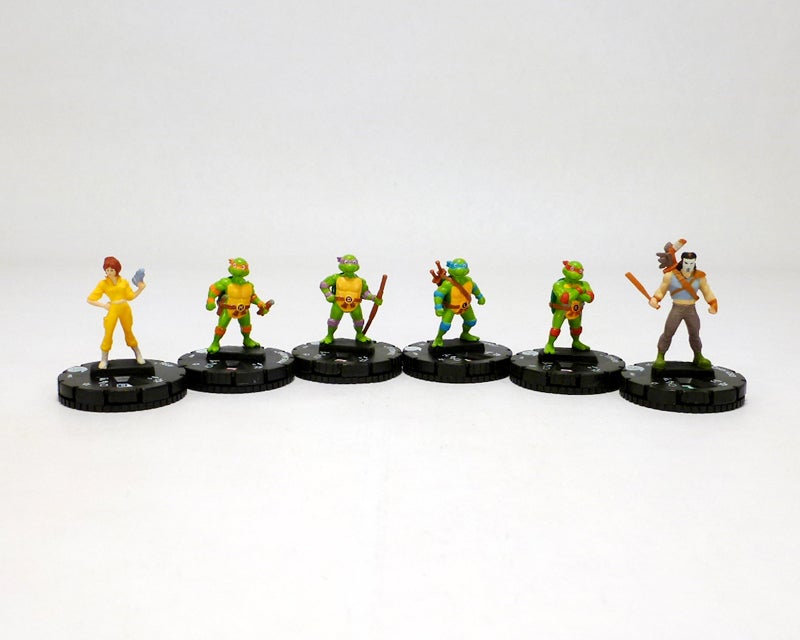 As you can see, team building is a snap with this TMNT Fast Forces.  The four Turtles make a perfect 300 point team, you can run two Turtles with Casey for a fun 200 point team, or pick three Turtles and run them with both human allies at 300.  And as always, mix and match these figures with those from the booster set (and the first TMNT set) for unlimited options!  Fast Forces are a great way for new players to get into the game with straightforward figures that play well together, and for veterans they give you nice alternatives and different ways to play with your favorite characters and keywords.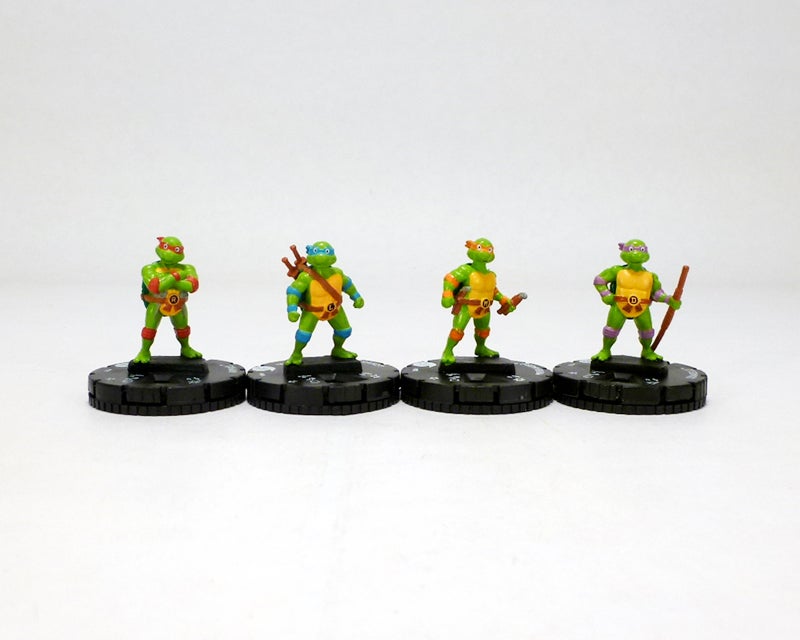 The Heroes in a Half Shell TMNT HeroClix booster set, Fast Forces, and a brand new Dice & Token Pack all hit stores this Wednesday, October 12th!  WizKids continues to do a fantastic job with this property, giving players and collectors great-looking figures that feed our nostalgia and come to the battlefield with really fun and useful dials.  TMNT HeroClix are a blast to play and this expansion is a perfect complement to the original set no matter which era/medium of Turtles you prefer.  Get your Heroes in a Half Shell on Wednesday, and good luck with your pulls.  Hopefully you find some of the cool superpowered chases!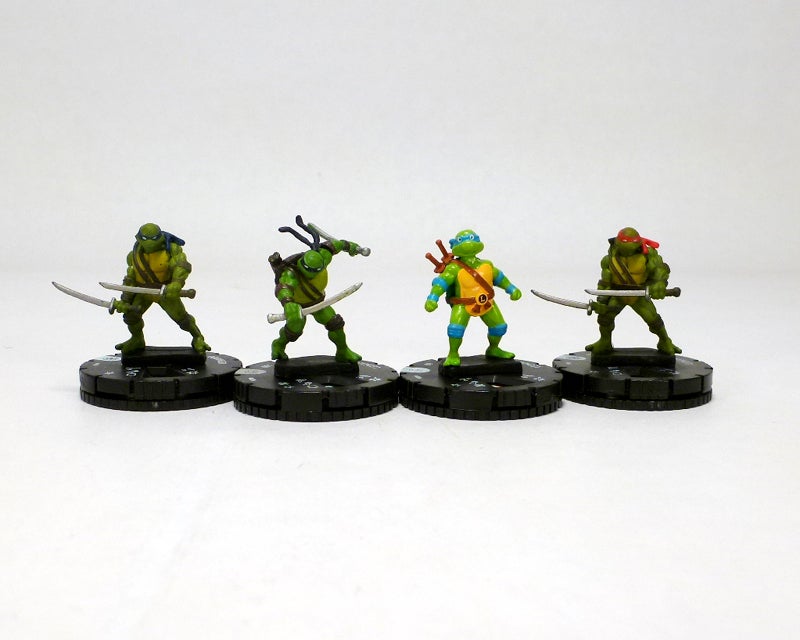 Visit HeroClix.com for even more info as well as downloads of rules and maps, and check Figures.com regularly as we continue our reviews of new HeroClix!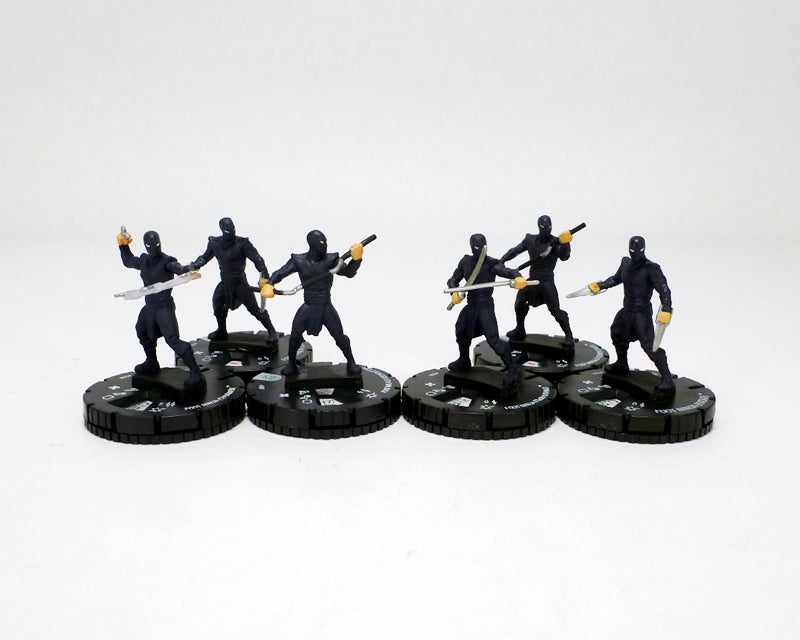 Review and photos by Scott Rubin
Review samples courtesy of WizKids Games
[gallery_bank type="images" format="masonry" title="true" desc="false" responsive="true" display="all" sort_by="random" animation_effect="bounce" album_title="true" album_id="275″]
[gallery_bank type="images" format="masonry" title="true" desc="false" responsive="true" display="all" sort_by="random" animation_effect="bounce" album_title="true" album_id="276″]
Keep up with all the latest toy news by following Figures.com on Facebook and Twitter!
To buy action figures, take a look at BigBadToyStore.com, TheToySource.com, Toynk.com, BriansToys.com, ToyWiz.com, and EntertainmentEarth.com.