Diamond Select Toys shares new press photos of numerous items shown at San Diego Comic-Con, items that are now  open for pre-order through your local comic shop or favorite online retailer! Read on for the details on new DC Animated items, new Marvel Comics items, new Muppets items, and new movie items from Predator, The Nightmare Before Christmas, Beetlejuice and National Lampoon's Vacation!
Batman The Animated Series Man-Bat Resin Bust (Pictured Top)
Beware the Man-Bat! The newest resin bust in the epic line based on Batman: The Animated Series depicts scientist Kirk Langstrom as his monstrous alter-ego, the Man-Bat! Measuring over 6 inches tall and approximately 8 inches in diameter, this detailed bust is set on top of an art-deco base inspired by the show's distinctive architecture. Limited to only 3000 pieces, it comes packaged with a certificate of authenticity in a full-color box. Sculpted by Varner Studios! (Item #AUG162554, SRP: $59.99)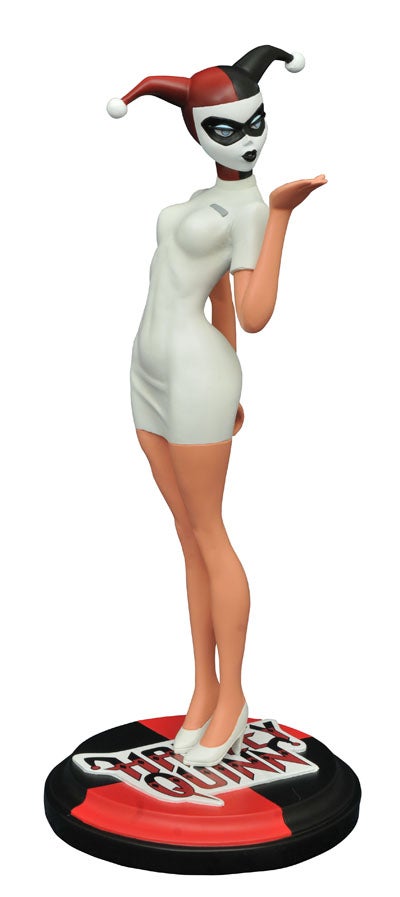 Batman Animated Series Premier Collection Nurse Harley Quinn 12" Resin Statue
Hello, nurse! On the TV classic Batman: The Animated Series, Harley Quinn played dress-up almost as often as she wore her now-iconic jumpsuit. And this all-new 12-inch resin statue depicts one of her most memorable clothing swaps – a nurse's disguise! Nurse Harley blows a kiss to her next patient while wearing a short, white mini-dress and standing on a logo disk base. Limited to only 3,000 pieces, this statue comes packaged with a certificate of authenticity in a full-color window box. Sculpted by Clayburn Moore! (Item #AUG162553, SRP$ 149.99)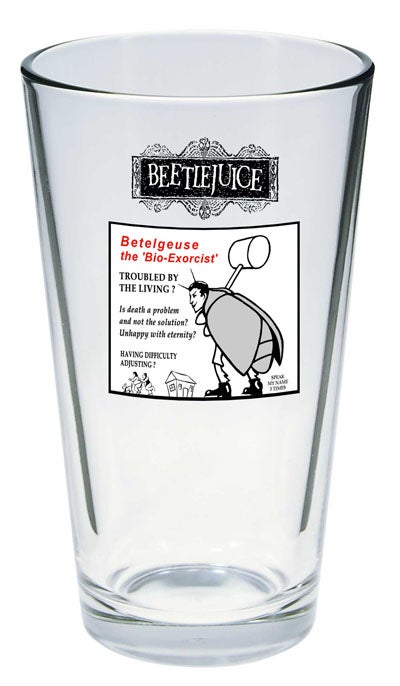 Beetlejuice Movie Reelware Pint Glass
Troubled by the living? Is death a problem, and not the solution? Unhappy with eternity? Then pour yourself a drink in this movie-inspired pint glass, kick back and call Beetlejuice! This pint glass features the original advertisement that prompted Barbara and Adam Maitland to call the revered bio-exorcist in an attempt to reclaim their home, and kicks off a new line of merchandise based on the classic Tim Burton film Beetlejuice. Packaged in a full-color window box. (Item #AUG162571, SRP: $10.99)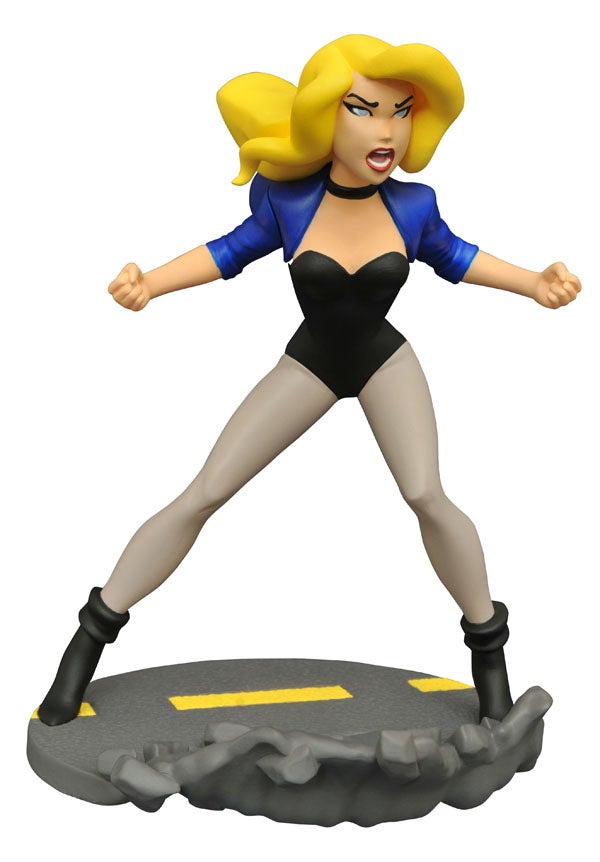 DC Gallery Justice League Black Canary PVC Figure
The heroines of the DC Animated Universe are expanding their roster! As seen on Justice League Unlimited, this 9-inch scale PVC figure of the Black Canary depicts Dinah Lance unleashing a sonic scream at her opponent, wearing her classic, comic-inspired leather jacket and tights. Figure is in scale to all Gallery and Femme Fatales PVC figures, and comes packaged in a full-color window box. Sculpted by Varner Studios! (Item #AUG162555, SRP: $45.00)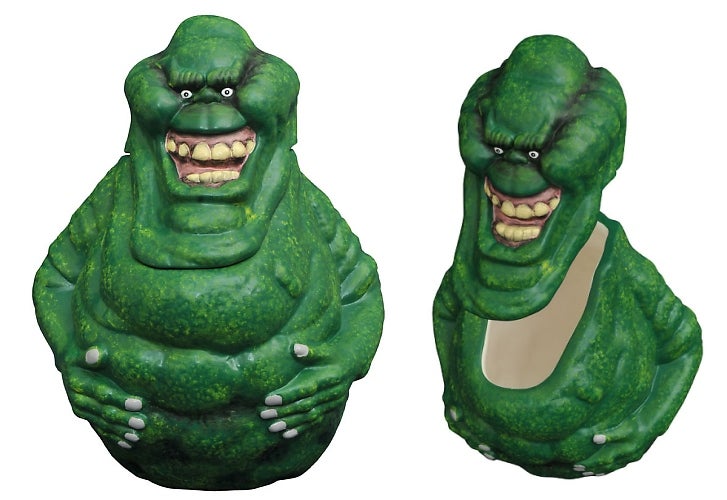 Ghostbusters Slimer Cookie Jar
Looking for cookies? Check inside Slimer! The food-loving ghost made famous by the Ghostbusters feature films and animated series is now a ceramic cookie jar! Measuring approximately 12" tall, this class 5 apparition is quite solid, so you can't just stick your hand into his stomach and grab what you want, but a removable lid will grant you access to whatever Slimer recently ate. Packaged in a full-color box. (Item #AUG162572, SRP $150.00)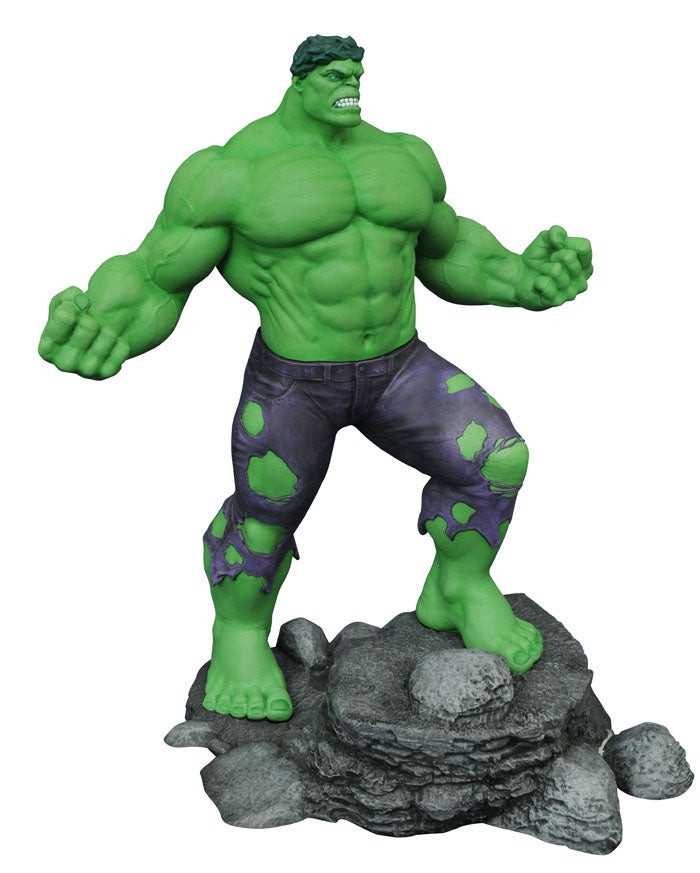 Marvel Gallery Hulk PVC Figure
The Marvel Gallery just raised the roof! Clocking in at approximately 11 inches tall, the Incredible Hulk is the biggest Marvel Gallery PVC figure so far! Based on his comic-book appearance, the Hulk flexes his muscles in a show of strength, with one foot on a heap of rubble, in a Sam Greenwell sculpt that features a high level of detail and exacting paint applications. It is in scale to all Gallery and Femme Fatales PVC figures, and comes packaged in a full-color window box. (Item #AUG162570, $45.00)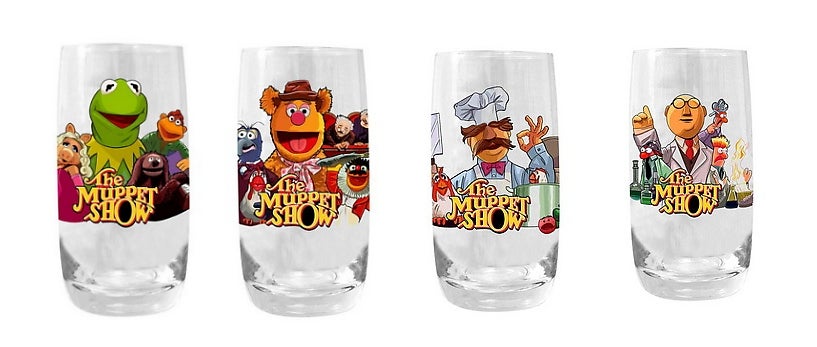 Muppets Muppet Show Glass Tumblers
It's time to get things started! It's time to pour the drinks! You can't help but smile when you're drinking a tasty beverage out of these nostalgic glass tumblers featuring the cast of The Muppet Show. Inspired by fast-food glassware of yesteryear, these tumblers sport all-new original artwork spotlighting main Muppets Kermit, Fozzie, Bunsen, Beaker and the Swedish Chef, as well as their supporting casts! Each glass comes packaged separately, in a full-color window box.
Muppets Kermit Tumbler (Item #AUG162573, SRP: $9.99)
Muppets Fozzie Tumbler (Item #AUG162574, SRP: $9.99)
Muppets Bunsen & Beaker Tumbler (Item #AUG162575, SRP: $9.99)
Muppets Swedish Chef Tumbler (Item #AUG162576, SRP: $9.99)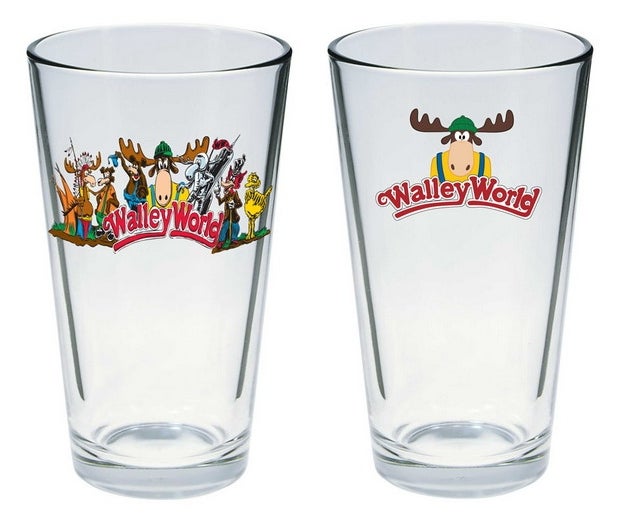 National Lampoon's Vacation Movie Reelware Pint Glasses
Who's the moosiest moose we know? Marty Moose! Who's the star of our favorite show? Marty Moose! Relive the craziest road trip you never went on with these two pint glasses that are straight outta Walley World! With one depicting Roy Walley's famous creation Marty Moose, and the other showing the full cast of Walley World characters, both glasses are the ultimate in cinematic souvenirs, inspired by the movie National Lampoon's Vacation. Be the first in your neighborhood to drink like a Griswold! Each glass comes packaged in a full-color window box.
Walley World Pint Glass (Item #AUG162556, SRP: $10.99)
Marty Moose Pint Glass (Item #AUG162557, SRP: $10.99)

Nightmare Before Christmas Santa Sally Unlimited Coffin Doll
The leading lady of the stop-motion animation holiday classic Tim Burton's The Nightmare Before Christmas is back, and Christmas will never be the same! With an all-new head sculpt, this unlimited, single-packed 14" doll of Sally the Rag Doll in her Santa Claus outfit features a real cloth costume over a fully poseable body, with hidden internal articulation at the knees and elbows. Packaged in a coffin-shaped window box. (Item #AUG162564, SRP: $99.99)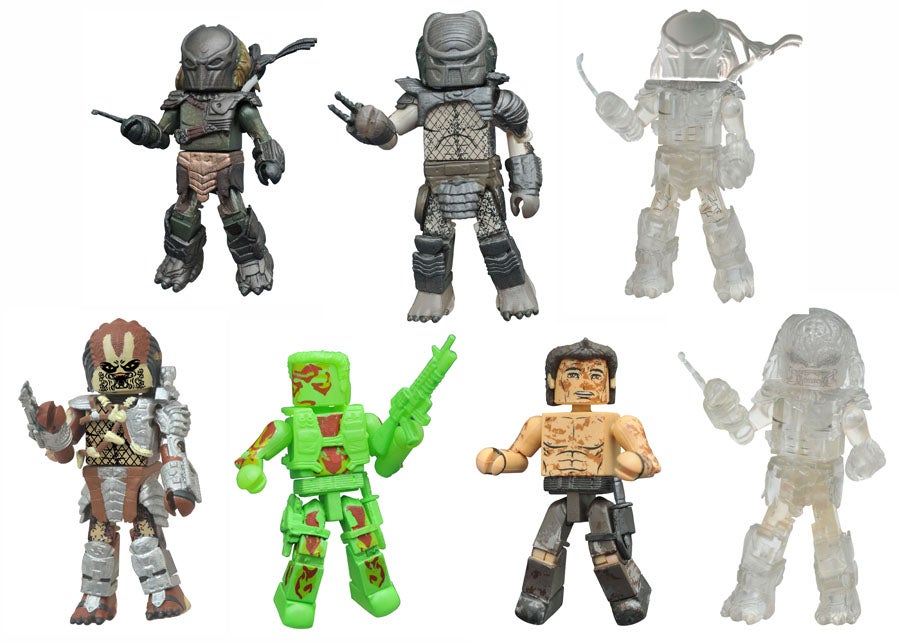 Predator Minimates 2-Packs Series 3 Asst.
The hunt continues! The Predator Minimates series returns with another assortment of figures based on the classic action films Predator, Predator 2 and Predators. In this series, Thermal Dutch faces off with the classic Predator, Muddy Royce faces off with a Cloaked Berserker, the Falconer Predator teams up with the Warrior Predator, and a rare, one-per-case 2-pack features a Cloaked Falconer! Each 2-inch Minimates mini-figure features 14 points of articulation as well as fully interchangeable parts and accessories. Each 2-pack is packaged on a full-color blister card! (Item #AUG162565, $9.99/ea.)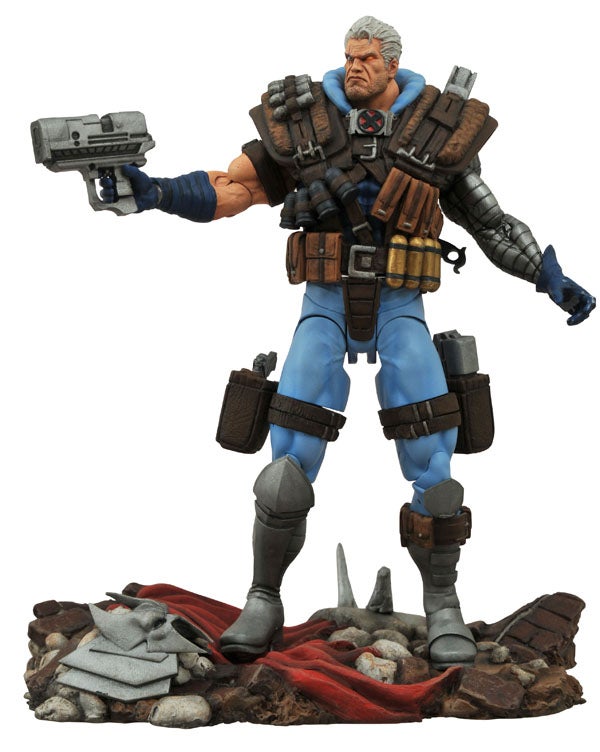 Offered Again: Marvel Select Cable Action Figure
Because you demanded it, the return of the man called CABLE! The founder of X-Force, Cable always comes ready for battle, with big guns and even bigger ammo, and since his debut he has loomed large in the Marvel Universe. Now, he's traveled from the past to rejoin the 7″ Marvel Select action figure line! Wielding multiple weapons, including one that can be mounted on his shoulder, Cable comes with a detailed display base, referencing his most famous foe, Stryfe, and features multiple points of articulation. Figure and base come packaged in display-ready Select packaging, with spine artwork for shelf reference. (Item #OCT142189, SRP: $24.99)
[gallery_bank type="images" format="masonry" title="true" desc="false" responsive="true" display="all" sort_by="random" animation_effect="bounce" album_title="true" album_id="106″]
Keep up with all the latest toy news by following Figures.com on Facebook and Twitter!
To buy action figures, take a look at BigBadToyStore.com, TheToySource.com, Toynk.com, BriansToys.com, ToyWiz.com, and EntertainmentEarth.com.