Click HERE to se more images from Cryptozoic in our TF2017 photo gallery
Unique and innovative collectibles were abundantly on display at the Cryptozoic Entertainment booth at the New York Toy Fair this year.  From the highly popular DC Lil Bombshells vinyl figures to the upcoming fresh and innovative TEEKEEZ toy line, collector have a lot to look forward to in the coming months.
The DC Lil Bombshells line will be introducing male characters into the mix this year  starting out with the all new Bruce Wayne figure which made his toy fair debut at the show. The second male figure in the line will be the Joker with several other DC characters planned for future releases.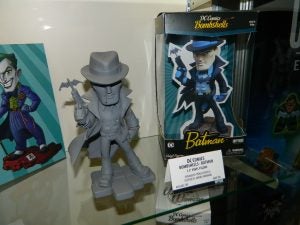 The one-of-a-kind DC Hands statue line provides fans with beautifully sculpted hands of various characters each holding an iconic item. This new line will consist of:
The Joker' Calling Card (with full deck of cards)
Harley Quinn's Pudding Pop (with joker lollipop)
Poison Ivy Poisonous Vine (with possible bendy vine and man-eating plant)
Batman's Batarang (with removable metal Batarang)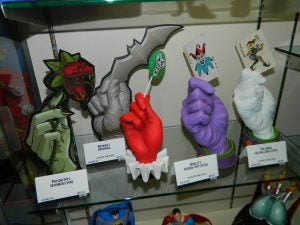 Perhaps one of the coolest reveals was the all new TEEKEEZ vinyl figures line. The new line provides collectors with figures of their favorite heroes and villains visualized as wooden Teekee dolls. With some many iterations of comic-based vinyls in the market today, this line really steps out of the box delivering a very look to all your favorite characters that is sure to be a big hit with consumers. The first assortment of TEEKEES will consist of:
Batman (TBD MSRP $15)
The Joker (TBD MSRP $15)
Harley Quinn (TBD MSRP $15)
Superman (not shown)
Wonder woman (not shown)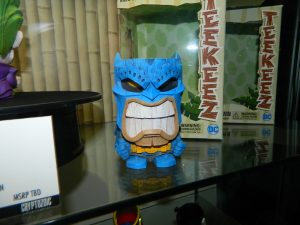 The Joker and Catwoman  will join Harley Quinn ( available now ) later this year in the awesome DC Mug shots bust collection.  This bust collection provides collectors with a fresh take on their favorite DC rogues as they would look posing for their mugshots (sculpted by Jean St. Jean) at the G.C.P.D. and include unique backer cards with unique individual backgrounds for each character.
Click HERE to se more images from Cryptozoic in our TF2017 photo gallery
---
Toy Fair 2017 coverage brought to you by Global Holdings, distributor of fine collectibles.
To buy action figures, take a look at MHToyShop, Hobby Link Japan, BigBadToyStore.com, TheToySource.com, Toynk.com, BriansToys.com, ToyWiz.com, and EntertainmentEarth.com.