Creative Beast Studio announces that they have re-opened pre-orders for their Beasts of the Mesozoic: Raptor Series Action Figures. The move allows those that missed out on this successful Kickstarter project to get their hands on these 1/6th scale scientifically accurate dinosaur action figures, with great detail and articulation.
The pre-order store will be up until fulfillment shipping begins, which is estimated to be July 2017. Quantities are limited.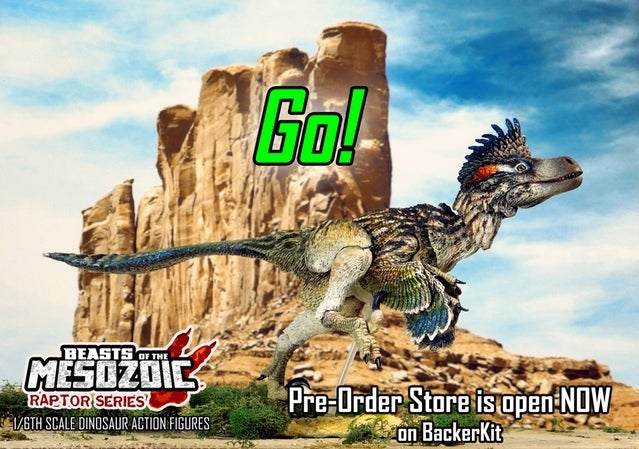 Collectors can pre-order HERE. A full breakdown of what's slightly different this time around can be read below.
What's Different?

One of the most notable differences are a few of the prices. As many of you know, the original proposed concepts for the Accessory Packs and Nestlings were much more modest than what I ended up creating. The Accessory Packs became larger and more elaborate while the Nestlings were given articulation and interchangeable parts. Thus, it's no surprise that production costs for these items were a bit higher than I'd estimated for and thus an increase in the price has unfortunately become necessary. The new prices are as follows:

Accessory Packs- $40

Nestlings- $25

If you have already ordered any of these items, you're locked in for the old prices and this will not effect your total. But from this point on, these are now the standard prices for those items. All other item pricing remains the same as before.

Printed Materials

For the sake of simplicity, I have removed the printed materials from the store this time around. The calendars are sold out, but there are still post cards and a limited number of 'Raptors at Dawn' prints available. I will be putting the post cards up on my website, creative-beast.com,  for purchase later this month. Kickstarter backers, please contact me if you'd like to add the print to your existing order.

Shipping

I have adjusted the shipping fee structure to better accommodate smaller orders as well as large ones.

US base shipping fee is now $11 (down from $15) with each item adding an additional $1 to the shipping total. If you have an existing pre-order, you may notice a credit of $4 on your BackerKit profile. This is due to the reduction in the base shipping fee on BackerKit.

Likewise, the International base shipping fee is now $22 (down from $25) with each item adding an additional $3 to the shipping total. Those with an existing international pre-order will see a $3 credit.

Adding to an Existing Order

Although your surveys have been locked, you can still add to your existing order by placing a pre-order and then contacting me, or by simply letting me know what you would like to add. By your request, I can combine the new order with your existing order to save on shipping costs and to ensure that all items ship together. But please know that this will not be done automatically- you will need to message me or email me about combining your order.

Exclusives (Kickstarter backers)

Kickstarter backers will not be able to see the Exclusive items in the store, but if you would like to add either the Velociraptor osmolskae or the signed 'Raptors at Dawn' art print by Mark Schultz, there are still more available. I can add those to your order by request, so again, please contact me if you would like to add either of these items to your existing order.

Estimated shipping date

You will also notice that the estimated shipping date is now July 2017 instead of May 2017. Don't worry- we haven't hit any production delays so far (fingers crossed), but this was changed due to the amount of orders that will need fulfilling up to this point. If shipping begins in May as planned beginning with the Kickstarter orders, then it would likely not be any sooner than July that new orders could be fulfilled. So the shipping date is more for the new backers and not intended for those with existing orders.

Lock down?

There is no lock down date this time around. Since all of the items are completed and shown, the new pre-order store will work like a regular store. Cards will be charged within 24 hours of each order.

Also keep in mind that this time around the quantities are limited. Anything left over will be available on my website later this summer. The pre-order store will be up until fulfillment shipping begins. After that the items will be available at creative-beast.com.
---
Keep up with all the latest toy news by following Figures.com on Facebook and Twitter!
To buy action figures, take a look at BigBadToyStore.com, TheToySource.com, Toynk.com, BriansToys.com, ToyWiz.com, and EntertainmentEarth.com.