Win One of Five MechWarriors
Signed by Wiz Kids' Jordan Weisman
To enter, all you have to do is enter your email address below.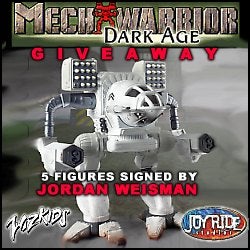 Figures.com, in conjunction with WizKids and JoyRide Studios, is pleased to offer five lucky winners a MechWarrior: Dark Age action figure signed by Jordan Weisman, founder and CEO of WizKids, creator of the "MechWarrior: Dark Age" turn-dial game, and the lead designer and universe creator of the original BattleTech role playing game.

Prizes include One (1) Legionnaire, One (1) Forestry Mech, One (1) Jupiter, and Two (2) Mad Cat II's. Each collectible figure is constructed of durable plastic and die-cast metal and stars stunning articulation. To enter, all you have to do is enter your email address here:

5 randomly drawn entries will win!




RULES:

·You may only enter once. Multiple entries will be discarded.

·Contest ends February 21, 2003 at 11:59 PM Eastern time.

·Winners will be chosen randomly from all entries by March 3, 2003, and will be notified via provided E-mail.

·Winners must then supply postal address by March 14, 2003 or forfeit prize. If this is the case, a new winner will be selected.

·Prizes will only be shipped to U.S. postal address.

·All contest questions should be directed to: Win MechWarrior Giveaway Questions!

·The ACTION On-Line network, WizKids, Joyride Studios, and Figures.com are not responsible for any entries not received for any reason of any kind, including hardware or software failure, failure to connect or correctly submit contest information for any reason, failure of sponsors or other parties to make form available or accessable to anyone for any reason, or other ommission, loss, failure or performance of any kind, either intentional or otherwise.

·Employees of ACTION On-Line, WizKids, JoyRide Studios, and Figures.com are ineligible.