From Star Trek: Deep Space Nine, it's Quark as the newest 1/6th collectible figure from EXO-6. The figure is priced at $215 with shipping scheduled for second quarter 2023.
Quark is depicted wearing one of his multi-colored suits which was recreated and scaled down by the expert tailors at EXO-6. He comes with his gold-pressed latinum, the Ferengi Rules of Acquisition book and a Ferengi PADD.
This 1:6-scale figure re-creates this iconic character in exquisite 1:6 detail. Standing approximately 11 inches tall, no detail was spared in reproducing his outfit and accessories as authentically as possible. The original portrait of Armin Shimerman as Quark is expertly sculpted with an accurate likeness to the actor in full make-up.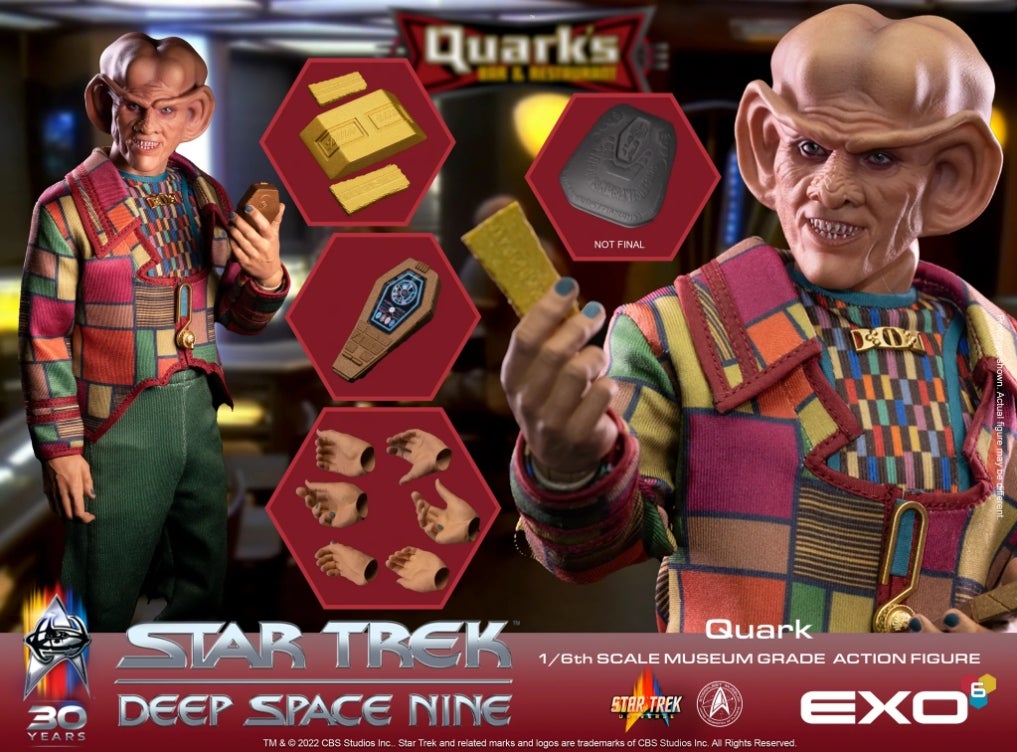 The EXO-6 Quark 1:6 Scale Articulated Figure includes:
Fully Articulated Body: More than 30 points of articulation allow the figure to be displayed in multiple dynamic poses, approximately 28 cm tall.
Realistic Portrait: The portrait sculpt of Armin Shimerman as Quark is beautifully sculpted based on the make-up from the series. It is specially hand-painted.
Ferengi suit: This multi-color suit was a popular outfit for Quark on Deep Space Nine and was also featured in the pilot for Voyager and his appearance in Lower Decks.
Boots: His boots are sculpted to match the style of the original footwear.
Ferengi PADD: Quark's Personal Access Display Device in the Ferengi style.
Gold-pressed Latinum: Quark's favorite substance – included are 3 bars of Gold-pressed latinum in varying sizes.
Book of Acquisition: The Rules of Acquisition are the Ferengi bible, and this 1/6 scale book has been created based on the actual prop as seen in Star Trek: Deep Space Nine.
Display Base: A hexagonal display base will provide additional support for the figure.
---