Kidrobot and Dungeons & Dragons have started a brand-new campaign of exclusive plush toys and collectibles available now for pre-order on Kidrobot.com.
Kidrobot is proud to partner with Wizards of the Coast, the leading company in fantasy role-playing adventures, with an officially licensed assortment of Dungeons & Dragons phunny plush toys as well as the Dungeons & Dragons Monsters 3" Vinyl Mini Series 1.

Phunny plush exclusives include the Beholder, Owlbear, Displacer Beast, Kettlesteam, Red Dragon, Bulette and more!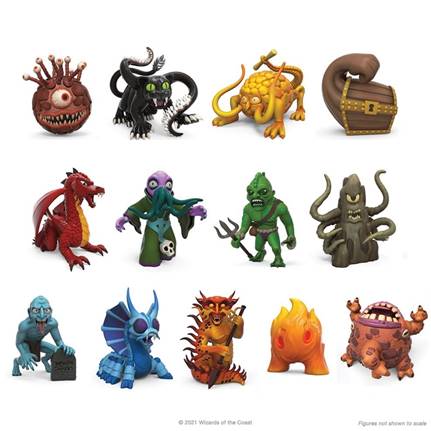 The Dungeons & Dragons Monsters 3" Vinyl Mini Series 1 feature famous monsters from the 1st edition of Dungeons & Dragons made miniatures. They're blind boxed to maintain rarity and collectability. Fans can order a single blind boxed figure or a casepack of 24 blind boxed figures. Wave 1 possibilities include Beholder, Displacer Beast, Fire Elemental, Ghoul, Mimic, Mind Flayer, Red Dragon, Remorhaz, Roper, Rust Monster, Sahuagin, Salamander, and Xorn. Which will you get? Roll for initiative and find out!
The Dungeons & Dragons collection pre-orders are now open. Items will ship when stock arrives. Please check the website for individual shipping estimates.
---