-Review and Photos By Andy Jones
(PLEASE NOTE: Some photos may feature accessories and figures from additional Playmobil sets.)
We knew Playmobil wouldn't leave off the third part of the Back to the Future, and the surprises come every day with this year's Advent Calendar. Actually the great thing about an advent calendar is that you can use it year after year. And this is the second Back to the Future Advent Calendar, there was one last year (https://www.figures.com/2020/11/17/review-playmobil-back-to-the-future-advent-calendar/) and it was a ton of fun. This year delivers as well. It starts you off with a handful of mini backdrops, setting the scene from your favorite BTTF III moments. Then there is another box with numbered windows. Each day you open a box and receive a small gift. Spoiler alert: I indulged and opened all the boxes.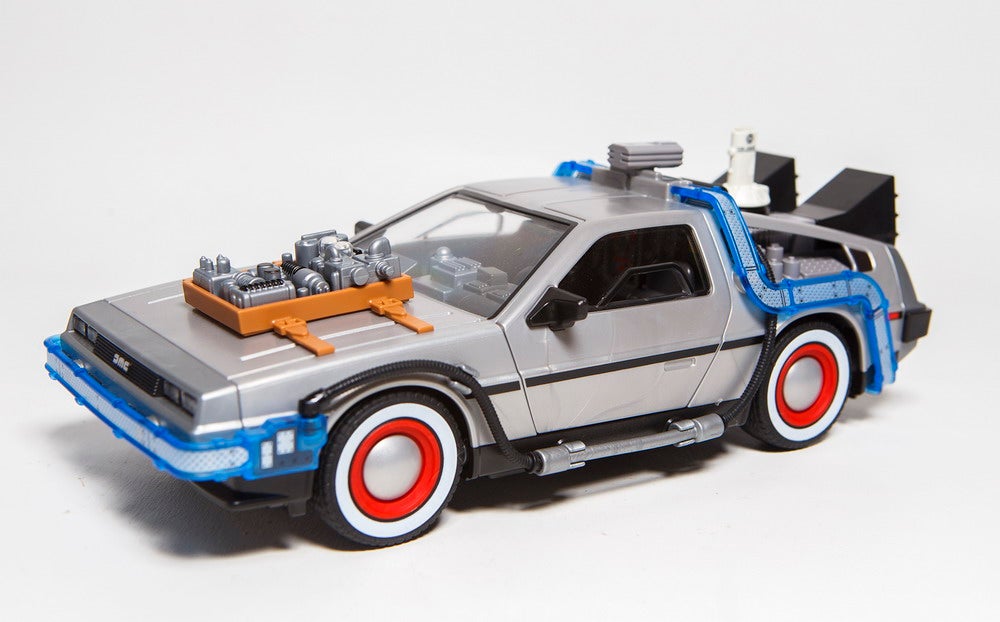 First up is the upgrade to the DeLorean. I truly appreciate that Playmobil recognizes you most likely already have their $50 DeLorean and they don't need to make this an $85 set. I feel that a lot of other toy companies would just gladly charge you for a whole new car to get the new accessories. In this set you get the vacuum tube crate for the hood and the 1955 era white wall tires.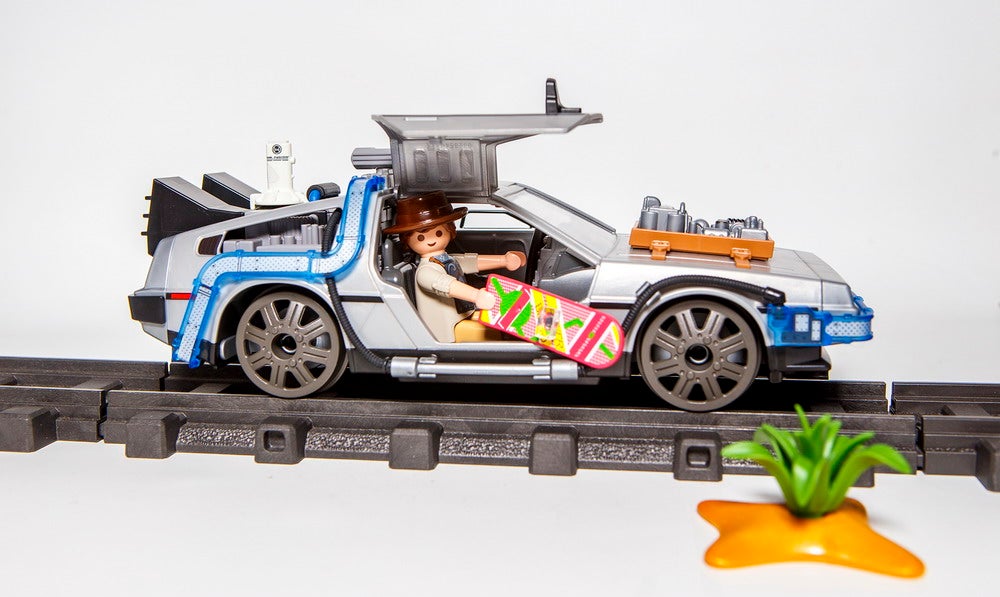 You also get four railroad track wheels. This photo includes playmobil train track that does not come with this set (and the hoverboard comes with the BTTF II set 70634). I wanted to share a simple hack for displaying this format of the DeLorean on your shelf. Grab two pieces of playmobil plastic train track. Put two track pieces side by side, interlocking the railroad ties like a zipper. The left rails on both sets of tracks will now be approximately the right distance across. In fact it rolls quite nicely if you have enough track to get a good straight away going.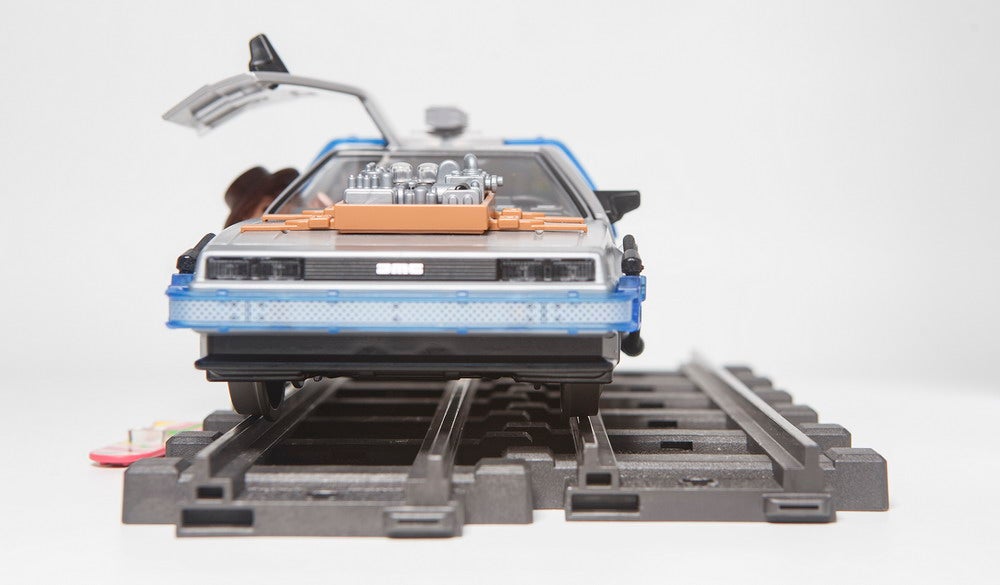 The vacuum tube crate attaches with some adhesive pads that are included. They are not to be used over and over indefinitely. You get several sets of pads if the first discs lose their adhesiveness. I kind of wish there was a "cleaner" method, like magnets, or a pre-planned notches. It seems playmobil assumes you'll pick a mode and kind of leave it that way. As a photographer, I'm constantly switching pieces around. But it looks so fantastic.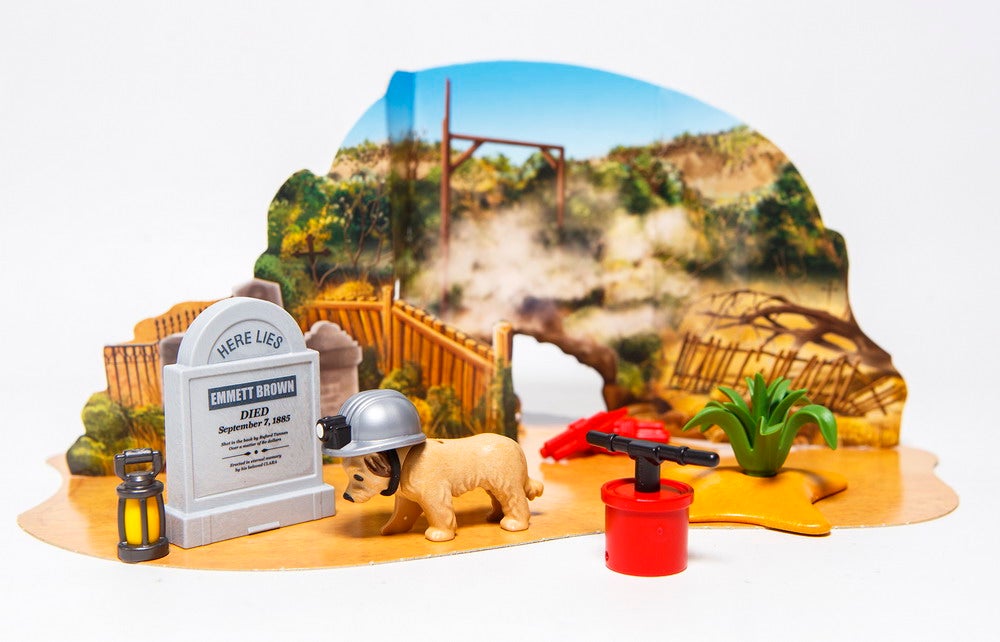 The first play scene from the film is puppy Copernicus with his miner's helmet, dynamite plunger, and Doc's tombstone. There's a fun cardboard stand-up included to display these pieces. The tombstone is a great replica with the full $80 epitaph. I absolutely love the little miner's helmet that fits on Copernicus. The plunger and dynamite are a fun part too. But I love that helmet.

The next scene is the 50s drive-in. You get Marty's atomic cowboy get up (appropriately wearing his Nike's instead of cowboy boots) and Doc with his starter pistol. The Delorean doesn't quite fit in this scene, but the figures on their own look great.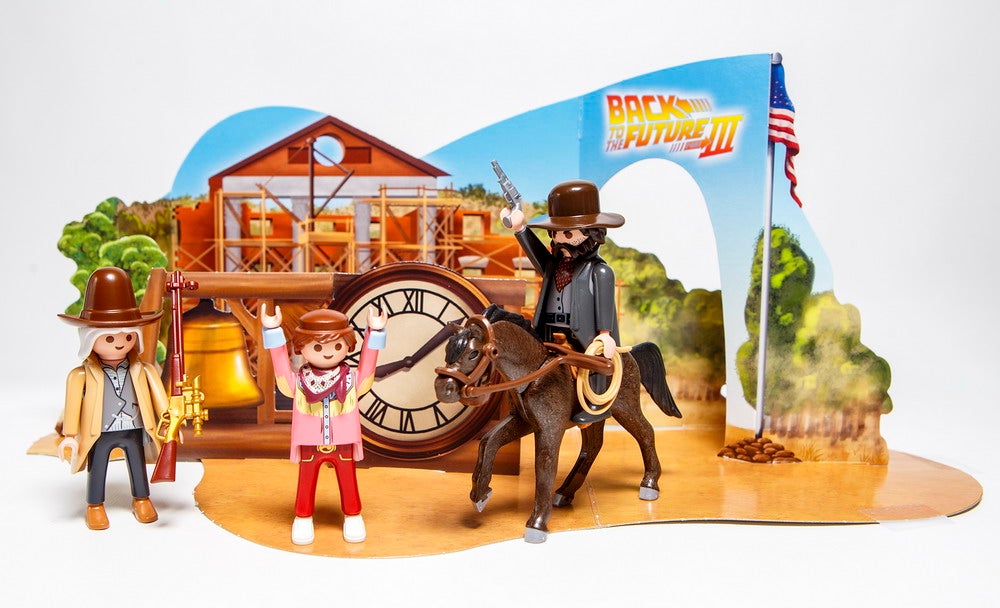 The next backdrop can be used in multiple ways. Featuring the Hill Valley clock tower under construction. Here is Mad Dog Tannen chasing down Marty, when he is threatened by Doc with his modified scope. It looks beautiful.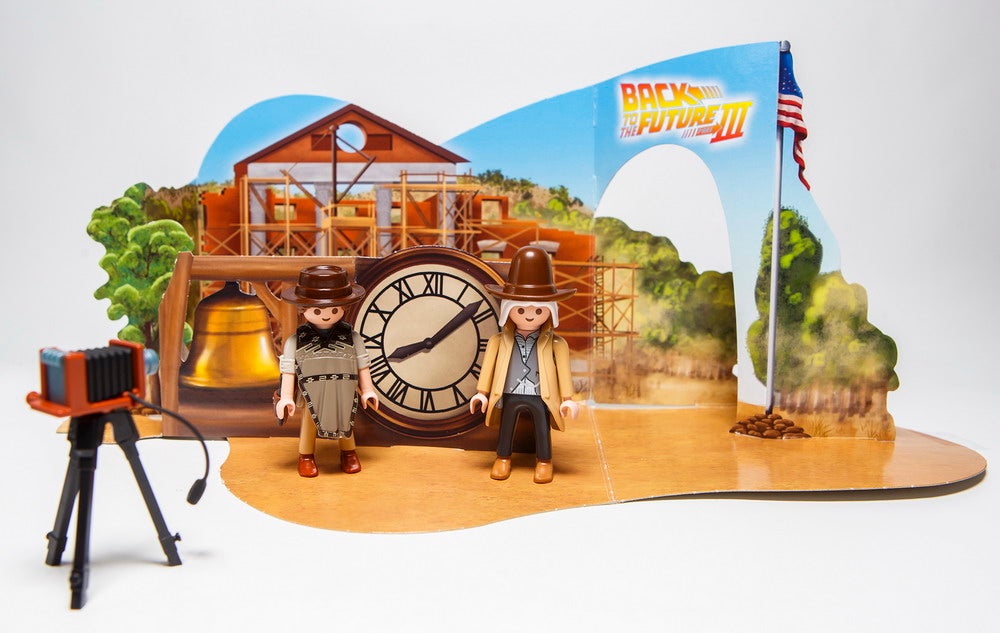 BUT you can also use this set to pose Doc and Marty from the night of the town festival when they got their photo taken with the clock. This set also gives you an old tymey camera. Bonus film fact, the man who played the photographer in the film was the cinematographer for the movie. In addition, you get a miniature version of their portrait, with a frame, at playmobil scale AND a postcard size replica of that portrait for you to display. Nice!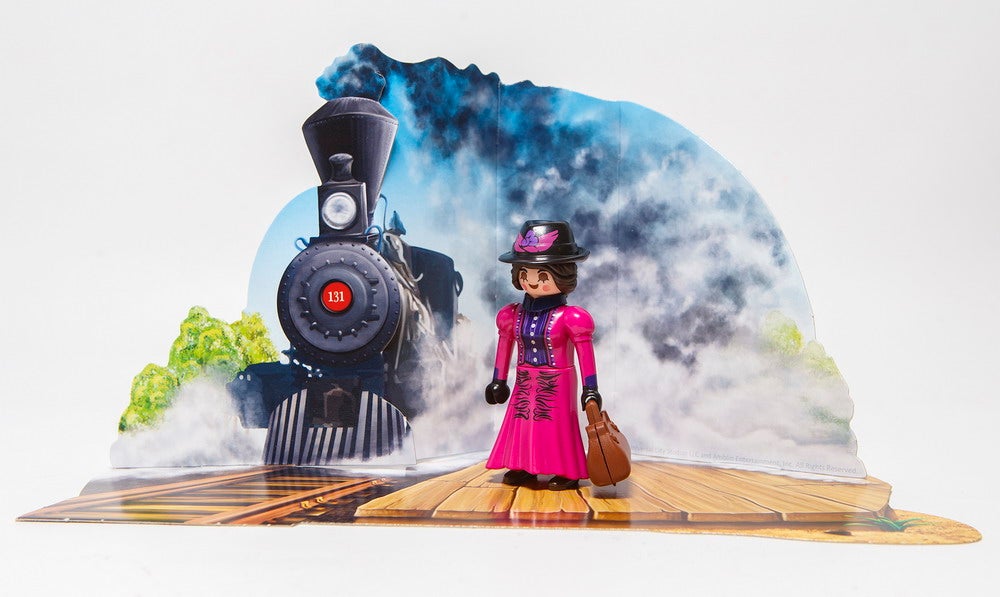 The last backdrop scene is Clara waiting for the train on the platform. Clara looks fantastic and comes with a small bag. This is my opportunity however to ask Playmobil to please re-release their old west train playset under the Back to the Future line. That would be "heavy."

You can also use this backdrop to display Doc and Marty holding up the train. I loved how Playmobil included the colored 1-2-3 "logs" that they use to stoke the fire, however I wish they also included these bank robber bandanas. I got these from another playmobil old west set. The issue is, that with Doc's collared jacked and Marty's poncho, they don't clip on perfectly. But it was worth it for this photo!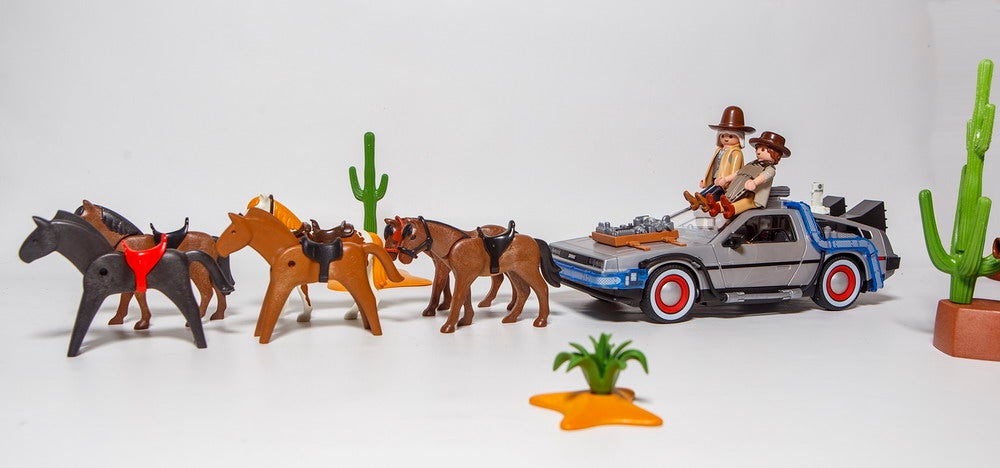 While I'm rummaging through my classic Old West playmobil bin, I got some horses to recreate this scene when they were testing the natural horse-power available. Both Doc and Marty had a little trouble sitting on the roof with the way their clothes are made (Doc's jacket tails and Marty's poncho) however they do balance there. I love that Marty's poncho can snap on and off to reveal his potbelly stove bullet-proof vest. And Doc's jacket looks great. In the BTTF II set they included a short version of his yellow jacket so that he could fit into the car, but it's not fun switching it back and forth all the time. Overall I'm very happy.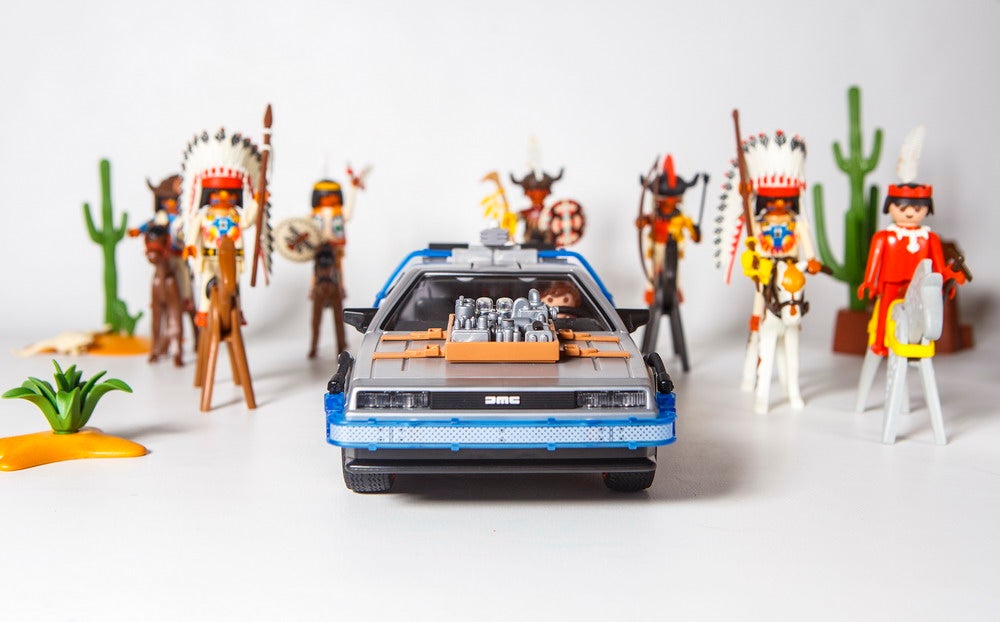 This set was a lot of fun. It retails for around $35 and is hitting shelves right now. I recommend getting it, even if you don't plan on celebrating the approach of Christmas by opening a box one day at a time. But if you do, that can be very fun as well. The accessories are well thought out. Playmobil has done a terrific job of embracing the licensing game and you can tell they absolutely love the source material. I love all the little details that were included. This was clearly made by fans for fans. I now have all of the Back to the Future Playmobil sets and they work so well together. I'm hoping they keep it going and we get some additional playsets in …the future!
Review and Photos By Andy Jones
Review Samples Courtesy of Playmobil
We are committed to finding, researching, and recommending the best action figures and collectibles. We earn commissions from purchases you make using the retail links in our product reviews. Learn more about how this works.
---