Blurrgs are two-legged beasts of burden found on a number of worlds in the galaxy. Stoic and strong, they are used for everything from agricultural labor to war, foraging lazily in paddocks or carrying Twi'lek guerrillas and clone troopers into battle. Although they appear harmless and docile, their toothy mouths can betray a fierce demeanor; females are known to devour the males of the species during mating season.
Continuing to expand their series of 1/6th scale collectibles based on The Mandalorian, Hot Toys presents the Blurrg as seen on the planet of Arvala-7!
In addition to the Blurrg being sold by itself, Hot Toys is offering serious Mandalorian fans a 1/6th scale boxed set that includes a Blurrg and The Mandalorian wearing his original armor in the series!
Release date: Approximately Q2 – Q3, 2022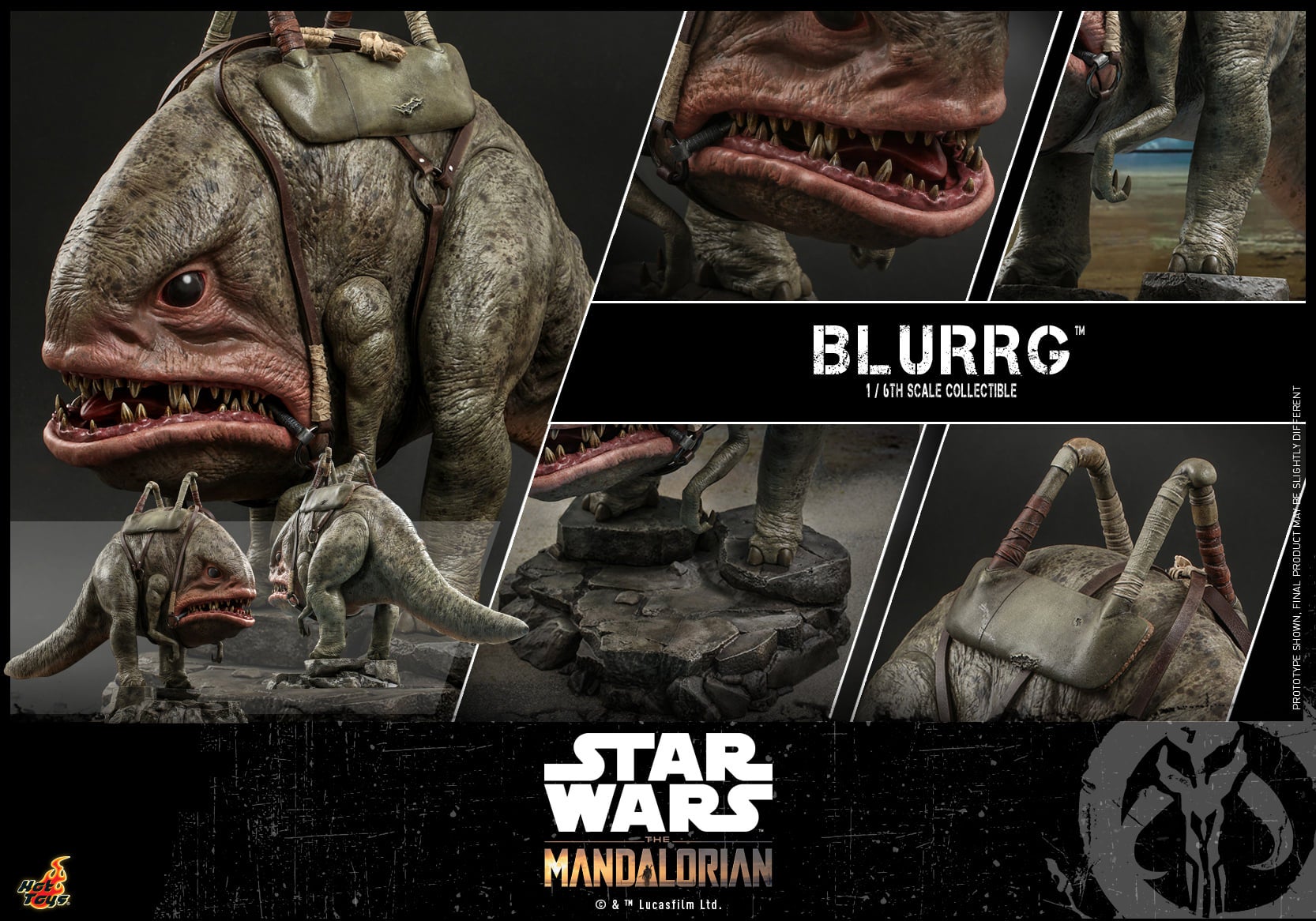 Hot Toys – [TMS045] – Star Wars The Mandalorian – 1/6th scale Blurrg Collectible
– Authentic and detailed likeness of Blurrg in Star Wars: The Mandalorian series
– Excellent detail and coloration on mouth, teeth, tail, and rough texture of the skin
– Approximately 37cm H x 60cm L x 20cm W ( 43 cm H x 60cm L x 25cm W with base)
– Articulated arms and legs
– One (1) set of bridle and saddle
Accessory:
– One (1) specially designed rocky themed diorama figure stand
Artist:
– Blurrg Collectible 3D designed by Studio HIVE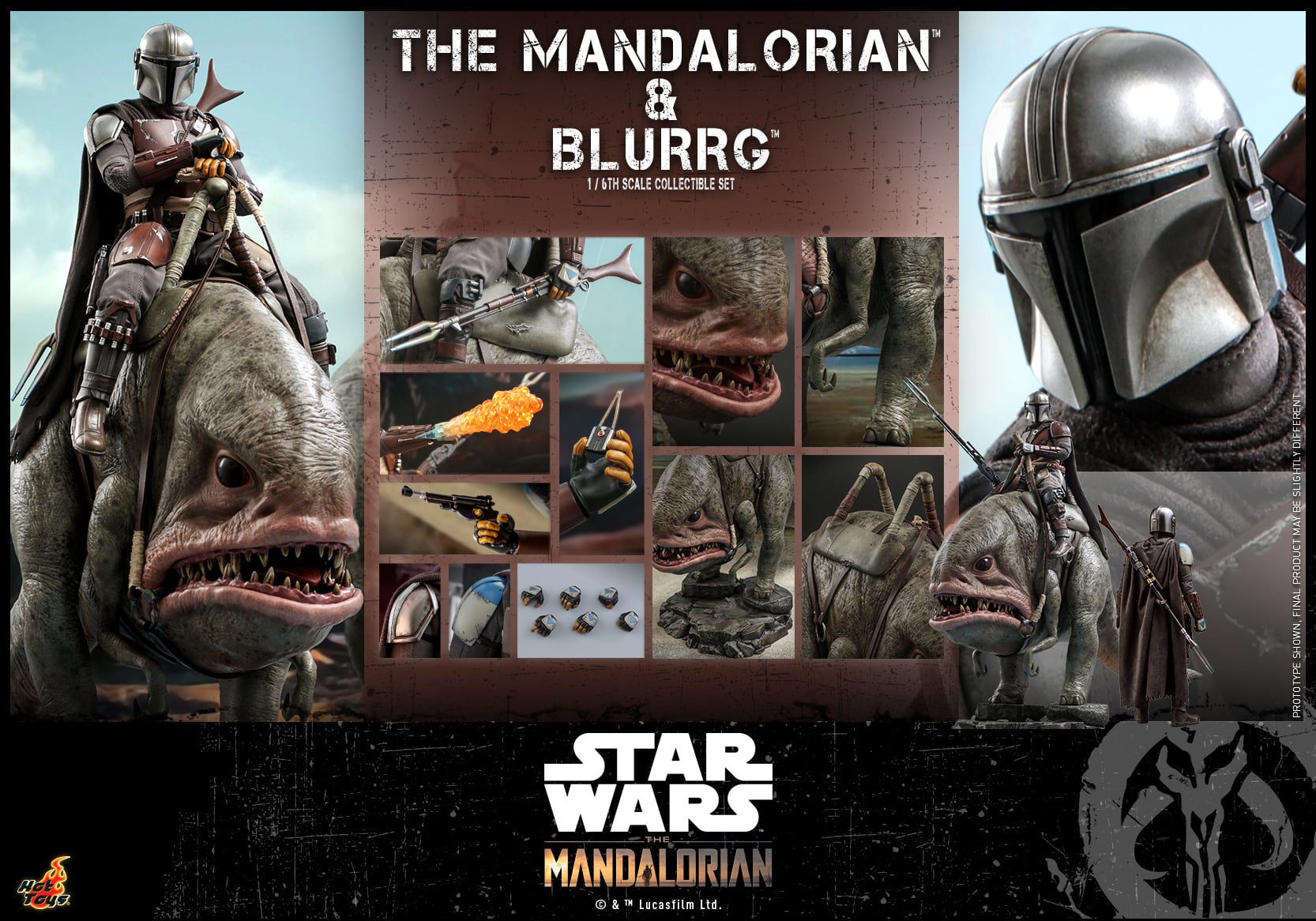 Hot Toys – [TMS046] – Star Wars The Mandalorian – 1/6th scale Mandalorian and Blurrg Collectible Set
– Authentic and detailed likeness of The Mandalorian in the live action-series The Mandalorian
– Finely crafted silver-colored The Mandalorian's helmet
– Specially applied weathering effects on armor, weapons, and accessories
– Approximately 30cm tall
– Body with over 30 points of articulations
– Six (6) pieces of interchangeable gloved hands including:
– One (1) pair of fists
– One (1) pair of relaxed hands
– One (1) pair of hands for holding weapons
Costume:
– One (1) dark grey colored cape
– One (1) dark brown colored battle damaged chest armor
– One (1) dark grey colored undershirt with battle damaged shoulder armors
– One (1) interchangeable dark brown colored right shoulder armor
– One (1) beige colored vest
– One (1) brown colored undervest
– One (1) brown colored leather-like utility belt with pistol holster and ammo clips
– One (1) pair of brown colored gauntlets
– One (1) pair of dark grey colored pants with battle damaged thigh guards
– One (1) pair of dark brown colored boots with weathering effect
– One (1) blue colored left knee guard
– One (1) pair of brown colored calf armors
Weapons:
– One (1) blaster rifle
– One (1) blaster pistol
– One (1) wired grappling hook
Accessories:
– One (1) flamethrower effect accessory
– One (1) tracking fob
– One (1) thermal detonator (attachable to belt)
Accessory:
– Specially designed rocky themed diorama figure stand
**Prototype shown, final product may be slightly different
**Product details could be subjected to change without further notice
Blurrg
Blurrg & Mando Set
---