Some of WizKids' best and coolest HeroClix expansions have coincided with momentous events of anniversaries, and this year's DC Comics celebration may be the biggest one yet. If you haven't heard, 2021 is the 80th anniversary of the first appearance of Wonder Woman, and HeroClix is celebrating in a big way. Not only is there a new, full booster expansion on the way centered around the Amazon Princess and her cast of characters, but it's also arriving with a brand new rules set and a fun new starter product for new players. The 80th anniversary set is jam-packed with various versions of Wonder Woman, her closest allies and deadliest enemies, as well as Olympian gods, Lanterns, new Secret Six, and more. We're excited to share our look at an unboxing today of a DC HeroClix Wonder Woman 80th Anniversary booster brick, the accompanying Play At Home Kit, and the Wonder Woman 80th Anniversary Miniatures Game!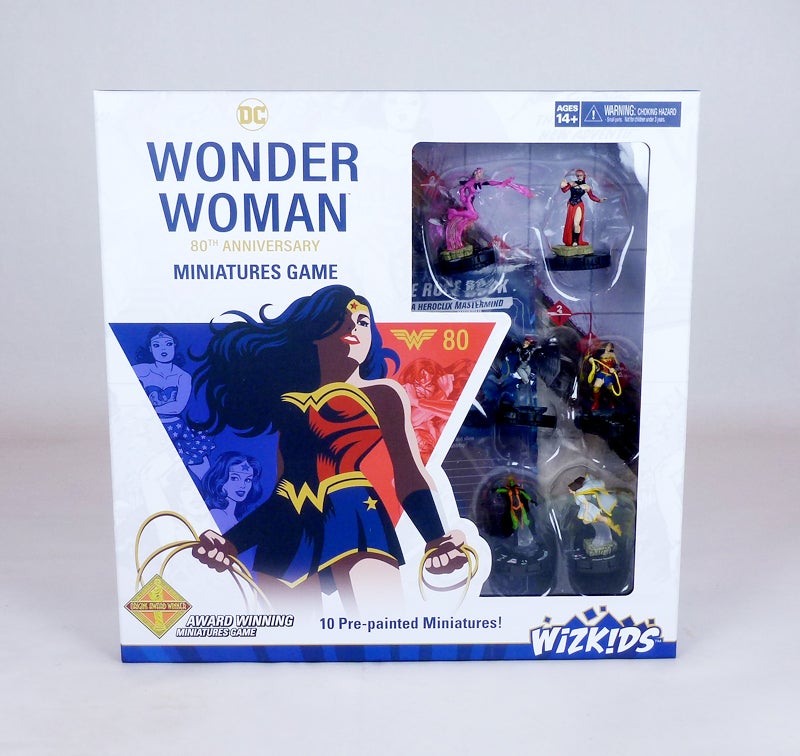 For a bit of a change, we're going to start with something other than the booster brick. Shocking, I know. The Wonder Woman 80th Anniversary Miniatures Game is a fantastic introductory product for new players, and quite a cool set with an epic amount of content. It comes in a massive box, basically an even larger evolution of the Avengers vs. Masters of Evil Battlegrounds box released last year. It shares the same iconography with the Wonder Woman booster set, lots of clean graphics on a bright white background. The colors are pure Wonder Woman, red, blue, and yellow, with a predominant, almost minimalist image of the heroine flanked by different artwork of her throughout the years on the front cover (this is the main anniversary logo, and it looks fantastic).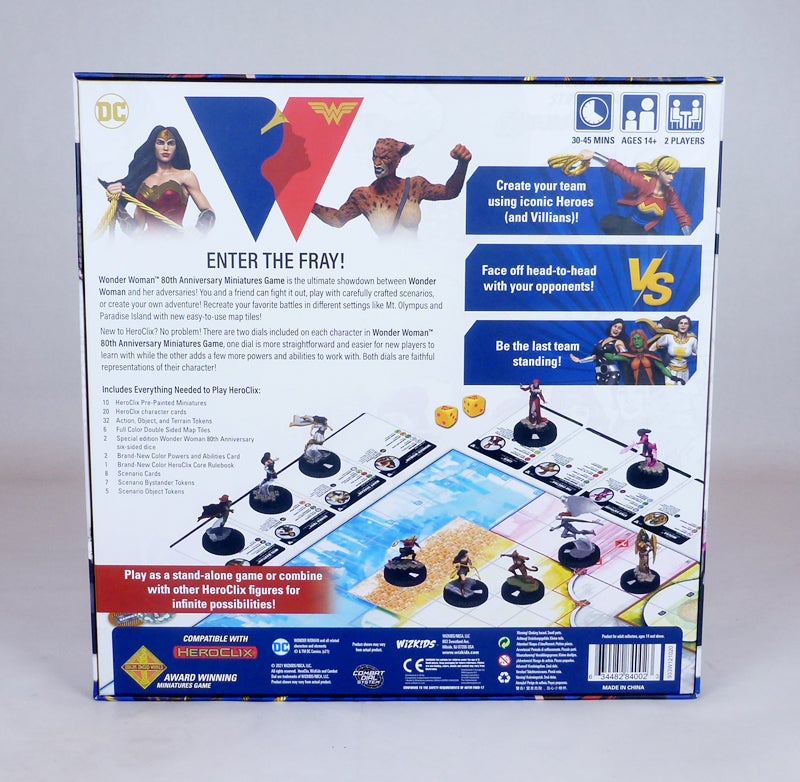 The box advertises the 10 included figures, some of which you can see through the clear window. More of them are on display on the back, along with a description of the game, a list of contents, and lots more. Pertinent info includes the 30-45 minute play time, 2 player games, dual dials for all the figures, map tiles, and everything you need to play.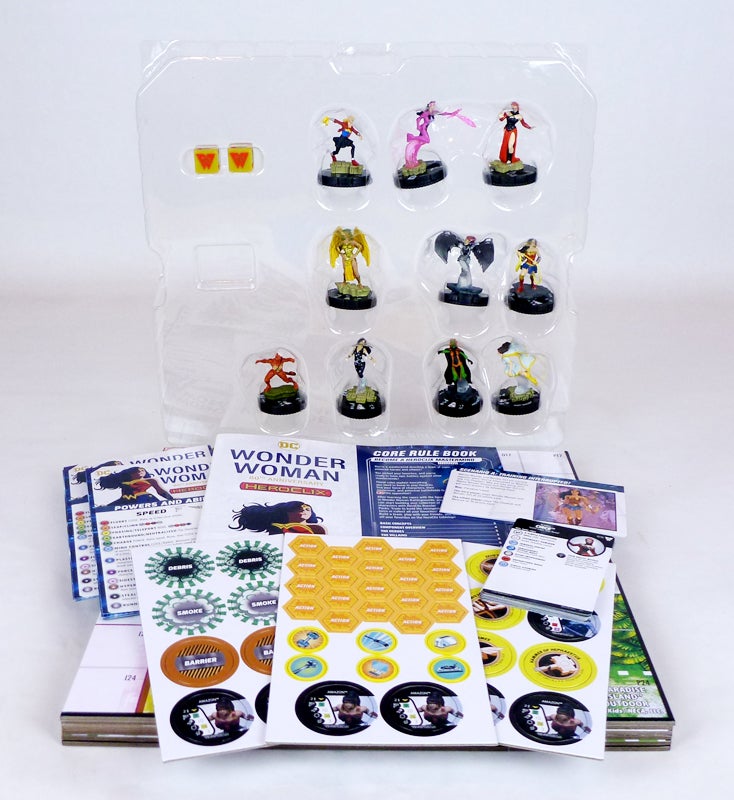 Pop open the box and start sorting through all of those components. There's a big plastic tray holding the dice and figures. The former are standard size D6s, yellow plastic with red pips and a special "W80" logo on the 6 side. As for figures, it's all girl power in the Miniatures Game with its roster of Wonder Woman, Mary Shazam, Donna Troy, Wonder Girl, Miss Martian, The Cheetah, Circe, Medusa, Star Sapphire, and Silver Swan. I have not seen the entire booster set lineup yet, but I imagine that all of these sculpts appear there (though with different dials, of course).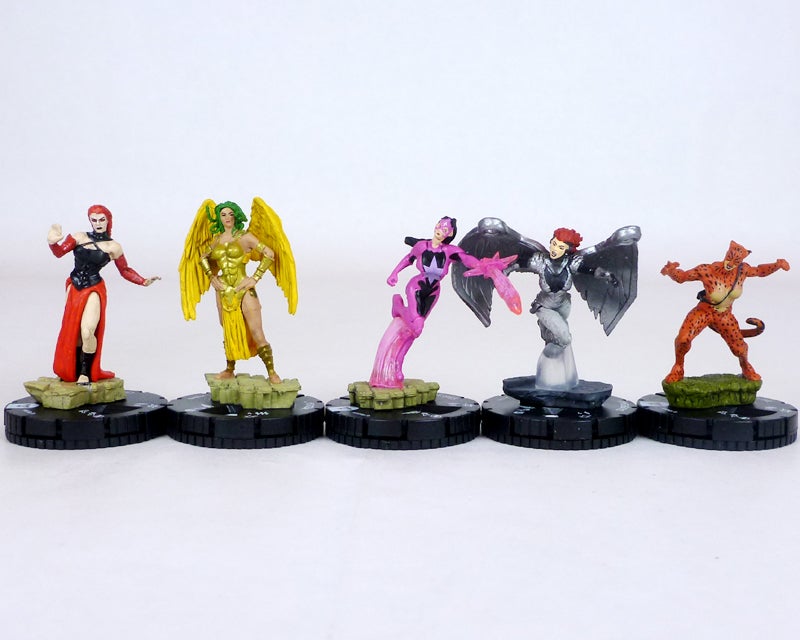 Speaking of, this set utilizes the dial layout we saw in the Battlegrounds box; each figure has two separate sections on its dial with corresponding cards, point values, etc., giving them different ways to play. The "A" version is always slimmed down both in point cost and the number of powers, while the "B" dial is a bit more beefy and complex. I think this format is excellent for new players looking to get into the game, giving them an easier-to-learn primer figure AND a fully powered piece for their collections all in one. Experienced players will also love the options these figures give their teams.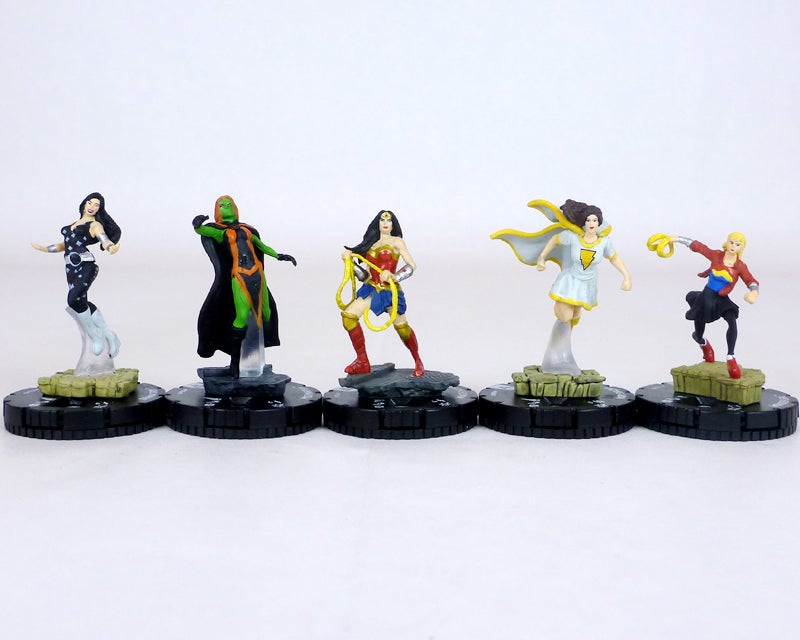 The figures themselves look great, as you can see in the photos. HeroClix's upgraded scale gives the sculptors and painters more room for fine details, and there's some great stuff going on like Wonder Woman's epic pose as she holds the Lasso of Truth to the highly detailed textures of Medusa's and Silver Swan's wings, the pattern of painting on the Cheetah, and more. I also really like the Mary Shazam figure for her confident flying into battle pose with flowing cape and costume as well as the sinister and yet alluring Circe. There are a couple instances of relatively soft plastic that can droop and deform slightly, but the paint applications are quite good all around. It's also worth noting that every single character stands on a detailed terrain base that looks cool and brings back fond memories of past HeroClix sets like Collateral Damage.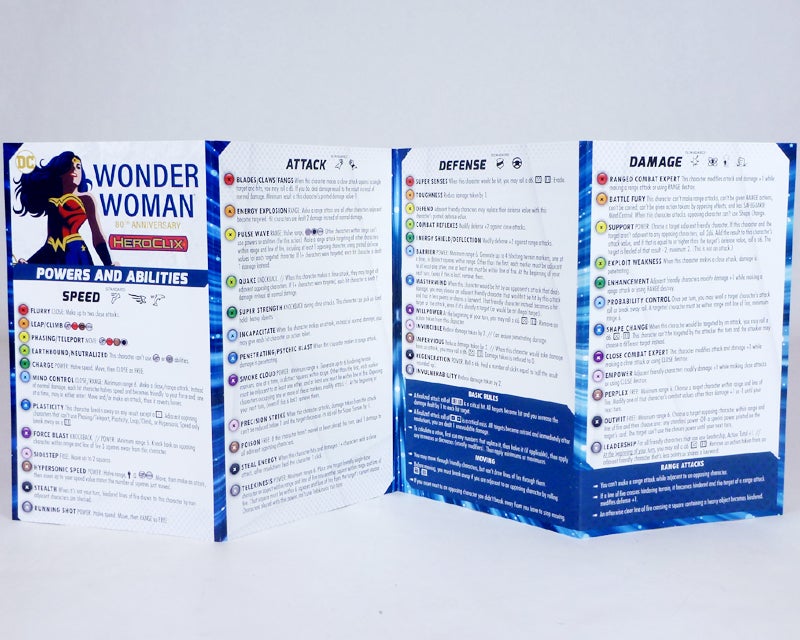 So, what else is in the box? Lots! You can't learn to play HeroClix without two main things: the core rulebook and the Powers and Abilities Card (PAC). Both of these are included (two PACs even), and they're brand new. That's right, WizKids is introducing a new rules update to the game right here and now. Earlier this week these documents were made available for free on the HeroClix website, but for now this Miniatures Game is the only place to get physical copies.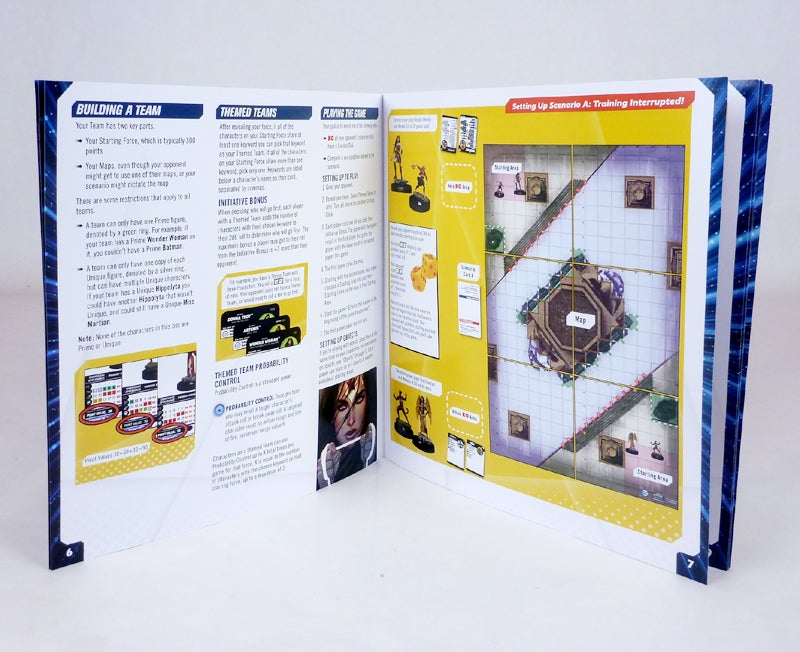 The PAC looks about the same it has for the past few editions but with new wordings and clarifications, while the rulebook is a major upgrade. Gone is the small black and white pamphlet with some hard to decipher images of rules interactions. Instead, the Wonder Woman version is a big, brightly lit, and full-color booklet outlining the basics of the game.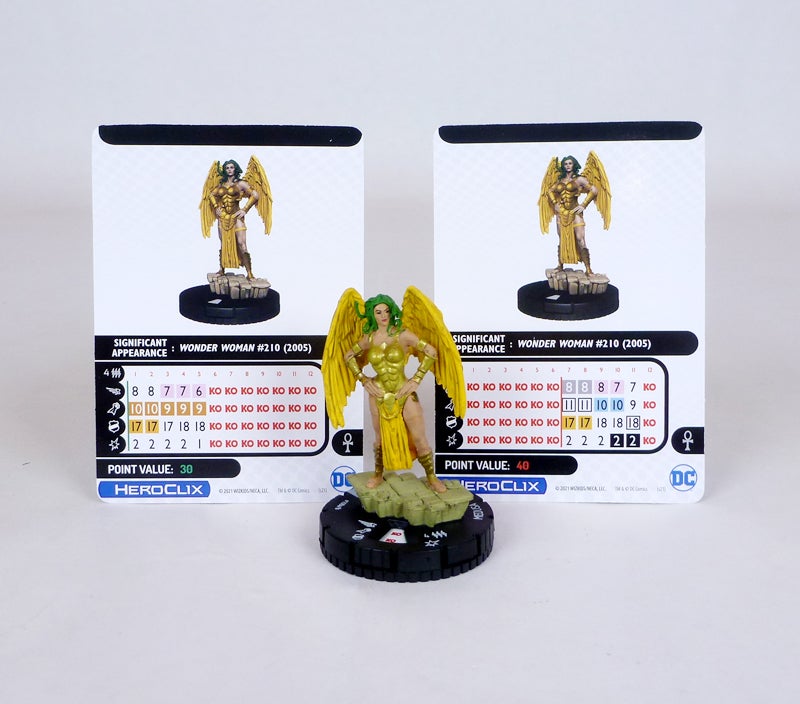 If you've never played HeroClix before, well, you should! It's a fun, fast-paced game of miniature combat featuring tons of superheroes and villains but also various licenses from Teenage Mutant Ninja Turtles to WWE and so many more. Each figure has an integrated combat dial in its base showing you its stats (Movement, Attack, Defense, and Damage), which will change as it takes damage or heals. Different colored blocks represent Powers, which are explained on the PAC. As standard a figure can move or attack on your turn; powers open up a world of special abilities like Charge (move and make a close attack), Running Shot (move and make a ranged attack), Toughness (reduce damage taken by 1), Outwit (turn off an enemy figure's power), and many, many more. I guarantee you'll have a great time learning the powers of your favorite figures and then building teams based off of who can do what.
Next, we've got tokens, lots and lots of tokens! There's a sheet of action tokens, which you'll need even more of now that pushing damage has gone away (one of the biggest changes in the new rules set). Then there are terrain effects like Debris, Smoke, and Barrier tokens as well as a slew of light objects for dealing more damage. Special objects and bystander tokens come into play with the set's narrative scenario games. The eight Scenario Cards give you specific game settings, storylines, build rules, win conditions, and more. They're a recent addition to HeroClix starter sets and I've found them to be super fun. New players will get a kick out of playing through a cohesive narrative that increases stakes and power level along the way, while even those of us who have been playing for a long time get new ways to enjoy HeroClix and tests for our skills.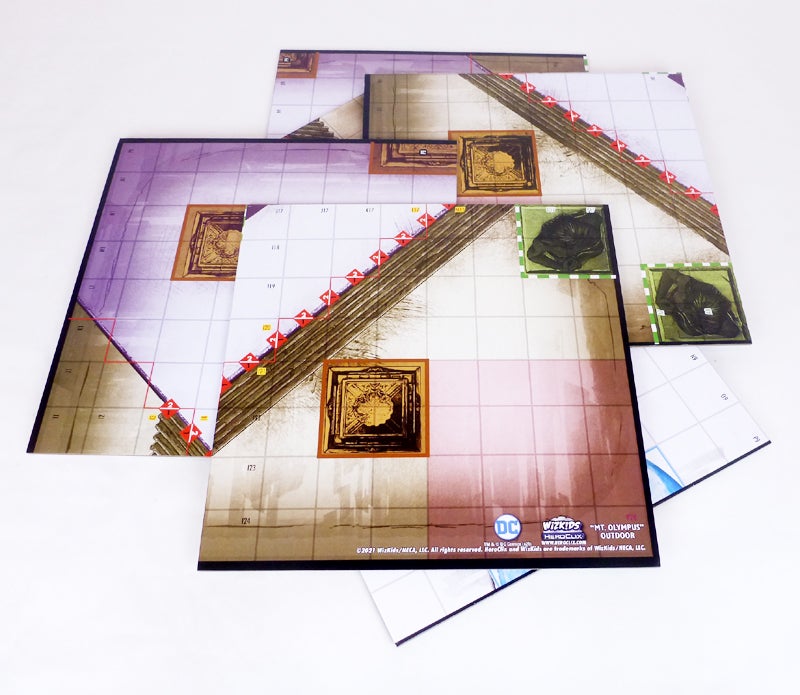 Usually, a product like this will include a double-sided paper map, but this is another area in which WizKids is offering a huge upgrade with the Wonder Woman Miniatures Game. Instead of paper, the maps are printed on super heavy duty cardboard tiles! Even as I was opening this box, I was wondering why it was so heavy, and the map tiles were the answer. These things are truly impressive. Assemble the tiles to create either of the Paradise Island or Mt. Olympus battlefields. They're fully colored, and designations on the squares make it easy to put them together in the right way. Each map utilizes the entire set and presents a variety of terrain types to make games exciting.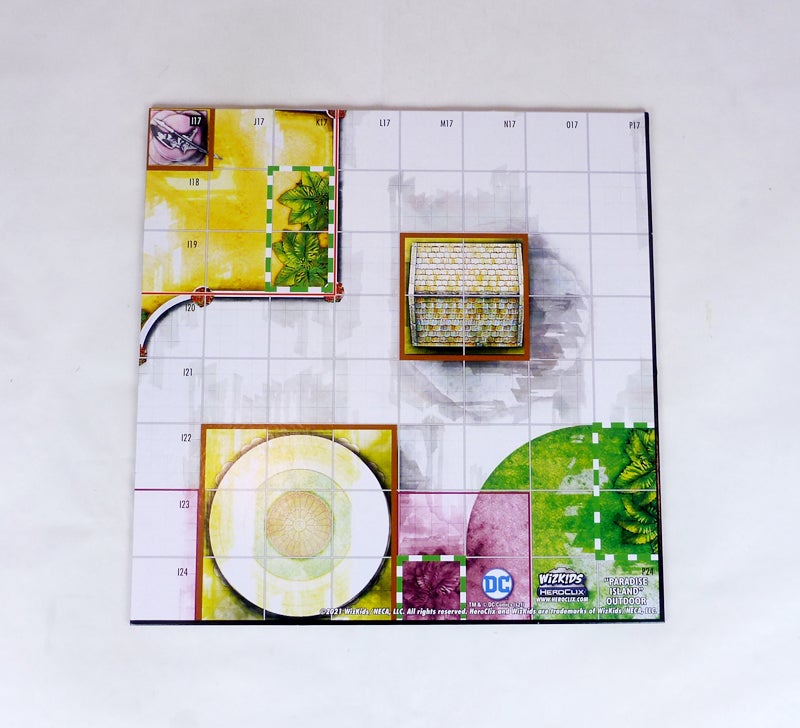 Paradise Island is an outdoor area with a beach area running one entire long side and an elevated overlook on the other. Staircases in four places provide access for those without special movement abilities, and there are statues for blocking terrain and shrubbery for hindering. Meanwhile, Mt. Olympus presents a daunting challenge with an elevated swath of terrain bisecting the map across its diagonal, and in the middle of this is a blocking terrain edifice. Non-flying close combat attackers will need to move around this thing very carefully, and even ranged fighters will have to position themselves just right to make their attacks.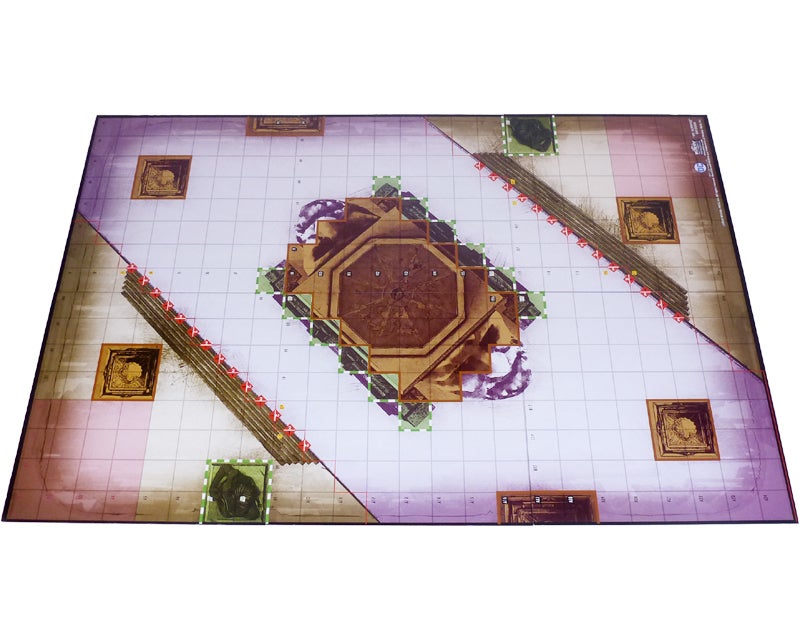 I'm really impressed with the Wonder Woman Miniatures Game. It has a ton of components that all look and feel high quality, especially the figures and the map tiles. This will get you up and running to play HeroClix in no time, with the Scenario Cards you have an entire narrative campaign to enjoy, and then you've got no fewer than 20 dials you can play in your games. It's also a pretty darn good deal with all of those contents, figures, dice, and map tiles at only $40.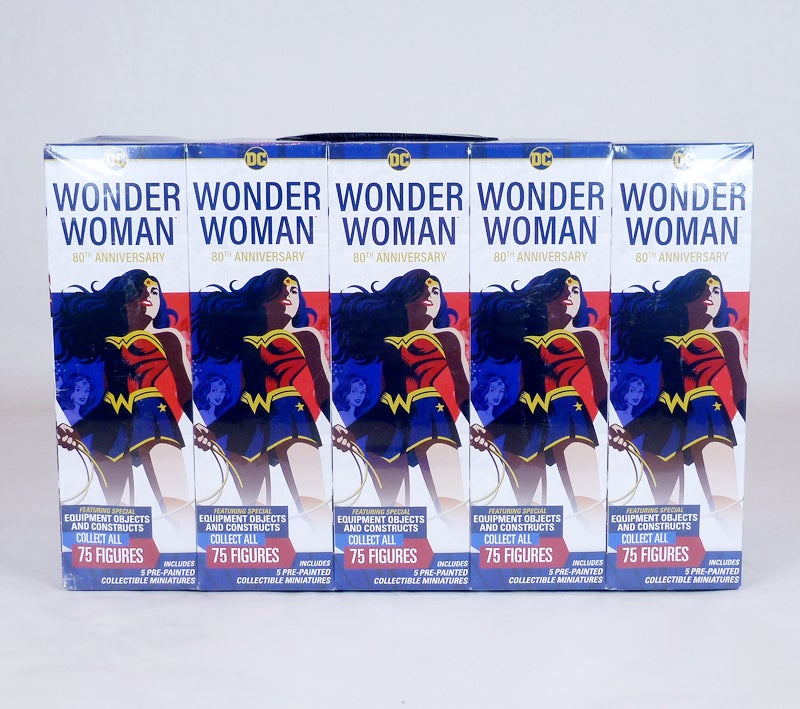 Next up, let's check out this brick of Wonder Woman 80th Anniversary HeroClix. As always, this expansion comes in bricks of 10 standard, five figure boosters, each one containing at least one common (often two) and at least a rare or potentially something even rarer. The Wonder Woman boosters feature the same iconic 80th anniversary graphic on the front panel, with the same clean white background and text in red, blue, and gold.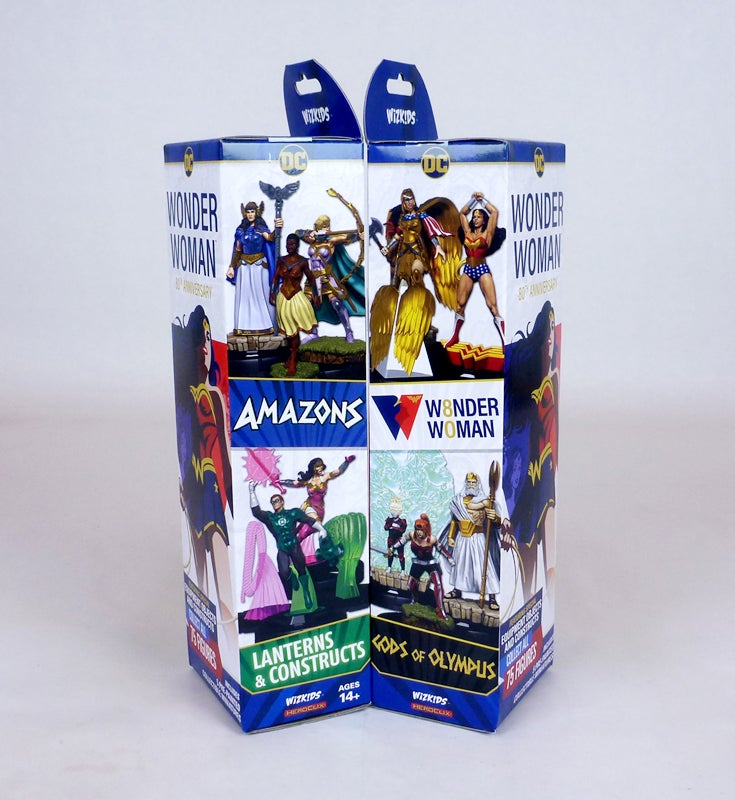 The sides of the box feature four of the set's themes along with some neat 3D renders of some of their figures: Amazons, Lanterns & Constructs, Wonder Woman, and Gods of Olympus. On the back panel you'll find another, really exciting sub-theme in the most recent incarnation of the Secret Six, whose figures will most likely appear as chases. One last thing… check out that Ares lurking on the box tops…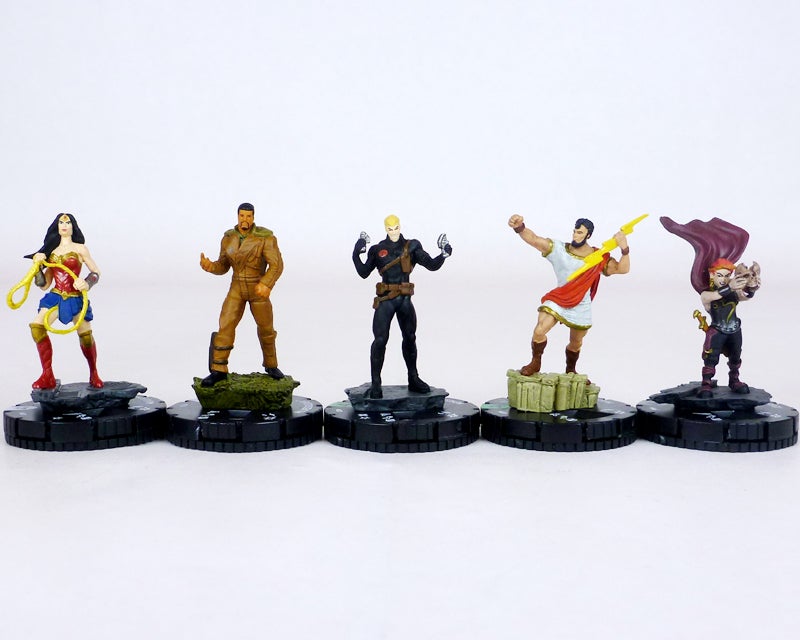 Booster 1
001 Wonder Woman
002 Allied Soldier
027 Maxie Zeus
032 Nemesis
046 Devastation
Booster #1 appropriately starts with figure #001 Wonder Woman! I imagine we'll see quite a few different versions of Diana in this set, and obviously we'll keep track. She's a common here and joined in that rarity level by a generic Allied Soldier. There are two uncommons in classic Gotham City villain Maxie Zeus and Wonder Woman ally Nemesis, with the rare being the artificial child of Cronus Devastation.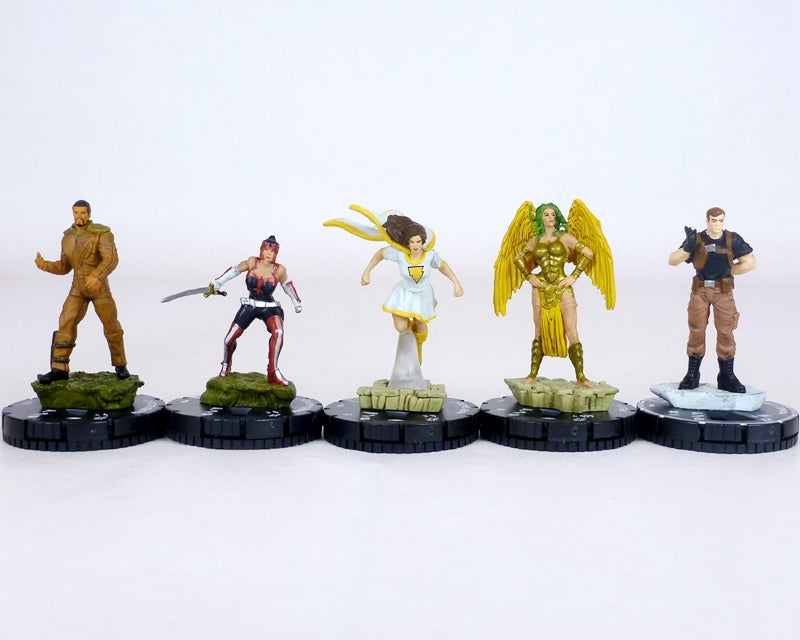 Booster 2
002 Allied Soldier
004 Amazon Warrior
028 Mary Shazam
030 Medusa
047 Maxwell Lord
The second booster has our first dupe already, but that's cool since it's the generic Allied Soldier and it's always nice to get a bunch of troops. He's joined here by another common generic in the Amazon Warrior. Our uncommons are polar opposites with noble hero Mary Shazam and the villainous Medusa, with the infamous mind controller Maxwell Lord in the rare slot.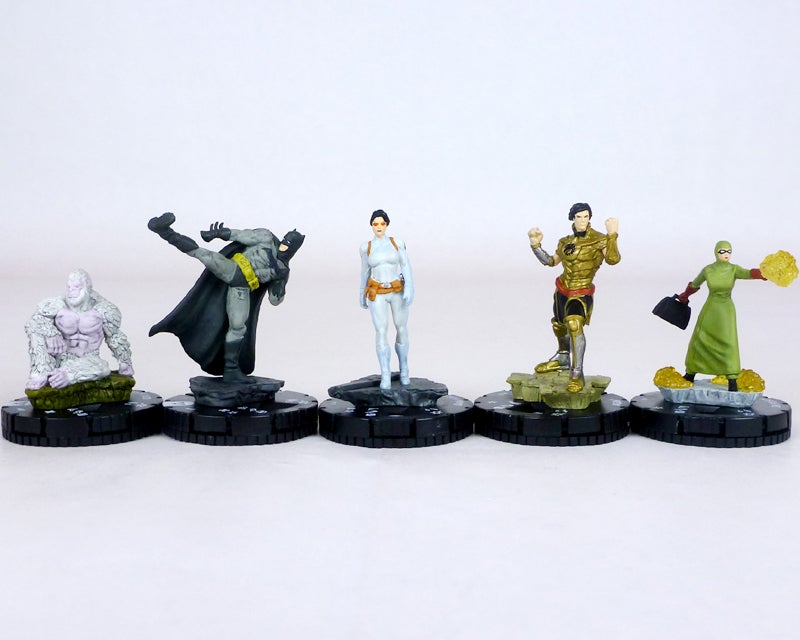 Booster 3
007 Gorilla Knight
015 Batman
018 Diana Prince
029 Jason
045 Dr. Poison
Some interesting and fun surprises here! Our commons are yet another generic with the Gorilla Knight (surely we'll see a Gorilla Grodd repaint) and a high-kicking Batman, with uncommons Diana Prince in her secret identity and the Greek mythological hero Jason. Another character seen in the Wonder Woman films as well as the comics is this booster's rare, Dr. Poison.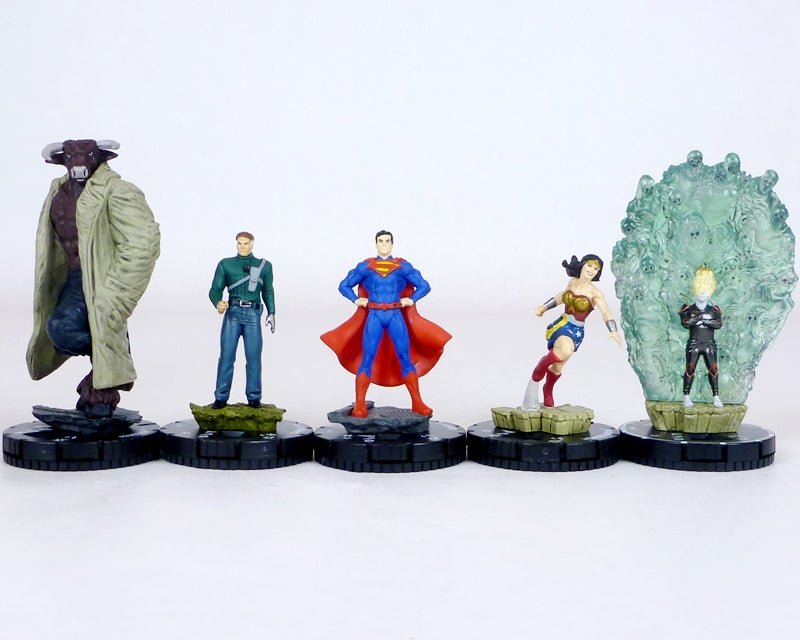 Booster 4
008 Minotaur
012 Sargent Steel
016 Superman
017 Wonder Woman
057 Hades
The myths keep coming with two extremes in this booster; on the one end is a common generic Minotaur, and the other is the diminutive super rare Hades! In between we've got commons vintage hero Sargent Steel and New 52 Superman, with another Wonder Woman in the uncommon slot.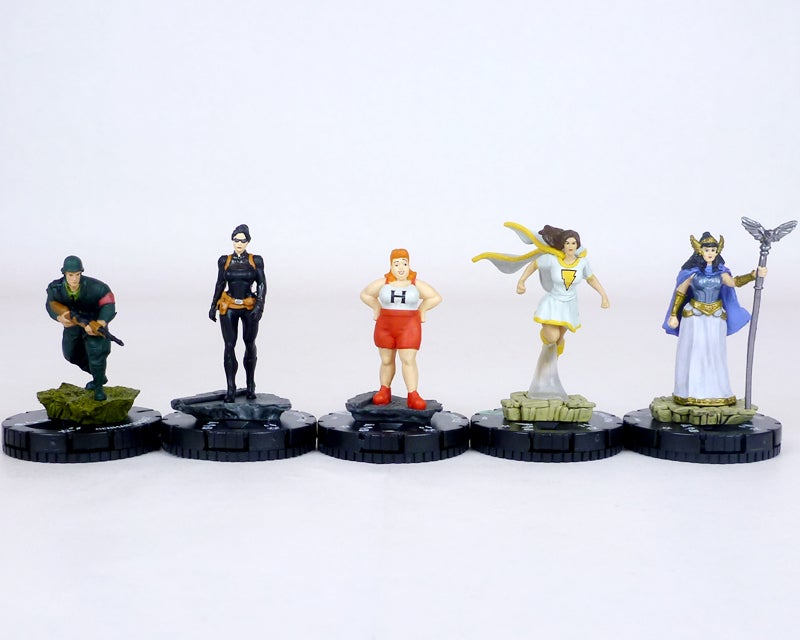 Booster 5
003 German Soldier
006 D.M.A. Agent
011 Etta Candy
028 Mary Shazam
048 Hippolyta
Halfway through the brick brings us a booster with three commons: generics German Soldier and D.M.A. (Department of Metahuman Affairs) Agent, and Wonder Woman's longtime friend Etta Candy. A repeated Mary Shazam is our uncommon, while the rare is Diana's mom and a fearsome Amazon herself: Hippolyta!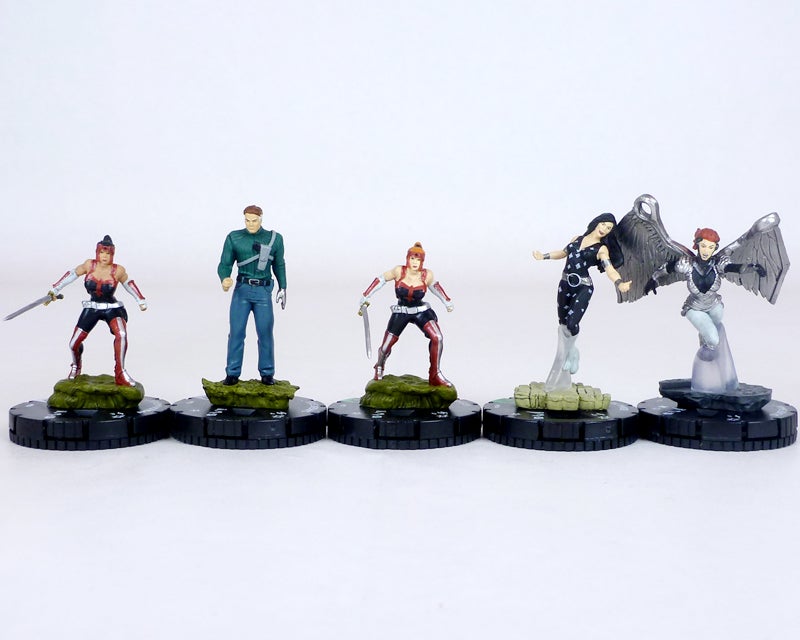 Booster 6
004 Amazon Warrior
012 Sargent Steel
021 Artemis
031a Donna Troy
042 Silver Swan
Booster #6 gives us another Amazon Warrior and a duplicate Sargent Steel, while our new uncommons are the Wonder Woman rival Artemis and Diana's first protégé Donna Troy. The iconic hero will need their help going up against the rare figure, Silver Swan.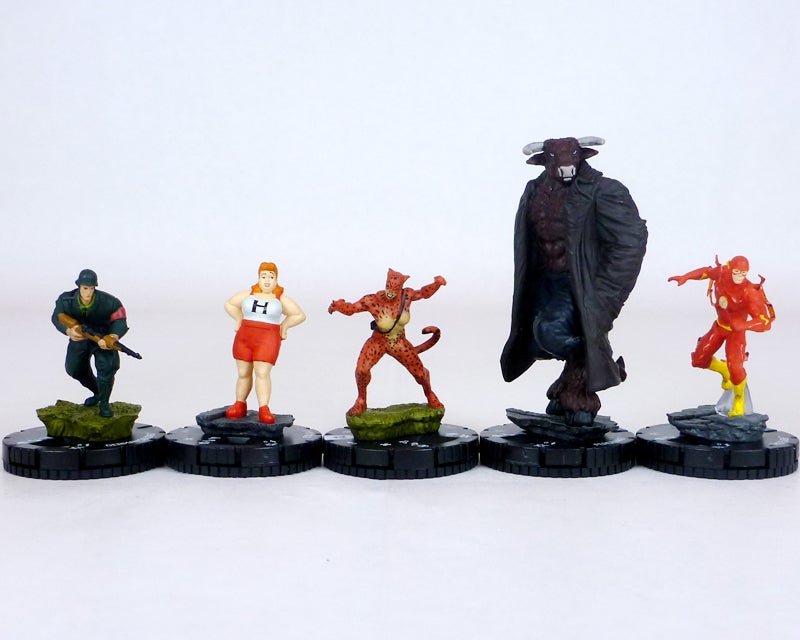 Booster 7
003 German Soldier
011 Etta Candy
013 The Cheetah
025 Ferdinand
053 The Flash
I spy another super rare! But first off, we've got duplicates of commons German Soldier and Etta Candy along with a new one in the classic Wonder Woman villain Cheetah. Ferdinand, a minotaur and based off of that creature's sculpt, is the uncommon, with everyone's favorite speedster the Flash in the SR slot.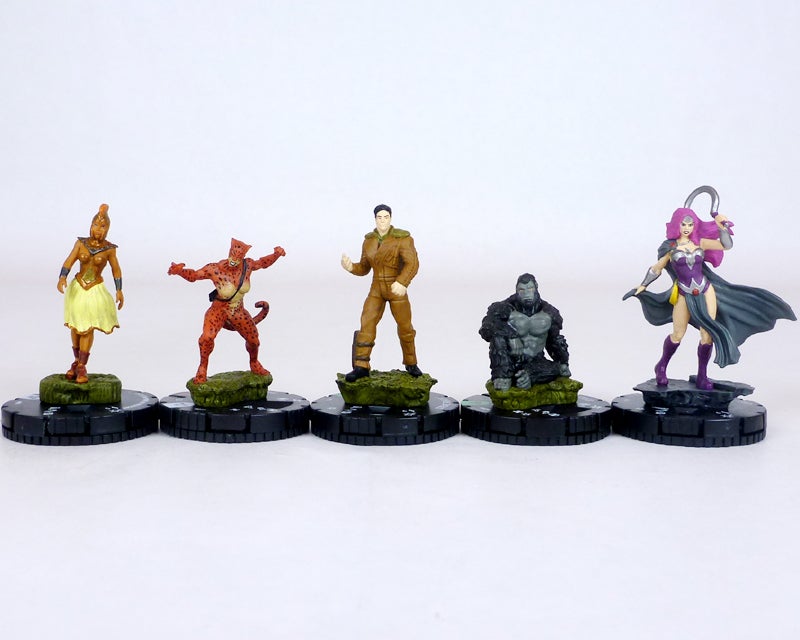 Booster 8
005 Amazon of Bana-Mighdall
013 The Cheetah
020 Steve Trevor
023a Gorilla Grodd
043 Circe
Counting down to the end of the brick is a pretty good booster here starting with a common generic we haven't seen before: the Amazon of Bana-Mighdall. There's another Cheetah, and then in the uncommons longtime friend/sometimes love interest Steve Trevor and wouldn't you know it, Gorilla Grodd (totally called it). Another iconic Wonder Woman rival and villain Circe is the rare.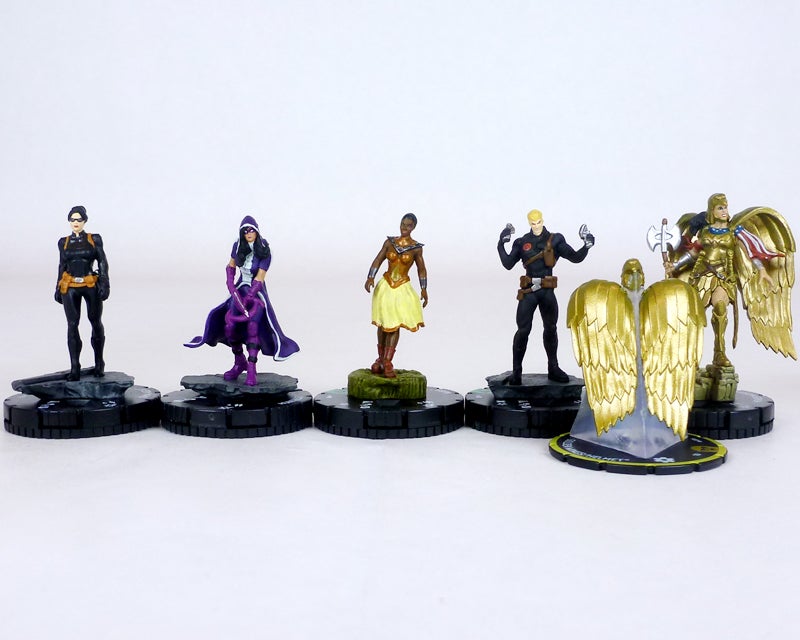 Booster 9
006 D.M.A. Agent
014 Huntress
019 Nubia
032 Nemesis
062 Wonder Woman
s006 Golden Armor (Wonder Woman Equipment)
Our second to last booster is nearly all girl power, starting with commons D.M.A. Agent and a cool new Huntress. Uncommons have another Amazon in Nubia (based on the Amazon of Bana-Mighdall sculpt) and a duplicate of Nemesis. And then we have another super rare with the armored Wonder Woman who brings along the Golden Armor equipment!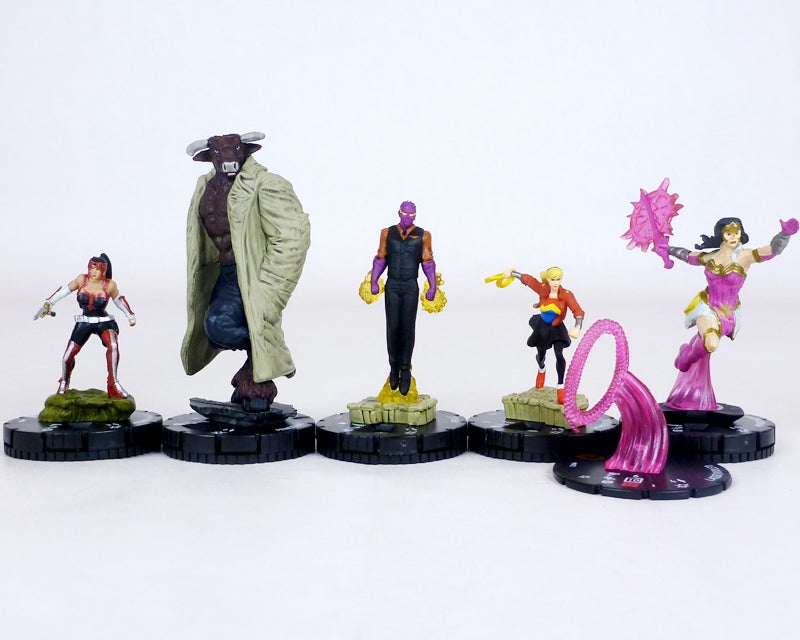 Booster 10
004 Amazon Warrior
008 Minotaur
026 Apollo
034 Wonder Girl
074 Wonder Woman
s012 Lasso (Violet)
I may have saved something special for the last booster, which starts with duplicates of the Amazon Warrior and Minotaur. Then there's another Olympian in the uncommon Apollo, and Cassie makes her appearance with the rare Wonder Girl. Last but certainly not least we pulled a chase with the Star Sapphire Wonder Woman and her Violet Lasso equipment.
Here's the full breakdown of the figures in this brick (your results will vary of course):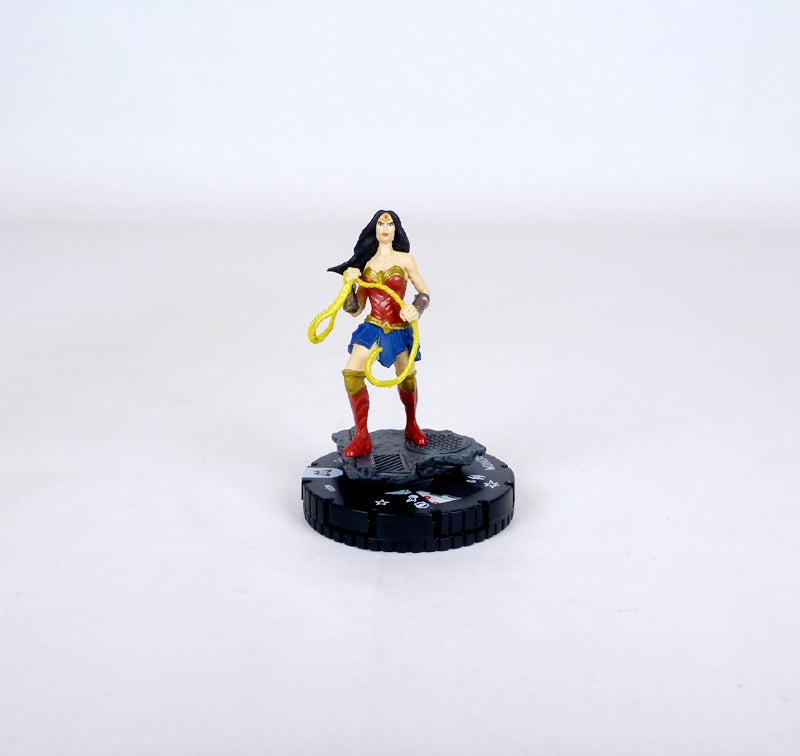 COMMONS (including duplicates)
001 Wonder Woman
002 Allied Soldier
003 German Soldier
004 Amazon Warrior
005 Amazon of Bana-Mighdall
006 D.M.A. Agent
007 Gorilla Knight
008 Minotaur
011 Etta Candy
012 Sargent Steel
013 The Cheetah
014 Huntress
015 Batman
016 Superman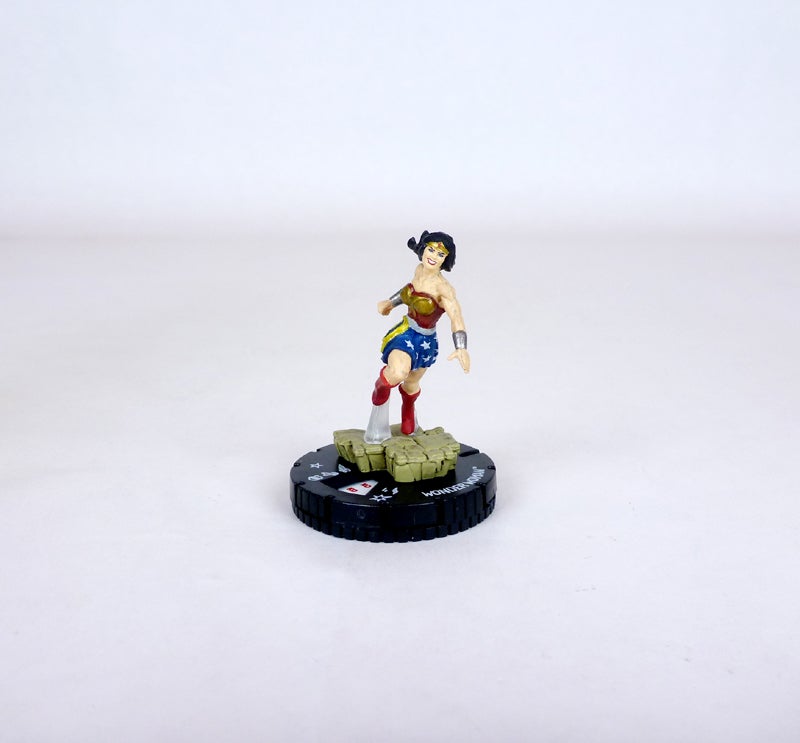 UNCOMMONS (including duplicates)
017 Wonder Woman
018 Diana Prince
019 Nubia
020 Steve Trevor
021 Artemis
023a Gorilla Grodd
025 Ferdinand
026 Apollo
027 Maxie Zeus
028 Mary Shazam
029 Jason
030 Medusa
031a Donna Troy
032 Nemesis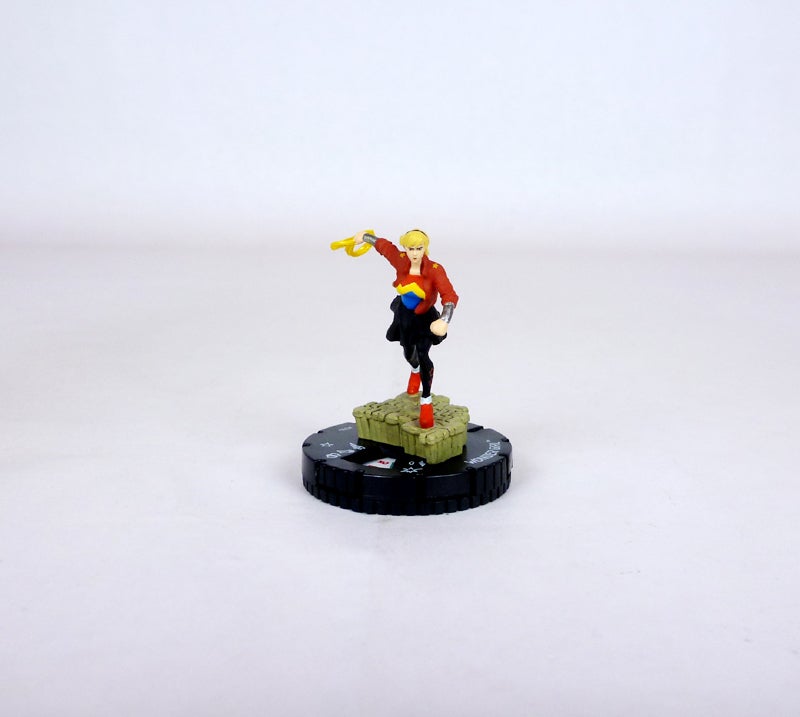 RARES
034 Wonder Girl
042 Silver Swan
043 Circe
045 Dr. Poison
046 Devastation
047 Maxwell Lord
048 Hippolyta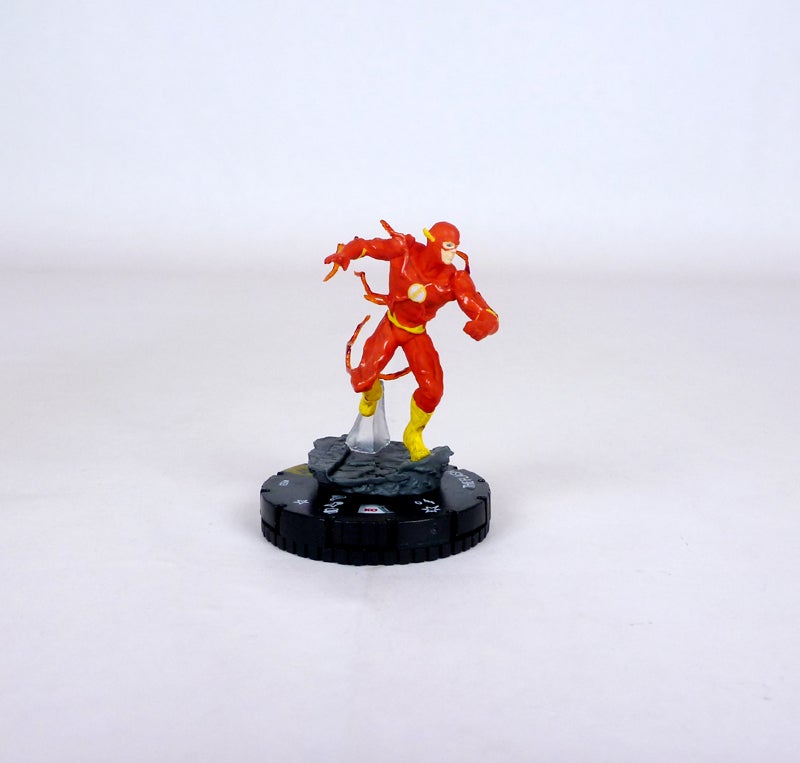 SUPER RARES
053 The Flash
057 Hades
062 Wonder Woman, came with s006 Golden Armor (Wonder Woman Equipment)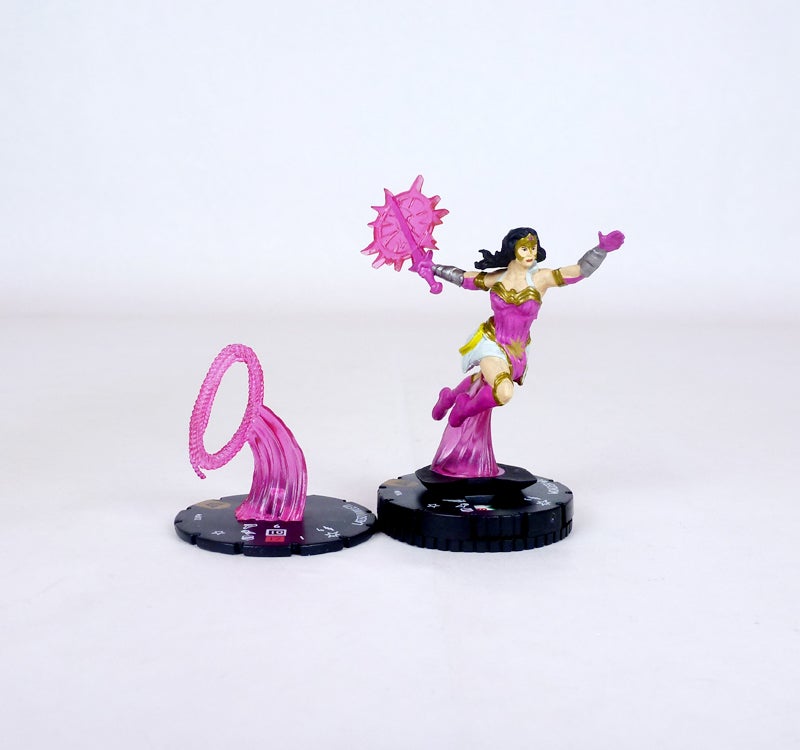 CHASE
074 Wonder Woman, came with s012 Lasso (Violet)
Next up is our look at the overall collation. On the higher end rarities this brick was great, but how did we do at the lower? Out of the 16 total common figures we pulled 14, so not a complete collection but not bad. Uncommons appear to be 18 in total with TWO primes, and in this brick, we collected 14. Among the 17 rares we pulled 7, got 3 super rares out of the set's 16, and one chase out of a possible 12 (!). As always, your results will vary.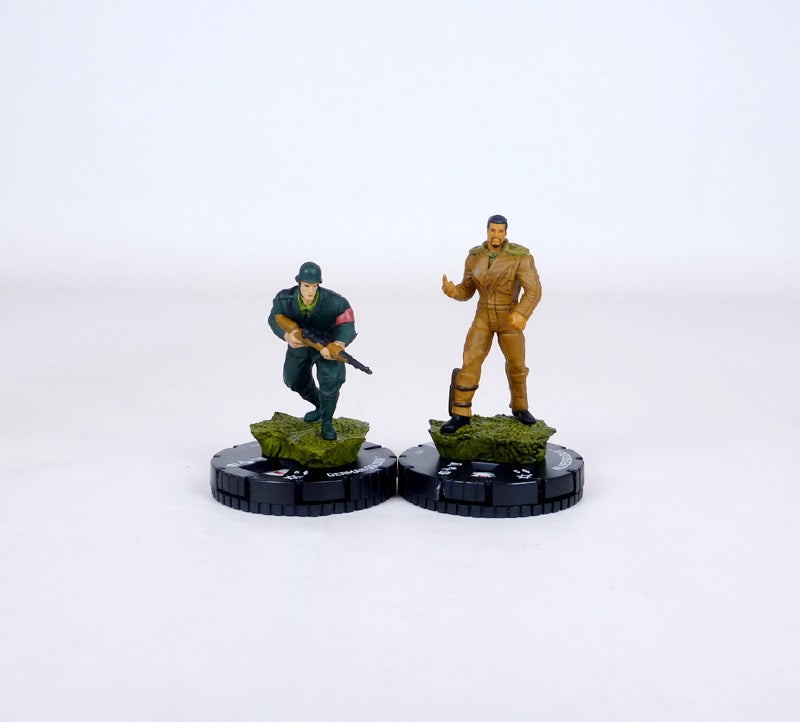 Let's go through each rarity level, staring with the commons. As usual, these most frequently pulled figures will inform many of the set's themes (though not all – there are always some things that only pop up in the upper echelons). First off, it's great to see a well-rounded batch of generics since some of the most recent expansions were a bit light on them. Here we've got Allied Soldier, German Soldier, Amazon Warrior, Amazon of Bana-Mighdall, D.M.A. Agent, Gorilla Knight, and Minotaur! There are obvious themes and ideal team ups for many of these, but especially with the new looser theme team rules they can fill in slots on lots of different teams like Animal, Past, and more. Wonder Woman is of course a theme all unto herself in her own expansion, starting with the very first figure; in the commons she's also joined by her best friend and eternal supporter Etta Candy. Commons are always better when they have some big name heroes and villains, and so you'll find Batman, Superman (a hugely powerful figure), and Huntress along with the Cheetah. Lastly, there's some old-timey flavor with never-before clixed Sargent Steel.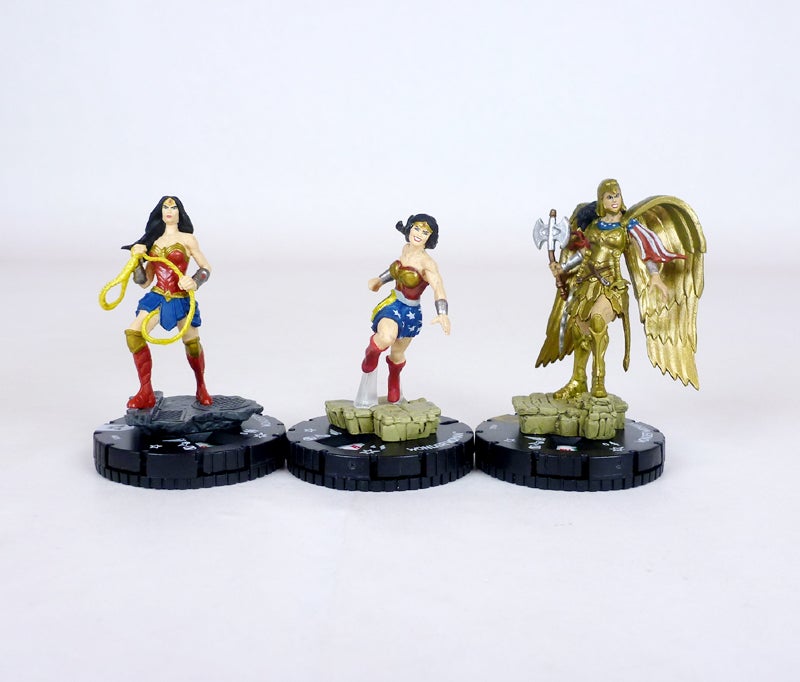 Wonder Woman kicks off the uncommons as well, in a classical appearance version, and also here is the princess in her alter ego Diana Prince. Other Amazons and their good friends at this rarity level include the alternate Wonder Woman Nubia, first man to visit Paradise Island Steve Trevor, Amazon trainer Artemis, bovine Themysciran embassy chef Ferdinand, and a classic Donna Troy from her post-Wonder Girl days. Opposing Diana and the heroes at this level are classic bad guys and gals Gorilla Grodd the mental giant, Gotham City menace and mythology buff Maxie Zeus, and the freakish Medusa. Speaking of Greek mythology, Apollo and Jason arrive here with their modernized looks. And finally, there are a couple more heroes with white costume Mary Shazam (she'll always be Mary Marvel to me) and a cool Nemesis.
I often pull more villains than heroes among my rares in recent sets… and my results here follow that trend! There are heroes, though, with Cassie Sandsmark Wonder Girl and Wonder Woman's mom and classic hero in her own right Hippolyta. But then there's the metal-winged Silver Swan, Circe in her combined Wonder Woman power look, Dr. Poison spewing her chemicals everywhere, the brainwashing Maxwell Lord, and Greek myth-inspired deity Devastation.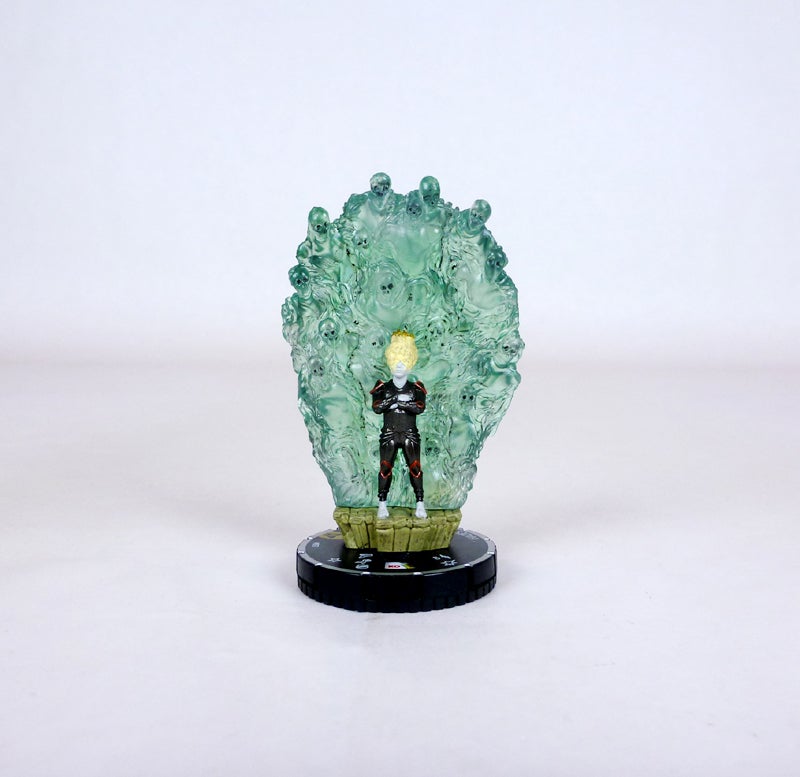 On the other hand, our highest-level pulls don't feature any actual villains! Our super rares are heroes and gods, sometimes both. First up is the fastest man alive, the Flash, with a cool running sculpt and a very interesting presentation encouraging you to collect and play multiple copies. Then there's Hades, a Greek god who is neither good nor bad but uses the power of the dead and is surrounded by their spirits, and finally the golden armored version of Wonder Woman! It's fitting then that our chase figure is yet another Wonder Woman, this time as she appeared during the couple occasions she's worn a Star Sapphire ring.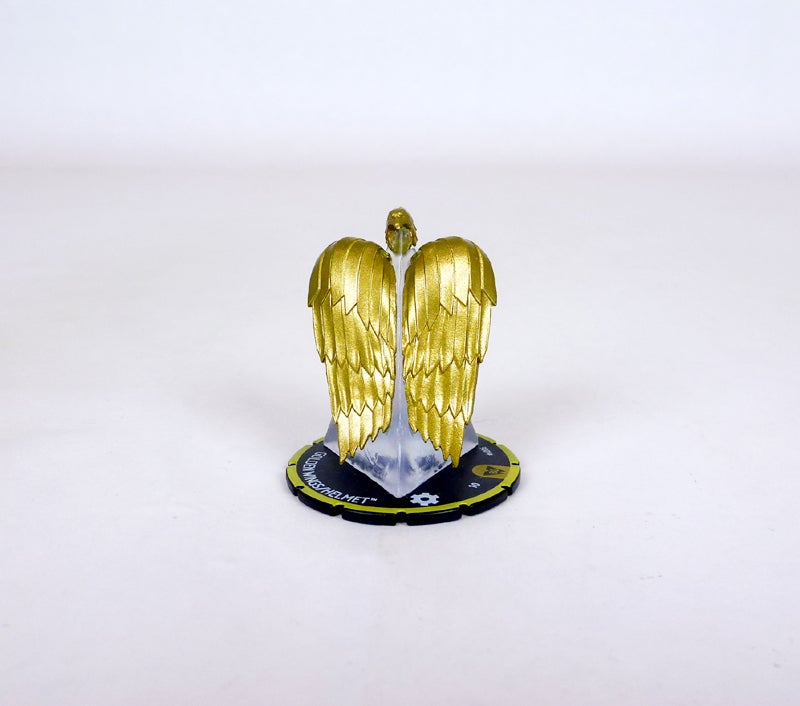 The Wonder Woman 80th Anniversary expansion is touted as DC's return to equipment objects, and while we see them referenced on more cards, there were only two in our pulls. Super rare Wonder Woman came with the s006 Golden Armor (Wonder Woman Equipment), part of a series of such equipment usable by many of the Amazon princess figures in the set. Meanwhile, the chase Star Sapphire Wonder Woman came with the s012 Lasso (Violet), and we've seen from other previews that the plethora of other Lantern figures in the set come with more such constructs.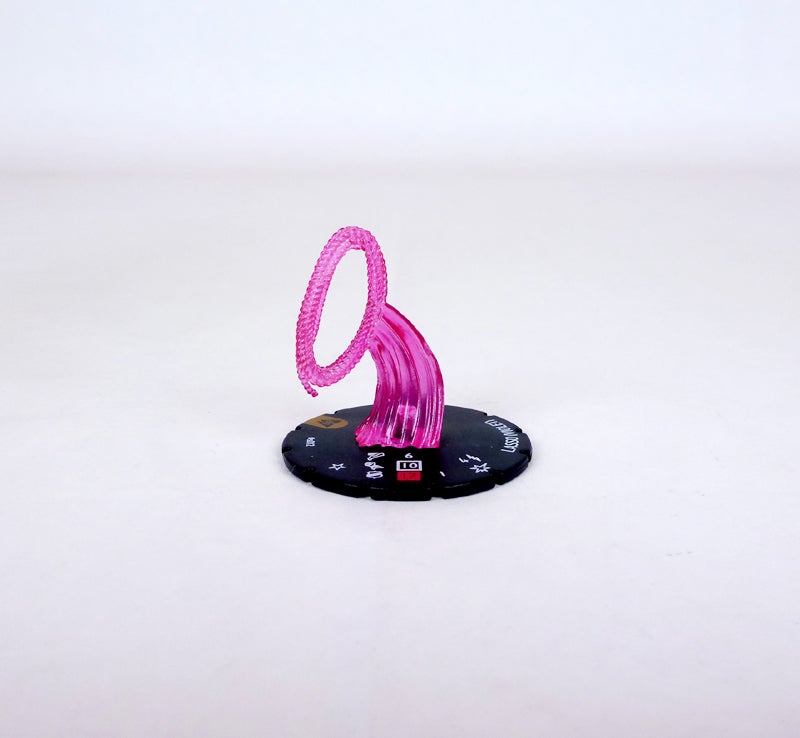 Along with the equipment, this set features some of the best and most fun mechanics that WizKids has rolled out lately. There are the typical bystander token generators, as well as a few figures that can pop out generics on successful Leadership rolls. Multiple Wonder Woman figures across the rarities are tied by their Shifting Focus trait, letting you swap in the right woman for the job potentially every turn. The Ally/Captain/Sidekick format has now arrived in DC HeroClix, and it's just as fun as when we saw it in the Fantastic Four Future Foundation set. In short, these are additional terms on character cards that allow for cool interactions like Captains providing bonus powers and buffs to Sidekicks, and Allies helping both. Finally, the Diana Prince we pulled has a Secret Identity trait and can transform into the uncommon Wonder Woman (at least among our pulls). Lastly, there are a couple figures that use the new Mission Points mechanic, essentially giving you an alternate way of playing, scoring, and winning! See that on figures like Maxwell Lord and Hades.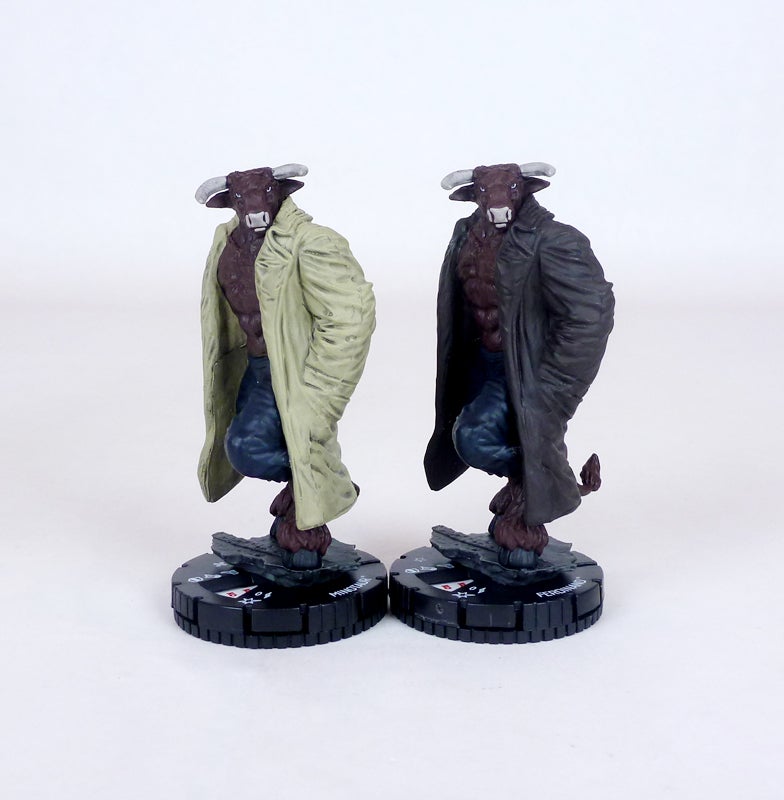 As the first DC HeroClix set since May of last year, Wonder Woman 80th Anniversary is our first outing with the newly increased figure scale and upgraded detailing. I know it's been a controversial move among the player base, but I welcome it and think it's working. The larger figures look really good overall, and provide a bigger canvass for quality sculpts and paint applications. Even before I point out my favorite sculpts in this set, I want to talk about the bases specifically; they're awesome! I'm reminded of the old Collateral Damage expansion with all of the highly detailed grass, stone, metal, and other terrain elements at the figures' feet, and I think it really adds to the display factor of the characters.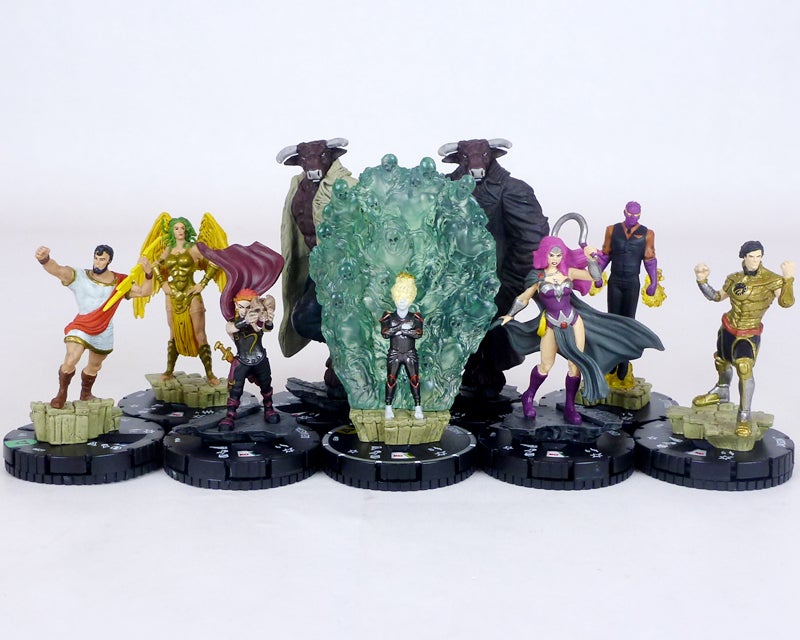 Now, on to the sculpts that stood out for me in this brick (see the photos for more): common Wonder Woman is fantastic right off the bat with a highly detailed modern look, Allied Soldier and Steve Trevor look tough in their combat uniforms with lots of clothing details, the Amazon of Bana-Mighdall combines a great outfit and armor with a striding pose and flowing skirt, Minotaur and Ferdinand are massive and frankly amazing, Sargent Steel has a great head sculpt and a neat outfit with a lot of subtle details, uncommon Wonder Woman leaps into action with her hair flowing behind her and a smile on her face, Mary Shazam's multi-layered costume captures a ton of movement as she flies through the air, Jason stands in a fierce pose with the tremendously detailed armor of Zeus, Circe is hands down one of the most stunning and beautiful sculpts, Devastation is a scary but magnificent little monster, Hippolyta looks like a classical statue come to life, the Flash races into the Speed Force with a detailed physique and little lightning effects, super rare Wonder Woman is glorious in her feathered and layered armor, and Star Sapphire Wonder Woman is simply incredible. There are some cool and iconic poses like the sword wielding crouch of Amazon Warrior and Artemis, D.M.A. Agent and Diana's swagger, Gorilla Knight and Grodd lounging, classic Etta Candy, Batman with the high kick, Superman standing strong, Maxie Zeus emulating his favorite Greek god, Wonder Girl preparing a lasso toss, and Maxwell Lord summoning the power of his mind. Last but least are the figures with nicely sculpted textures, which you can see with the fur on the Gorilla Knight and Grodd, Minotaur and Ferdinand's fur, Jason's armor, Medusa's wings, Dr. Poison's clouds of death, the wall of screaming souls behind Hades, and more.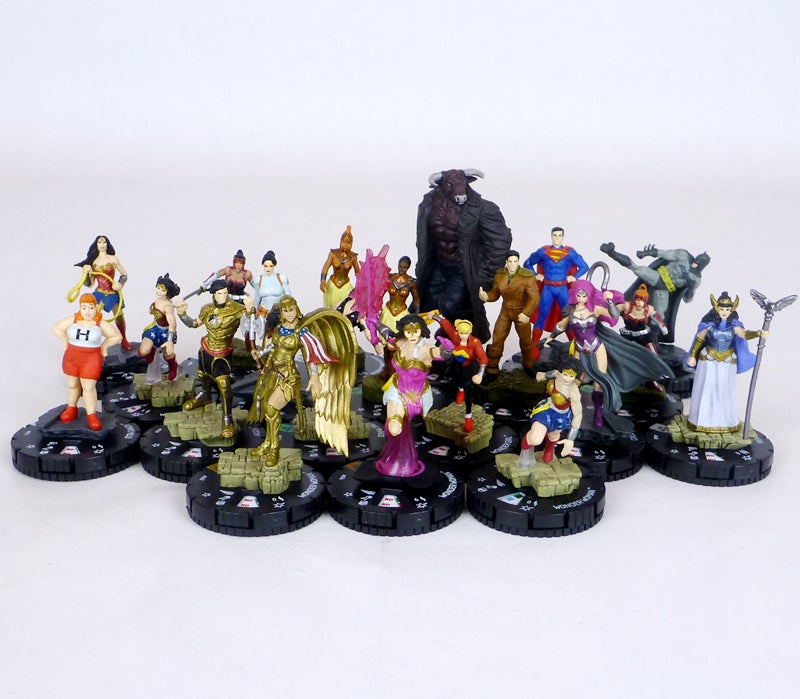 As mentioned above, paint applications are really nice all across the set, and the meeting of various sub-themes means there is a lot of variation in the colors, tones, and patterns. Costume and uniform elements are highlighted, faces and eyes look great, and metallic and translucent bits are used to good effect. Some of the paint jobs that I particularly appreciate here are common Wonder Woman with really bold colors, the nice contrast in the classic colors on Amazon of Bana-Mighdall, Etta Candy's bright shades, Sargent Steel with a perfect face application, the spot pattern on Cheetah, uncommon Wonder Woman whose face conveys such eagerness and hope, Apollo with a striking color scheme, the very well done Maxie Zeus, Jason in his resplendent armor, Donna Troy mirroring the hopeful smile of her mentor, all of the neat details on the costume of Wonder Girl, Circe with her complicated outfit, Hippolyta again looking like a statue come to life, and of course the highly detailed super rare and chase Wonder Woman figures. There's a lot of metallic paint used in this set for various armor, weapons, bracelets, and the like, and even Sargent Steel's hand and the wings of Silver Swan and the super rare Wonder Woman. Lastly, translucent plastic and effects show up mostly on flying figures and energy blasts, notably with Dr. Poison's toxic clouds, Flash's lightning bolts, Hades' wall of souls, and chase Wonder Woman's Star Sapphire construct.
I know some of you are here just to see some dial and card reveals, so I won't keep you in suspense any longer. Below you'll find the cards for some of the coolest and most interesting figures in this brick!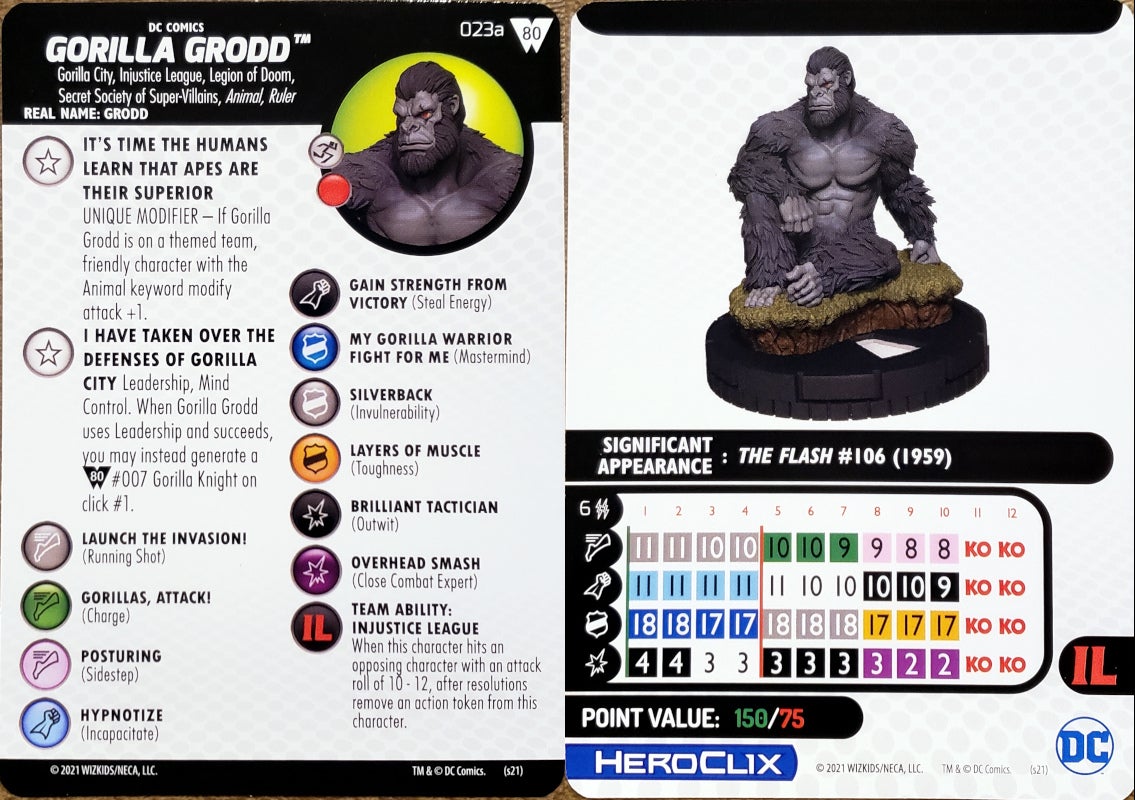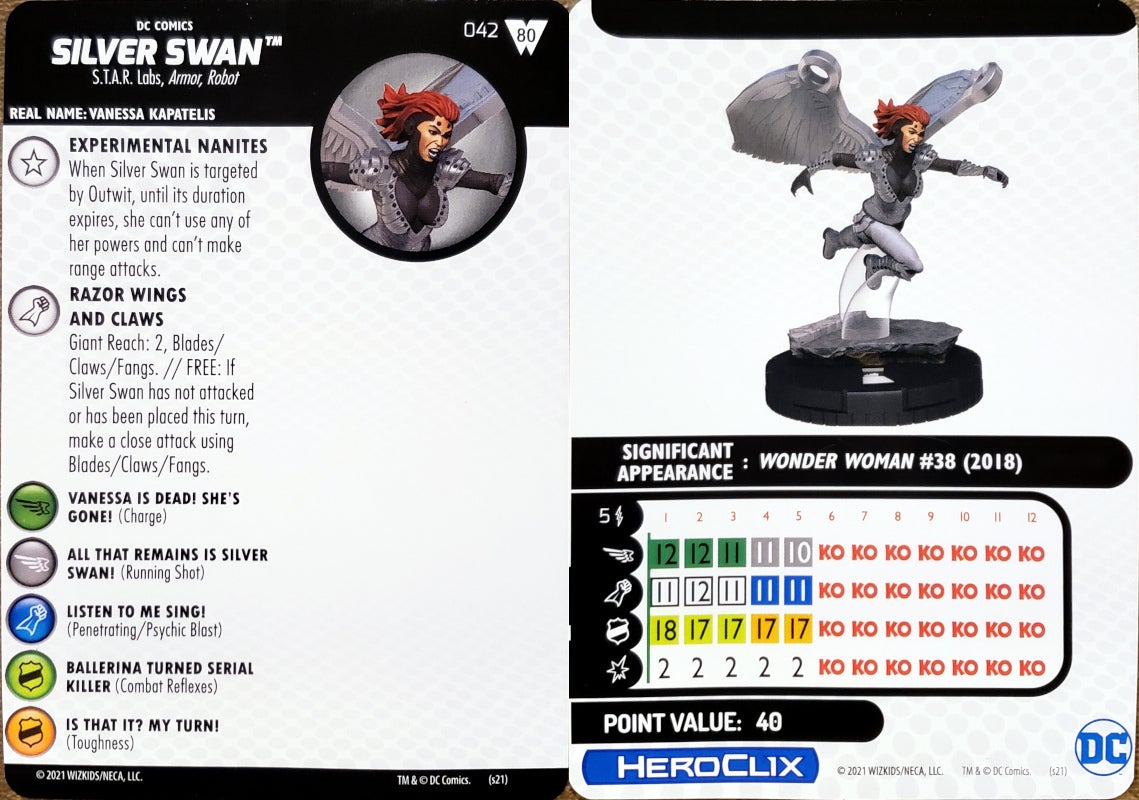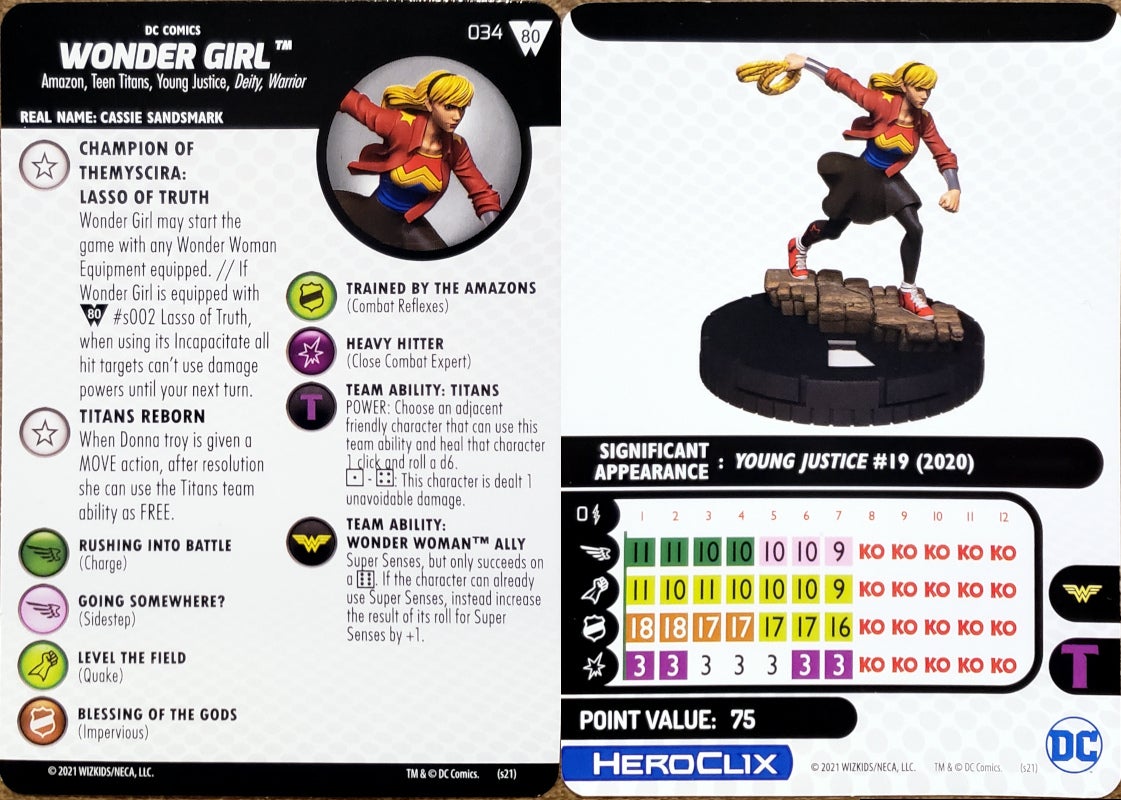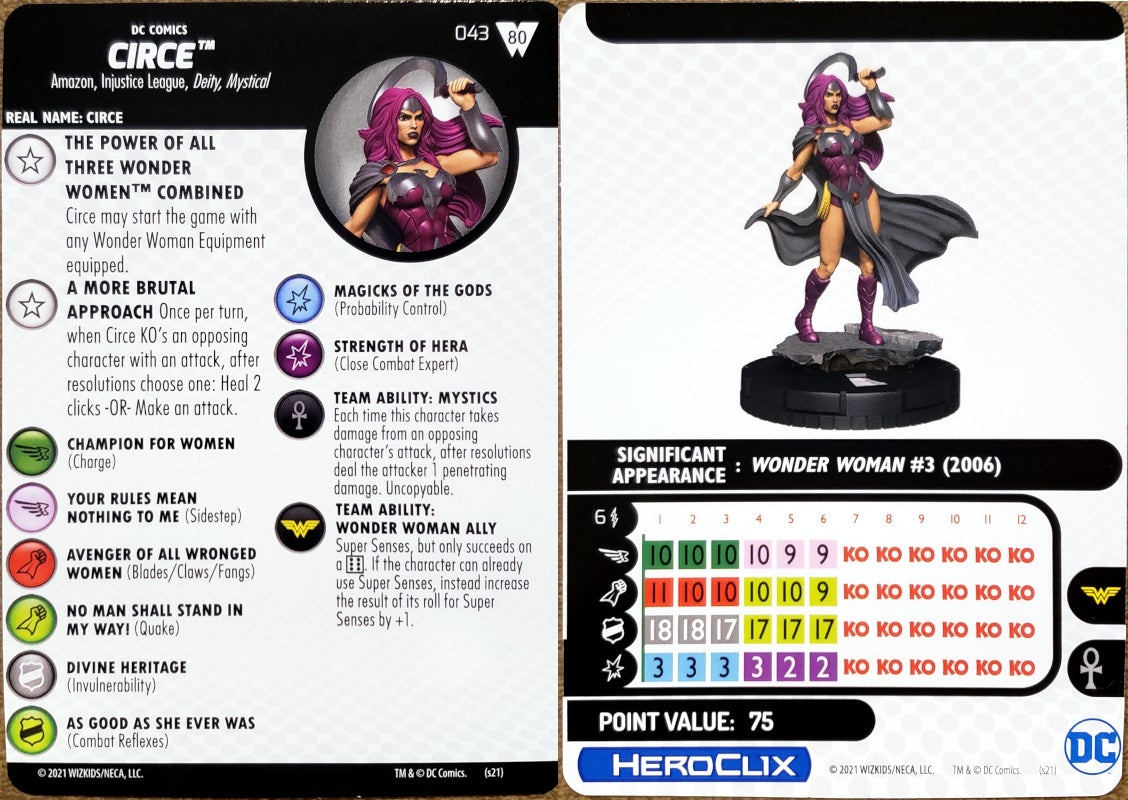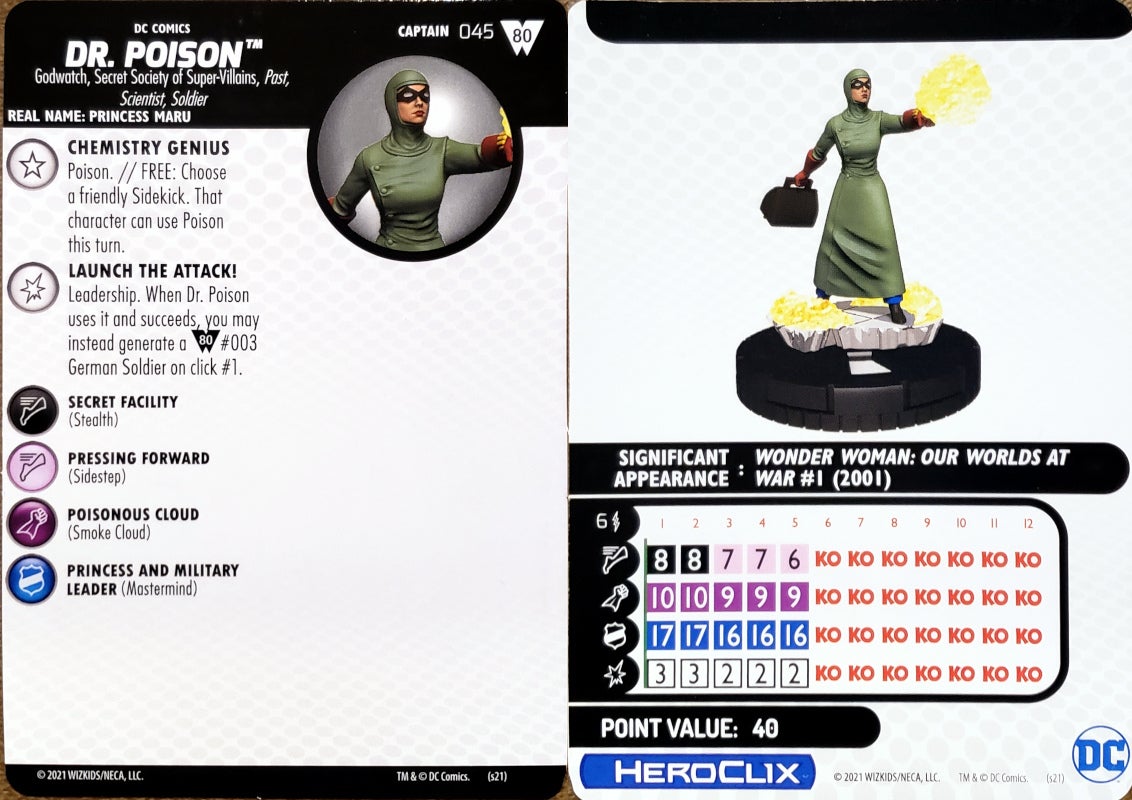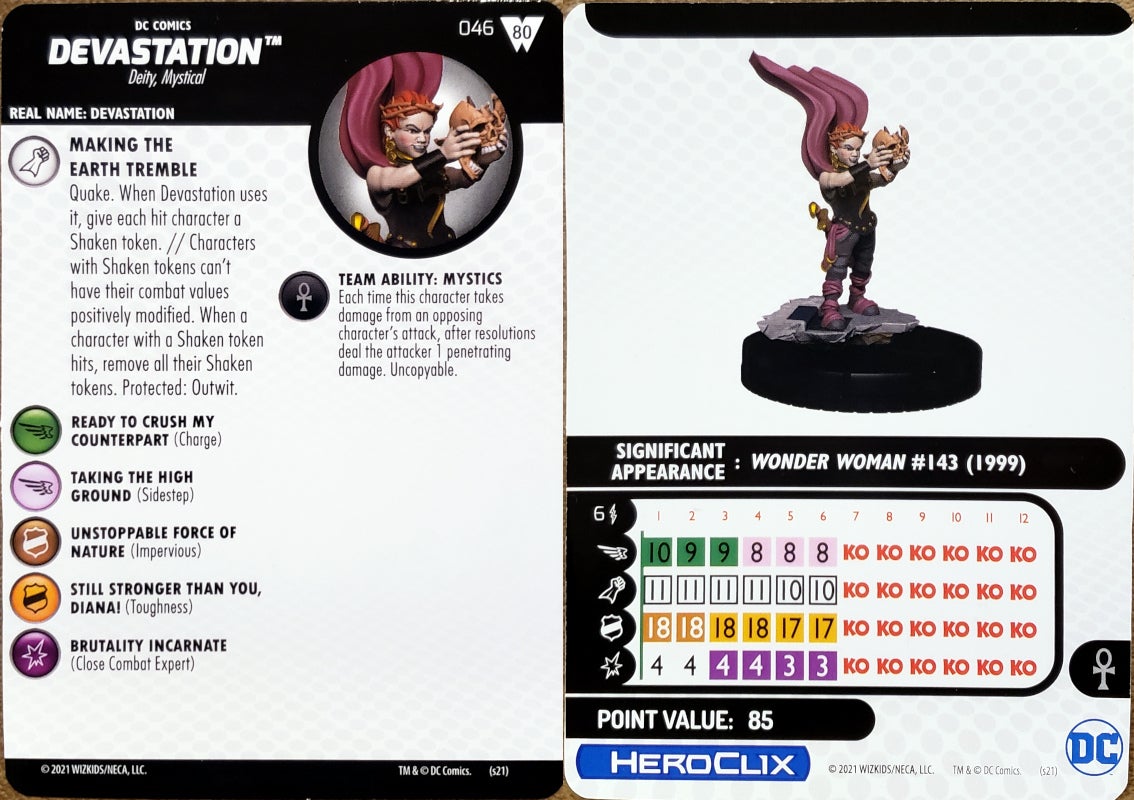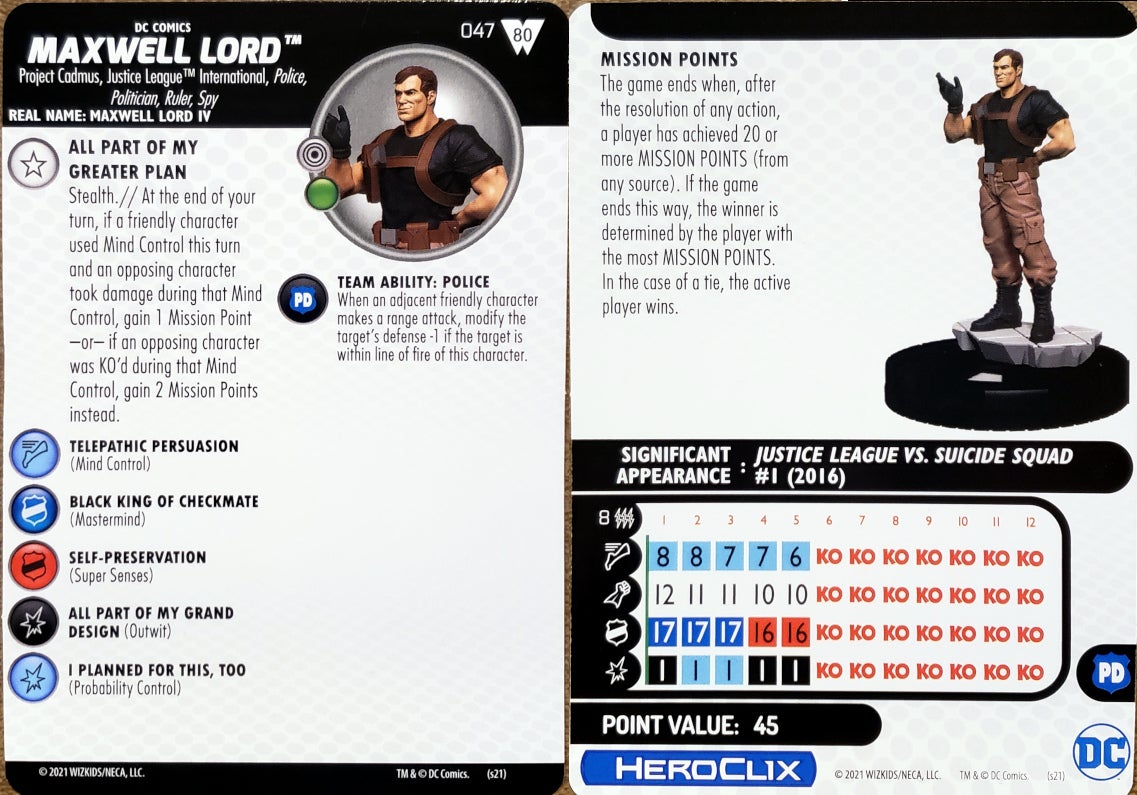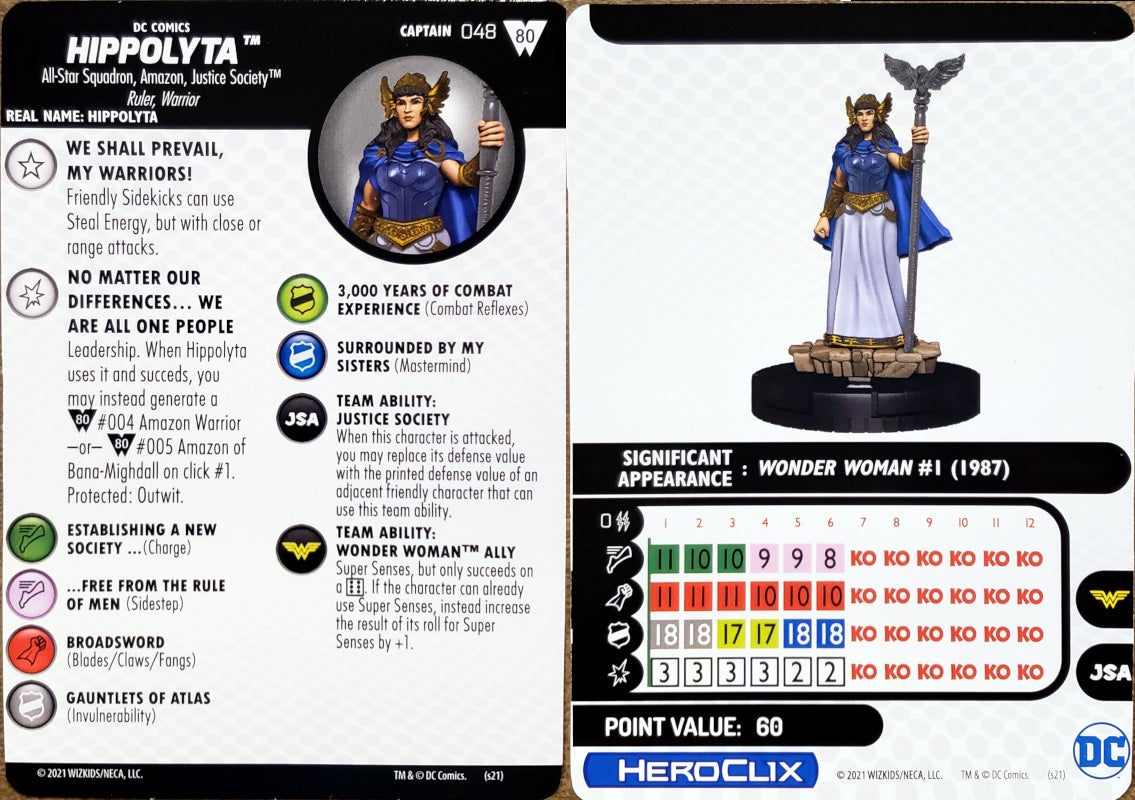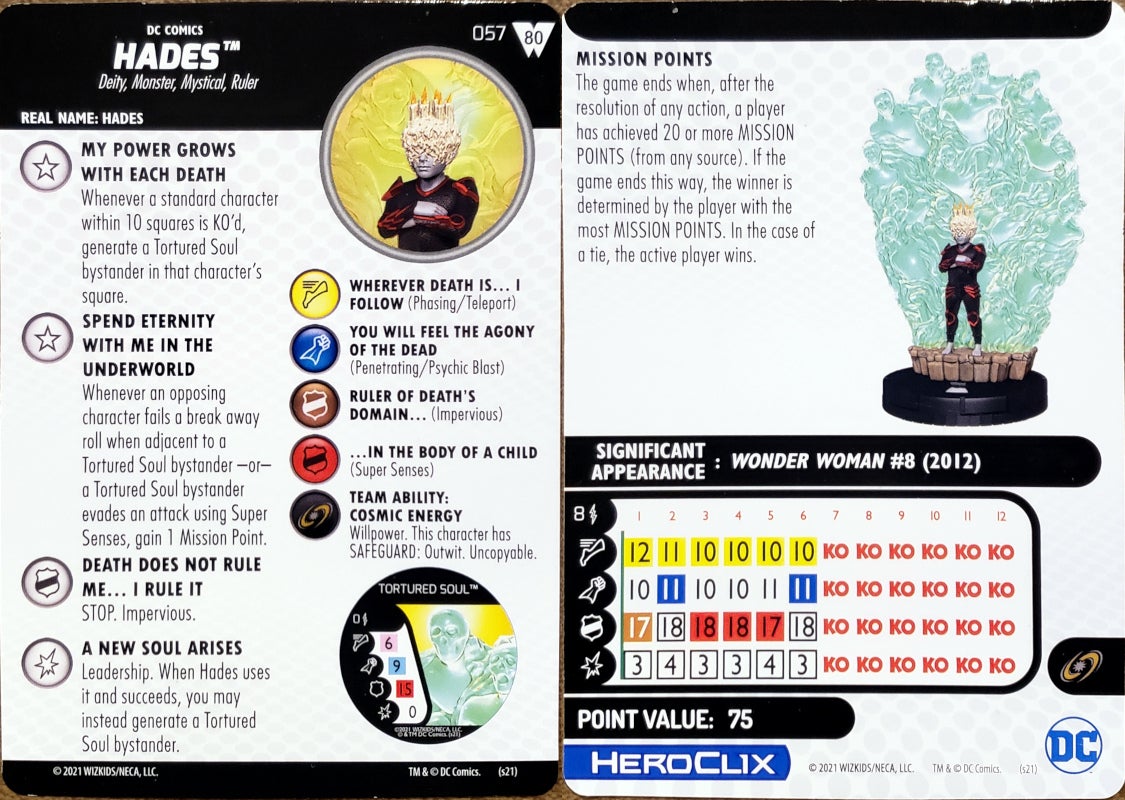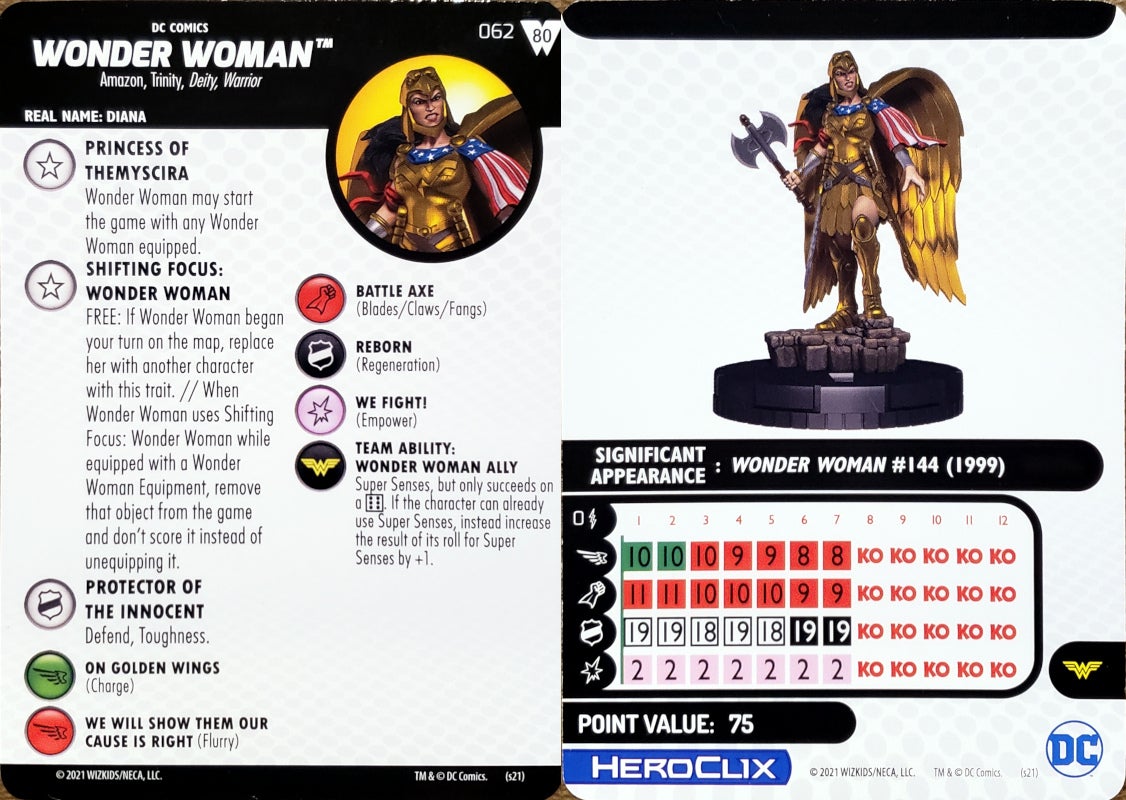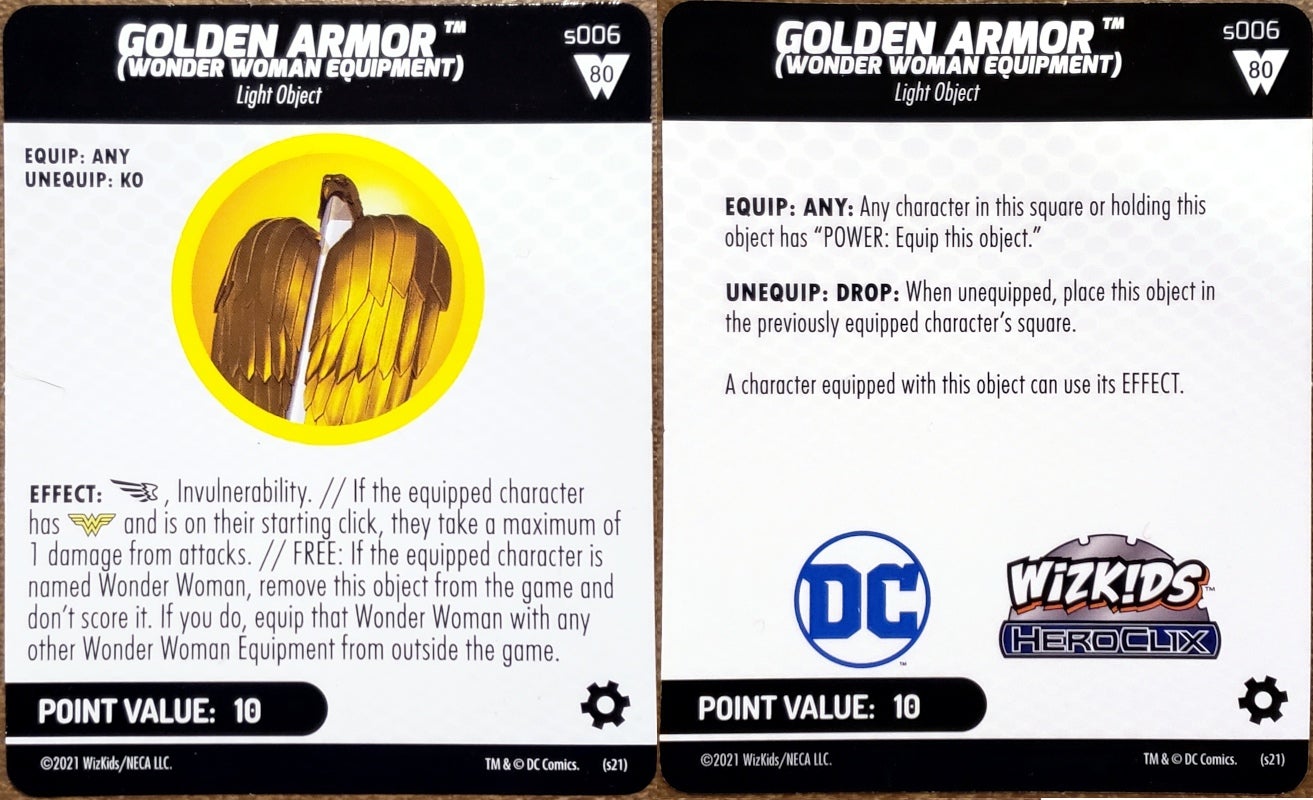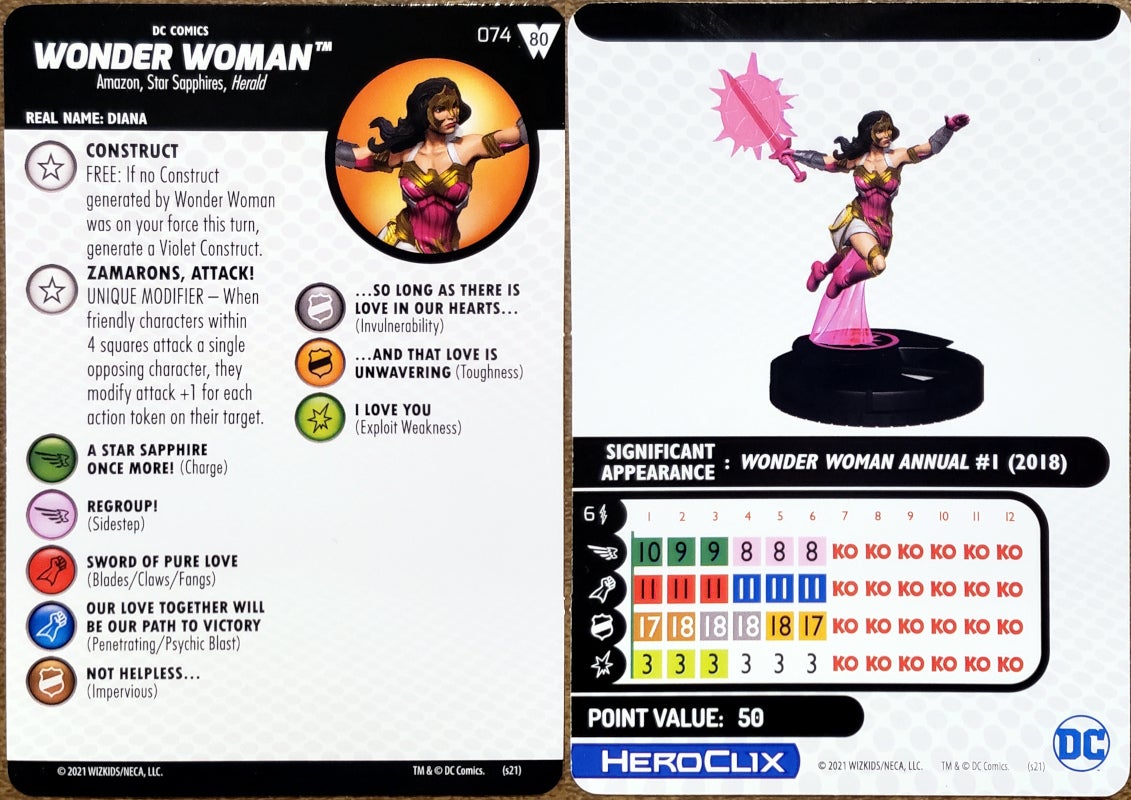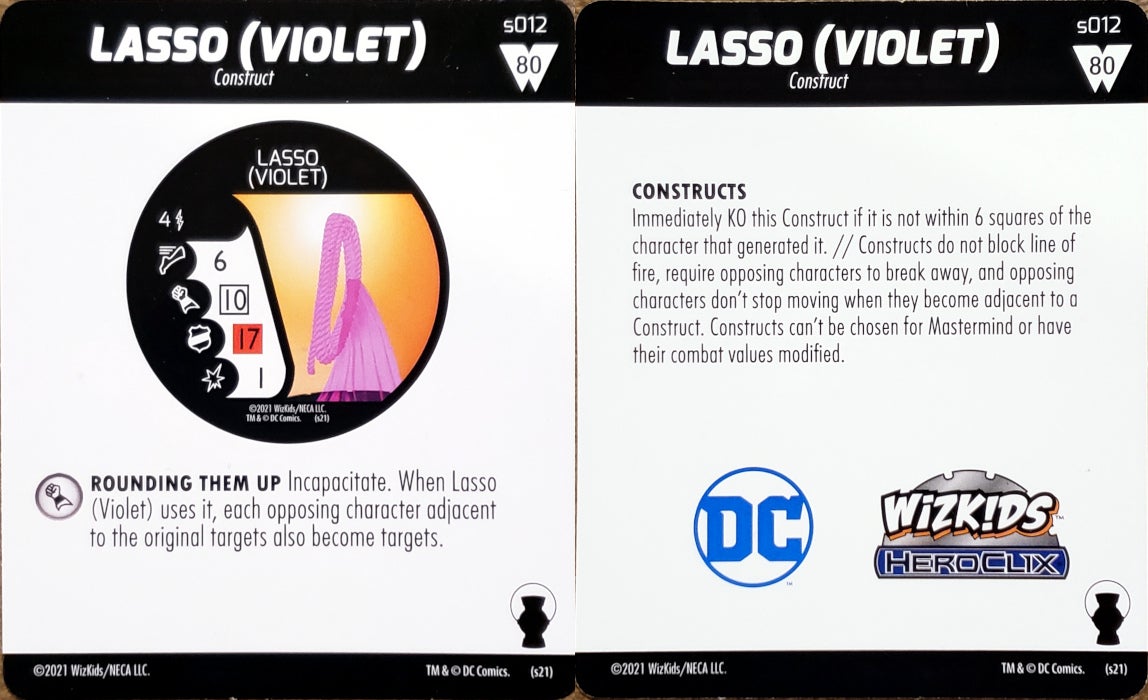 Wonder Woman doesn't just have an epic booster set and fun Miniatures Game, oh no. There's also an accompanying Dice & Token Pack, and the new Play At Home Kit package (replacing the old Organized Play Kit). Ideal for our current world situation, this kit ($9.99) gives you a cool exclusive figure and a double-sided map. The character is, of course, Wonder Woman! She uses the set's uncommon sculpt with some neat paint differences to set them apart, and her dial is unique. At only 50 points she's a flexible close combatant with two Team Abilities and a trait letting her summon the Invisible Jet, brought to life via a unique token! The maps are reprints of older battlefields with some updated colors and designations on all squares making it easier to play with a friend remotely. They are the Junkyard, a very busy arena with elevated edges and a central water feature. At one side you can see a massively armored Bat-tank, showing that this is indeed the scene of the main battle in the Dark Knight Returns. On the other side is Wonder Woman's Barn, a nicely pastoral map with trees, short walls, and the titular structure dividing the battlefield.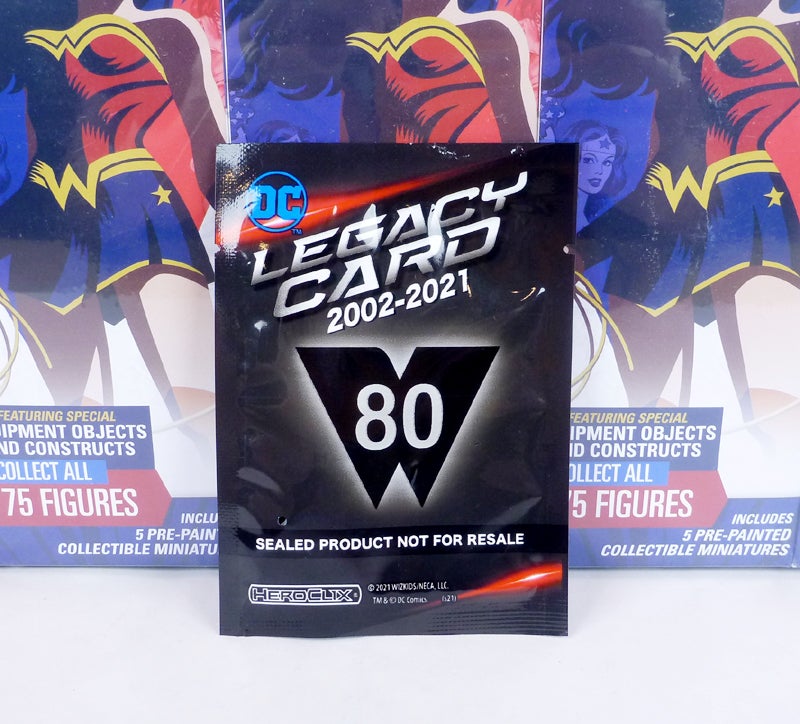 Finally, let's talk about Legacy Cards. Just introduced with the previous Marvel HeroClix release, Legacy Cards come in single, blind packs attached to booster bricks. They offer brand new, updated cards corresponding to figures from older sets that are no longer usable in the "Modern" rules rotation. I love this feature, as it breathes new life into older figures in your collection that may have been gathering dust for a while, and giving some cool new special powers and traits to make them better than ever.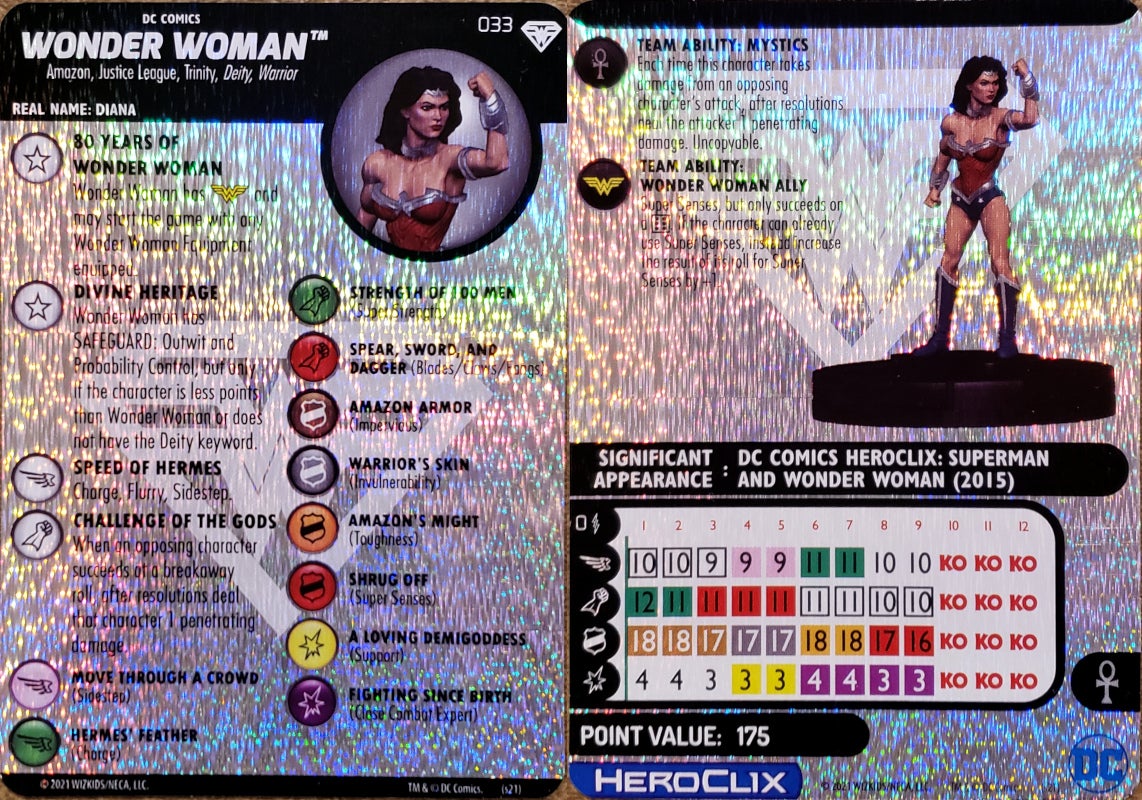 The Legacy Card I pulled here is for the rare 033 Wonder Woman from 2015's Superman/Wonder Woman set. This card reduces her point cost from 200 to 175, adds the new Wonder Woman Ally team ability, updates the Divine Aura trait to modern wordings with Divine Heritage, and replaces the other trait and special power with new abilities. As with the previous one I opened, I'm really digging these Legacy Cards and can't wait to see all of them!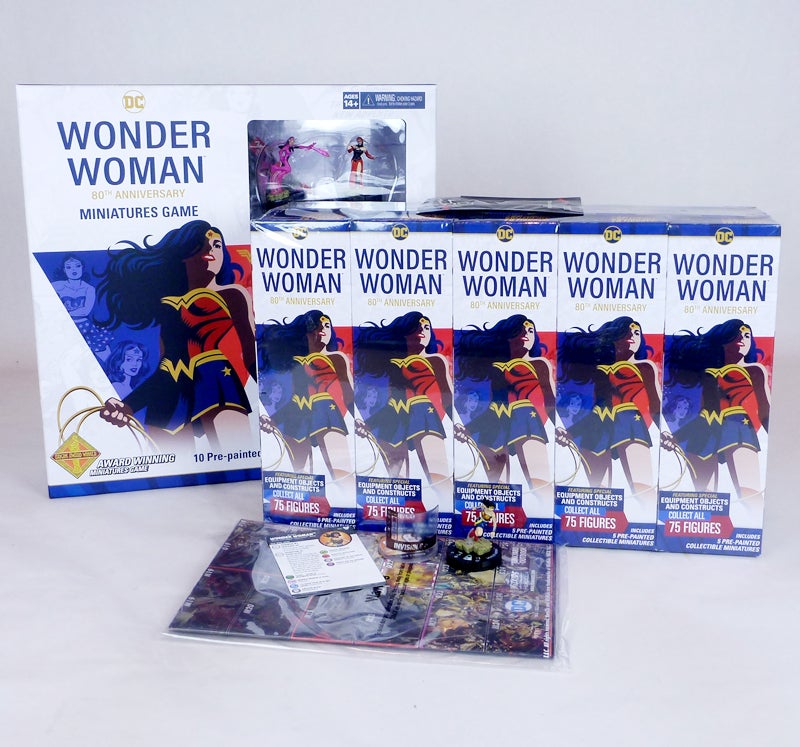 There you have it folks, the Wonder Woman 80th Anniversary Heroclix expansion with booster set, Miniatures Game, and more. DC sets come fewer each year than their Marvel counterparts, so there's already a built in excitement when they come around, but this is a major event. All Wonder Woman fans are definitely going to want to grab some boosters of this set, and the Miniatures Game is a must-have for anyone looking to get into (or back into!) HeroClix. The new rules are streamlined and straightforward so you'll be playing in no time. All of the figures look good, and as I note, in addition to being great game pieces they're fun to display in your home, work space, etc.; every booster will yield exciting figures to do just that. Then you can pick up things like the Play At Home Kit and Dice & Token Pack to customize and trick out your HeroClix experience even further. Look for all of this Wonder Woman goodness coming soon in April. Good luck with your pulls!
Visit HeroClix.com for even more info as well as downloads of rules and maps, and stay tuned to Figures.com as we continue our reviews of new HeroClix! If you don't have access to a local comic book or game store at this time you can also order your HeroClix directly from the WizKids website.
Review and photos by Scott Rubin.
Review samples courtesy of WizKids Games.
We are committed to finding, researching, and recommending the best action figures and collectibles. We earn commissions from purchases you make using the retail links in our product reviews. Learn more about how this works.
BRICK
LEGACY CARD
MINIATURES GAME
PLAY AT HOME
---