-Review and Photos By Andy Jones
Having spent the better part of a year trapped at home, I've gotten the wanderlust bug to get on the road and get out of my house. I don't know if its cabin fever or the timeless design, but these two officially licensed Volkswagen vehicles made me extra giddy. They're finally here, the Playmobil Beetle and Camper Bus!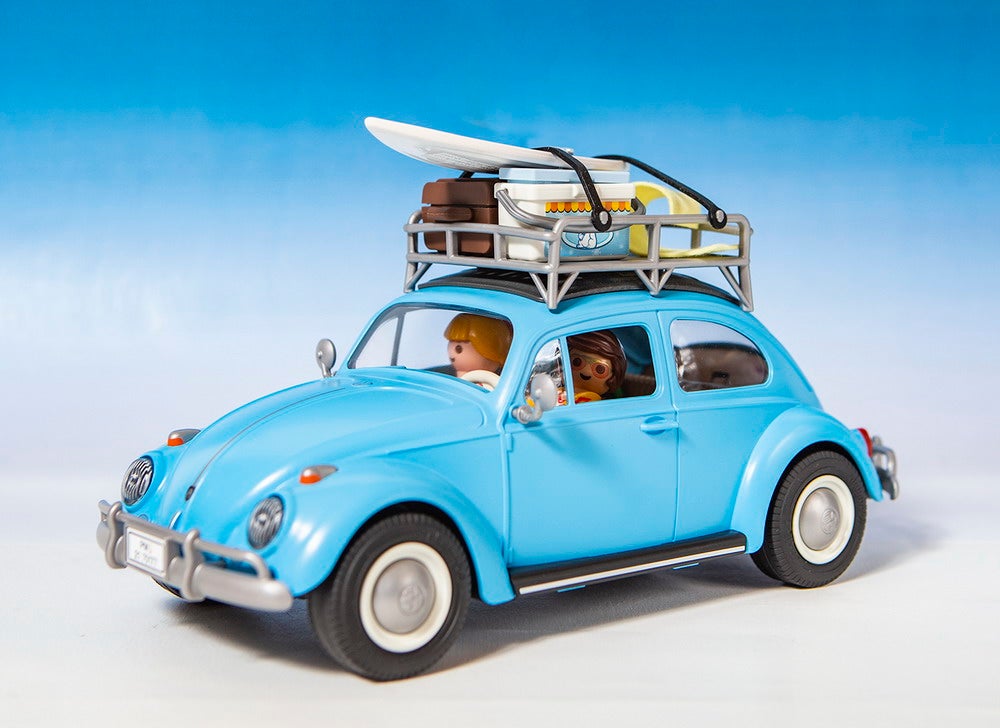 Starting with the Beetle, Playmobil has expertly applied their familiar design aesthetic and playability to the familiar Beetle shape. There is no mistaking that this is a Volkswagen Bug, but it fits perfectly in your fleet of Playmobil automobiles. (What, doesn't everybody have one of those?)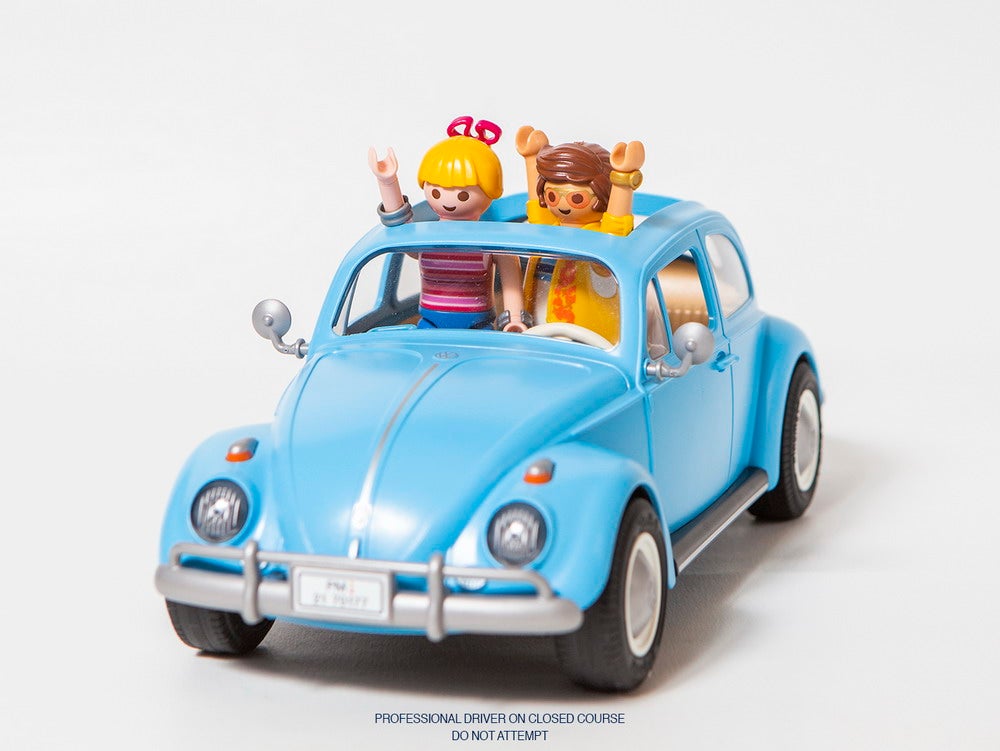 Other than how it looks, my favorite aspect of anything produced by Playmobil, is the engineering and design that goes into it. They realized they wouldn't have opening passenger doors (most Playmobil autos do not) but they didn't want to upset the aesthetic by having the rounded roof pop off. So they included a sun-roof type opening that is further covered with a luggage rack. I'm really happy though that you can remove the luggage rack, but keep the "canvas" roof intact if you wish.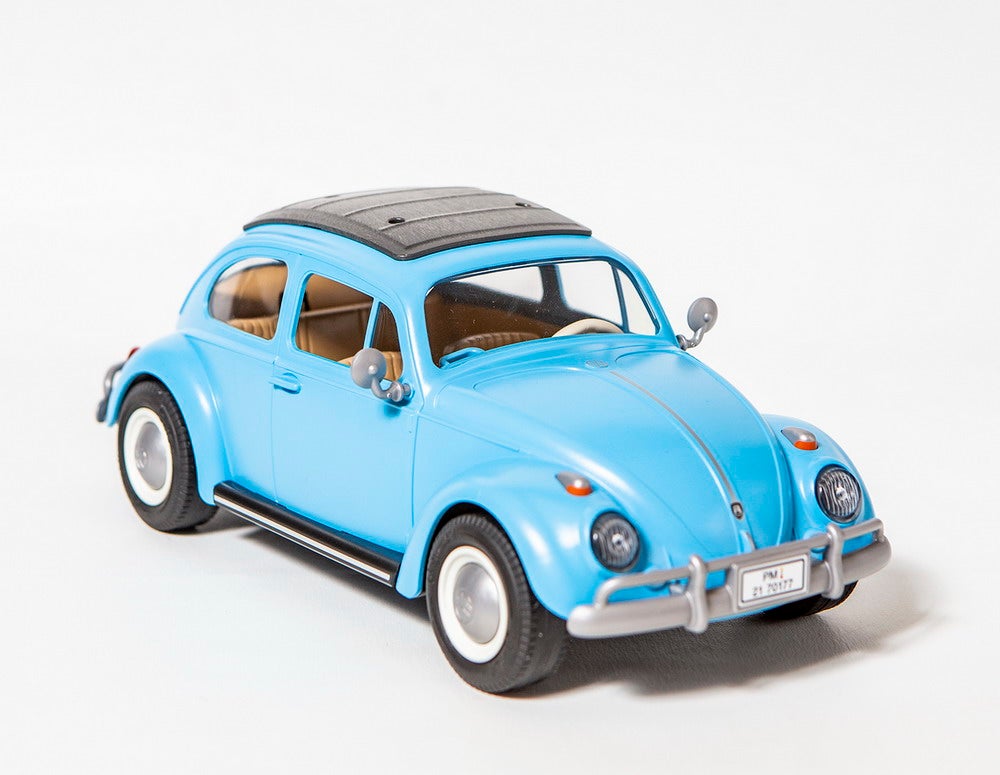 The opening allows you to insert and remove the Playmobil passengers with ease, but it still looks sharp on your shelf.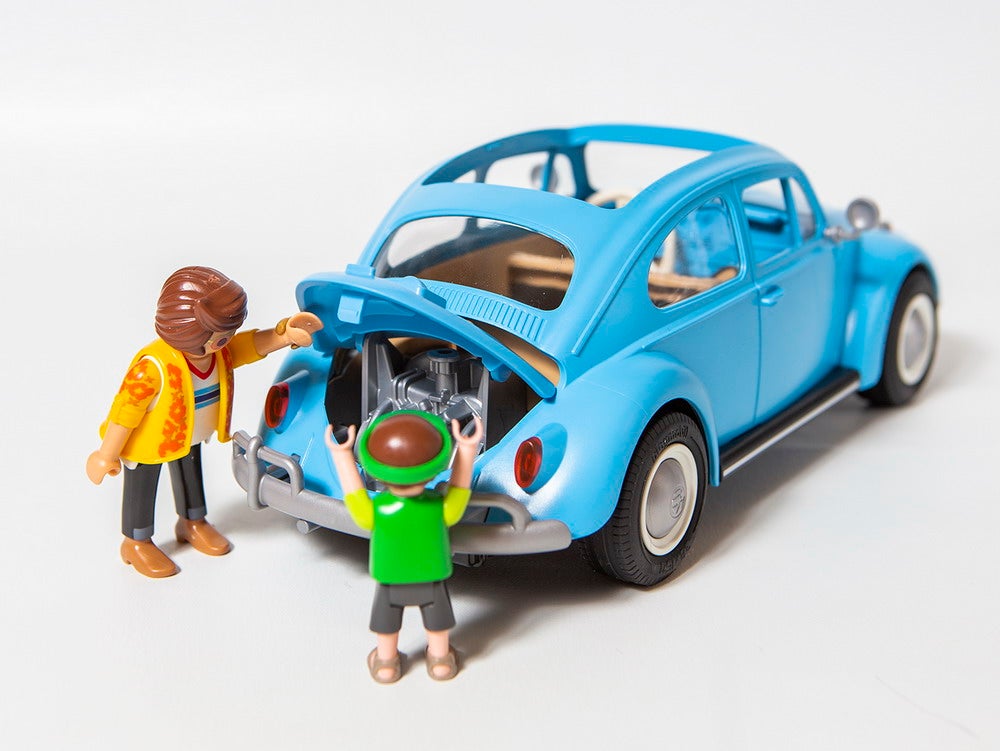 The typical Playmobil car has passenger access (either via roof or car door) and one opening hatch, either the trunk or the hood, but rarely both. On this toy, the back hatch opens to see the detailed engine. Typically you get access to the trunk, for storage (and with a Volkswagen, that would be the front) however you do have a luggage rack, so you don't need a trunk. I enjoy the level of detail on the engine, and it's a fun "surprise" when you're opening the doors and hatches.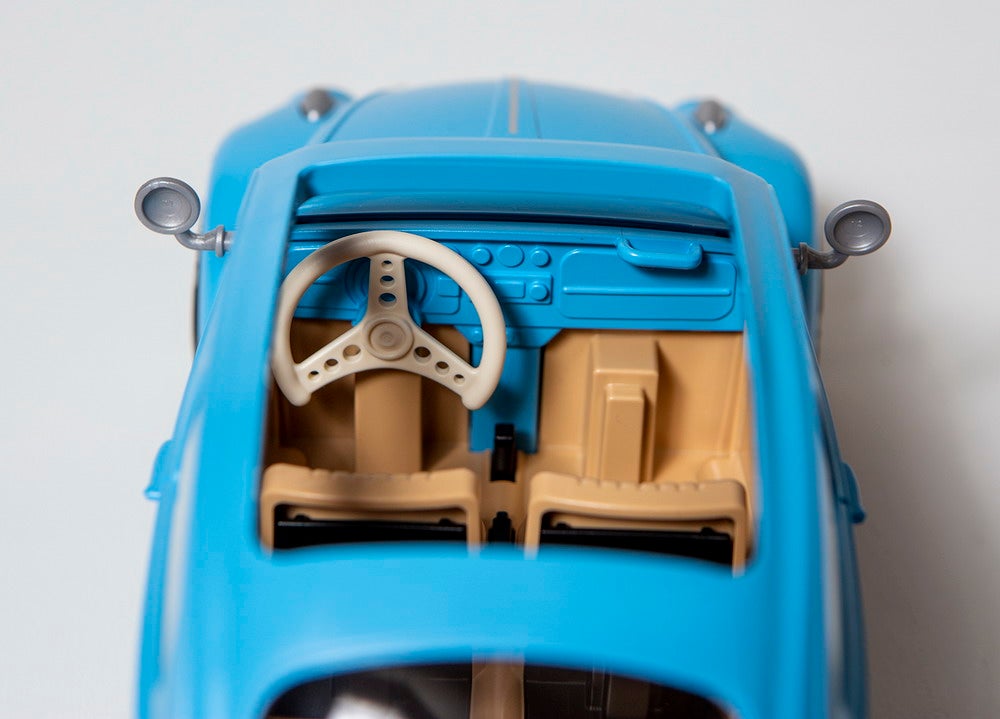 I also enjoy the interior detail. The figures can get in and out easily, and there is the foot block for their ankles to hug that keeps the figures in place when you're handling the car. But, the other details, such as the steering wheel, the glove box, and the dashboard are clearly Volkswagen styled.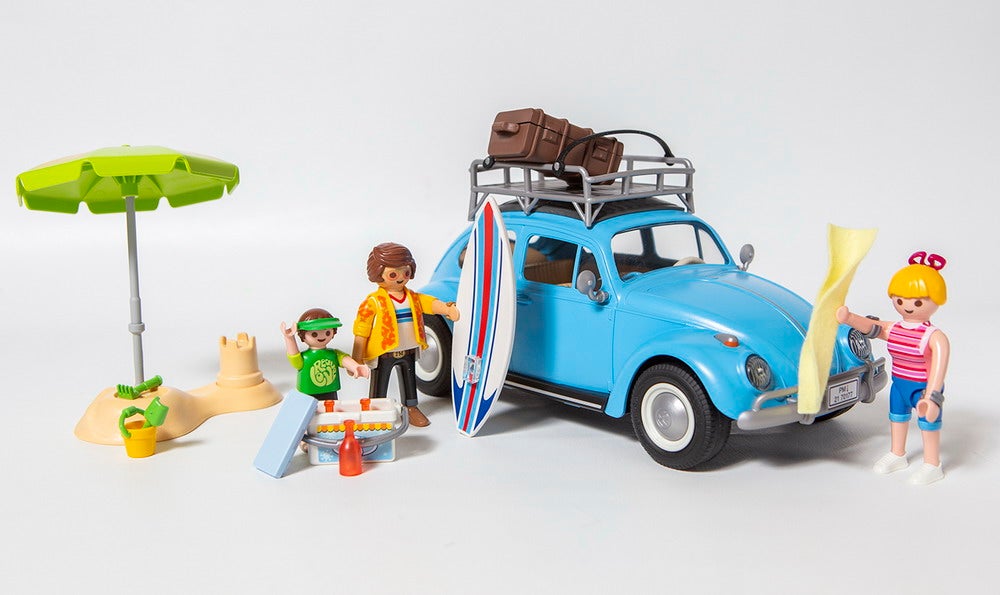 You also get a fun set of accessories. This family is headed out on vacation. You get a mom, dad, and son, and they have a cooler full of drinks, some luggage, and a surfboard. Once they get to the beach, there is a small sand mound with beach umbrella, and a bucket and some sand toys for the boy.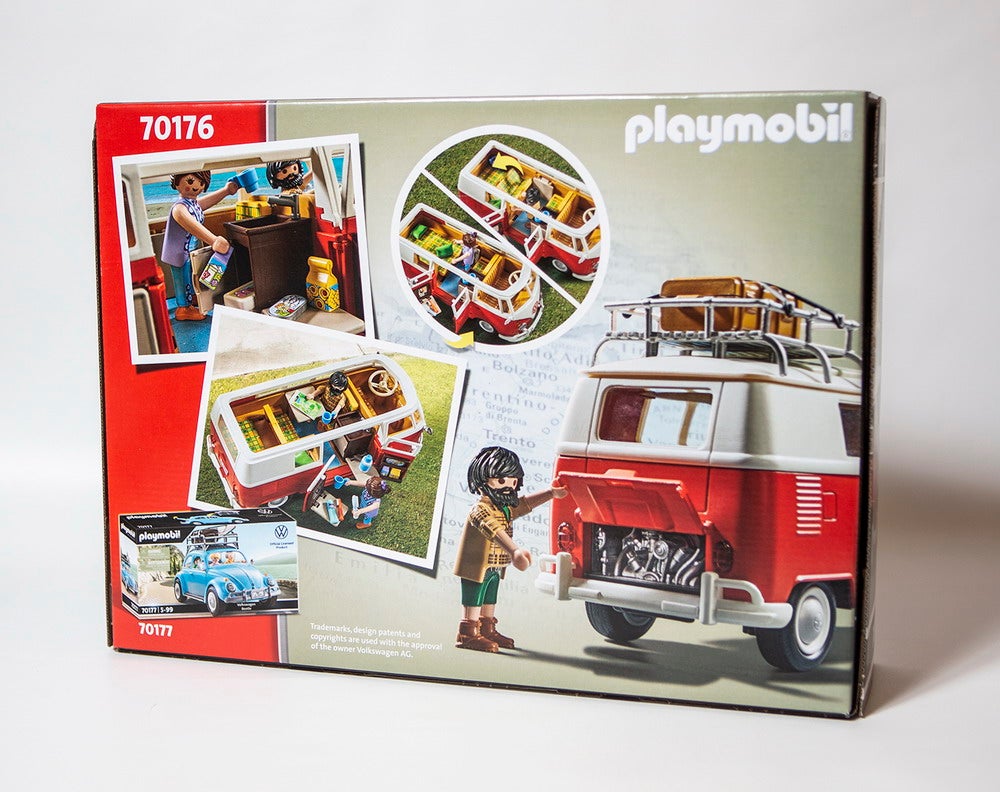 Let me take a second to talk about the packaging. I love how Playmobil packaging has, for the most part, kept to a specific look with their trademark blue and dynamic cover photos. WIth the licensed properties, Playmobil has gone to lengths to make these particular boxes "pop" off the shelf a bit more. Not only from other toys, but from other Playmobil boxes. However, when examining the box, there's no doubt that it's a Playmobil toy. There's no mistaking this for a knock-off or the wrong toy all together. I also like the update to the back of the box. The typical Playmobil box lays out all of the accessories and pieces so you know exactly what's included in the box. For this set, you're treated to additional branded photos with on-location photos. You get a clear impression of what you get inside.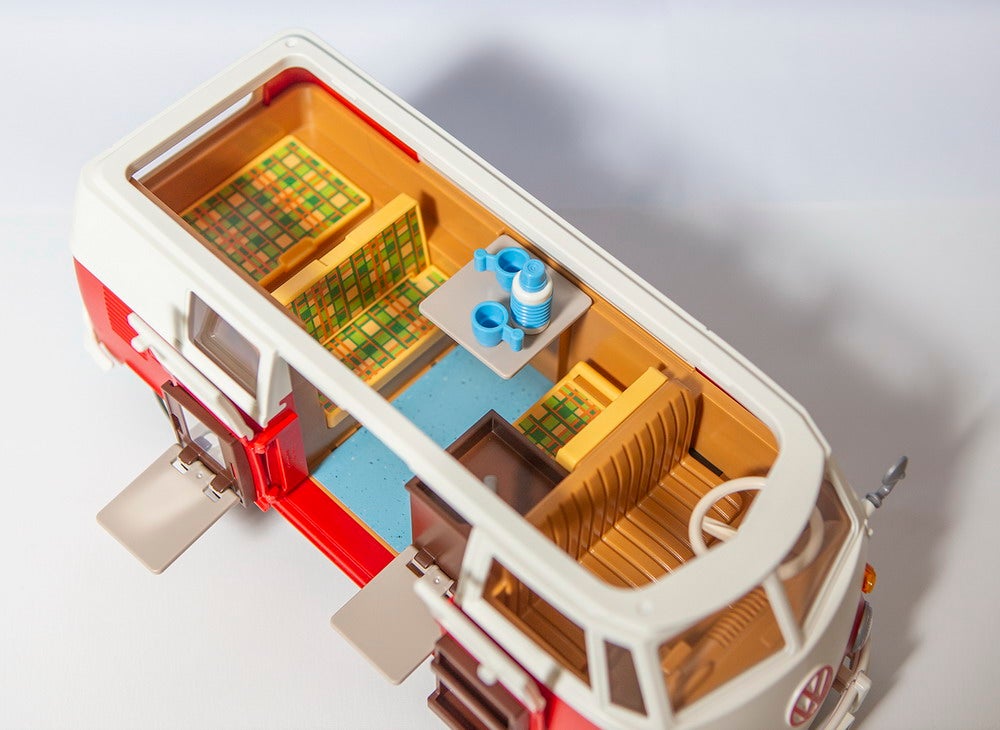 Now let's look at the Camper Bus. This thing is a beauty. Like the Beetle, there is a removable luggage rack, and a "canvas" section, but they were also able to have the entire roof pop off, without disrupting the look and play features. This allows you to place and remove the passengers, but also take full advantage of the camping features.

The kitchen table folds down to allow the back bench to flatten out and connect to make a bed. There's a mini fridge, sink and cupboards. I love the sticker replicating the floor texture and plaid upholstery. The two "barn doors" do open, and there are fold down shelves on those.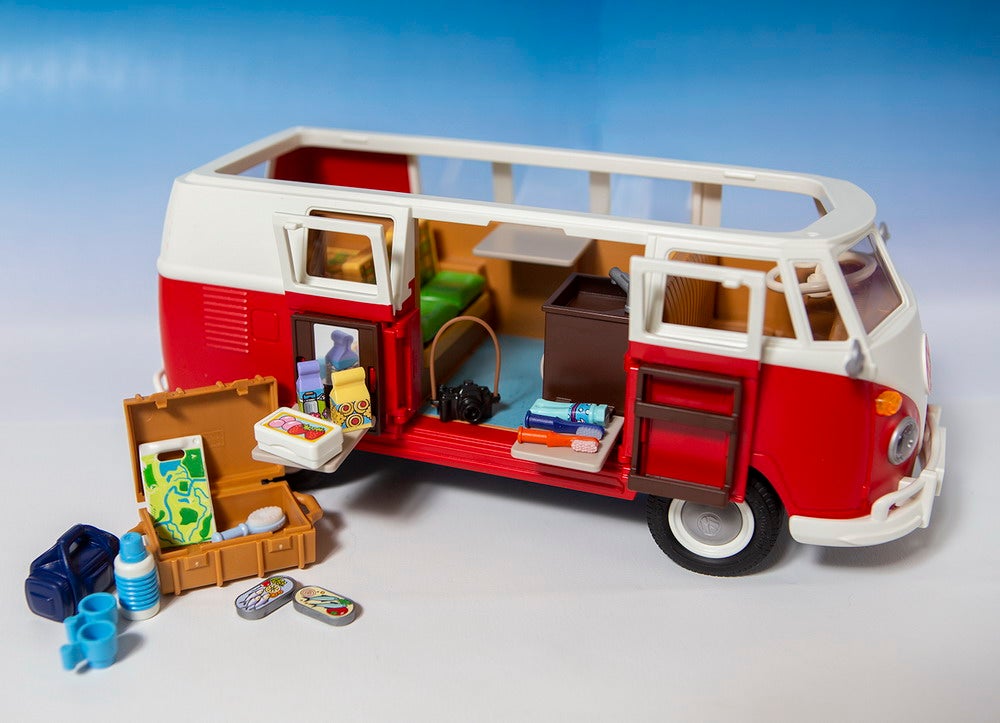 I love the hippy couple that is embarking on this adventure. Their outfits and accessories fit the care-free wanderlust itch we're dying to scratch. I love the camera, and the toothbrushes! I love that every Playmobil camping set has toothbrushes, I think it's a gentle re-inforcement to kids that we ALWAYS brush our teeth, no matter where we sleep. I'm also a fan of the coffee thermos and travel mugs. There are also tins of sardines, and, um, a box of frozen waffles.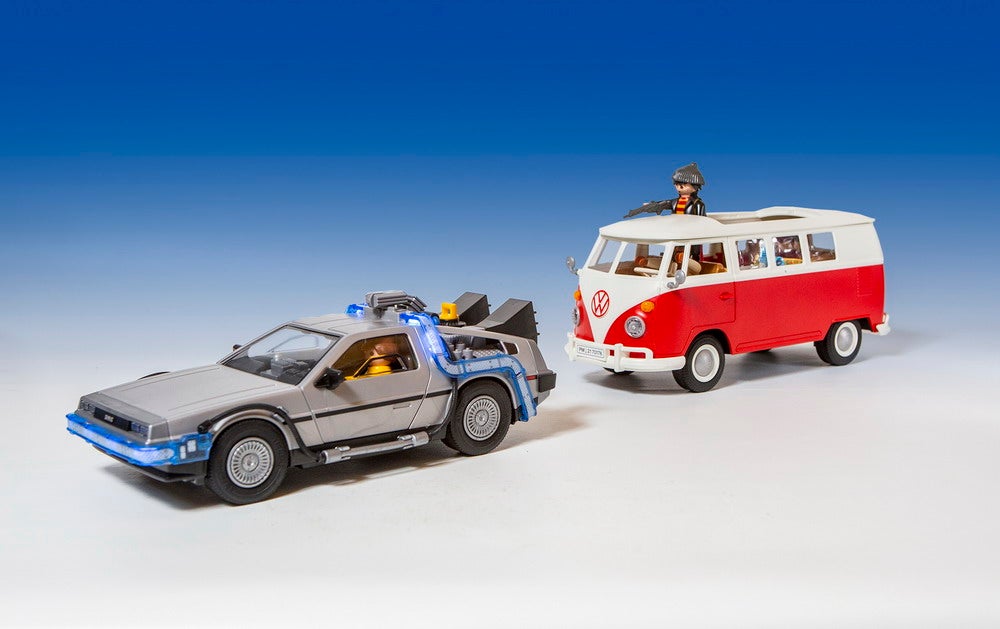 Obviously, with the Playmobil Back to the Future line so hot right now, one would question why didn't Playmobil offer the camper bus in blue, to match the Libyans bus from the Twin Pines Mall parking lot chase? I'm going to assume it's so that Playmobil is in no way mistaken for selling a terrorist bus. Safe choice.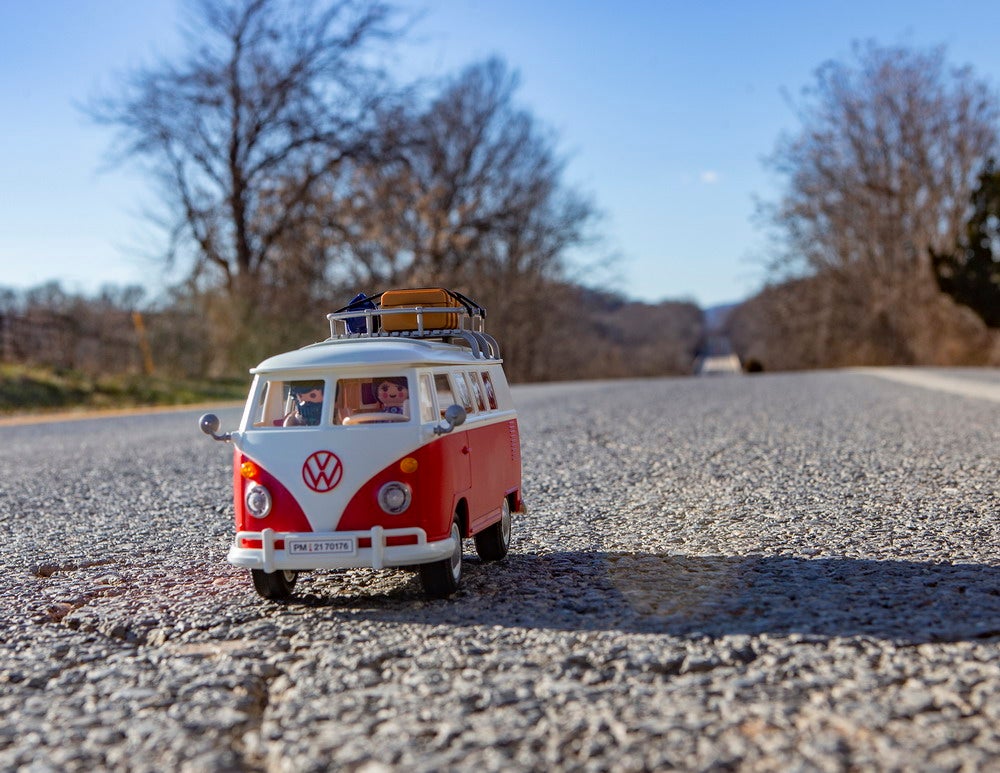 Both of these sets are spectacular. I love how they fit into my larger Playmobil collection, but they're clearly Volkswagen toys. This is the perfect marriage of design and play value.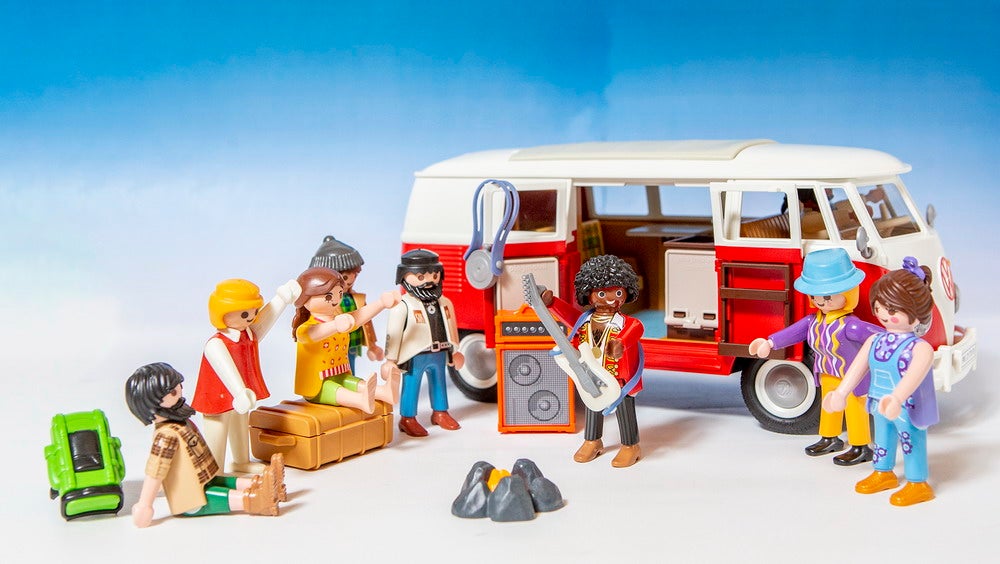 Everything looks fantastic and Playmobil knocked it out of the park. I've said this before, but I have to repeat myself, when Playmobil first started licensing properties, I was against it. I knew they'd do a good job, but I was afraid quality and the entire philosophy of the company's mission would suffer. However I've been proven wrong time and time again. The Ghostbusters, How to Train Your Dragon, Scoob-Doo!, and Back to the Future sets are fantastic additions to your collection, and a lot of fun to play with. I get that the Volkswagen look and name isn't quite as foreign as the inclusion of other licensed properties, ones that come with built-in characters and stories, but I always get weary of projects that look like "cash-grab" opportunities. I'm happy to say, these two sets feel like the perfect pairing. Two wonderful German designs, coming together into something fun and beautiful. These sets go for about $40 and $50 respectably, and can be ordered from many fine retailers, including EntertainmentEarth.com.
Review and Photos By Andy Jones
Review Samples Courtesy of Playmobil
We are committed to finding, researching, and recommending the best action figures and collectibles. We earn commissions from purchases you make using the retail links in our product reviews. Learn more about how this works.
---