Nothing screams Halloween more than a good Hollywood slasher movie! The rules for this top toy list are simple: psychos in human physical form or embodied in a possessed object. Read on for our list of must-have classic movie slasher action figures – in no particular order – but with a focus on the heavy hitters and ending with some shocking surprises…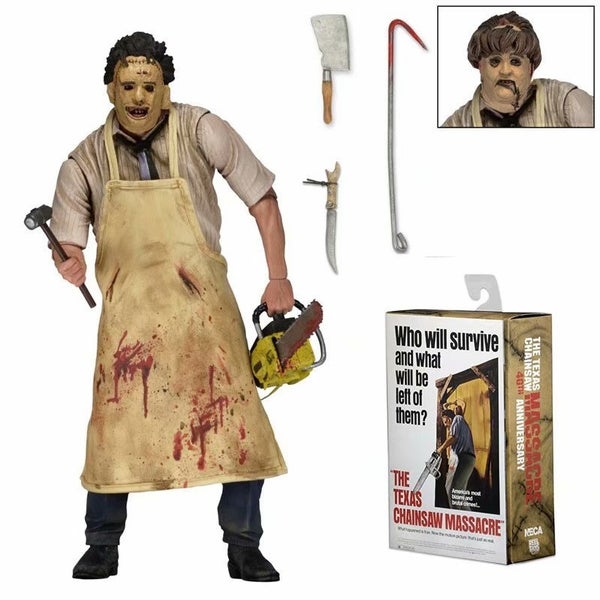 1) Leatherface (Texas Chainsaw Massacre)
In 1974, director Tobe Hopper revolutionized the slasher horror genre with his gritty film The Texas Chainsaw Massacre. Shocking audiences with its brutal portrayal of a group of friends gruesomely falling victim to a family of cannibals, Texas Chainsaw Massacre also ushered in an unexpected horror icon: Leatherface. While I find it very hard to relate to a psychotic madman that wears a skin-mask carved off one of his victims, horror hounds of a certain mind set ate it up.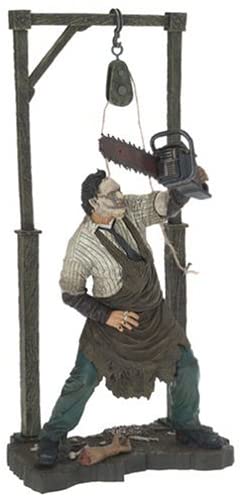 For Leatherface action figures, McFarlane Toys leads the pack, from their initial 1998 Movie Manaics release, two 12-inch versions, to better sculpted, more dynamic figure dioramas in 2004. Taking over in 2007, Mezco released the chainsaw-wielding maniac as part of their Cinema of Fear line (as well as in many other stylized formats over the years), and NECA has tackled the masked-killer, most notably with their 7″ Ultimate Leatherface action figure. However, for the most disturbing Texas Chainsaw Massacre release ever, look no further than NECA's Texas Chainsaw Massacre: The Beginning deluxe box set (pictured below), complete with flayed victim strapped to a table being hacked up. Some truly horrific stuff, and a very hard-to-find (read: expensive) box set to acquire because of it.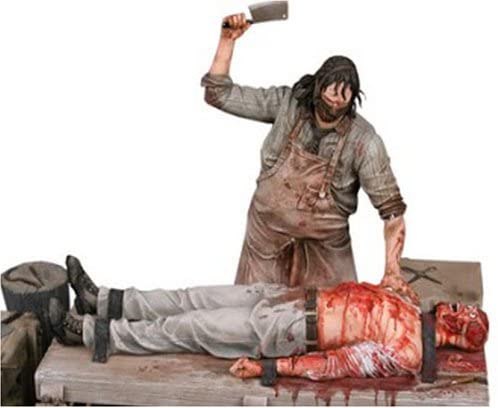 Personally I'm bummed that we've never received an action figure of Dennis Hopper's heroic Lt. Boude "Lefty" Enright, a character that made a great counter to Leatherface's crazy clan and The Texas Chainsaw Massacre Part 2 one of my favorite films in the franchise.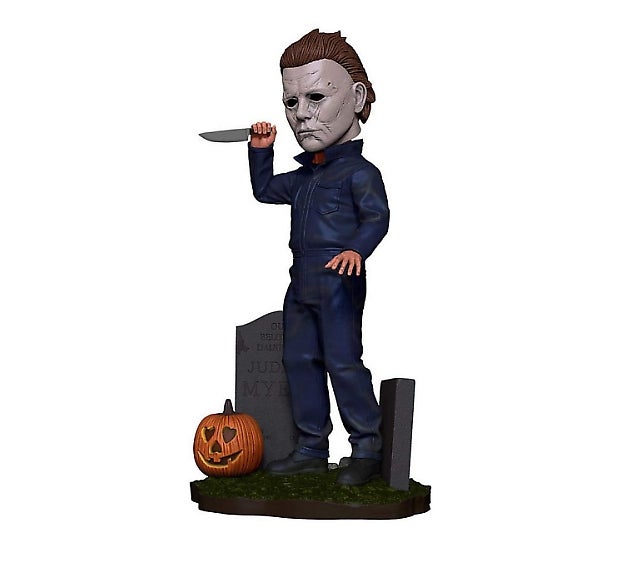 2) Michael Myers (Halloween)
Wow, how do you follow that act? John Carpenter managed to with his 1978 release of Halloween. While not as gory violent as Hooper's Texas Chainsaw Massacre, Carpenter's Halloween was visceral in it realistic slow-burn approach with serial killer Michael Myers. The creepy Star Trek James T. Kirk mask he wore certainly didn't hurt the movie's unsettling tone. Like Leatherface, fans had a new masked horror hero to admire.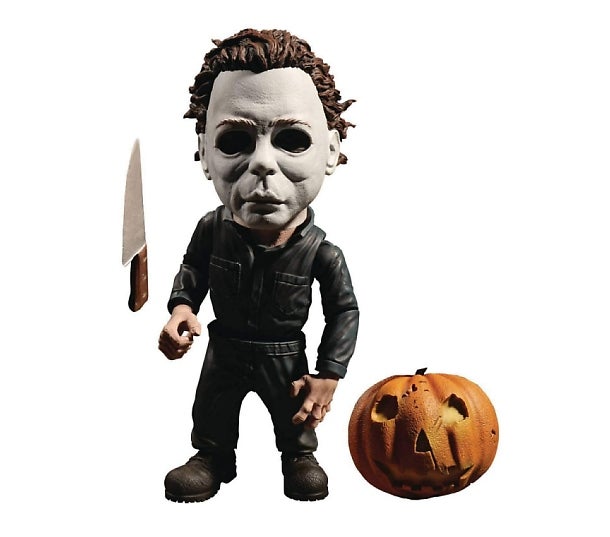 Toy-wise, Halloween collectors have many action figure purchasing opportunities. While not cheap, McFarlane Toys' Series 2 Michael Myers Movie Maniac is a great place start as it was one of the first figures to kick-start the slasher legend in figure form. Mezco and NECA again followed suite, from Mez's stylized and One:12 Collective offerings, to NECA's cartoony Toony Terrors, resin Bobbleheads, and accessory-packed 7-inch figure formats. Even Royal Bobbles joined in the boblehead fun with a classic Michale Myers release of their own.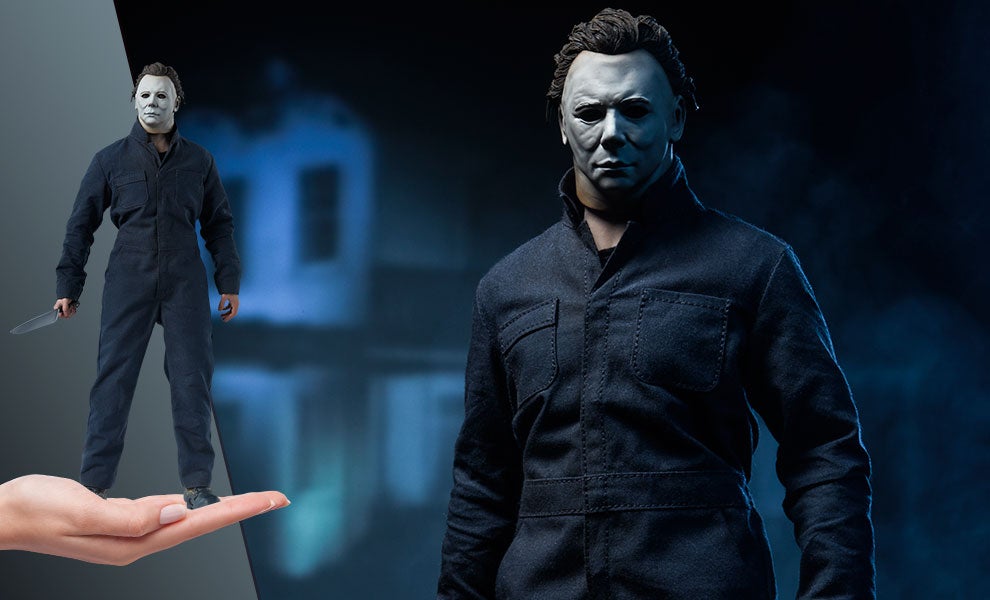 For more modern collectibles, Trick R Treat Studios is producing an extensive range of 1:6th scale Michael Myers figures from every Halloween movie made, kicking off with Michael's original 1978 appearance, along with his current 2018 look. Despite the competition, Sideshow Collectibles even entered the game recently with their own 1:6th scale Michael Myers figure, this version complete with ghost sheet Halloween costume! So many hard choices – so many Michael Myers figures!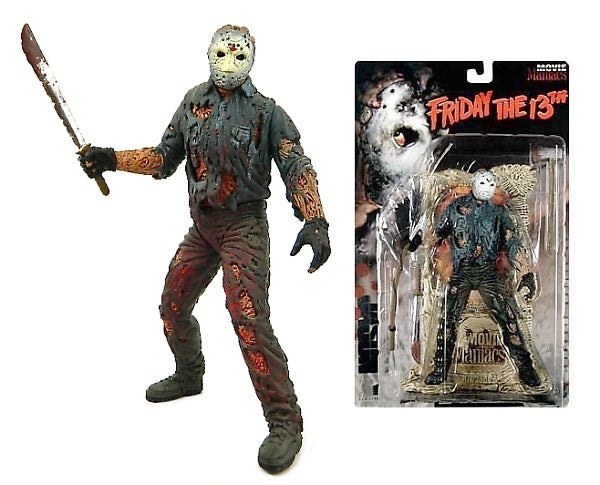 3) Jason Voorhees (Friday the 13th)
Picking up where Halloween left off, Friday the 13th introduced gore geeks to a new brand of masked madmen – one stylized for maximum impact – packing as many unique kills that can be crammed in a slasher movie. That violent momentum carried the Friday the 13th franchise beyond it's humble beginnings of Ms. Pamela Voorhees being the killer and into a bonafide cult-classic series starring an undead, unstoppable hockey-masked Jason Voorhees. Needless to say, you need a Jason action figure in your collection if you're a true horror hound. Instead of repeating myself, check out our extensive Best Friday the 13th Action Figures piece and decide which Jason action figure is right for you.

4) Freddy Krueger (A Nightmare on Elm Street)
With movie serial killers running out of masks to wear, director Wes Craven reinvented the horror genre with A Nightmare on Elm Street. The 1984 movie introduced a villain that stalked his victims in their DREAMS, complete with dirty red and green striped sweater, filthy fedora and lethal sharp razor-bladed glove. The latter was highly original in the horror genre; the iconic clawed weapon going through numerous redesigns throughout the theatrical Elm Street franchise, much to the delight of attentive fans.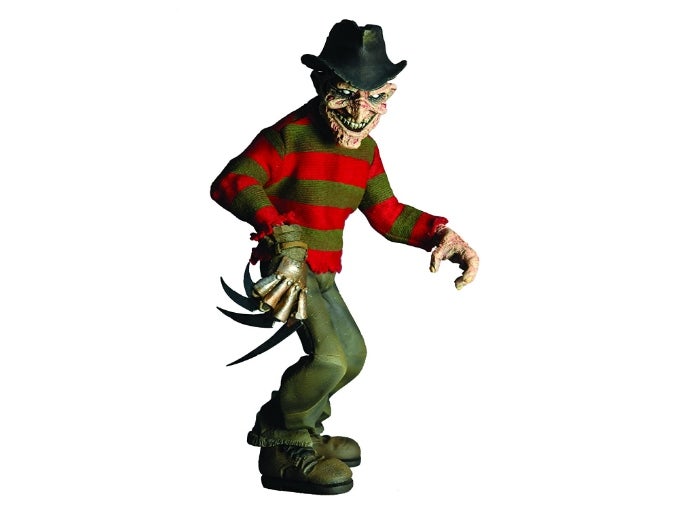 When it comes to stylized versions of Freddy Krueger, I'm biased with Mezco's phenomenal 9-inch roto figure (above). For realistic figures, NECA steals the show. Take your pick of Freddy from his expansive 9-film career: Ultimate Freddy from the first film, Chef Freddy from Part 5, to Krueger's trench coated appearance in Wes Craven's New Nightmare.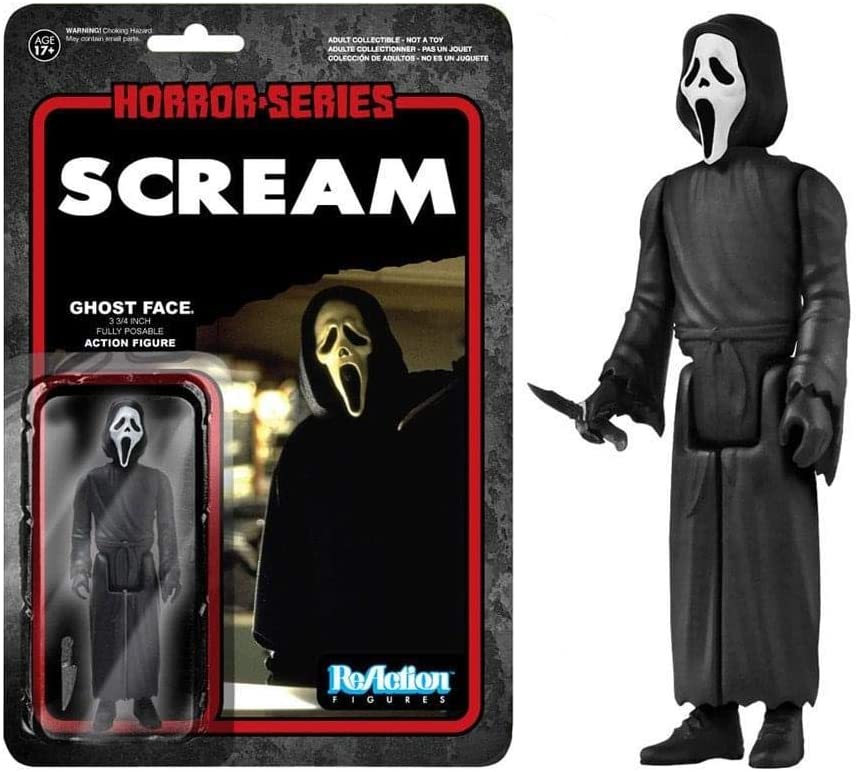 5) Ghostface (Scream)
In 1996, director Wes Craven proved once again that he had the chops for horror with his satirical slasher movie Scream . Revolutionary in its meta self-reflection on the horror pop culture genre, Scream shined with its fun plot twists and who-dun-it attitude. The kills were good too, as was the killer's design: a simple black-robed, white-masked, knife-wielding maniac named Ghostface. The success of the first movie spawned 3 more, with a fifth installment planned for 2022. While I'll never understand Scream's longevity (there's only so many plot twists you can do before it wears thin), fans do still LOVE the iconic Ghostface killer design.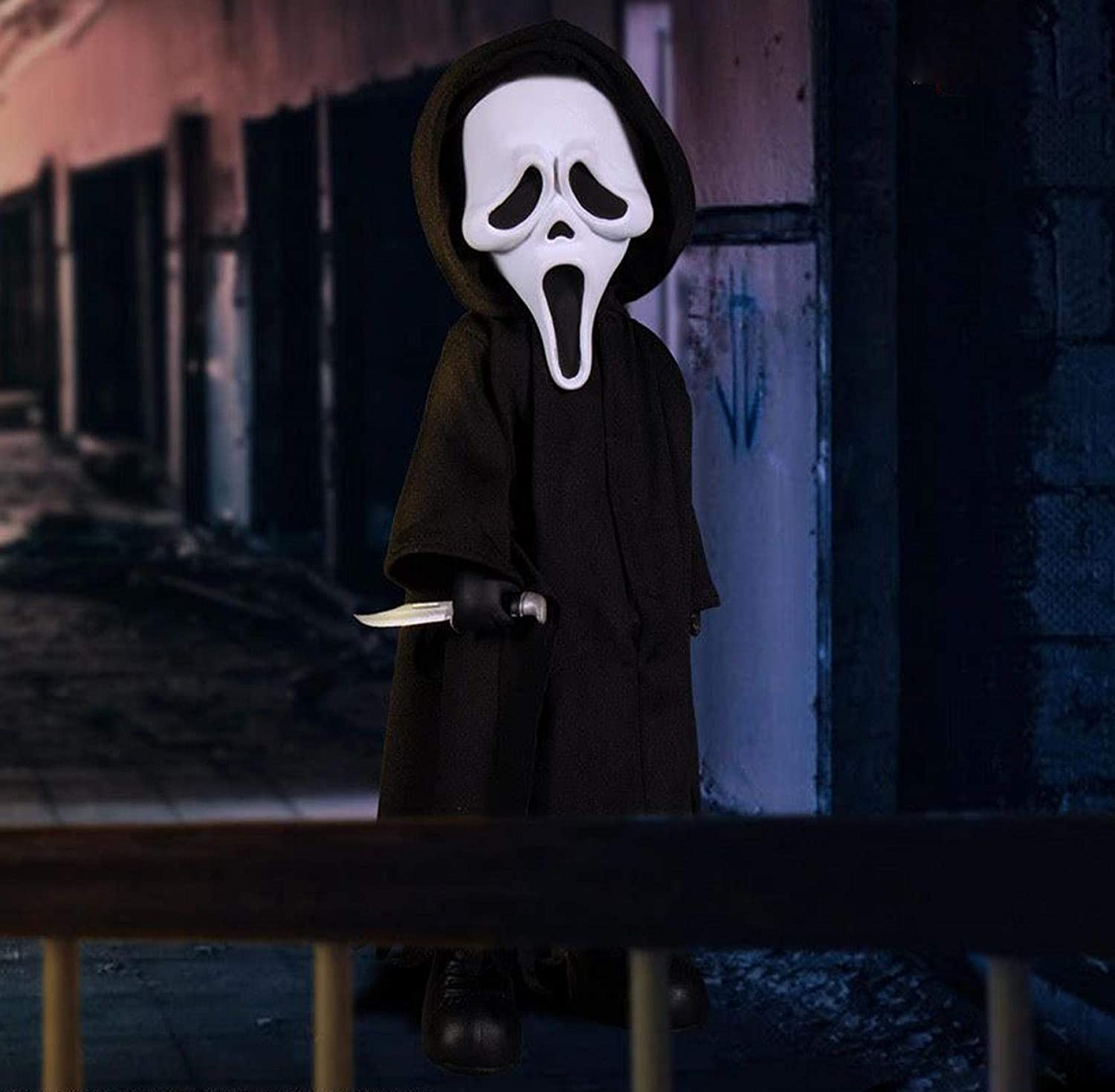 Like other horror icons on this list, fans can purchase Ghostface as many stylized figures, including Super7's ReAction line – the blister card "screaming" your movie fandom. There's also, of course, the usual suspects of Mezco with Ghostface killer becoming a Living Dead Doll, NECA and their 7-inch and 8-inch action figures, as well as Sideshow Collectibles recently announcing a 1:6th scale collectible.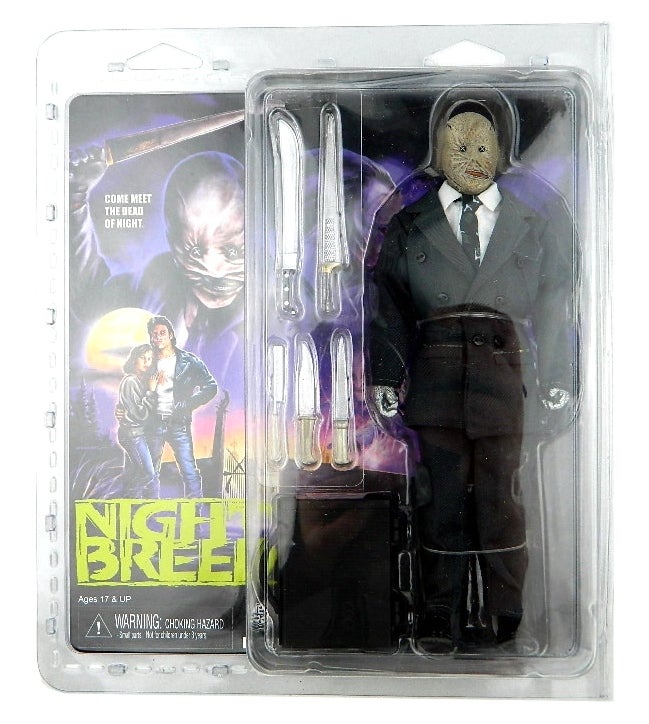 6) Dr. Philip K. Decker (Nightbreed)
Clive Barker's movie Nightbreed isn't your typical horror slasher in that it is an odd blend of murder and monsters. Regardless, the film's central antagonist IS a serial killer: Dr. Philip K. Decker. Expertly played by renown body horror director David Cronenberg (Scanners, The Fly), the masked character of Dr. Decker was the stuff of nightmares.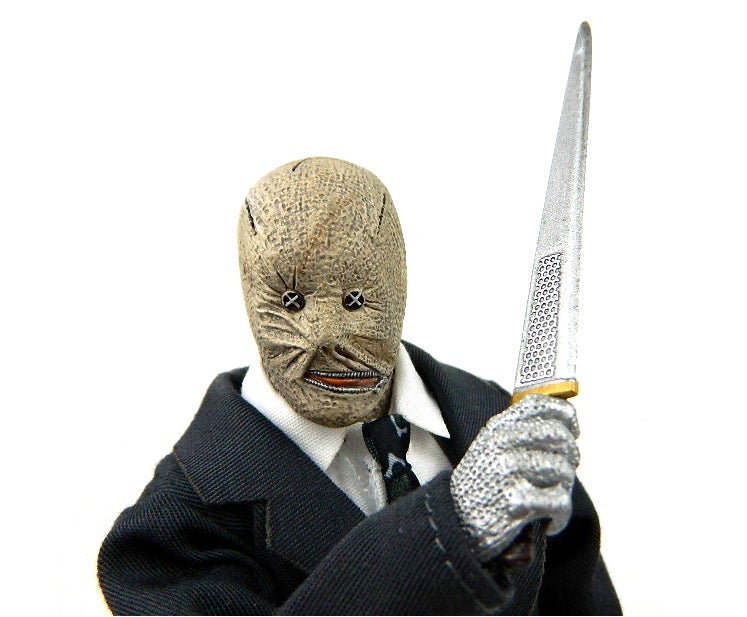 Wearing an eerie button-eyed, zipper-mouthed mask, the psycho slayed his victims with an enourmous pointy knife. While Clive Barker's movie was a little too weird for the mass populace, it has since become a cult classic. When it comes to action figure collectibles of Nightbreed's main monster, look no further than NECA and their incredible Dr. Decker 8-inch clothed figure. Why? Because it is the only action figure that exists of the disturbing Nightbreed killer.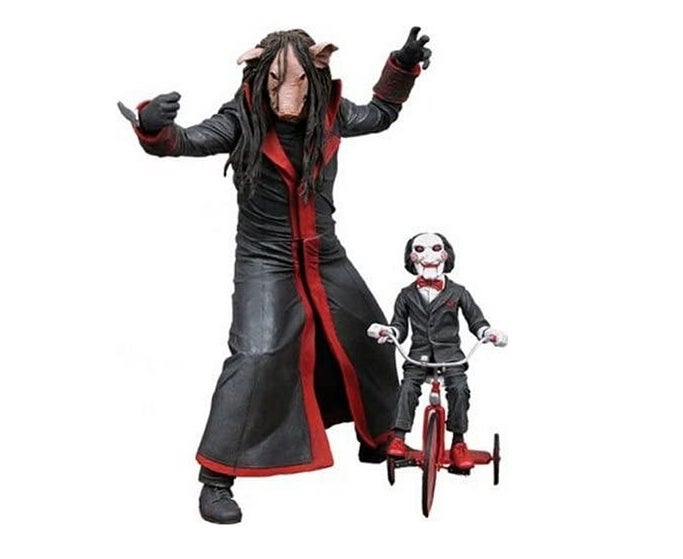 7) Jigsaw Killer (SAW)
This entry is actually quite odd. There's no doubt that 2004's SAW spawned a popular torture-porn horror movie franchise. However, the real thrill of the films wasn't the killer… but rather the gruesome traps he laid out for his victims. As such, action figures of the Jigsaw Killer aren't as in demand as his sick inanimate sidekick: Billy the Puppet.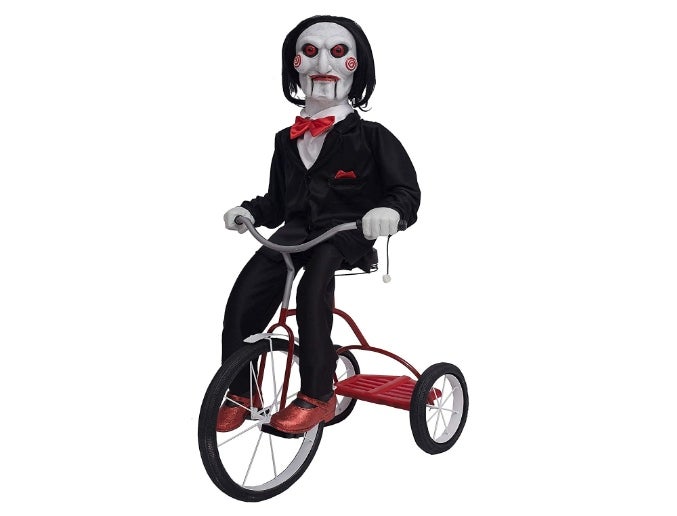 For those looking for Jigsaw himself, NECA released two great figures, masked and unmasked. His mouthpiece, Billy the Puppet, is a bit easier to find. The creepy doll was released in numerous forms, including a creepy NECA plush, and via Mezco as a Burst-A-Box Jack-In-The-Box inspired toy and talking Mega Scale doll. For the ultimate Billy, look no further than Morbid Enterprises and their 38-inch prop replica, complete with red tricycle.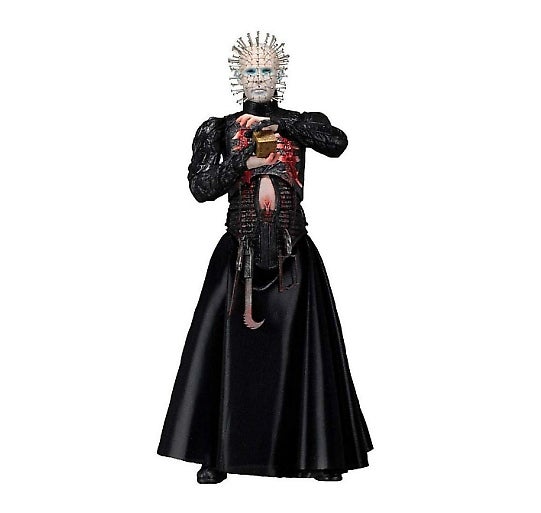 8) Pinhead (Hellraiser)
What is the meaning of life? Ask Elliott Spencer, an ordinary human that spent his life trying to solve the Lament Configuration; a puzzle box that eventually opened a doorway to Hell. Pinhead, the man once known as Elliott, now leads a pack of demons called Cenobites. His job? To welcome other curious "guests" to the pleasures – and pain – of Hell. We have such sights to show you!

NECA leads the charge here, being the first collectibles company to introduce an extensive Hellraiser action figure line (see our Best of NECA Hellraiser piece HERE). Not to be out done, Mezco released a realistic 12-inch figure, along with Pinhead in their popular hyper-stylized vinyl format.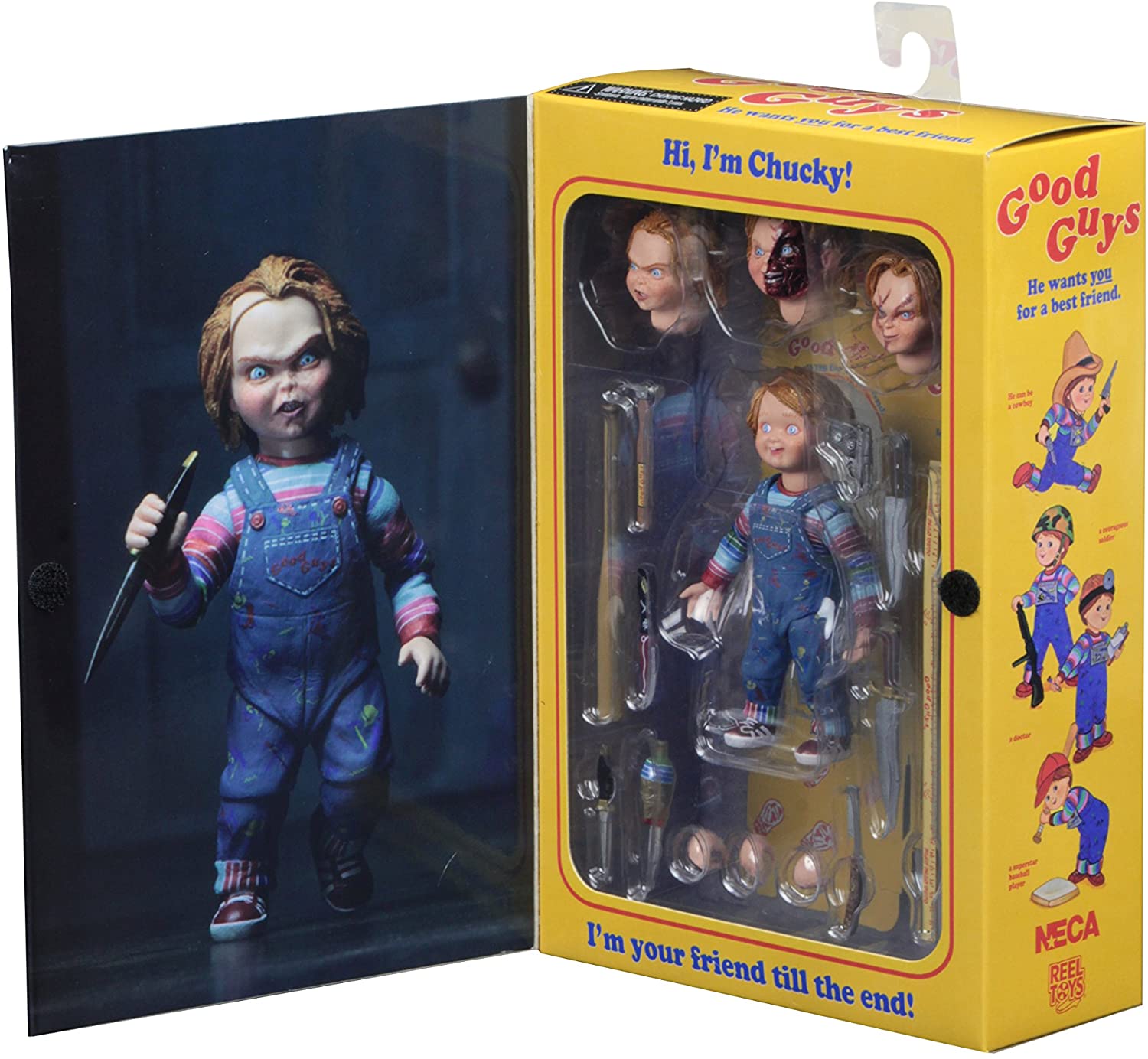 9) Chucky (Child's Play)
In 1988, Child's Play introduced the main killer as a killer doll. Mortally wonded, serial killer Charles Lee Ray transfers his soul via a voodoo ritual into a child-sized doll to continue his killing spree. Far fetched? You bet, but Child's Play proved so successful that it spawned FIVE sequels, along with an uber-creepy reboot in 2019. Your friend until the end, indeed.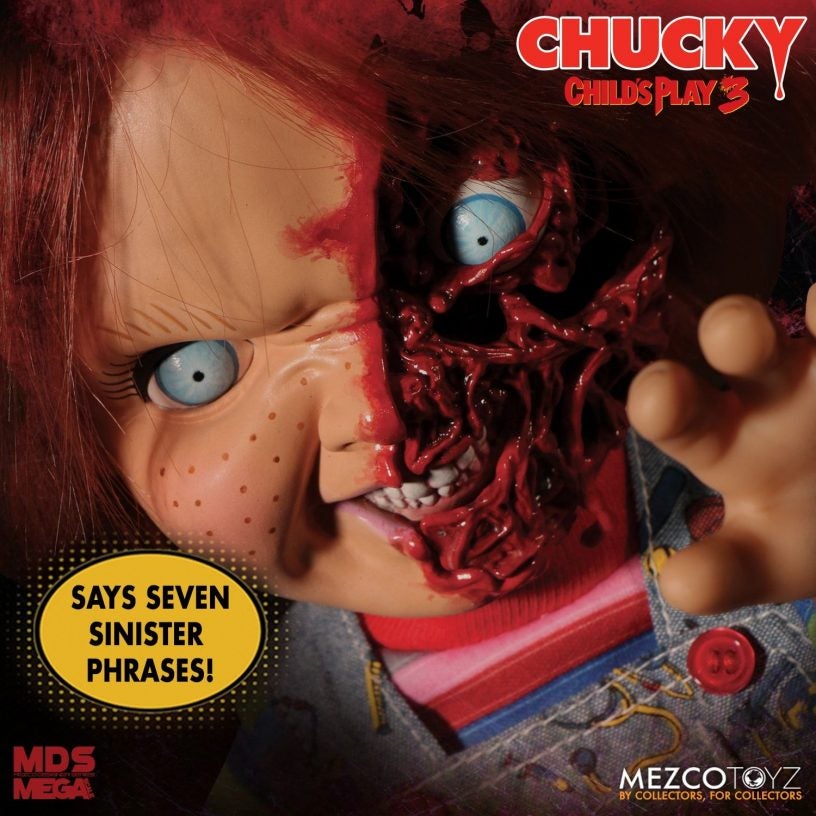 Believe it or not, Sideshow Toys ushered in the Chucky craze with a life-size doll of their own. While hard to find nowadays, your best bet is with Mezco Toyz. The company has fully embraced Chucky – as well as his bride Tiffany – in a variety of formats from all the films. Mezco's most recent release features a 15-inch talking "Pizza Face" figure featuring an all-new head sculpt depicting Chucky's mutilated face after a run in with the Grim Reaper's scythe in the "Devil's Lair". For action figure puriests, there is McFarlane's original Movie Maniac, as well as NECA's "Ultimate" Chucky, complete with multiple movie head sculpts.
10) Zuni Fetish Warrior Doll (Trilogy of Terror)
Speaking of possessed killer dolls… 1975's made-for-television anthology horror film Trilogy of Terror forever haunted those that watched it with it's third story called "Amelia". In a nutshell, Amelia – expertly played by Karen Black – returns to her apartment after a shopping spree, which includes the purchase of one evil looking aboriginal warrior doll, complete with pointy, sharp teeth and a spear. Like Chucky, the doll contains the actual spirit of a Zuni hunter named "He Who Kills" – trapped in the doll via a gold necklace. As horror movies go, the necklace gets accidentally knocked off. The doll then attempts to murder Amelia via said spear, and soon a much more lethal butcher knife it finds in the kitchen!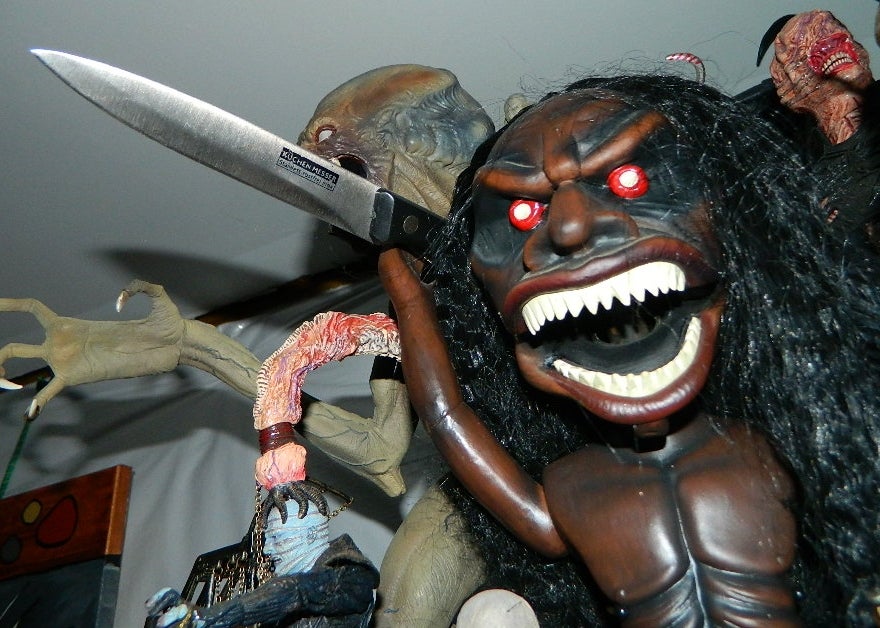 The Zuni fetish doll is the stuff of nightmares – many of which I had after watching this horrifying TV movie as a kid. As anything that scared me as a child, I grew to accept and appreciate it in my life, finally delighting in the knowledge that an an actual Zuni Warrior collectible figure was being released!
Produced by Majestic Studios back in 2004, this 13-inch tall piece of horror history is a must-have replica for fans that appreciate the lesser known cult horror classics… if you can track one down. For those that can't find the Zuni Warrior action figure, Hollywood Collectibles Group recently released a pricey resin statue.
---
We are committed to finding, researching, and recommending the best action figures and collectibles. We earn commissions from purchases you make using the retail links in our product reviews. Learn more about how this works.
---