This exclusive 'Booth-In-A-Box' is jam-packed with badassery to celebrate the first ever Mezco Con – right from the comfort of your own couch! This exclusive is available for purchase now through mezcotoyz.com priced at $170.
The box itself is designed with super sweet graphics by our friend, Diego Riselli, depicting our convention booth. Inside, you will find a Clan of The Golden Dragon Gomez, a newly designed and fully accessorized 5 Points Agent Gomez figure, a Pink Skulls Chaos Club t-shirt, an All-Access Mezco Con Badge with lanyard, stickers, a pin, and an iron-on patch. Each purchase of a 'Booth-In-A-Box' comes with a $20.20 coupon code – a nod to Mezco's 20th anniversary. This coupon code will be emailed to you shortly after your order ships. (Max 2 coupons per account.)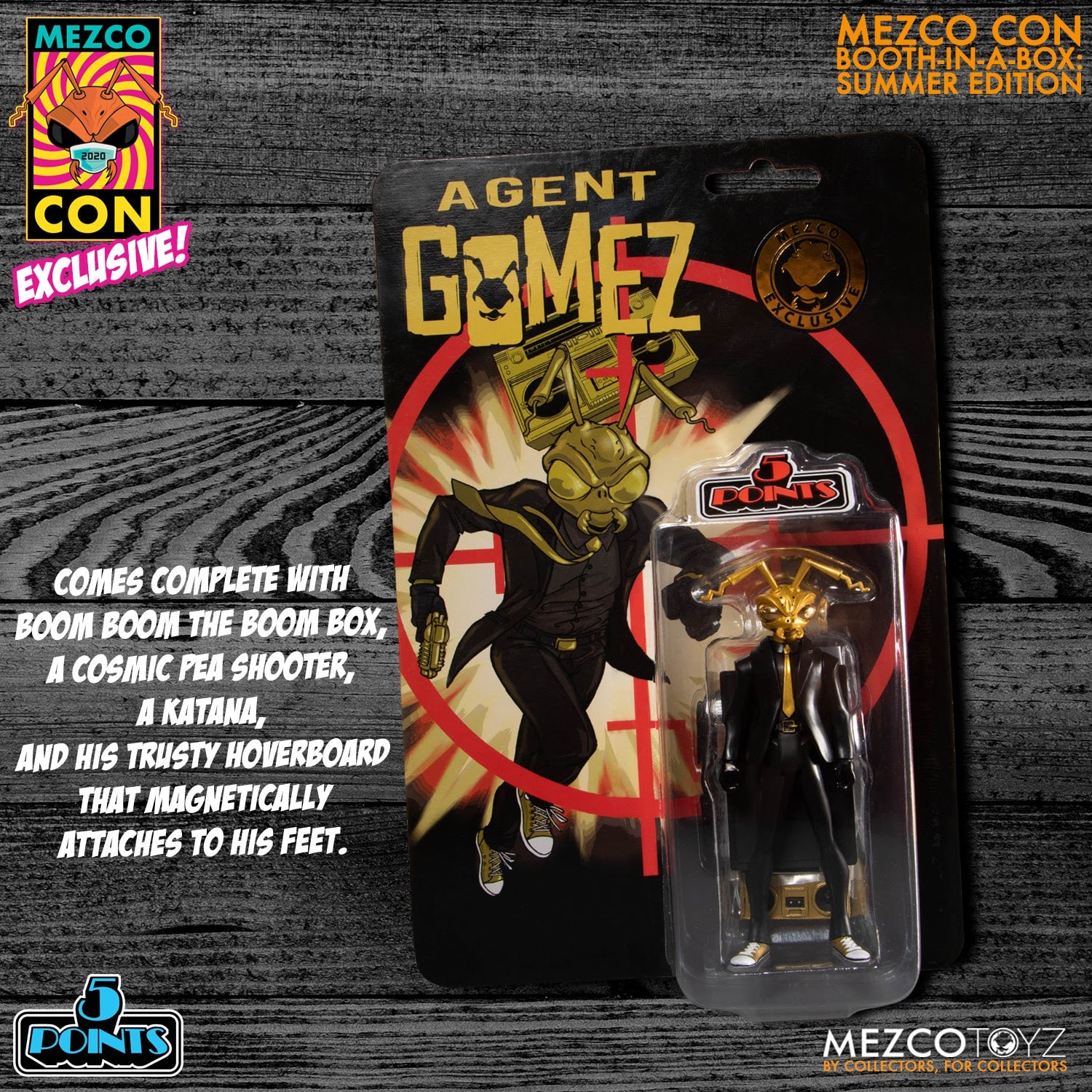 EACH MEZCO CON BOOTH-IN-A-BOX: SUMMER EDITION WILL CONTAIN:
5 Points Agent Gomez – an unequaled assassin, Agent Gomez is often considered a one-man army. The unmatched operative comes complete with his boom box sidekick, Boom Boom, a cosmic pea shooter, a katana, and his trusty hoverboard that magnetically attaches to his feet.
Chaos Club T-shirt – this screen printed, super soft, poly-cotton blended shirt features everyone's favorite neon numbskulls. You know what they say: three heads are dumber than one!
MezcoCon All-Access Badge with lanyard – security giving you trouble? Let them know you're a MezcoCon attendee with this all-access badge and lanyard. Attendees can flash their badge to gain access to free refreshments from their own kitchen.
Hazard Squad iron-on patch – show the world that you're one of the good guys. This iron-on patch proves your graduation from the L.A.B. and certifies your status as a dimensioneer.
Gomez & Boom Boom stickers – bring your favorite operative duo with you wherever you go! Stick 'em on your laptop, phone case, hoverboard, and more.
Gomez pin – don't forget to cover your mandibles! This exclusive enamel Gomez pin commemorates the first ever Mezco Con.
A $20.20 coupon – A nod to Mezco's 20th anniversary celebration! This coupon code will be emailed to you shortly after your order ships. (Max 2 coupons per account.)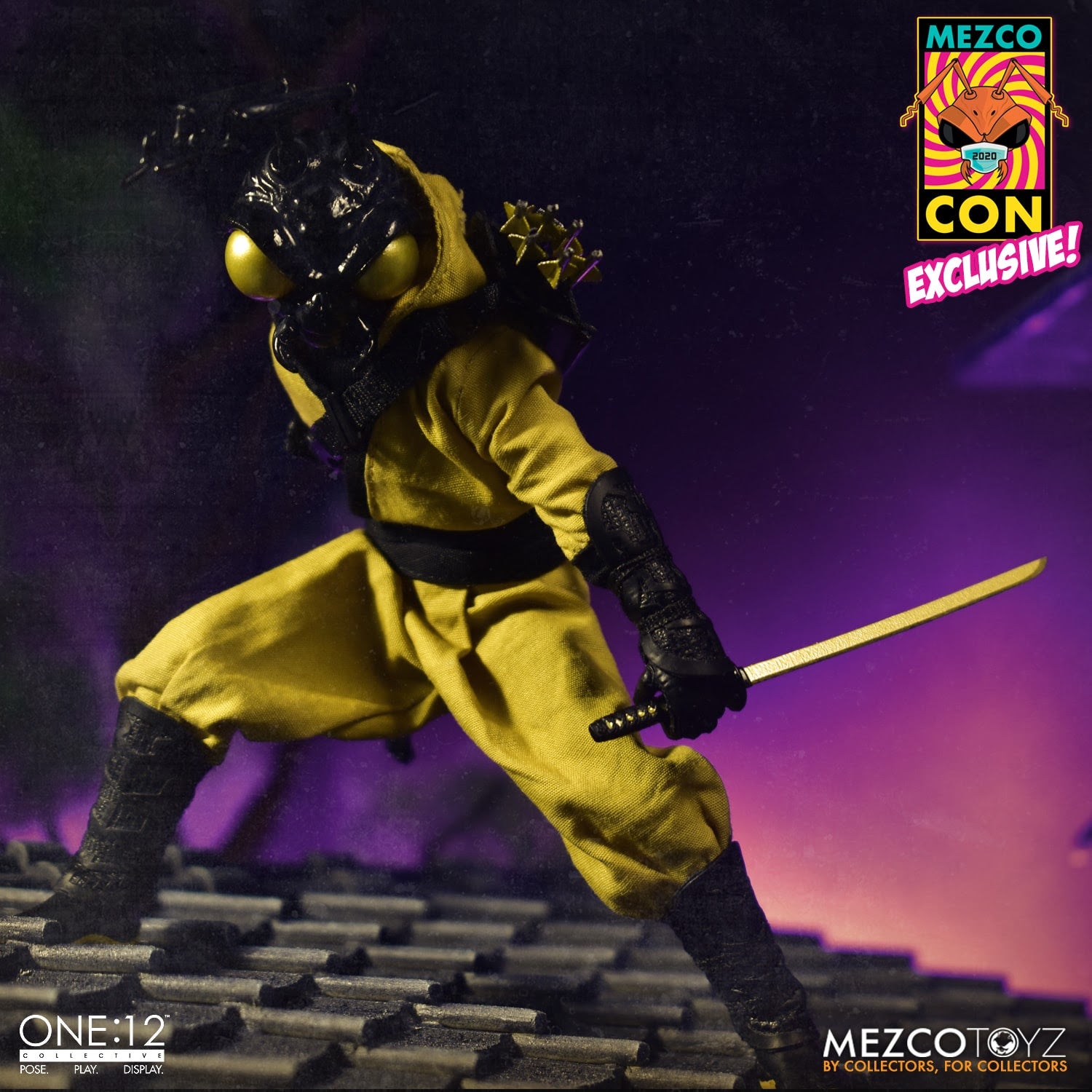 THE ONE:12 COLLECTIVE GOMEZ FIGURE FEATURES:
One:12 Collective body with over 30 points of articulation
Three (3) head portraits
Hand painted authentic detailing
Approximately 17cm tall
Fourteen (14) interchangeable hands
-One (1) pair of fists (L&R)
-One (1) pair of posing hands (L&R)
-One (1) pair of sword holding hands (L&R)
-One (1) pair of gun holding hand (L&R)
-One (1) pointing hand (R)
-One (1) rifle holding hand (R)
-One (1) two-finger pointing hand (L)
-One (1) rifle bracing hand (L)
-One (1) middle finger hand (L)
-One (1) grenade holding hand (L)
COSTUME:
Shinobi shozoku
Forearm guards
Waist belt (removable)
Shin guards
Tabi boots
ACCESSORIES:
One (1) Grub micro Mez-Itz posable figure with sword
One (1) Boom Boom boom box
One (1) sticker sheet for boom box, sword sheath, or wherever
One (1) kusarigama connected with a real metal chain
One (1) nunchaku connected with a real metal chain
Four (4) shuriken
Two (2) tanto swords
One (1) kyoketsu-shoge
Three (3) kunai
Two (2) shuko
One (1) naginata
Two (2) sai
One (1) katana with sheath
Four (4) grenades
One (1) grappling hook
One (1) bow
One (1) bow quiver
Two (2) arrows
One (1) waist bag
One (1) waist pouch
One (1) scarf with integrated posing wire
One (1) smoke plume FX
One (1) One:12 Collective display base with logo
One (1) One:12 Collective adjustable display post