-by Phillip Donnelly
When G.I. Joe relaunched as a 3 3/4″ figure line in 1982, most of the Joes reused parts in an effort to save money. Most blatant of all was a figure that lacked any paint applications – an all black figure code-named Snake Eyes. But that figure, along with some excellent characterization by Larry Hama in the Marvel comics, gave rise to one of the most popular and enduring characters of all time.

Here then, are 10 of our favorite iterations of this mute ninja commando…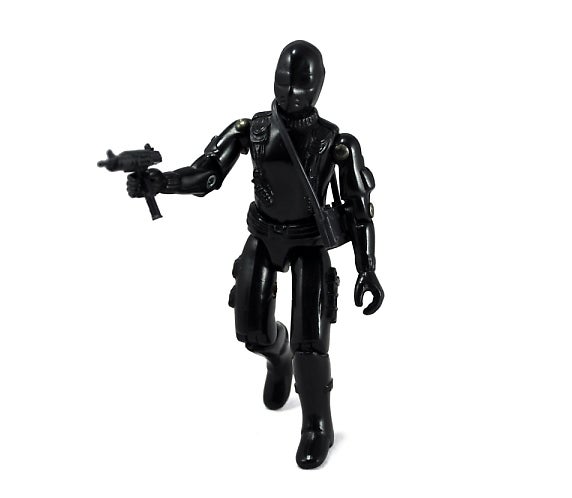 Snake Eyes v1 is the original – the alpha. Solid black plastic, no paint. His only unique parts were his upper legs and masked head. But who knew that mask would hold such secrets to discover, and years of story to uncover.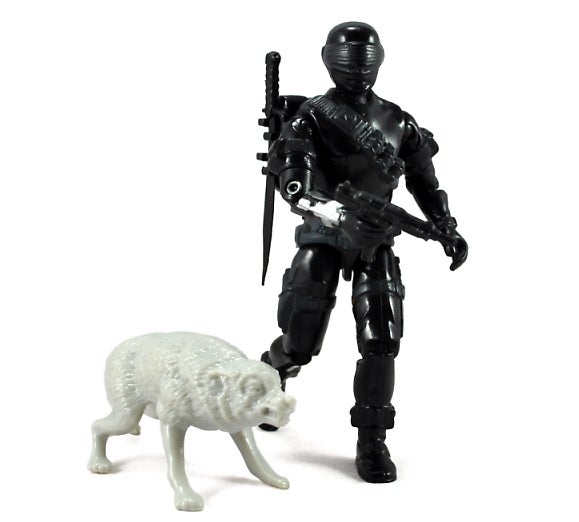 This version of Snake Eyes is, along with v1, one of the most iconic looks for Snake Eyes in general! It introduced his trademark visor, and is the outfit that saw the most representation on the Sunbow cartoon. It was also his outfit during some key years of the Marvel comic. For some people, it's Snake Eyes' default look.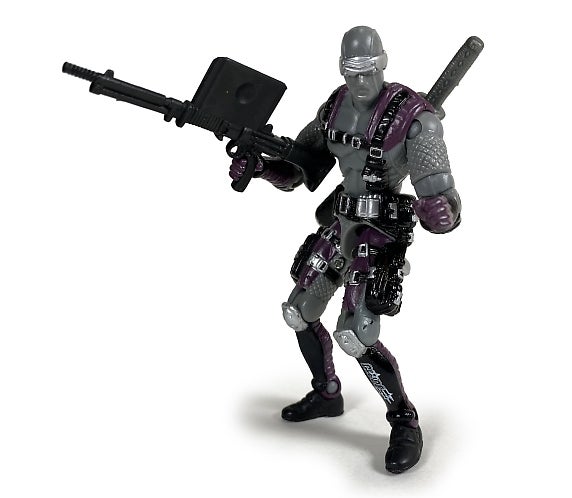 Okay, this figure has some proportion issues, a strange gray and purple color scheme (a black variant appeared mere weeks later!), and the clunky "Sound Attack" feature on his rifle, but this figure showed us how G.I. Joe could evolve. Just a few months prior, the fandom had convinced Hasbro to bring back the o-ring from its early retirement, and now we had a figure with even more articulation! The swivel wrists and ankles were a sign that these toys could be something more, something better.
This figure really did cap off the 2nd generation or "new sculpt" era of figures, and benefited from all the lessons learned during those years. Free of the proportion issues that plagued many figures in that time, this figure features a solid sculpt, weapons and accessories that fit the character, and the introduction of the now standard arm joints that do away with the visible rivets.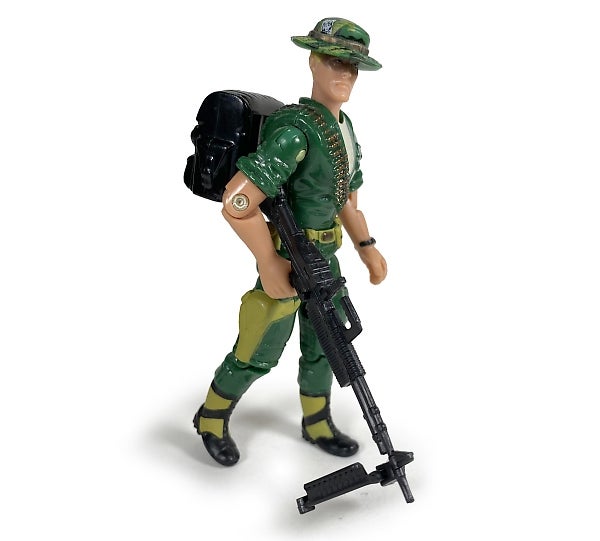 Snake Eyes before he was Snake Eyes! This was released in a comic book 3 pack, and depicts Snake Eyes as he appeared as a soldier in Vietnam. Even if he used no original parts, he manages to bear a striking resemblance to his comic book counterpart, right down to the portrait of his sister stuck in his booney hat. I also like the painted on "shadow" over his eyes – maintaining that allure of what his face really looked like!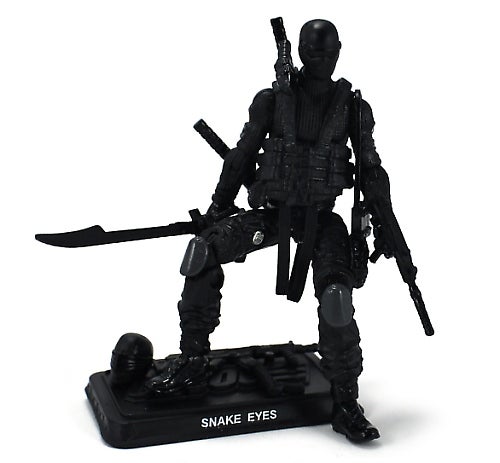 This is a figure so good it was released again during the 50th Anniversary line. With alternate heads homaging both his v1 and v2 looks, this 3rd generation "modern era" sculpt also benefits from years of knowledge amassed by the designers at Hasbro working on this style of figure. The sculpt is solid, the accessories numerous, but logical. It was the gold standard for Snake Eyes at that time. (Who knows what the future holds?) This is my go-to Snake Eyes even now, and the base body is so versatile it was reused again and again to great effect.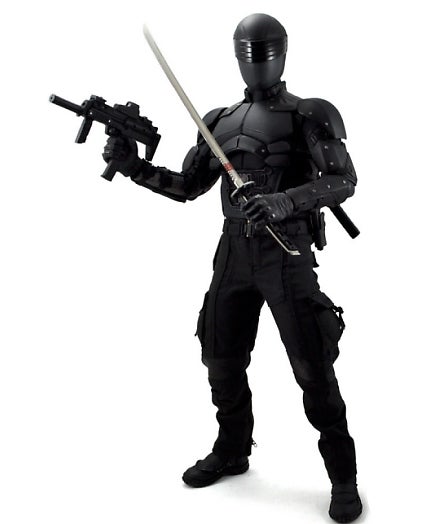 7) Hot Toys G.I. Joe: Retaliation Snake Eyes (2013)
It is, without question, my favorite 12″ representation on Snake Eyes. Hasbro 12″ figures can't compare with the budget of a Hot Toys figure, and there's something about the two Sideshow figures that doesn't quite hit the mark for me. Yes, the Sideshow figures come with more accessories, but the Hot Toys figure has the advantage of being based on a real costume, so there's a style and functionality there that seems hard to top.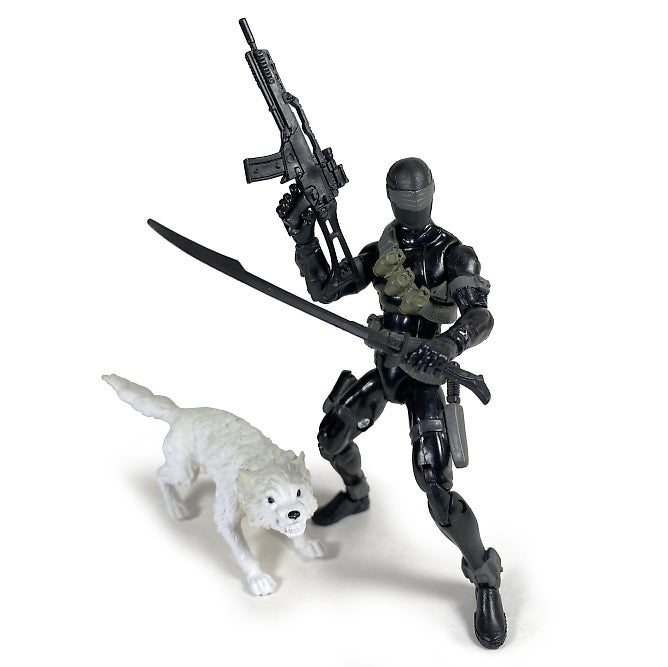 8) "Ultimate" Snake Eyes v67 (2013)
This was Hasbro's attempt to "get it right," so to speak. This Snake Eyes figure very clearly updates the v2 design in a modern format. Maximum articulation, more than sufficient firepower, and his trusty wolf Timber (with an articulated neck!) make this one of THE best Snake Eyes figures ever made. Sadly, the Retaliation-style helmet holds this back from true perfection, I'm sad to say.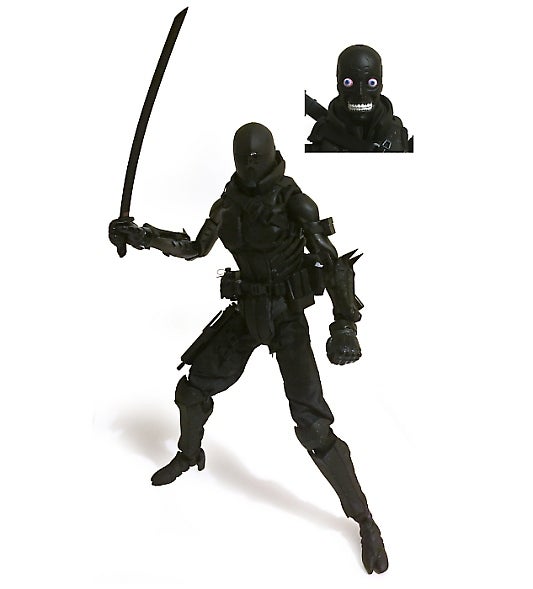 9) BAIT x GI Joe x 1000Toys Snake Eyes (2016)
A Snake Eyes figure not produced by Hasbro, integrated into a different company's story line, and featuring a freaky cyborg head under the helmet! This shows what some outside the box thinking can do for Snake Eyes. He's definitely there – an all black ninja with state of the art weaponry and armor, the Arashikage hexagram visible on the shoulder. This is a 12″ figure with great articulation, great accessories, and a party trick to weird out your friends.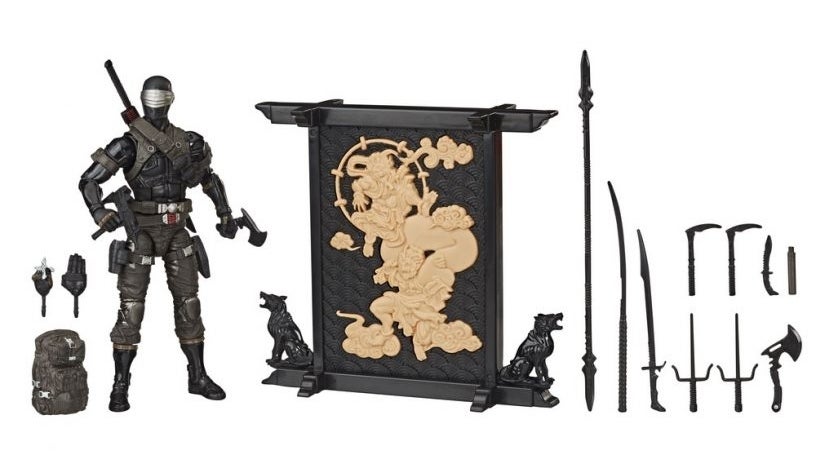 10) G.I. Joe Classified Series Snake Eyes v1 (2020)
This Hasbro Pulse exclusive introduced the world to the G.I. Joe Classified series. Six inches tall – a new scale for a toy line with a notorious history for changing them – and building on all the cumulative knowledge Hasbro has accrued from the Marvel Legends and Star Wars Black series, this figure bridges the ninja and commando qualities the character is known for. With the exclusive accessories and weapons rack, Snake Eyes can practically start his own dojo, while still having enough ammo left over to take down Cobra.
For those that missed out on this debut figure, Hasbro released Snake Eyes v2, albeit with fewer accessories.

---
We are committed to finding, researching, and recommending the best action figures and collectibles. We earn commissions from purchases you make using the retail links in our product reviews. Learn more about how this works.
---