"In space, no one can hear you scream".
Already highly influenced by Star Wars and Battlestar Galactica, Ridley Scott's 1979 sci-fi film ALIEN turned this 8-year-old's mind inside out. I was too young to see the R-rated movie in theaters on its release, but that didn't stop me from wanting to see it (and I eventually did a few years later). From the infamous word-of-mouth chestbursting scene to the frame-by-frame picture book I perused over at my local mall's book store – it all added fuel to my imagination and ALIEN's taboo charm. My love of innocent sci-fi had now turned a dark corner; Pew! Pew! laser battles meet inner-jaw head-punching horror.
As an adult, I've since seen ALIEN many, many times and the H.R. Giger-created creature in the film has become a lifelong obsession of mine. What follows are some of my favorite "Big Chap" toys; cool action figures produced of the unforgettable original movie monster.

My "Best Of" Rules for this list:
1) Collectible has to be a version of the orginal H.R. Giger xenomorph featured in the 1979 sci-fi movie ALIEN. No Aliens, Alien 3, Alien: Resurrection, Alien vs. Predator, Avp: Requiem, or Alien: Covenant. This also excludes all Kenner or Dark Horse comic interpretations.
2) Collectible has to be an action figure, in that it moves. I would LOVE to expand this list beyond 10 to include static plastic figures, such as Funko and Kotobukiya, as well as resin statues, including the amazing SOTA-sculpted Big Chap bust for Palisades Toys, dynamic Eaglemoss pieces and the apogee in ALIEN collectibles, the Cinemaquette ALIEN.
In no particular order, my favorite Big Chap action figures:
1) KENNER 1979 18 INCH ALIEN
The ALIEN figure that started it all. Kenner's 1979 release of the 18-inch ALIEN action figure was historic in that it was the FIRST R-RATED MASS MARKET TOY. I could write an entire article just on the impact this toy had on the toy industry, but in a nutshell, it was a bomb in terms of sales. The populace just wasn't ready for H.R. Giger's nightmarish vision as a "collectible" to "play with" – from a violent R-rated movie, no less.
Those that had survived 1973's head-turning The Exorcist were still not prepared for Ridley Scott's violent chestbursting scene in 1979. Despite the kid-friendly packaging, an action figure of the phallic-headed monster was asking too much from parents purchasing this as a gift for little Johnny on his birthday. As an ALIEN collectible, the original 1979 Kenner ALIEN is fantastic in its simplistic, horrifying sculpt and a must-have for any serious ALIEN collection.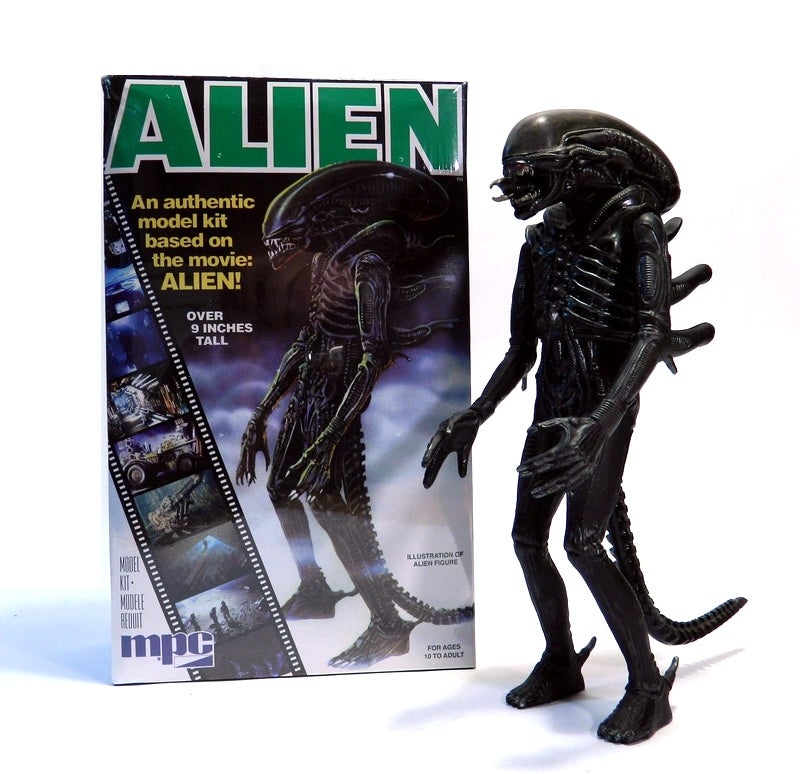 2) AMT/MPC/ROUND 2 ALIEN BIG CHAP MODEL KIT
Originally produced by MPC in 1979 and later re-released by AMT in 1999 and by Round 2 in 2013, this build-it-yourself model kit is every bit as good as an action figure. Once fully assembled, this Alien kit features limited articulation at the head AND arms. Action figure model? Regardless of what you call it, MPC's original Alien Model Kit and Kenner's 18-inch Alien action figure both hold the distinction of being the first two mass produced sculptures of Giger's now iconic beast.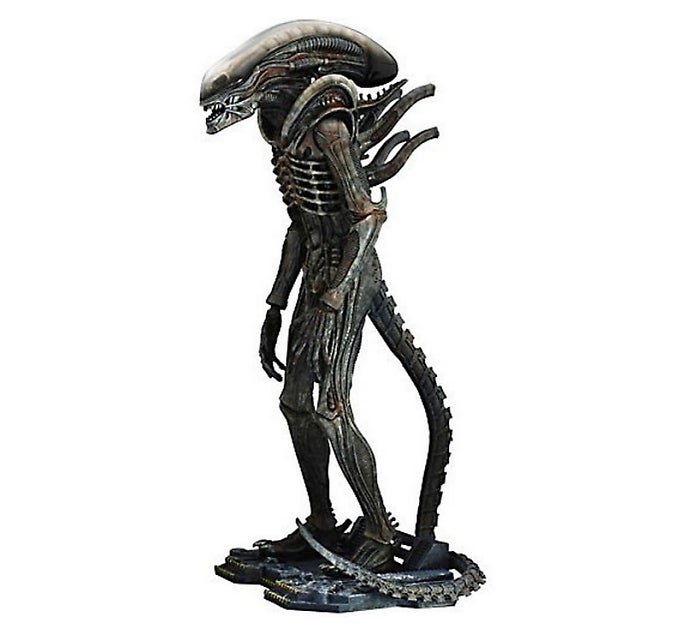 3) HOT TOYS 1/6 MOVIE MASTERPIECE ALIEN BIG CHAP
Speaking of larger versions of Big Chap… At over 500 action figures, Hot Toys has produced their share of licensed 1/6th scale collectibles. And while Marvel tends to take up most of their talent these days, there was a rare moment in time where Hot Toys shifted gears and released an ALIEN Big Chap (#106) collectible figure. While hyper-realistically sculpted in only the way Hot Toys can produce a figure, I always felt that the head sculpt was slightly off. For a company that has sculpted Robert Downey Jr's face to photorealistic perfection, I find it perplexing that they couldn't nail Giger's Big Chap. That said, it's still a remarkable action figure and a slight that only die-hard ALIEN purists will notice.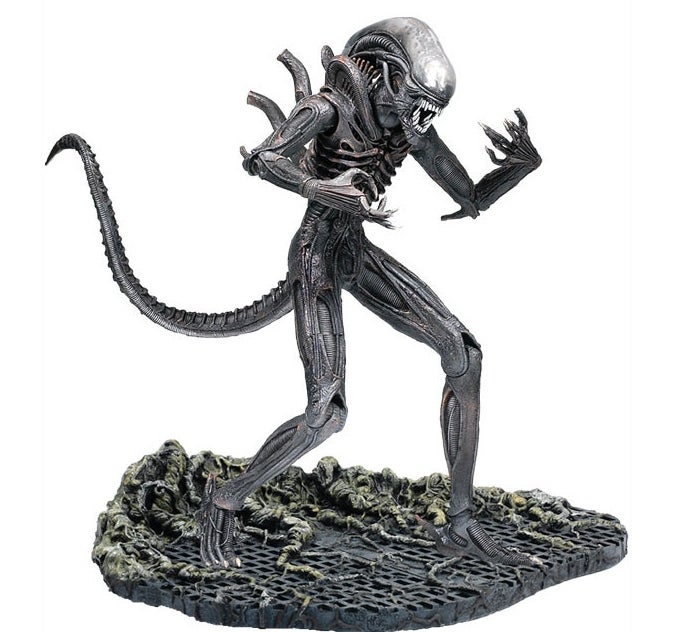 4) MCFARLANE TOYS 7 & 12 INCH ALIEN BIG CHAP
Speaking of ALIEN purists, who am I to judge? When it comes to ALIEN collectibles, it's really just a matter of personal preference. Take McFarlane Toys, which in 2004 caused a major disruption in the toy world with the announcement of Big Chap in their red-hot Movie Maniac styling. While I think Todd was thinking ALIENS more than ALIEN with his action-oriented design, it was a refreshing take on the classic creature. Fans had their choice of a 7-inch xeno or a deluxe 12-inch Big Chap. ALIEN/ Movie Maniac-adoring fans ate it up.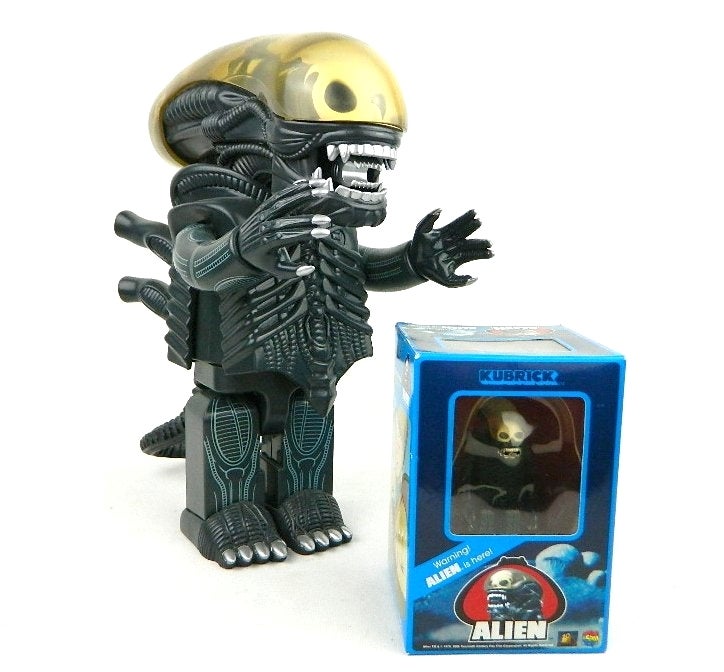 5) MEDICOM KUBRICK 100% & 400 % ALIEN BIG CHAP
Time has a weird way of changing how people view things. What was once horrifying in 1979 had since transitioned to a pop culture phenomenom. Medicom of Japan took ALIEN's popularity and successfully morphed it with their cute Kubrick minifigure craze. The smaller 2-inch, 100% Big Chap Kubrick is adorable in its retro-inspired window box, while the larger 9-inch, 400% Big Chap Kubrick dazzles in his building-block minifigure-like charm, complete with extending inner-jaw action.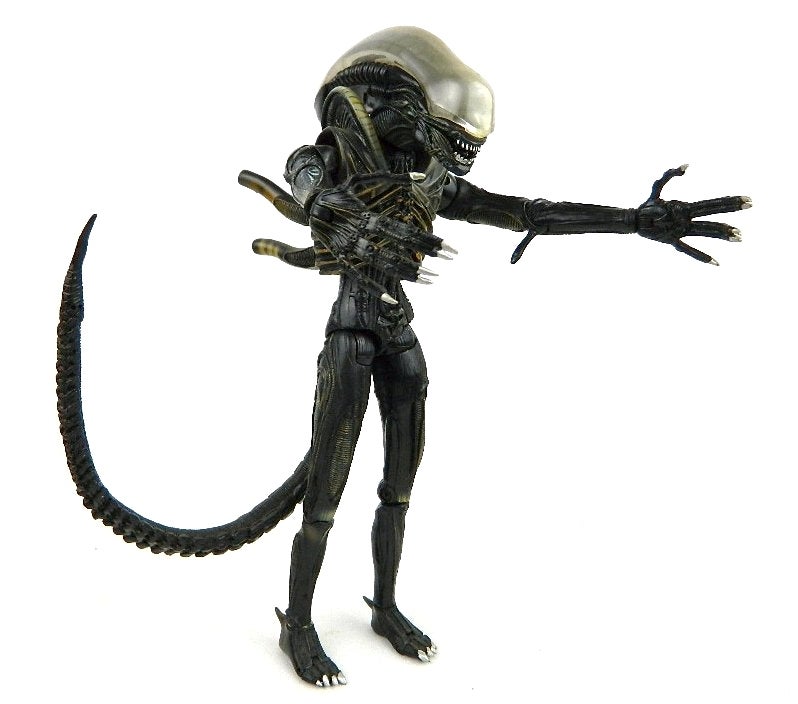 6) AOSHIMA ALIEN BIG CHAP
Released in 2003, this is a figure that I feel very lucky to own. That year, I just happened to have the fortunate opportunity to attend the Tokyo Toy Show in Japan. I picked up this figure like you would have in the States, at one of the many toy stores in Japan. I knew nothing about it, I just knew it was an ALIEN action figure. What made this collectible from Aoshima particularily unique was the fact that you had to BUILD it – like a simple model kit – by plugging it's action figure head and limbs on. It was a slick workaround with action figure licensing. To this day the Aoshima Big Chap action figure holds a very special place in my collection, not just for the memory, but for its honest 1979 ALIEN Big Chap design.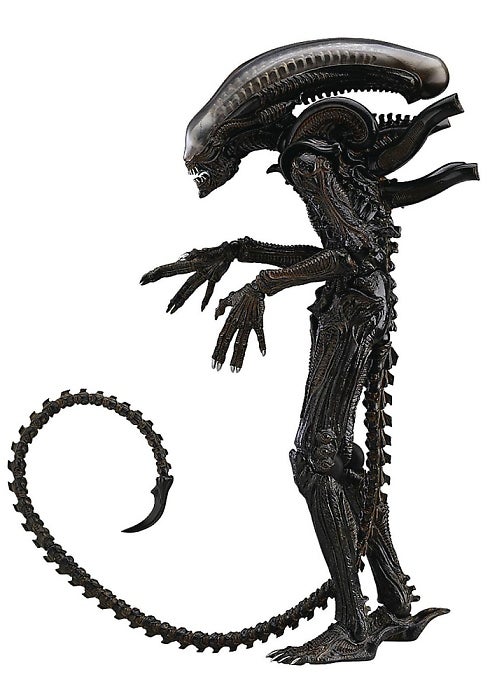 7) MAX FACTORY FIGMA ALIEN BIG CHAP
Max Factory showed their love of Giger's Alien with a 6.5-inch tall Figma action figure. Japanese artist Takeya Takeyuki supervised the creation of this figure, and it's absolutely gorgeous. Wicked good biomechanical looks aside, the addition of Figma's hyper-articulation puts this figure over the top. Finally you could get some killer Big Chap squatting poses – rising up to attack Ripley – just like in the movie.
8) CUBE-WORKS USB 5 INCH ALIEN BIG CHAP
How do you surprise someone that works in the toy industry and has knowledge of every ALIEN toy collectible? By gifting them the USB ALIEN they never knew existed! My wife totally shocked me with this awesome 2009 oddity from a Japanese company called Cube-Works. Standing 5-inches tall, the USB ALIEN is fully articulated with head, arms, wrists, and legs. Best of all is its amazing stylistic Alien Big Chap sculpt, complete with perfectly frosted head dome, splayed six-fingered hands, and bendy tail.
Ah, but this figure keeps giving with its USB plug-in function! Jack it in to your computer to witness extending inner-jaw and eerie red glow light-up action! I've since cut the cord on mine (the electronics stopped working), leaving me a very cool Big Chap action figure behind.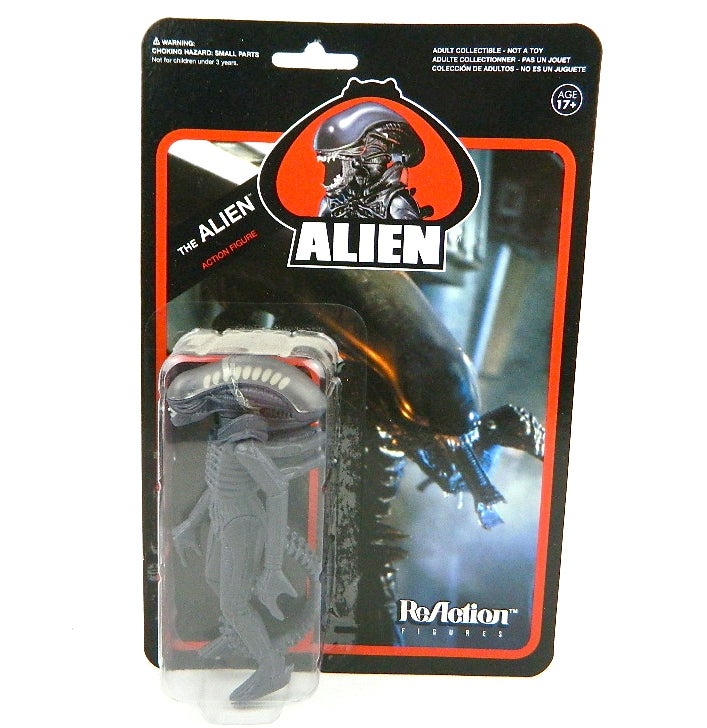 9) SUPER7 ALIEN BIG CHAP REACTION FIGURE
ReAction figures were the brainchild of Frank Supiot. The designer came up with the concept for ReAction based on 3 3/4-inch action figure prototypes that were created for 1979's ALIEN, but were never produced (Kenner's 12-inch Alien wasn't the hit the company had hoped for). Working with Super7, Mr. Supiot finally got these forgotten gems released as actual collectibles, and as they say, the rest is history. The ReAction brand has since morphed to incorporate ANY license in the retro 3 3/4-inch figure format, but it was the original Big Chap that started it all. Grab one for its cool nostalgic charm, as well the fun history behind it.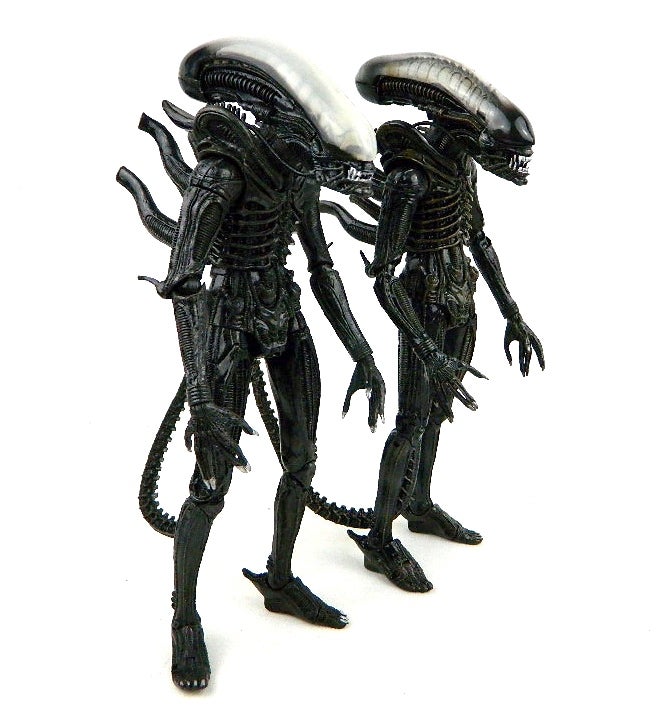 10) NECA 7-INCH/ 18-INCH ALIEN BIG CHAP
Few are as passionate fans of H.R. Giger's original creature design as NECA's lead sculptor Kyle Windrix. This is a man intimately close to the ALIEN design with his insane ability to translate the monster in 3D action figure form. If you want to own some of the best Big Chap action figures produced, look no further than the multiple versions released by NECA over the years, including the creature as a sizeable 8-inch action figure (read our recent review of NECA's Ultimate Big Chap HERE), and preferably, towering over your collection in quarter 18-inch scale.

---
We are committed to finding, researching, and recommending the best action figures and collectibles. We earn commissions from purchases you make using the retail links in our product reviews. Learn more about how this works.
---