How do you improve on an already amazing 7-inch scale action figure? You make it an "Ultimate," of course! That's precisely what NECA has been doing with their Ultimates series: taking previously released fan-favorite characters, tacking on some updates, throwing in a host of accessories, and packaging it all in a deluxe fifth panel window box. All that's missing is a cute little red bow tied on top.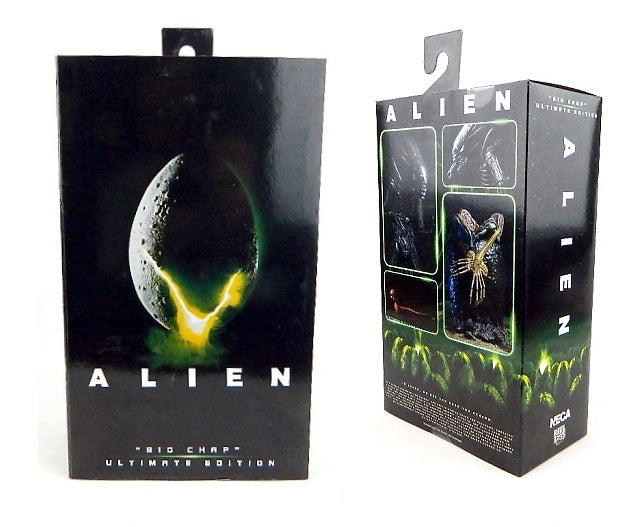 The Ultimates are truly a gift to passionate action figure collectors, especially those new to the game that missed out on these classic NECA characters the first time around.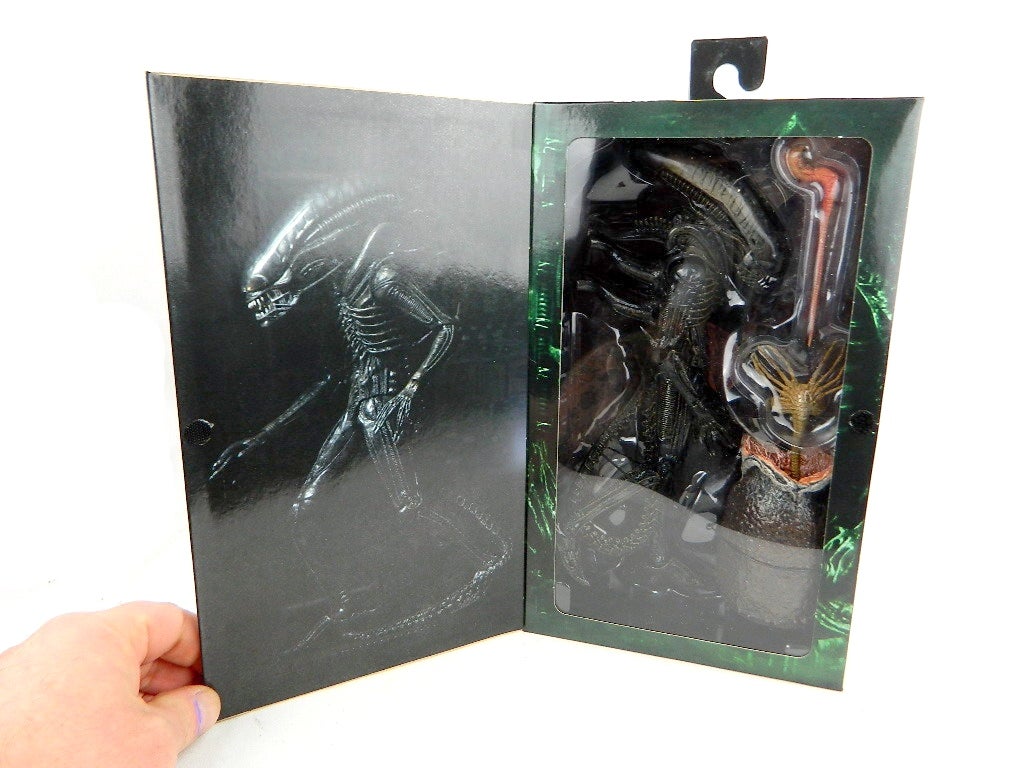 NECA's new Ultimate ALIEN "Big Chap" isn't the first time we've seen this cool creature and it certainly wont be the last (there's also a fantastic ALIEN 40th Anniversary wave on the way this year). And that is just fine with me, because A) As a huge ALIEN fan, you can never have enough of H.R. Giger's nightmarish creation, and B) NECA's action figures of the classic xenomorph are hands down the best toys ever created.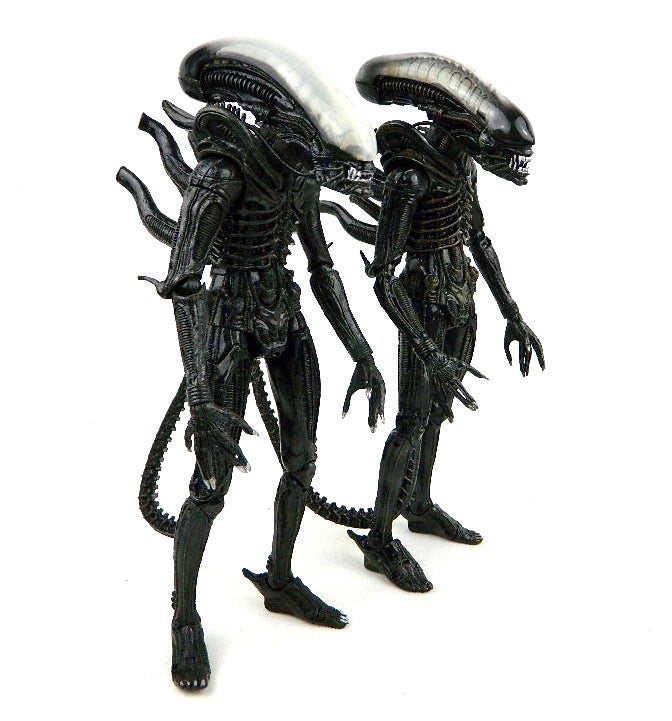 Left to Right: NECA's 2014 Big Chap and their new 2020 Ultimates version
NECA's sculptor Kyle Windrix is a huge fan of Giger's original ALIEN "Big Chap" design. The artist has been perfecting the intricate sculpt on this figure for years now; each new incarnation featuring slight tweaks in bringing his sculpted vision to perfection.
Here are my thoughts on NECA's original 2014 Big Chap action figure in comparison to their new Ultimate version: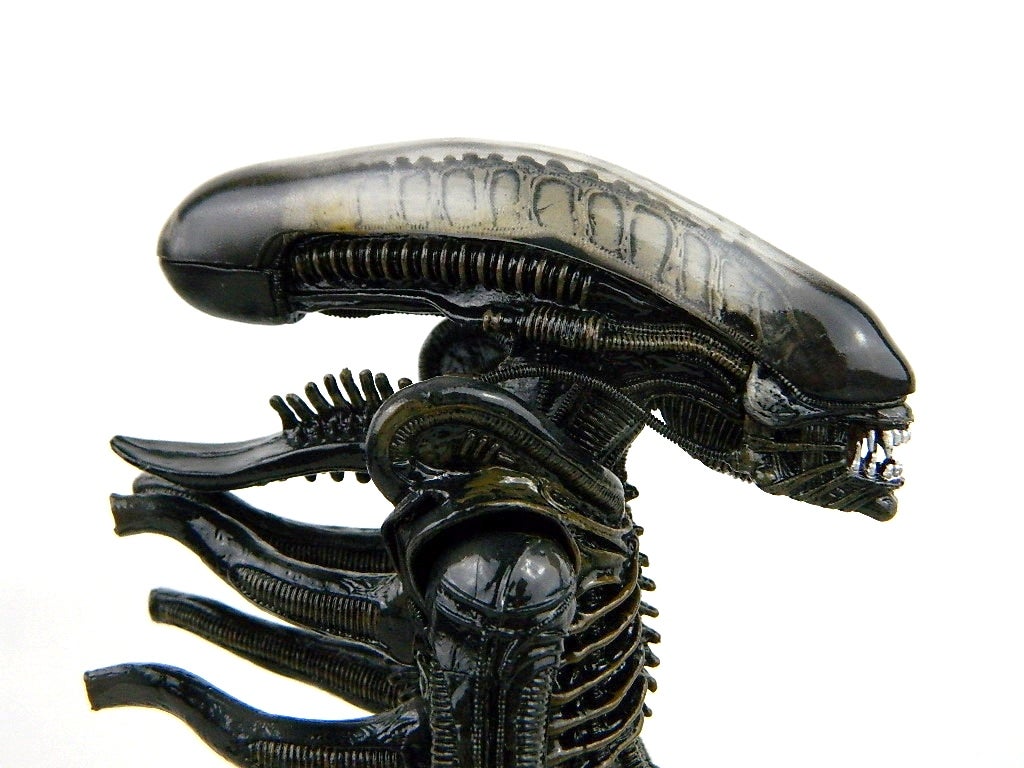 HEAD DOME: Where the 2014 Big Chap had a milky white frosted dome that faded to black, Ultimate Big Chap goes with a much darker translucent cranium; front, back and less in between. The sides are a huge improvement, but I much prefer the original when it comes to seeing a glimpse of the human skull directly in front.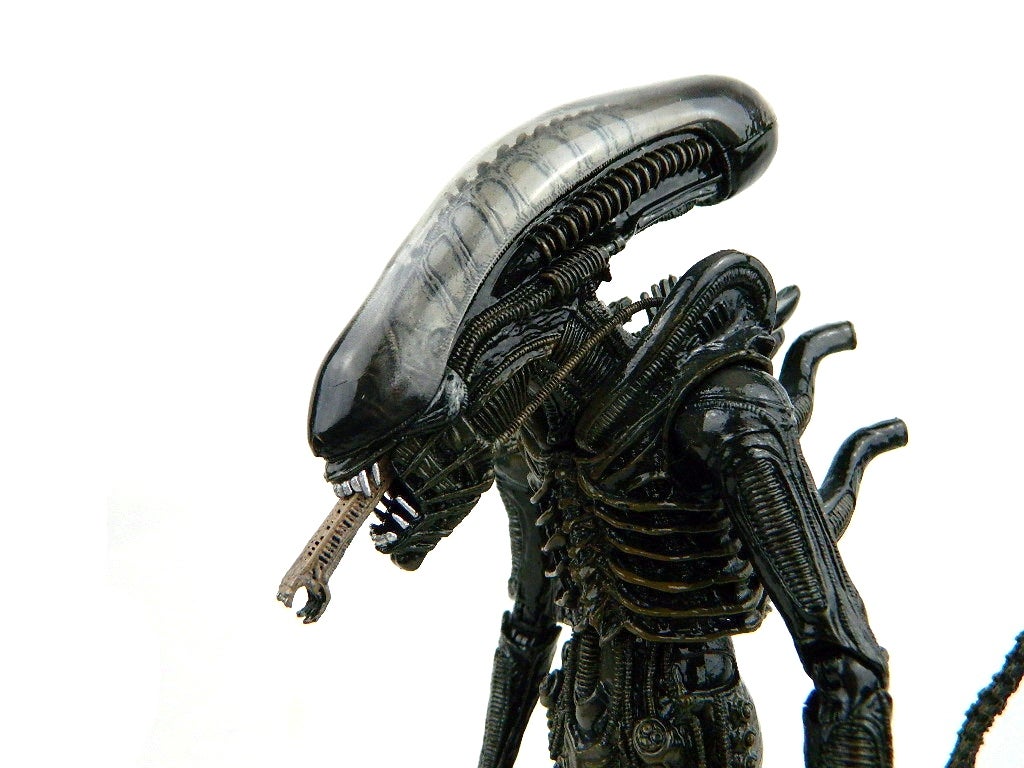 JAW: This is again a personal preference. I LOVE the fully clinched teeth look of the 2014 version. And while the Ultimate Big Chap comes close, it can't quite completely close it's mouth. Both jaws fully open to reveal the inner tongue/jaw.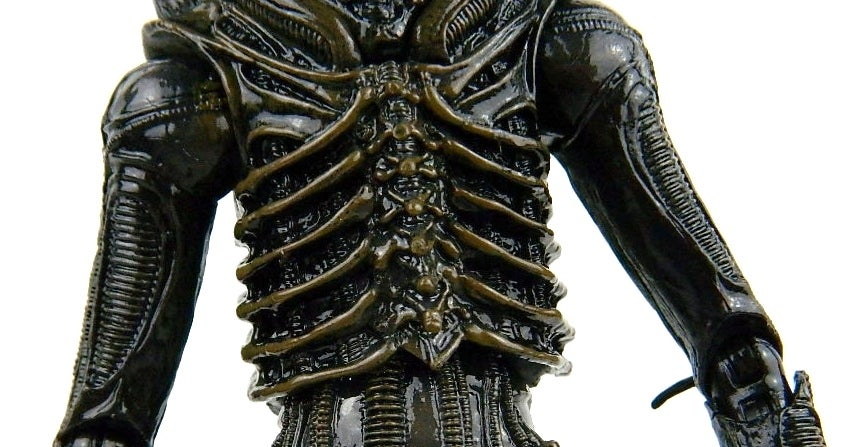 BODY PAINT: Both xenos are black, but the new 2020 Ultimate Big Chap adds a some nice brown shading that brings out the wonderful bony detail. However, the 2014 Big Chap has more pronounced metallic silver nails (hands and feet) where the Ultimate is more muted. I prefer the brighter silver to tie-in with the "metal" teeth" featured on both figures.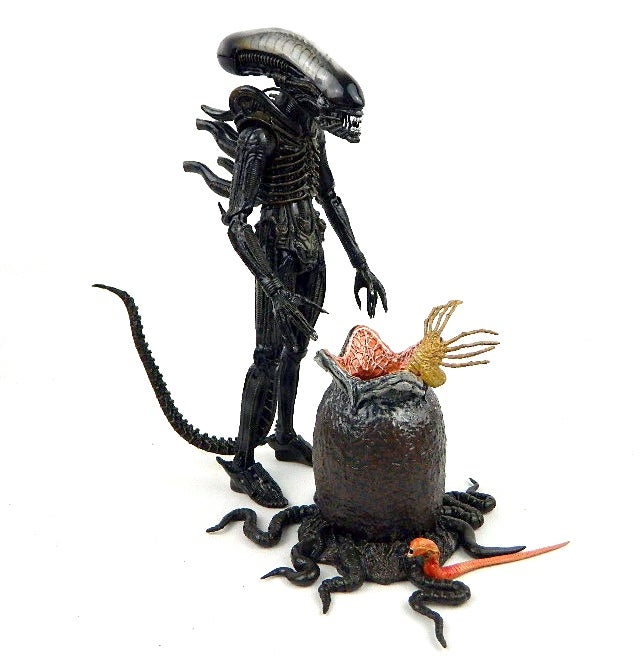 Ultimately (har!) it boils down to which version you prefer aesthetically. Both versions of Big Chap are amazing, however the Ultimate edition does have the advantage of added "accessories".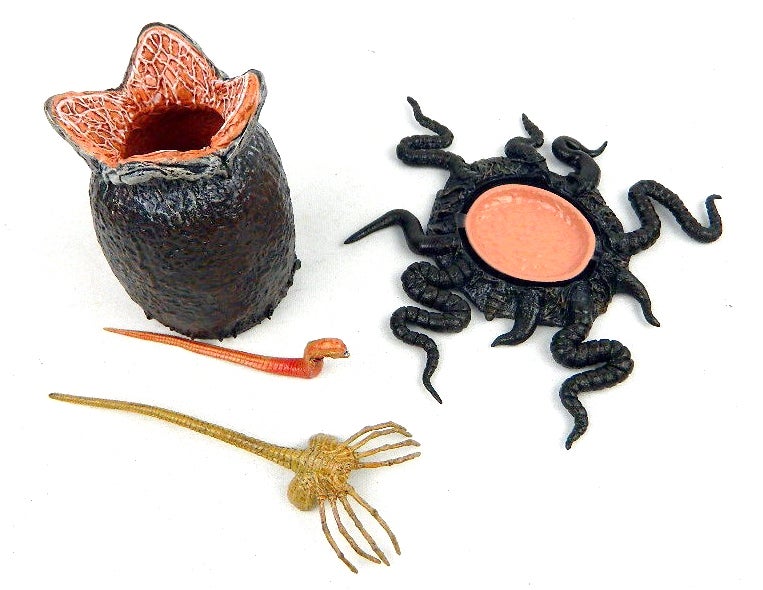 The Ultimate Big Chap figure packs all stages of the xenomorph life cycle: Egg, Chestburster and Facehugger! We've gotten all three detailed pieces in one form or another over NECA's illustrious ALIEN action figure run (the egg carton set was marvelous), but getting them all in one fell swoop – in addition to the adult xeno – is amaze-balls.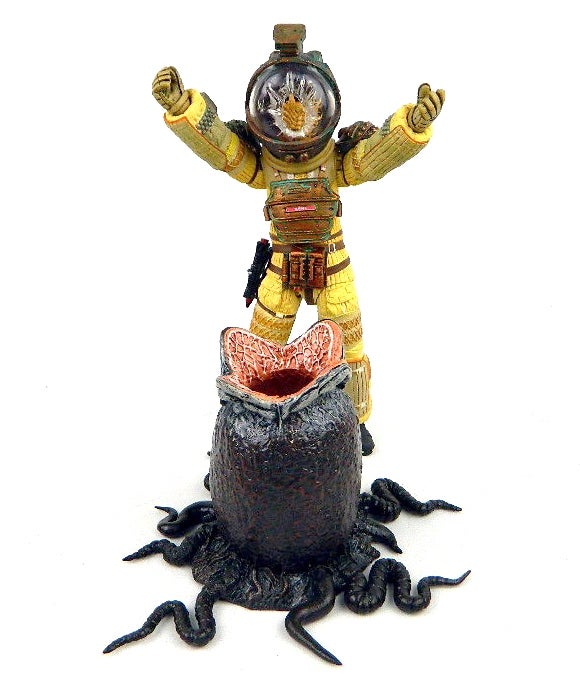 The egg is the star of this accessory show, featuring an all-new open sculpt with tendril-like base. My original NECA Kane action figure finally has the perfect companion piece.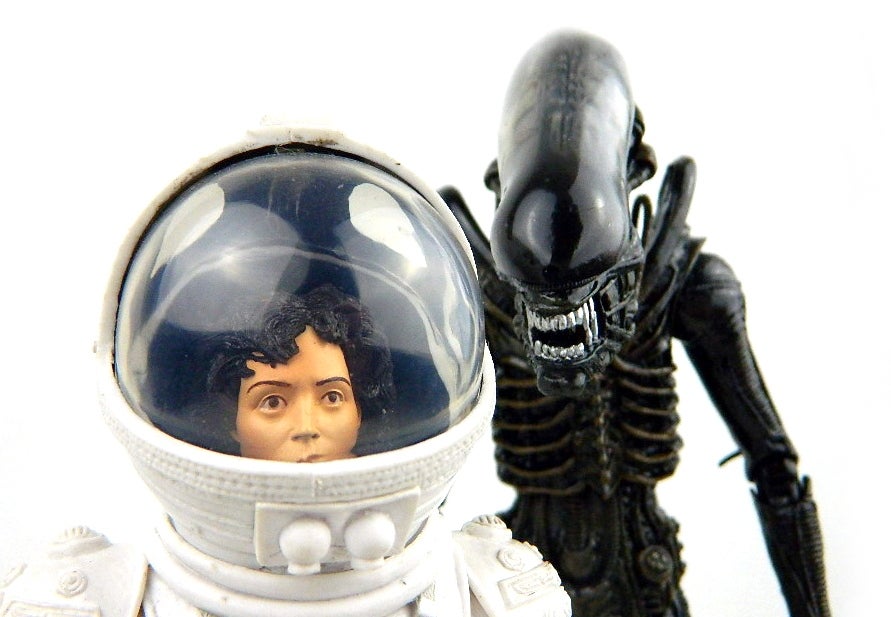 For $29.99 you can not go wrong with NECA's Ultimate Big Chap, especially if you missed out on their 2008 or 2014 Big Chap releases. I forget how much NECA figures went for back then, but I want to say around $20. If that's the case, then this set is only $10 more, which is a steal when you consider how much older NECA figures cost on the secondary market these days. PLUS you get an Alien egg, chestburster and facehugger! And deluxe packaging (even those that don't open their toys are happy)! There's a reason NECA is one of the best toy companies in the business: Awesomely sculpted, fan-centric product packed with tons of value.
NECA's Ultimate ALIEN Big Chap is shipping NOW and is available to order from many fine retailers, including EntertainmentEarth where it is priced at $29.99.
Scroll on for more photos!
Review and Photos by Jeff Saylor
Review Sample Courtesy of NECA
We are committed to finding, researching, and recommending the best action figures and collectibles. We earn commissions from purchases you make using the retail links in our product reviews. Learn more about how this works.
---