-Review and Photos By Andy Jones
Mermaid Cove with Illuminated Dome – 70094
Under da sea! We had a hard time not saying that every few minutes when putting together this awesome marble track undersea kingdom. There are several pearls that come with this set that are set into action rolling down the track. When they pass through the lit-up dome, the lights dance with different patterns. We found this to be pretty fun to play with, even with older kids. We also liked the cone-drop where the marbles spin around a hundred times before dropping down.

This playset has several platforms and areas to station your mermaids, so they can spread out a bit and feels a bit more like a kingdom. There are also fish, starfish and dolphins as well as underwater plants to spread throughout the cove. These mermaids can stand, or lounge. You get three adult female mermaids, one dude, and a young boy mermaid (man).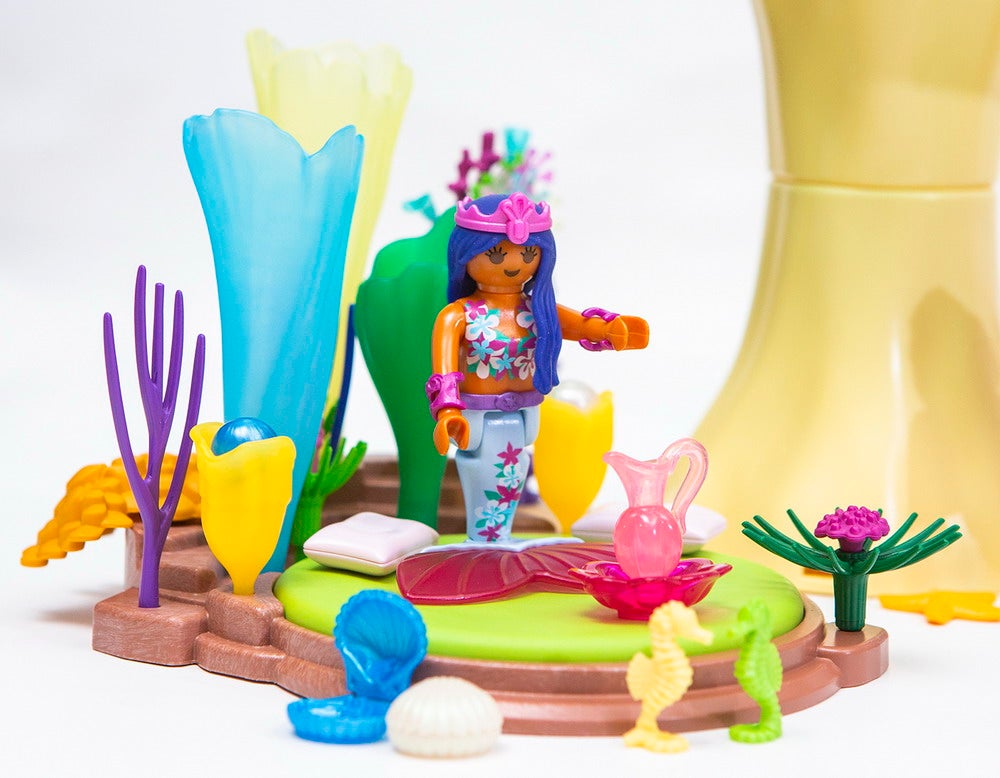 The cool thing is you get additional pearls in the other Mermaid Magic sets in this theme that work with this set for more action. They figures are fun to take in the bathtub, but the light-up cove takes 3 AAA batteries and should stay dry.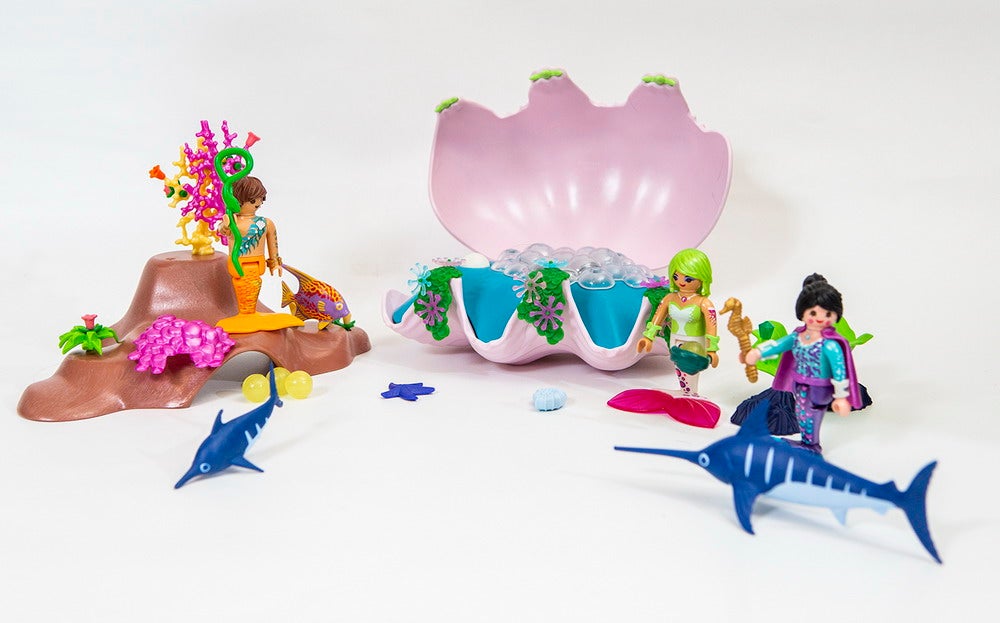 Pearl Shell Nightlight – 70095
This cool set comes with a mermaid "throne" some blue marlins and 2 mermaids and 1 merman. There's lots of cool under-da-sea pieces to expand your kingdom, but our favorite part is the pearl nightlight. Open up the clam shell and press the button and the pearl array lights up. But press it again and the colors cycle gently in the most pleasing of manner. It runs for 15 minutes before turning off on its own, so its fun to play with, but its also a fun, relaxing nightlight. In fact, it could be so enticing that may help younger playmofans actually want to go to bed.
I like how there is a variety of tail fins. The girls all seem to have transparent fins, but they all stand on their own. I like how the variety lends to individuality, they're not all cranked out of the same mold.
Again, the mer-people can go in the tub too, but the nightlight takes 3 AAA batteries so it should not.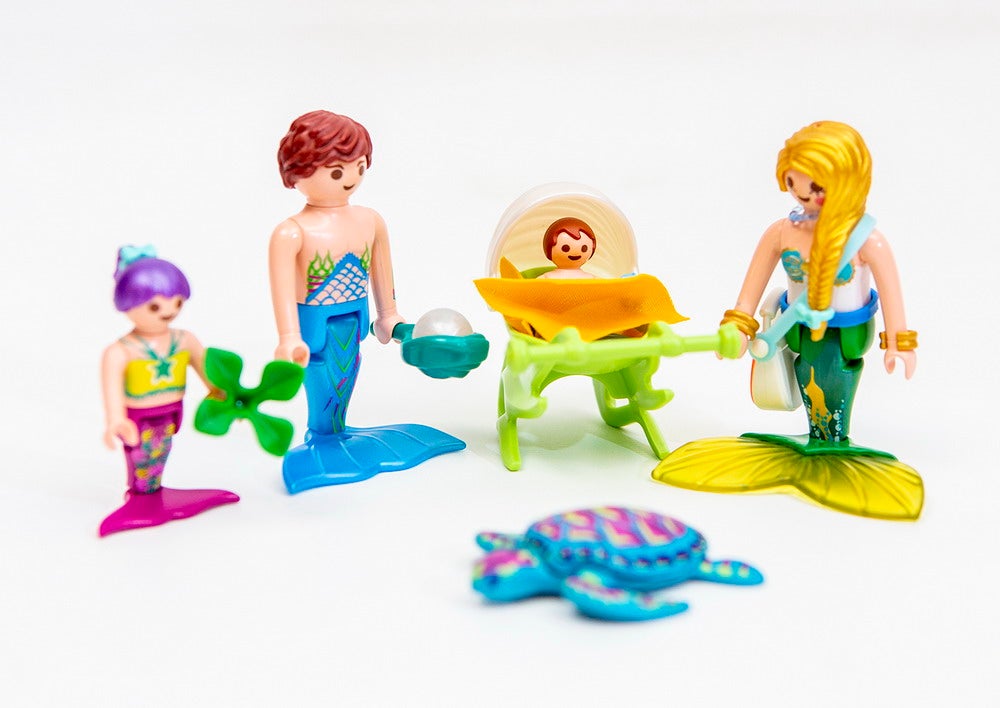 Family with Shell Stroller – 70100
This set is also a lot of fun. The family can take turns pushing the baby in the shell stroller. However this poses more questions about mermaid procreation rather than answer any. I assumed tadpole type eggs were involved, but I'm wrong. In this set you get a mom, dad, little girl, and the wee baby. I haven't gotten any playmobil sets with a baby in awhile, this one has smaller hands to hold smaller baby-sized accessories. The baby can sit up in the stroller and even stand. We also liked the pet sea turtle and its coloring. It reminded me of a 90s car window decal.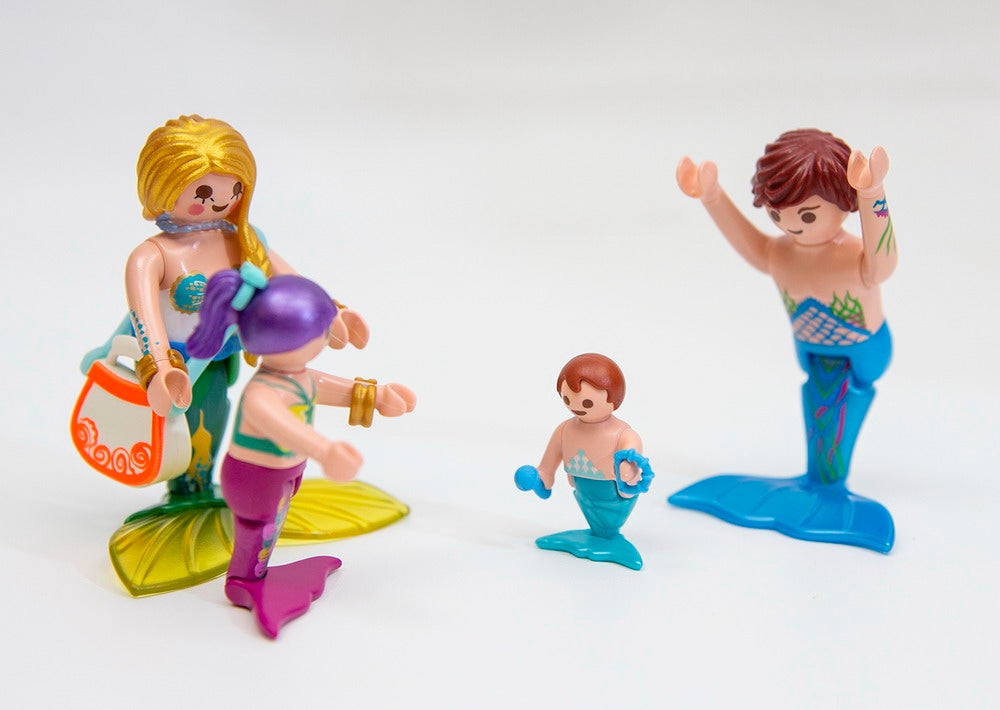 We had fun with this set as well, even though there is no electronic element. The family grouping led to lots of possible stories, and will be a big hit with the young playmobil fan. It also has a pearl "marble" that works with the light-up cove.
Lots more cool sets coming from Playmobil this year. Stay tuned to see what the future will bring!
Review and Photos By Andy Jones
Review Samples Courtesy of Playmobil
---