Toy trends come and go depending on the times. Pirates and zombies come to mind, two hot properties that peaked in popularity during the heights of the Pirates of the Caribbean and The Walking Dead series, respectively. However, some things – like dinosaurs – never go out of style. There's something forever fascinating and mythical about giant reptiles once roaming our planet. Of course, the blockbuster Jurassic World movies don't hurt either…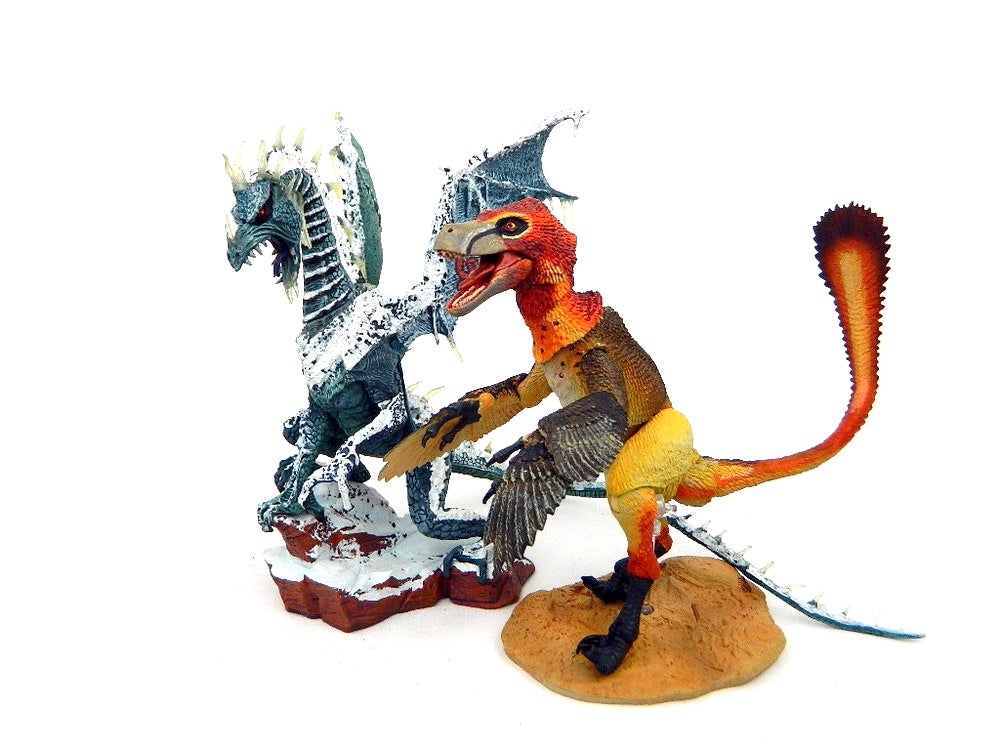 Enter Creative Beast Studio and their Beasts of the Mesozoic: Raptor action figure series. Sculpted by David Silva (of McFarlane and NECA figure fame), these amazing 1/6th scale collectibles are inspired by the most scientifically accurate information currently available (yes, they had feathers!). Each raptor figure comes handsomely packaged in a collector-friendly window box with unique artwork, along with a collectible trading card for good measure.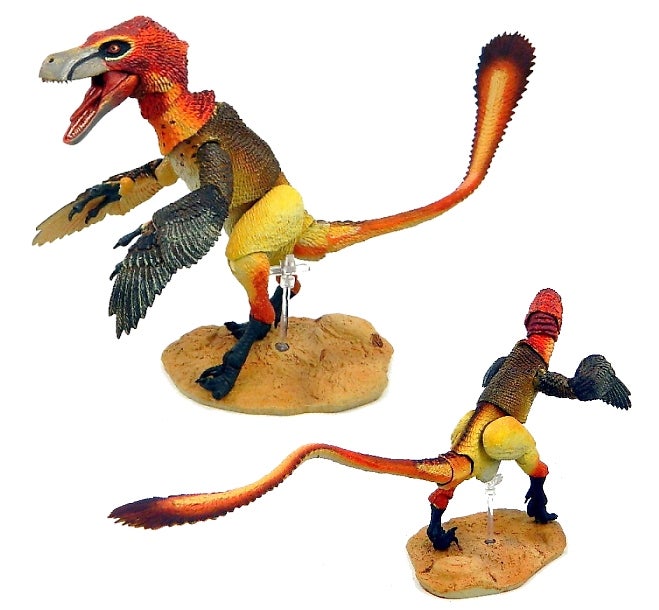 For this overview, Creative Beast was kind enough to send along a real raptor beauty and one of the most recognizable names in the dromaeosaur family, Velociraptor mongoliensis.

Measuring approximately 12″ long x 5″ tall, this raptor dazzles with a bold orange, yellow and black color scheme. While I still can't wrap my head around the fact that these creatures were feathered, all is forgiven with this figure's vividly colorized design.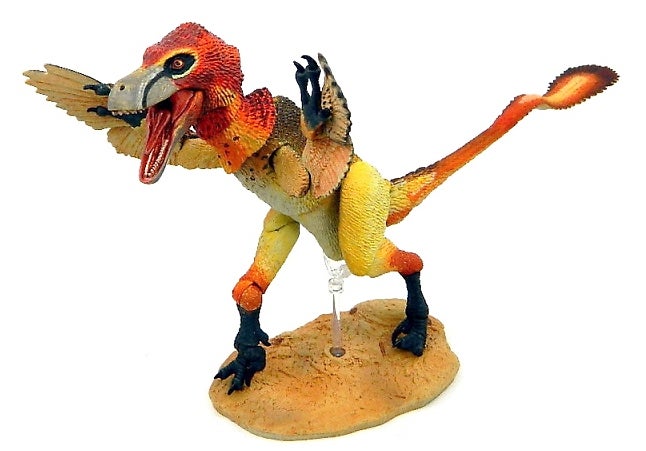 Good looks aside, this raptor can move! Each figure in this series features 26 points of articulation, including a bendy tail and hinged jaw! I was amazed (and a bit overwhelmed) at how articulated this figure was.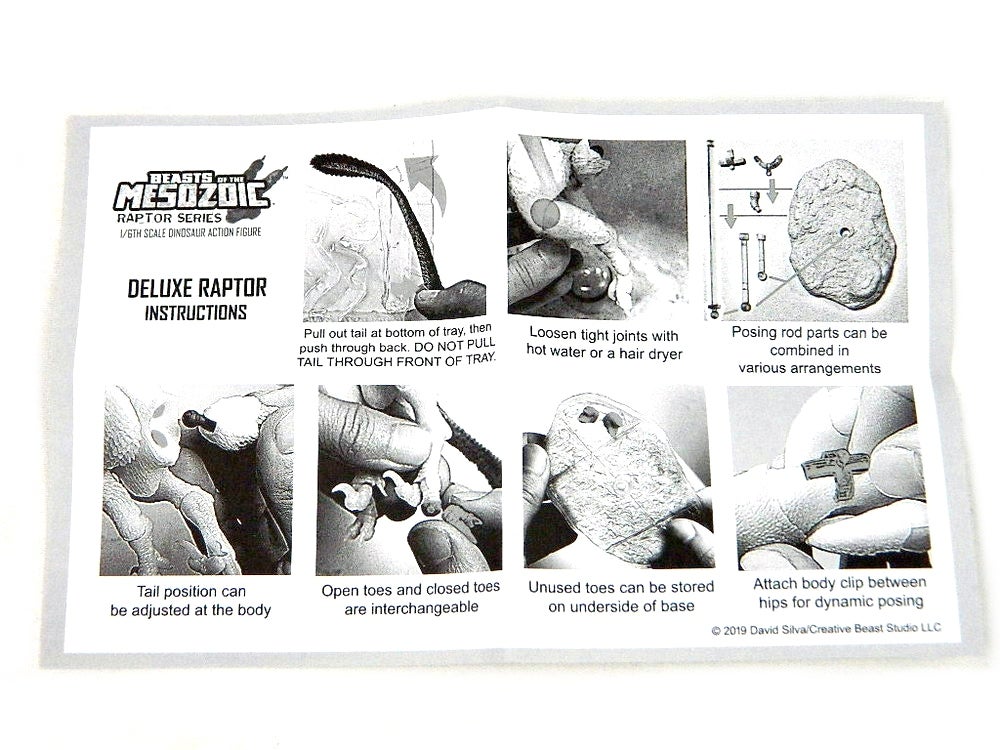 Running, "flying", claw attacking… all these poses are possible thanks to the inclusion of alternate toes, a sturdy display base (of which you can stow the extra toes underneath!) and three (3) clear display rods of varying lengths. Creative Beast went above and beyond the call of duty here, insuring that dino-enthusiasts can strike the most realistic raptor pose imaginable.
While the Beasts of the Mesozoic: Raptor series launched in late 2017, the good news is that these amazing figures can still be purchased through the Creative Beast online store!
In addition to Velociraptor mongoliensis (available in 2 colors, $49.99 each), dino-lovers can find many other raptor specimens, including the blue feathered Velociraptor osmolskae (North America Creative Beast Exclusive, $49.99), Build-a-Raptor Sets (Atrociprator & Velociraptor, $49.99 each), Nestlings 3-Pack (available in 4 colors, $29.99 each), and many more!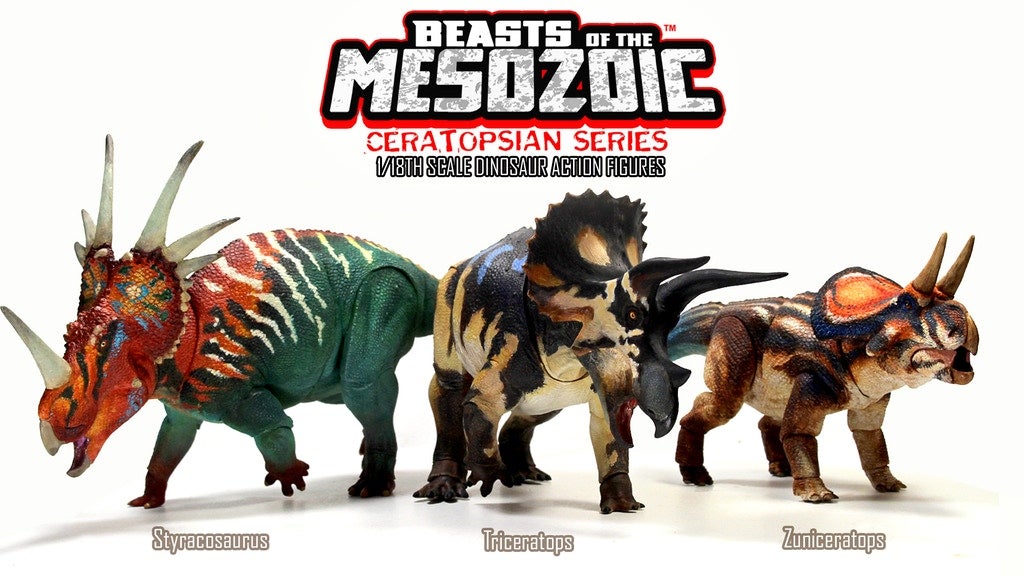 And if you thought brightly colored raptors were cool, check out Creative Beast's recently funded NEW dino Kickstarter: the Beasts of the Mesozoic: Ceratopsian Series! While the Kickstarter goal has already been reached, fans can still pre-order and unlock new figures through the Backerkit HERE!
Words and Photos by Jeff Saylor
Review Sample Courtesy of Creative Beast Studio
---
Keep up with all the latest toy news by following Figures.com on Facebook and Twitter!
To buy action figures, take a look at Hobby Link Japan, BigBadToyStore.com, TheToySource.com, Toynk.com, and BriansToys.com.