– Review and Photos by Andy Jones
– Review Sample Courtesy of Playmobil
It's Halloween! And nothing about Halloween is better than getting into the spooky spirit with monster, creatures and the undead. Well, that and all the candy. Yes, as an adult you have the excuse to eat all the leftover Halloween candy, you can't just throw it away. And it's fun sized!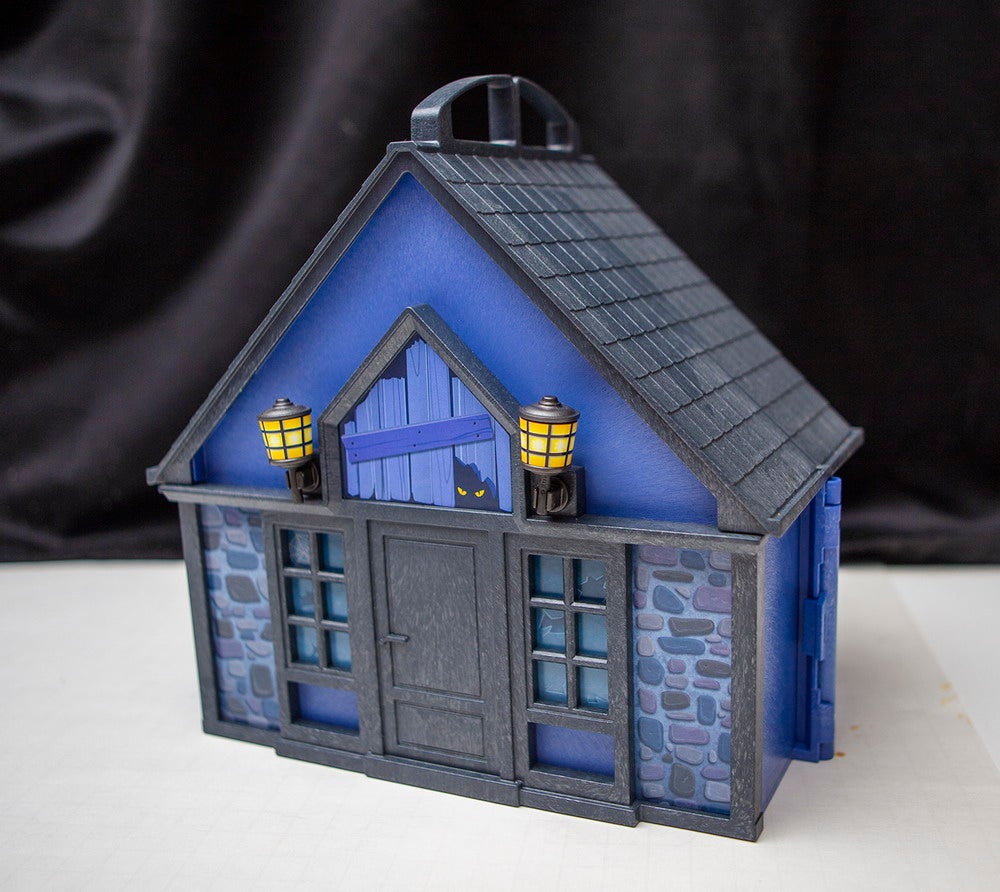 So here's Playmobil getting into the spirit with a fun take-along haunted house. What does that mean? It's a fully loaded Take Along Haunted House (#9312, 70 Pieces, Ages 4+), but the whole kit closes up and locks tight for storage or taking to a friends house. It's easy for kids to pack in each of the pieces and lock it up, thus preventing the pieces from getting lost and helping clean-up, which parents will enjoy as well.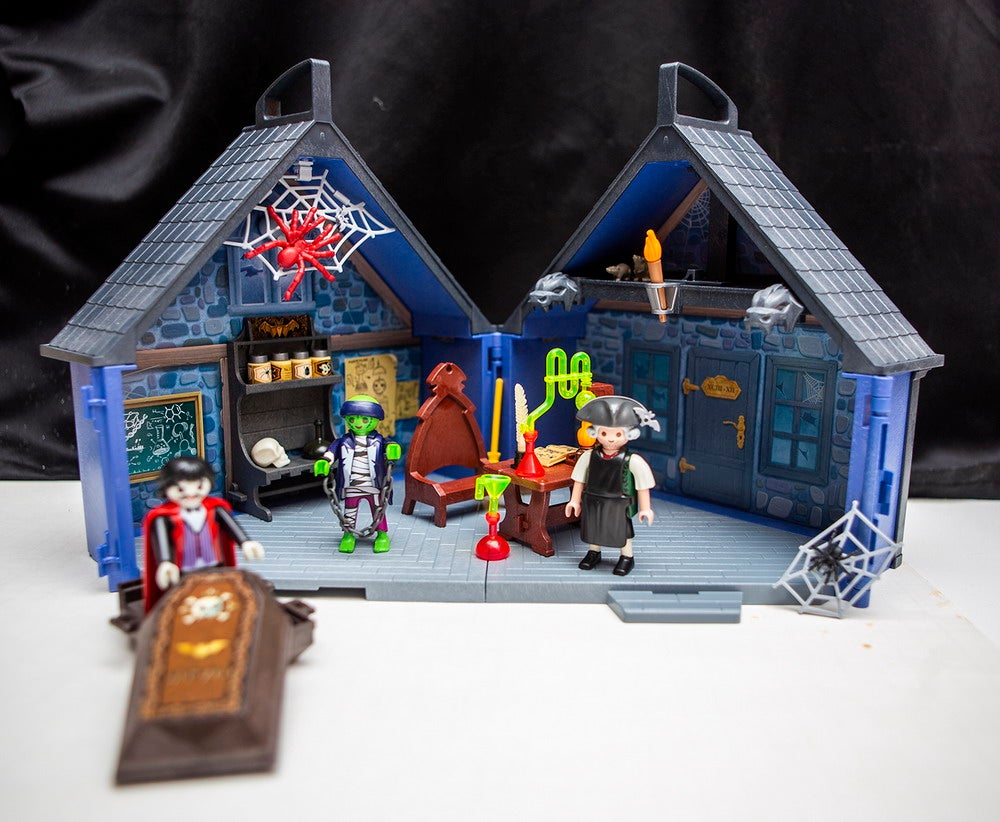 The haunted house itself is roomy. There's plenty of space to set up the furniture in different configurations. The floor panels unclip very easily and pack in nicely. I think the floor is nice, it helps the overall set feel more complete. There's an action feature in the "attic" there is a hidden trap door, load it up with rats or other nasties and slide the latch and the trap door will drop on unsuspecting victims below. This is a cross between the trap door that drops Roman traitors into the tiger pit in the Colosseum playset and the hidden cache of scorpions that drops on treasure hunters in the original Egyptian pyramid playset. I like how easily all the things pack inside. We have other (non-playmobil!) sets that are tough to get everything to fit unless you pack it in jussssst right. The only thing I wish they could have pulled off was an opening door. We have a take along old west sheriffs office and bank that locks tight to store everything, but it also managed to have a door. I feel if there was a door you could incorporate play with the outside of the house a bit more.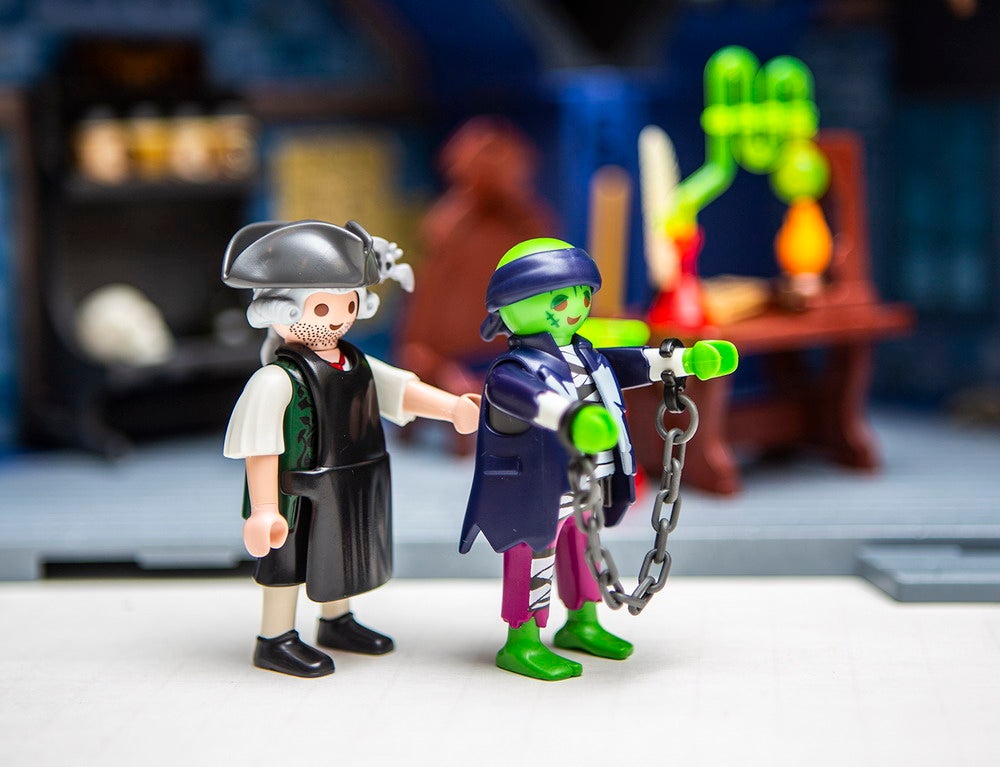 But from an adult collector standpoint, I like the unique take on a classic. We've had mad scientists before, we've had monsters and vampires, but I like the fresh take. The monster is green (decaying flesh?) but still friendly. But he packs in an appropriate level of detail, and I love his removeable shackles. My favorite is actually the scientist. There's been a few mad scientists in the playmobil world before, but I like the 1800s era take. I feel it gives it a bit more character. I love the styling on his clothes and the tiny bat on his tri-corner hat. His apron easily snaps on and off so he can sit as his table.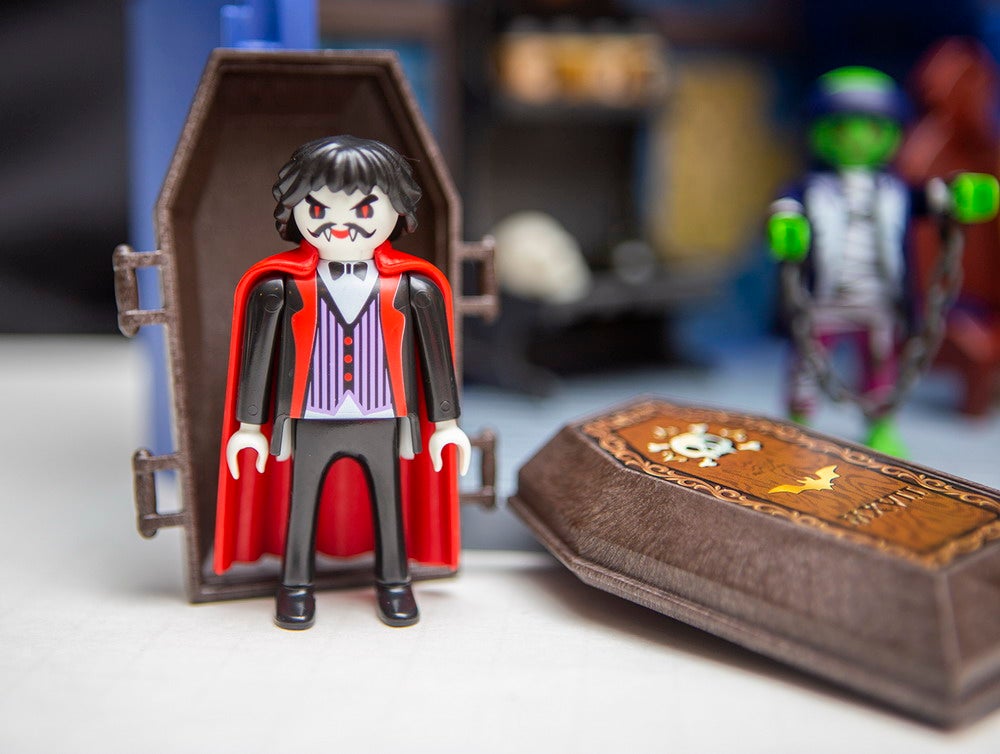 The vampire is also nicely styled. I think the prior Dracula character sported the pompadour, "Elvis" hair, which I thought was a little more silly looking than I wanted. So I like this updated look. He fits snuggly inside his coffin. And if you have enough playmobil pallbearers, they can totally grab onto the handles and carry him off. The fangs, red eyes, and stylish mustache are a nice look. His cape also pops off if you want to have him sit up in the coffin.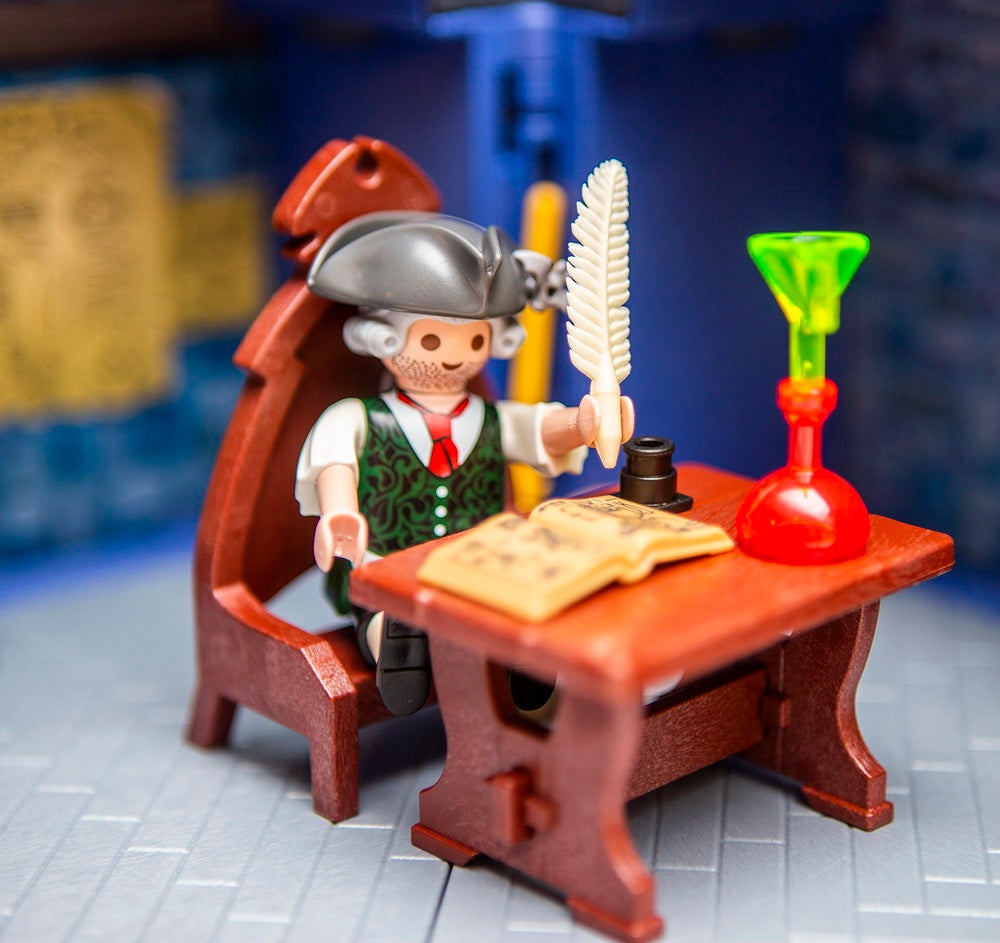 I always love the equal mix between old and new pieces when a playmobil set comes out. The inkwell and feather pen as well as this table are from one of the earliest playmobil sets back in the 80s. The feather even fits in a playmobil hand so he can write in his lab journal. The beakers and lab equipment appeared in a wizards workshop back in the early nineties. It's great seeing familiar pieces that I never got my hands on.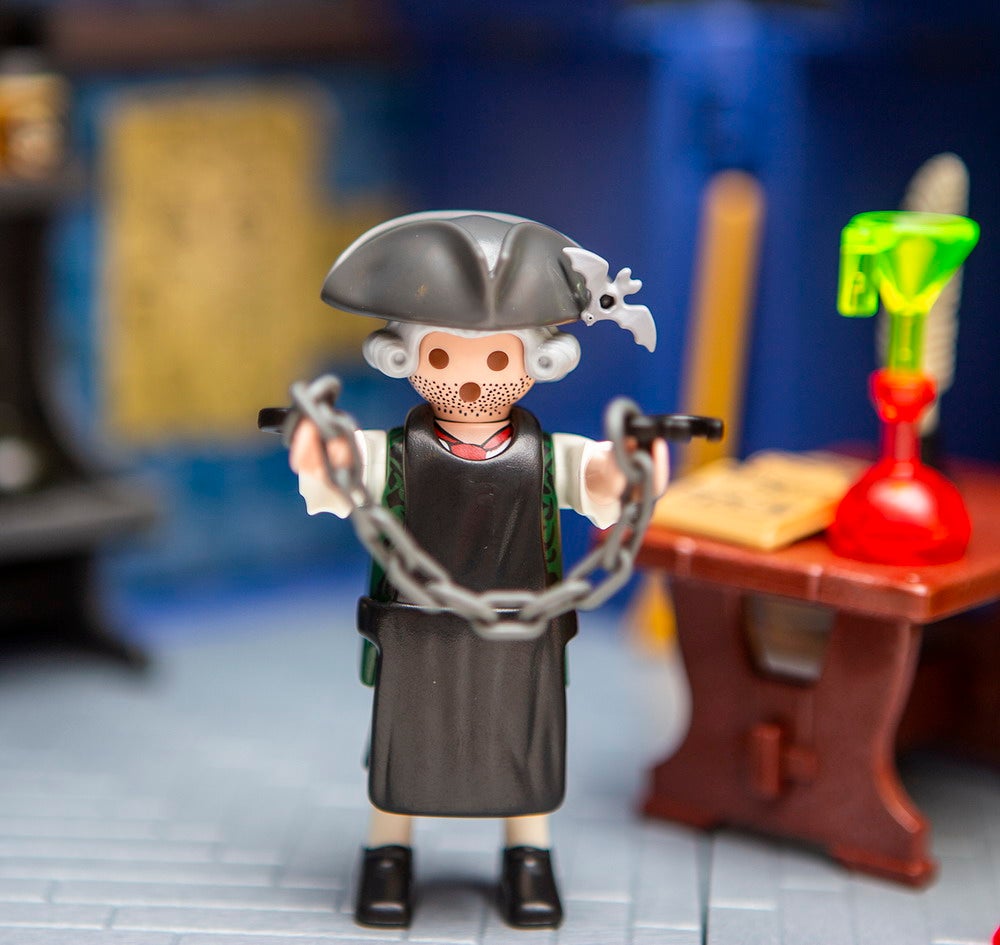 This set is available now for about $40. The take-along option (also for it's clean-up) makes it attractive to parents, the detail make it attractive to collectors, and the fun and silly spookiness of the set makes it great for kids. So get loaded up on fun-size candy bars and get spooky.
– Review and Photos by Andy Jones
– Review Sample Courtesy of Playmobil
---
Keep up with all the latest toy news by following Figures.com on Facebook and Twitter!
To buy action figures, take a look at Hobby Link Japan, BigBadToyStore.com, TheToySource.com, Toynk.com, and BriansToys.com.