Happy 2019, everyone! We're back with a look at the first HeroClix releases of the year from WizKids Games, and it's a great way to start off the new calendar. 2018 ended with the awesome Secret Wars: Battleworld expansion, and coming next month is another set full of alternate universe characters in Marvel HeroClix Earth X!
This expansion is based primarily on the 1999 Marvel Comics series by the same name (and its sequels), which tells the tale of an alternate/future Earth where the Inhumans grant all humans superpowers and everyone has to fight Celestials intent on sprouting their egg inside the planet. Yeah, it's pretty crazy. In this world familiar heroes and villains evolve in unexpected and interesting ways, and now you can play these new takes on iconic characters in HeroClix! In addition to specific Earth X figures this set also includes several Spider-Man related characters and plenty of never-before-clixed heroes and villains; it also features a new Ultra Chase figure sure to get everyone on the hunt. The Earth X expansion hits stores on February 6th, but you can get your hands on the set early with exclusive pre-release events at participating venues from January 23rd to February 5th!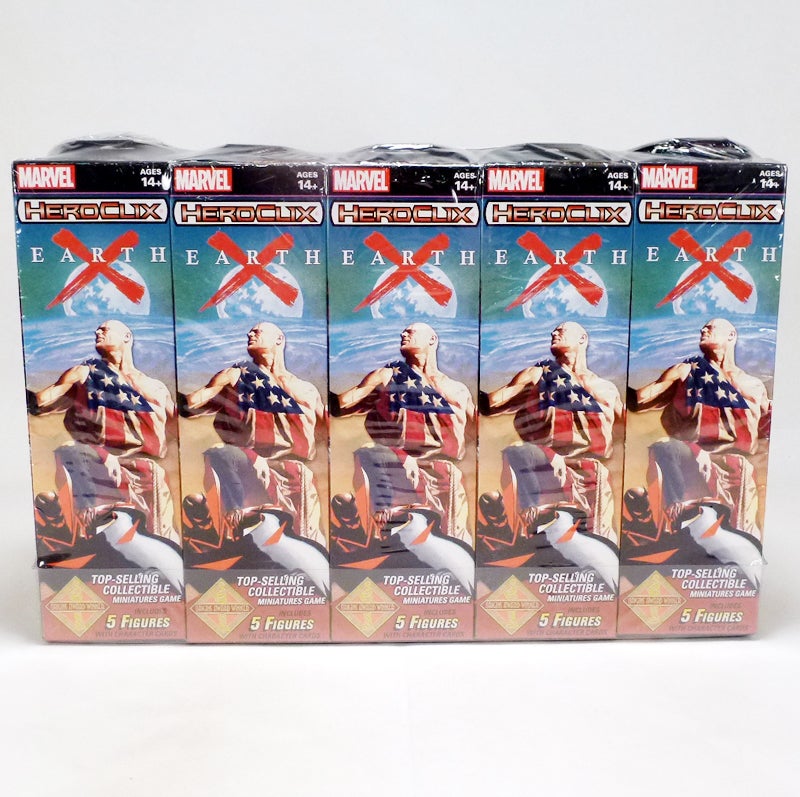 The boosters for Earth X are really eye-catching, featuring the comic series' iconic logo in front of an Earth background, as well as artwork of that world's Captain America and Daredevil on motorcycle. The box's sides offer sneak peeks at several of the set's sub-themes like Spider-Man Family (Miles Morales, Spider-Woman, Ezekiel Sims), Earth X (Black Panther, the Skull, Captain America), Arachnids of Earth X (Spider-Man, Spiders Man, Mayday), and Inhumans (Triton, Black Bolt, Medusa). On the back panel you can learn about the highly useful WizKids Info Network… and get a preview of the set's chase theme with Venom versions of Captain America and more!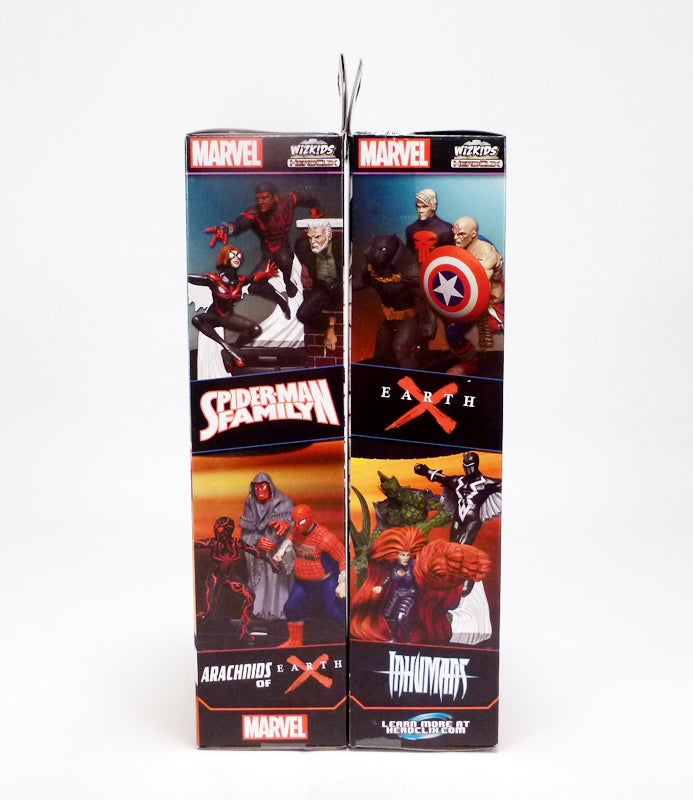 We're going to leave the unboxing videos to the professionals like Scott Porter and get right to what we do best: awesome photography! Check out the contents of each booster, then keep reading for tons more info and a full photo gallery of all the Earth X HeroClix figures we pulled.
Booster 1
008 Vulturion
012 Red Union Jack
022 Montana
031 King Britain
041 Fancy Dan
Our first booster offers some colorful characters and the beginnings of some of the set's big sub-themes. The common Vulturion is a generic baddie for Spider-Man, while from Earth X comes the mighty King Britain (Brian Braddock) and one of his generic Red Union Jack soldiers for back up. Meanwhile crime is represented here too with the lasso-wielding Montana of the Enforcers and Maggia and the rare Fancy Dan who on Earth X has invisibility powers.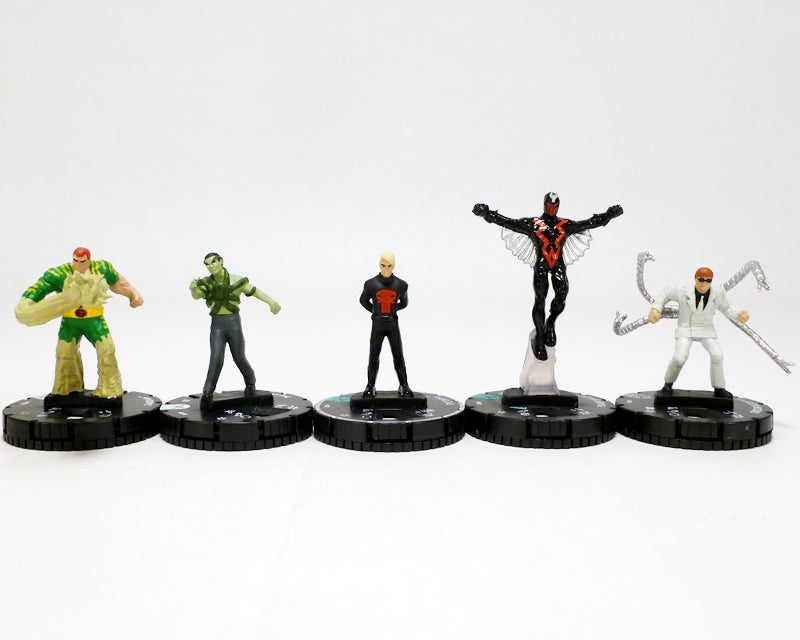 Booster 2
006 Sandman
010 The Hydra
030 The Skull
032 Black Knight
034 Doctor Octopus
Evil reigns nearly supreme in this booster of characters from Marvel's Earth-616 and Earth X. From the former come welcome new versions of Spider-Man villains Sandman and Doctor Octopus (rare), while a male generic Hydra minion is representative of Earth-9997. It's not all bad, however, as the heroic son of Black Bolt Black Knight is present as well!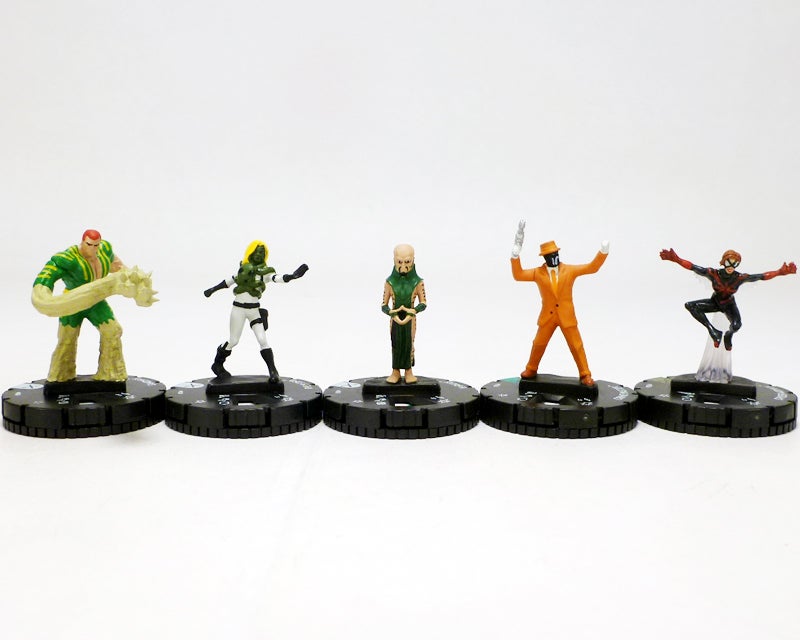 Booster 3
006 Sandman
011 The Hydra
016 Karnak
020 Crime Master
053a Spider-Woman
The Sandman may be the same as in the previous booster, but the Hydra figure here is a different, female, one (with a different dial as well). They're joined by the Earth X version of Karnak of the Inhumans, New York crime boss Crime Master of the Enforcers/Maggia, and our first super rare: Mattie Franklin Spider-Woman!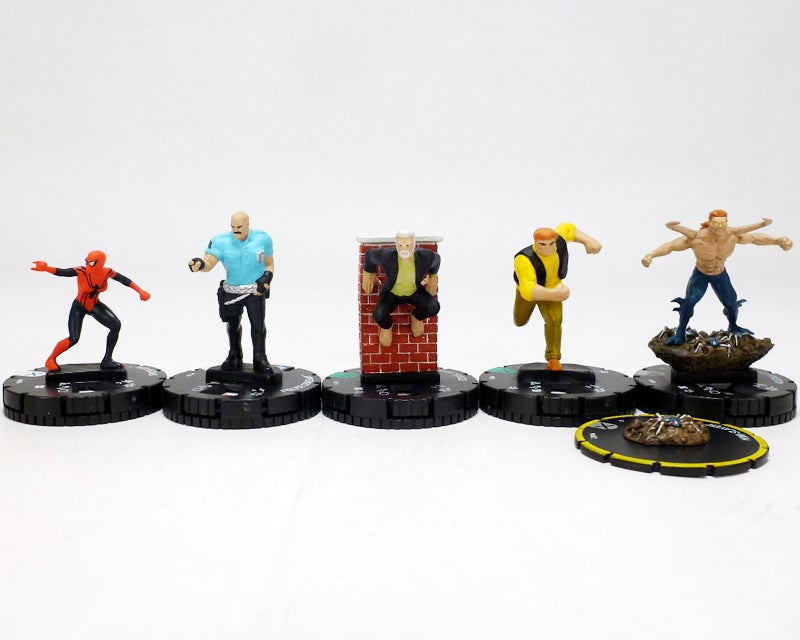 Booster 4
001a Spider-Girl
009 Police Sergeant
018 Ezekiel Sims
023 Ox
036 Alistair Smythe
s002 Mini-Slayer
Booster #4 offers a tough Police Sergeant from Earth X, whose duties might involve stopping criminals like the uncommon brute Ox of Enforcers/Maggia. The rest of this pack is all Spider-related with the headlining common May Parker Spider-Girl, wall-crawling Ezekiel Sims, and the horrific Alistair Smythe. That last one also introduces us to the Equipment additions in the Earth X set as he comes with the Mini-Slayer special object!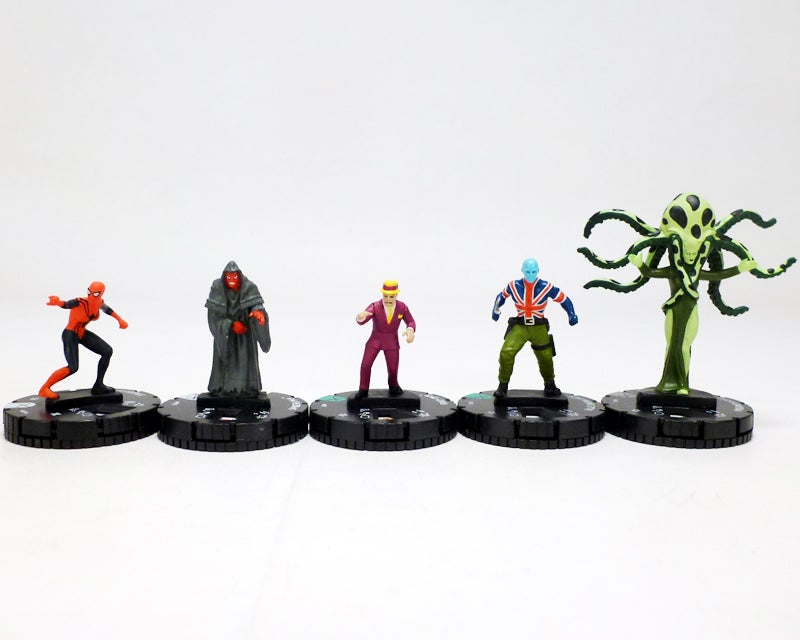 Booster 5
001a Spider-Girl
013 Spiders Man
021 Fancy Dan
028 Blue Union Jack
045 Madame Hydra
Up next is another copy of common Spider-Girl along with the Earth X reptilian mutant Spiders Man. A regular version of Enforcer/Maggia member Fancy Dan (in a rad outfit) shows up in the uncommons with a British Blue Union Jack soldier, and the rare in this booster is the Madame Hydra overlord of Earth X.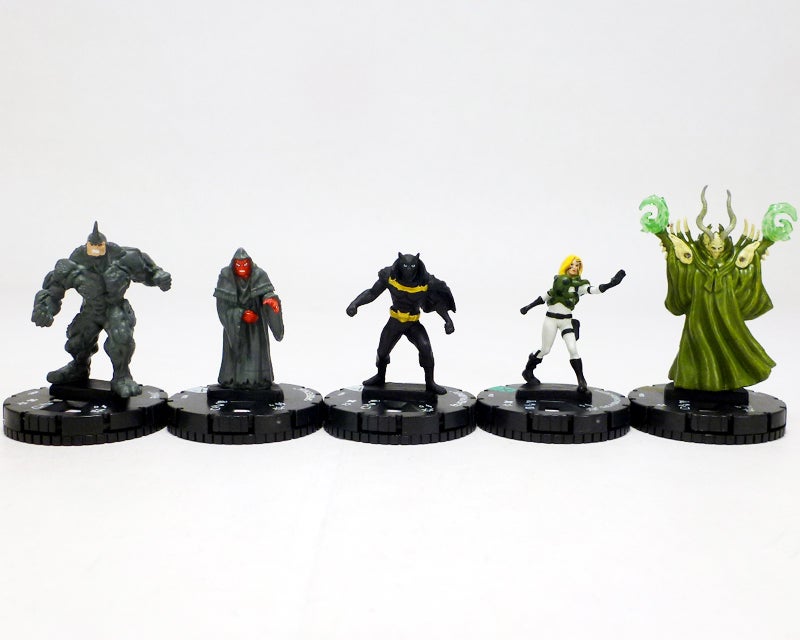 Booster 6
005 Rhino
013 Spiders Man
014 Black Panther
027 The Hydra (Sharon Carter)
058 Loki
The common Rhino is up next in the parade of new Sinister Syndicate figures, and he's the only Earth-616 figure in this overwhelmingly Earth X booster. From that timeline are commons Spiders Man and the feline Black Panther, the uncommon Hydra (Sharon Carter) representing the heroine taken over by the horrible creature, and lastly the super rare Loki in his distinctive form!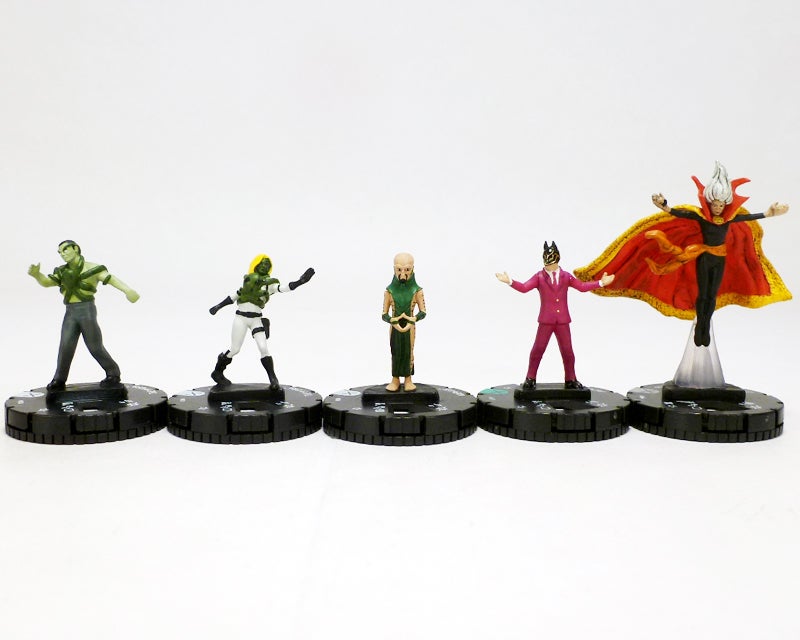 Booster 7
010 The Hydra
011 The Hydra
016 Karnak
017 Jackal
044 Clea
If you're looking for more Hydra this is a great booster to go along with the previous couple, bringing not one but both of the common Hydra generics. The recent comic book version of Jackal shows up in an uncommon slot, and then it's back to Earth X with another Karnak and the rare Sorceress Supreme Clea.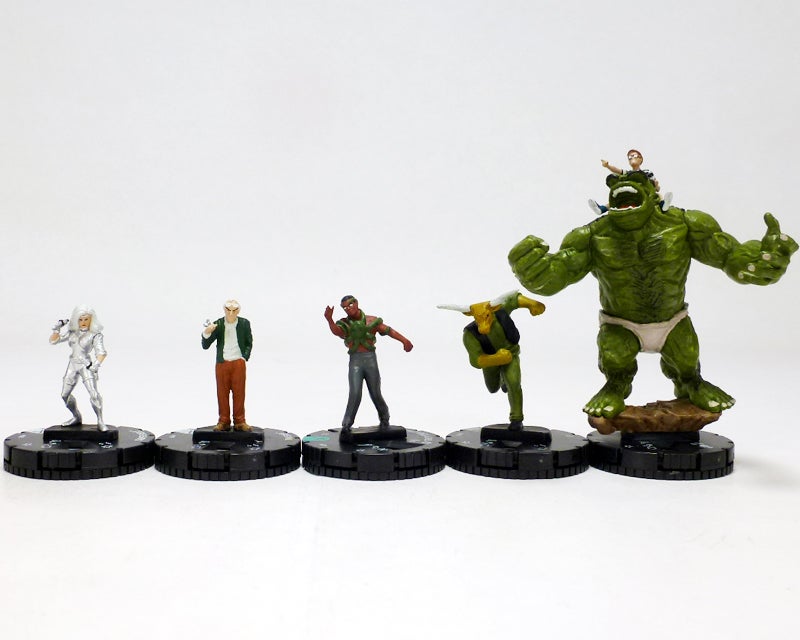 Booster 8
002 Silver Sable
007 Tinkerer
026 The Hydra (Falcon)
043 Ox
055 Hulk
We're getting close to the end of the brick at this point, so I'm really looking for super rares, a Prime, or even a chase. Well, we got one of those here in booster #7! First off are classic Spider-Man universe characters Silver Sable and Tinkerer in common slots. Earth X does some crazy things to people, and this booster is the perfect example with the Falcon taken over by Hydra in the uncommons, the rare criminal Ox turned animalistic, and a super rare in the form of Earth X Hulk with young Bruce Banner riding on his back!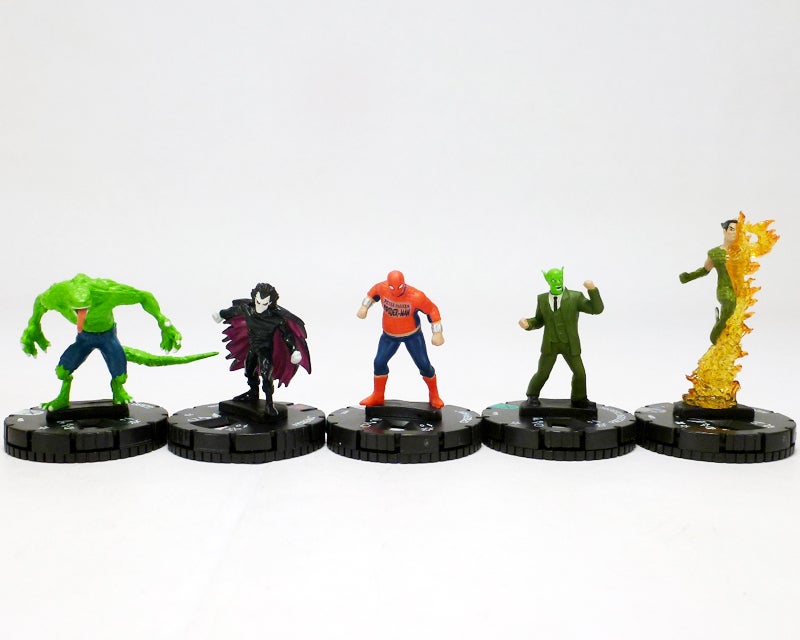 Booster 9
003 Lizard
004 Morbius
015 Spider-Man
029 President Osborn
033 Namor
Here comes booster #9, and to be honest just opening the pack I spotted a figure I was really hoping would appear in this set. I'll jump right to the rare here with Namor! In the Earth X storyline the Atlantean mutant ends up killing Johnny Storm, leading young Franklin Richards to curse Namor; whenever it's exposed to air half of his body is perpetually on fire! Joining the Sub-Mariner here are Spidey circle of friends and enemies Lizard and Morbius, plus Earth X Spider-Man and President Osborn.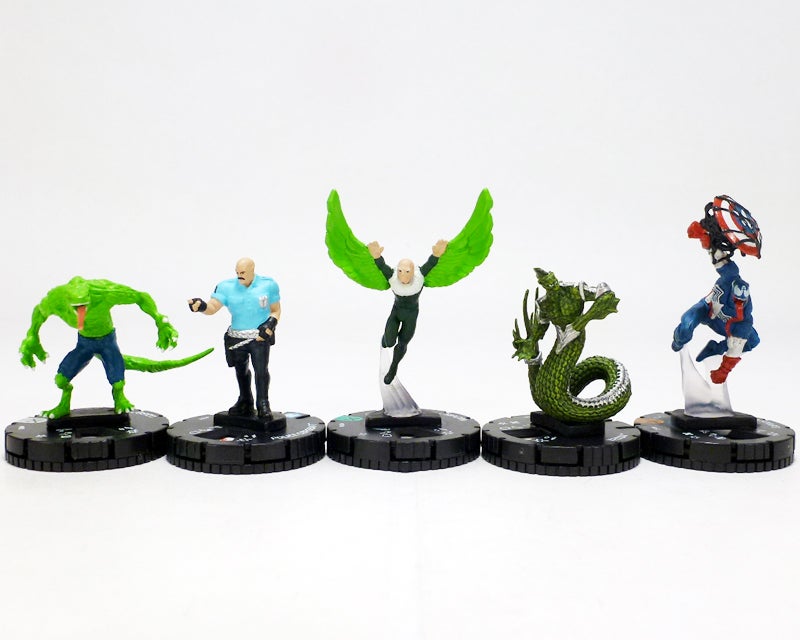 Booster 10
003 Lizard
009 Police Sergeant
019a Vulture
048 Triton
053 Captain Venom
Getting to the last booster I still had high hopes for my pulls, and let's just say I was not disappointed. This box started with a couple faces I'd seen before: Lizard and the Police Sergeant. Then the uncommon Vulture (clearly sharing most of his sculpt with the common Vulturion) appeared, as well as Earth X Inhuman Triton with his secondary Terrigenesis form. And wouldn't you know it, sitting in the final slot was a chase, Captain Venom!
Here's the full breakdown of the figures in this brick (your results will vary of course):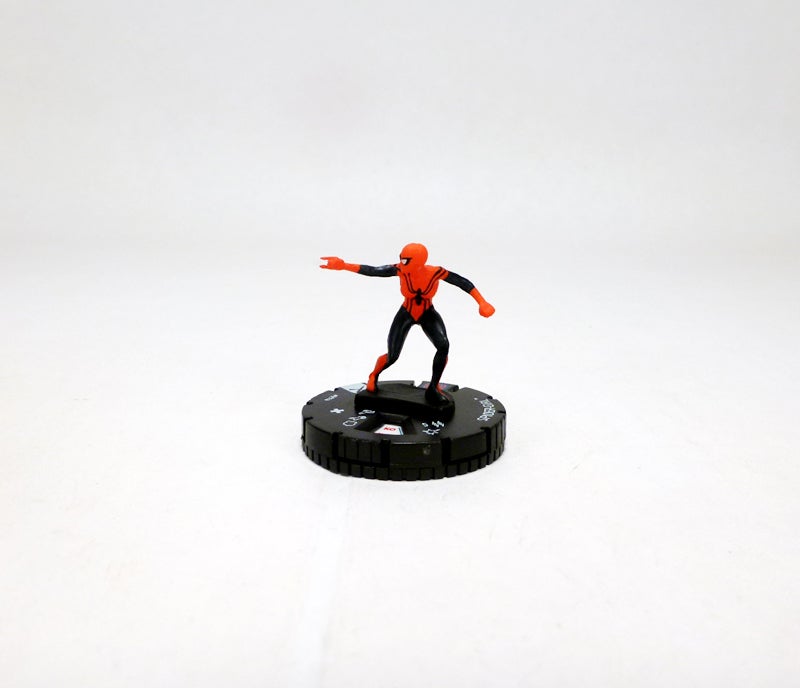 Commons (including duplicates)
001a Spider-Girl
002 Silver Sable
003 Lizard
004 Morbius
005 Rhino
006 Sandman
007 Tinkerer
008 Vulturion
009 Police Sergeant
010 The Hydra
011 The Hydra
012 Red Union Jack
013 Spiders Man
014 Black Panther
015 Spider-Man
016 Karnak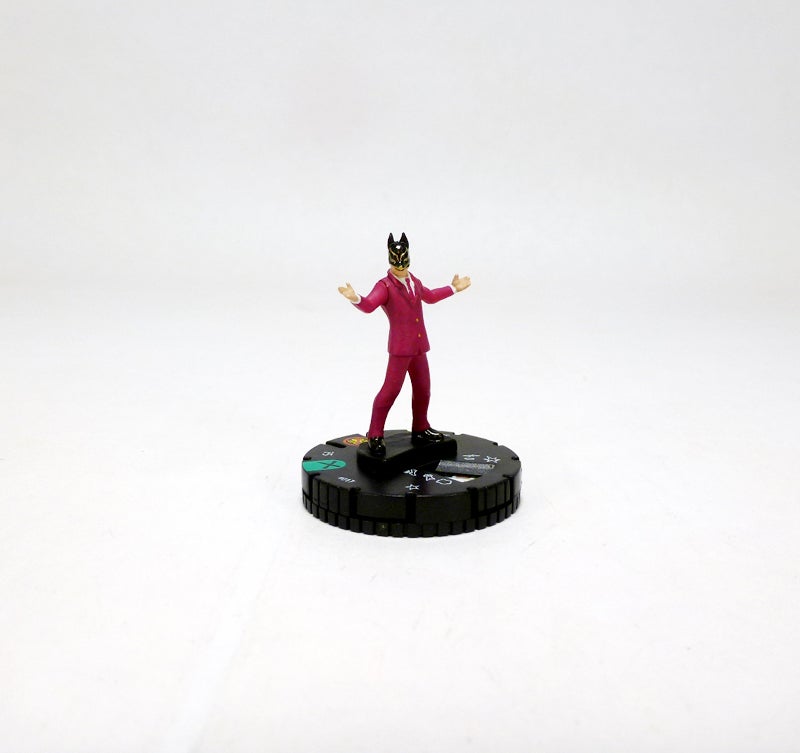 Uncommons
017 Jackal
018 Ezekiel Sims
019a Vulture
020 Crime Master
021 Fancy Dan
022 Montana
023 Ox
026 The Hydra (Falcon)
027 The Hydra (Sharon Carter)
028 Blue Union Jack
029 President Osborn
030 The Skull
031 King Britain
032 Black Knight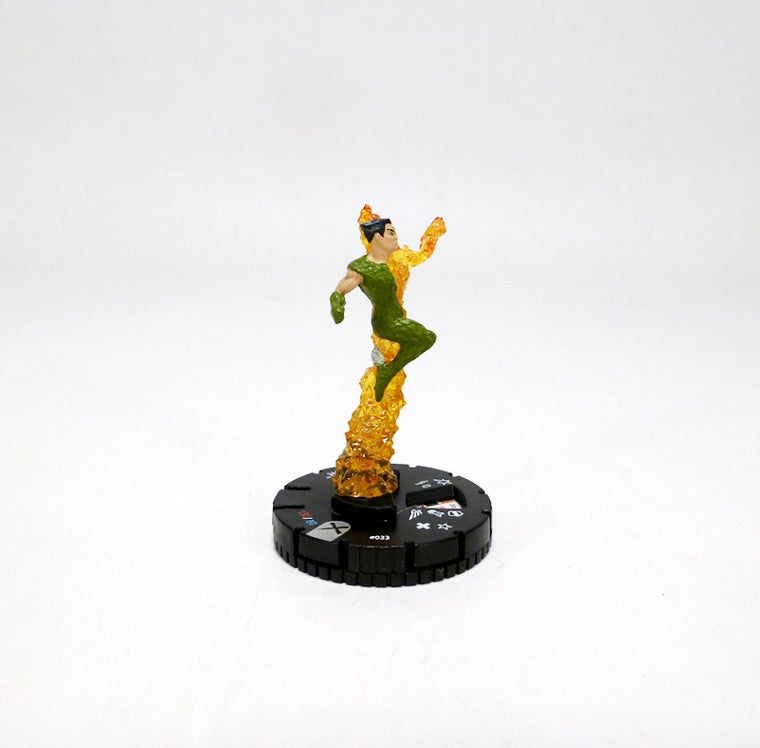 Rares
033 Namor
034 Doctor Octopus
036 Alistair Smythe
041 Fancy Dan
043 Ox
044 Clea
045 Madame Hydra
048 Triton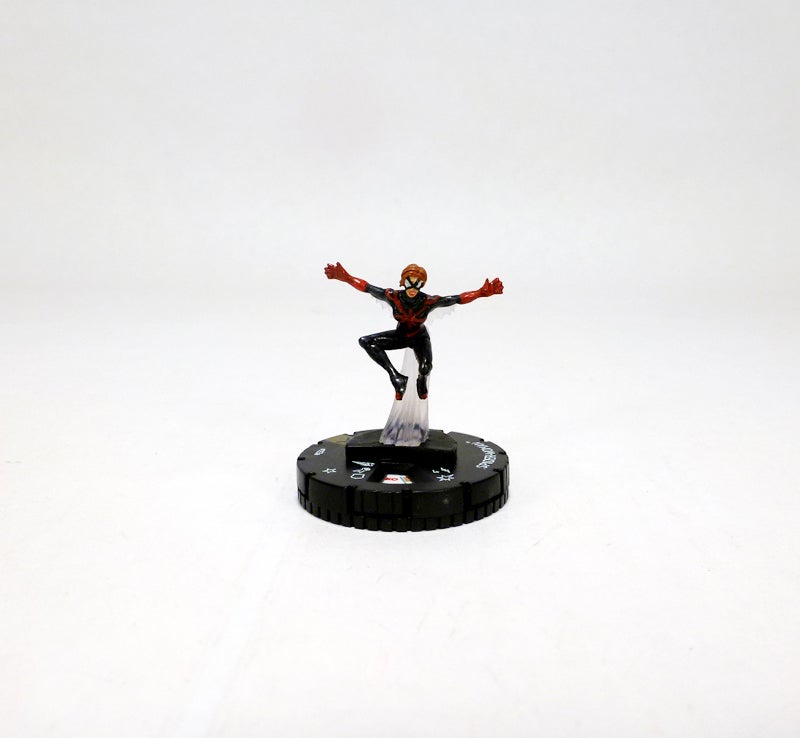 Super Rares
053a Spider-Woman
055 Hulk
058 Loki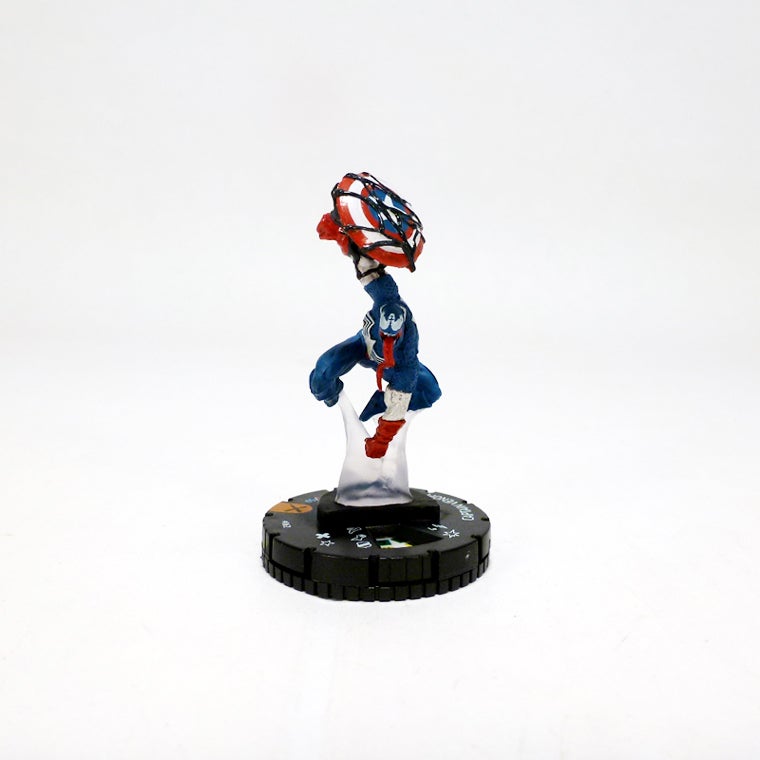 Chase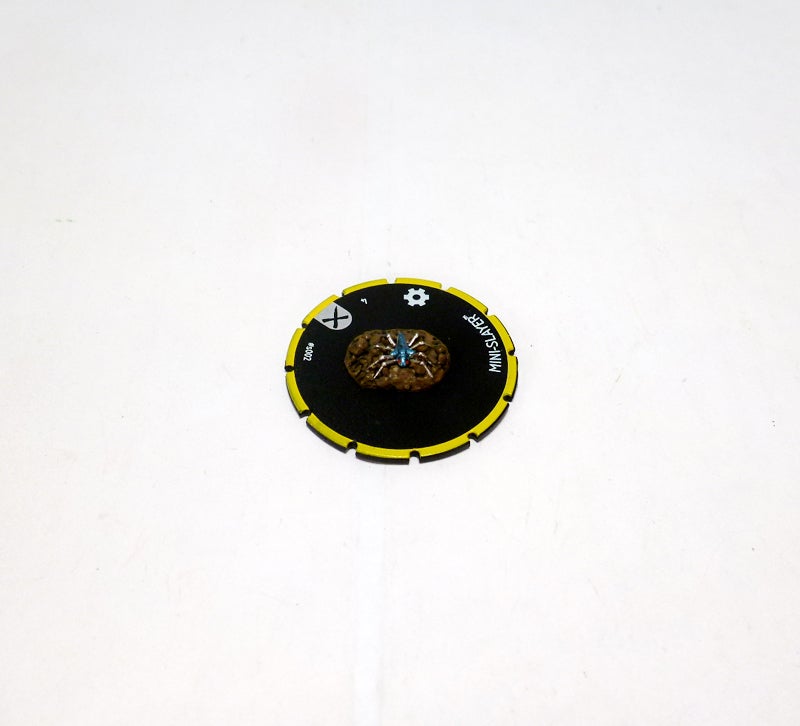 Equipment
As you might imagine, I was quite pleased with the collation in this brick, and I can only hope that you get something similar if you choose to purchase big quantities of this set. Starting at the bottom of the rarity ladder, we've got some really interesting commons. I pulled one each of all 16 (not including the Prime), and they break down by theme starting with the arachnid members of the Spider-Man family with May Parker Spider-Girl, and then (sometime) allies of the web-head Silver Sable and Morbius. Classic Spider-Man villains are well-represented too with Sinister Syndicate members Lizard, Rhino, Sandman, and Tinkerer, plus the generic winged Vulturion (which I can't wait to see in swarm armies). Then it's off to Earth X with generics of good guys (Police Sergeant and Red Union Jack) and bad guys (The Hydra in two different forms). Notable characters from that alternate world here include the reptilian Spiders Man, a hefty Spider-Man, the feline Black Panther, and Karnak of the Inhumans.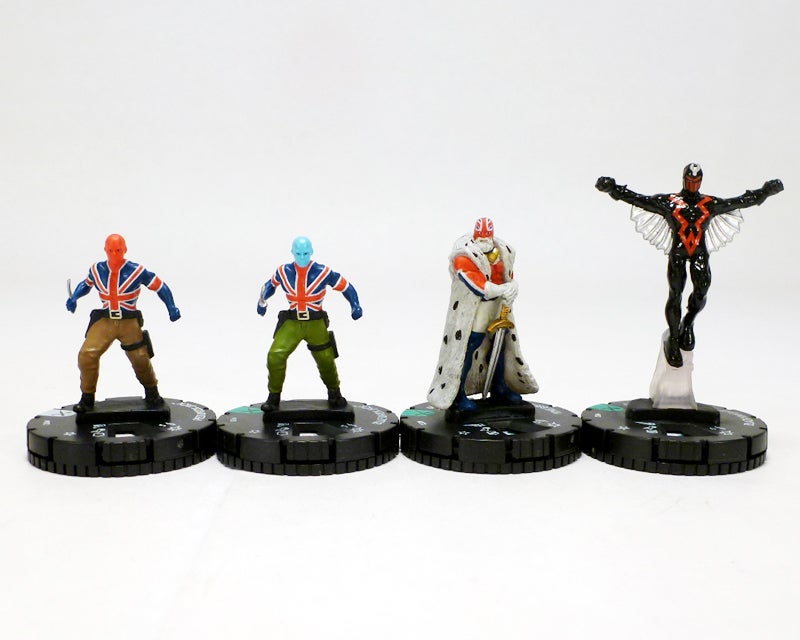 Excaliber
We're missing only two of the uncommons, but in that group we're seeing a continuation of the themes from the commons as well as some new things. The Spider-Man trend lives on with wall-crawling Spider Totem protector Ezekiel Sims, classic foe Vulture, and the modern Ben Reilly Jackal. Before heading off to Earth X the uncommons swing by the rough part of town with members of Maggia and the Enforcers. Here we find thugs and bosses alike with Crime Master, Fancy Dan, Montana, and Ox. On Earth-9997 Hydra continues to spread with the entity taking over Falcon and Sharon Carter, while the goblin-headed President Osborn is on hand to take advantage. The mind controlling the Skull is one of the big bads from that world, but saving the world are British heroes King Britain, Black Knight (an Inhuman), and the generic Blue Union Jack.
Enforcers
The Earth X rares start out with one of the characters I was most eager to see (and worried would be a super rare): Namor with half his body on fire! It's a brutal part of the story and really interesting to see how WizKids has translated the character's development into the game. More Spider villains here are Doctor Octopus and Alistair Smythe, the latter bringing along his Mini-Slayer equipment piece. Earlier in the uncommons we pulled the Maggia members Fancy Dan and Ox, and now they're back here in their unique Earth X versions, the former now invisible and the latter living up to his bestial nickname! Joining them from Earth-9997 are Sorceress Supreme Clea, Triton of the Inhumans, and the alien Madame Hydra.
Spider-Man Family
In this brick we pulled three super rares, which seems to be the norm these days. Mattie Franklin Spider-Woman continues the Spider-people trend (and is a super cool figure), while Earth X gives us the childlike Hulk with Bruce Banner riding on his back and the reality-warping Loki. Last but certainly not least, we pulled a chase from the sub-themes of "Venomized" characters: Captain Venom!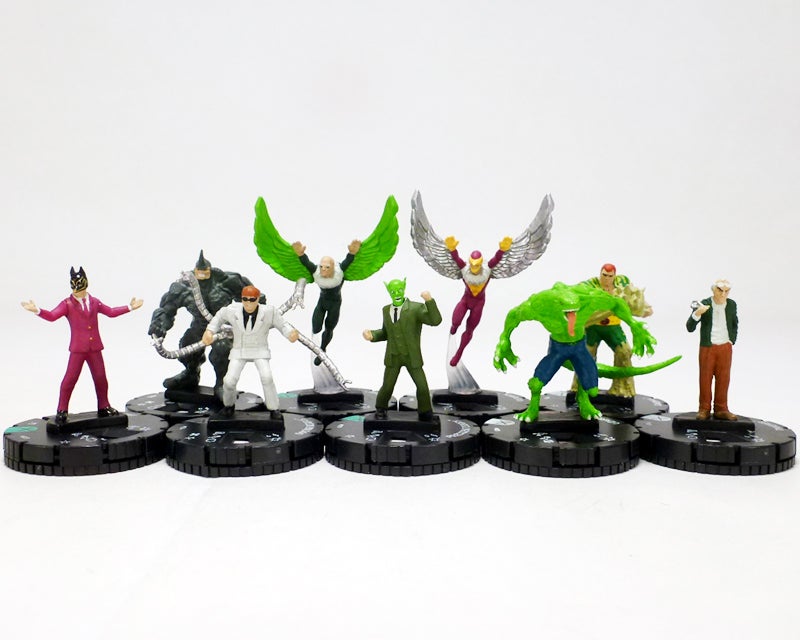 Sinister Syndicate
While the game mechanics are certainly interesting and fun to build around, I love new sets like this one to check out all the different looks of the characters from different universes. The figures of the Earth X expansion definitely live up to their "otherworldly" nature with some truly unique sculpts and paint jobs, some of which we'll highlight here (but please check out the photo gallery to see them all). First up are just a handful of my favorite sculpts coming out of this brick, which include the surprisingly animalistic (and very sinewy) Lizard, the Tinkerer who shows that even "normal" looking figures can have a lot of character, Vulturion and the Vulture with their excellent wings, Black Panther with his stalking pose and the cool panther head, the Skull who looks like his sculpt could be based on a real person, the royal countenance and trappings of King Britain, Black Knight who may be a Black Bolt sculpt reuse but who looks great on his own, the incredible presentation of half-burning Namor, Alistair Smythe looking super creepy, the alien majesty of Madame Hydra, Earth X's unique, feral version of the Hulk with a really well done child Banner on his back, a Loki unlike any other with flowing robes and curling horns, and of course the amazing bounding Captain Venom with symbiote details, Cap's costume elements, and a superb pose.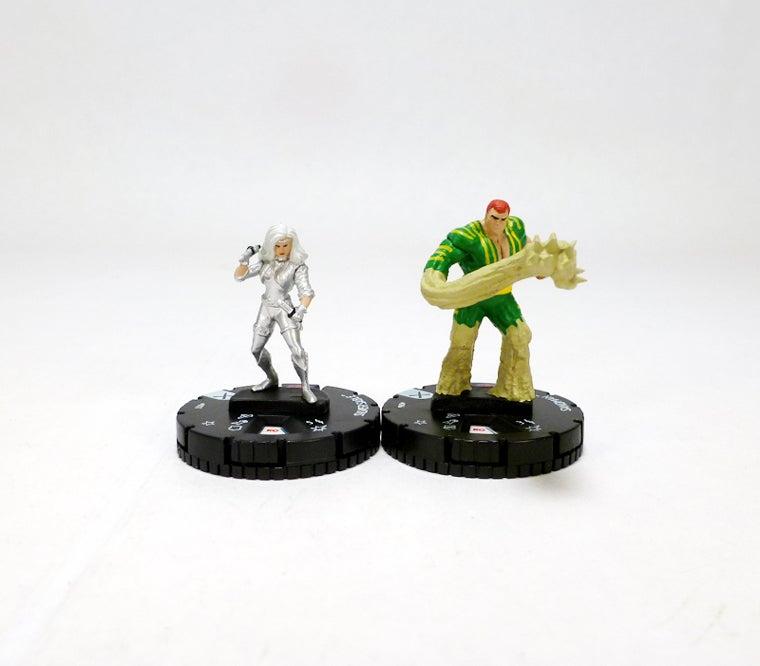 Speaking of poses, I really like the look of Silver Sable with her daggers held at the ready, the tough Police Sergeant taking no gruff, Jackal doing his best ringmaster impression, and Spider-Woman flying into action. Lastly, I always check out figures with interesting sculpted textures and in this set found nice webbing details on Spider-Girl and Spider-Man, chunky rough skin on Rhino, swirling silicate on Sandman, Namor's highly faceted flames, and the scaly reptilian body of Triton.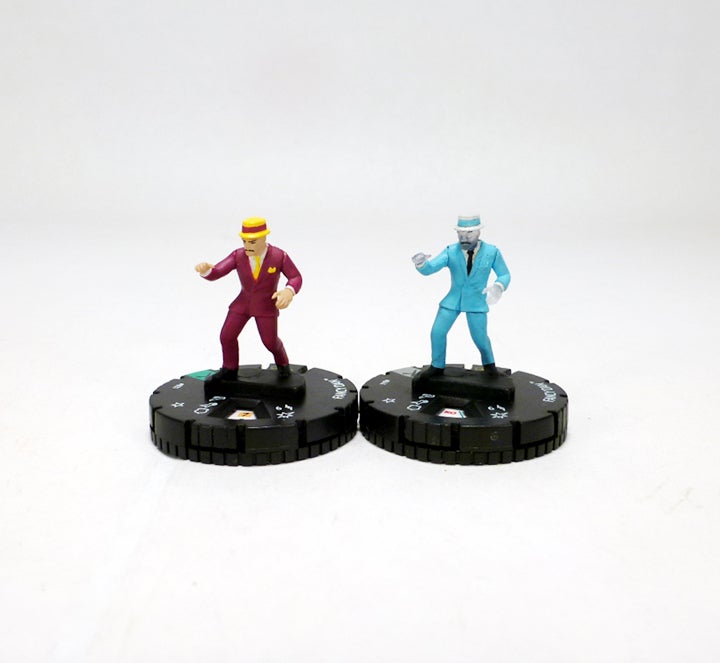 Just as there are great sculpts in this set, so too are there really fun and detailed paint jobs along with metallics and translucent parts. To hit on a few of my favorites, we've got the crisp colors of common 001a Spider-Girl, the sophisticated simplicity of Tinkerer, the contrasting alien colors of the Hydra figures, Karnak's side markings, President Osborn's crazy (well done) eyes and green goblin mask, all of the detailed finery on King Britain, Bruce Banner who looks great despite his tiny size on Hulk's back, and of course the chase Captain Venom with his mix of symbiote coloring and patriotic red, white, and blue. The Maggia/Enforcers are incredibly colorful and fun, notably Crime Master, both versions of Fancy Dan, Montana, and uncommon Ox. As always, we've got metallic paints on things like weapons and armor, with particularly nice looks on Silver Sable's costume and daggers, Vulturion's metal wings, King Britain's sword, Black Knight's wings and forehead icon, Doctor Octopus' tentacles, and Triton's armor. Translucent plastic too is used for traditional flight effects as well as things like Namor's fire half, rare Fancy Dan's invisible body (except his moustache!), Spider-Woman's web wings, and Loki's eldritch energies. Lastly, I can't talk about the paint jobs in Earth X without giving a shout out to the Red and Blue Union Jacks who look amazing with their flag torsos and perfectly applied eyes.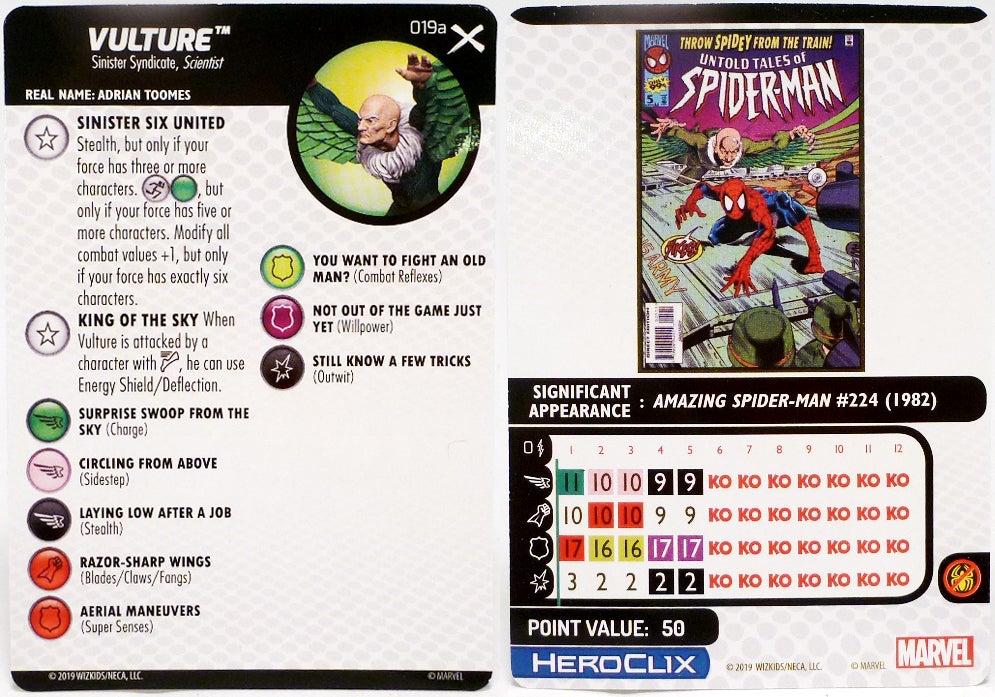 Alright, I know you're here to see some previews, right? I won't keep you waiting any longer! Let's start with the uncommon 019a Vulture, a classic member of the Sinister Syndicate back in action. This 50 point flyer has the Sinister Syndicate team ability, the shared trait that gives that team's members access to additional powers and abilities depending on how many of them you're fielding, and a second trait protecting him against attacks from grounded figures with Energy Shield/Deflection! On the dial this old man is quite aggressive, getting into melee quickly with Charge and Super Senses before switching to Sidestep, Blades/Claws/Fangs, and Combat Reflexes, then ending as a support piece with Stealth, Willpower, and Outwit.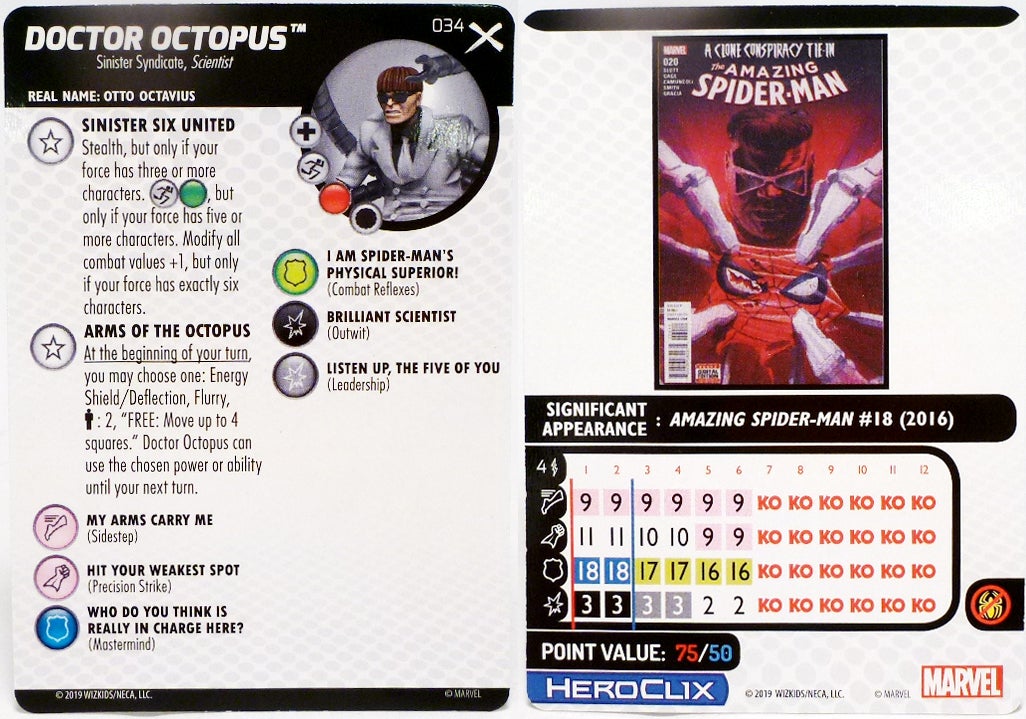 Continuing the Sinister theme is rare 034 Doctor Octopus, another update on a venerable classic. Doc Ock here can be played at either 75 or 50 points, and comes with the familiar Sinister Syndicate team ability and shared trait. He also has a short but sturdy 4 range, Improved Movement ignoring Elevated terrain and characters, and a second trait letting him choose the benefit he gets from his tentacles each turn, either Energy Shield/Deflection, Flurry, the ability to carry two passengers, or a free 4 square move. That last one combined with his Improved Movement and a full dial of Sidestep gives Otto tons of mobility, and his other powers are pretty straightforward with starting Mastermind and Outwit before Combat Reflexes and Leadership and end-dial Precision Strike.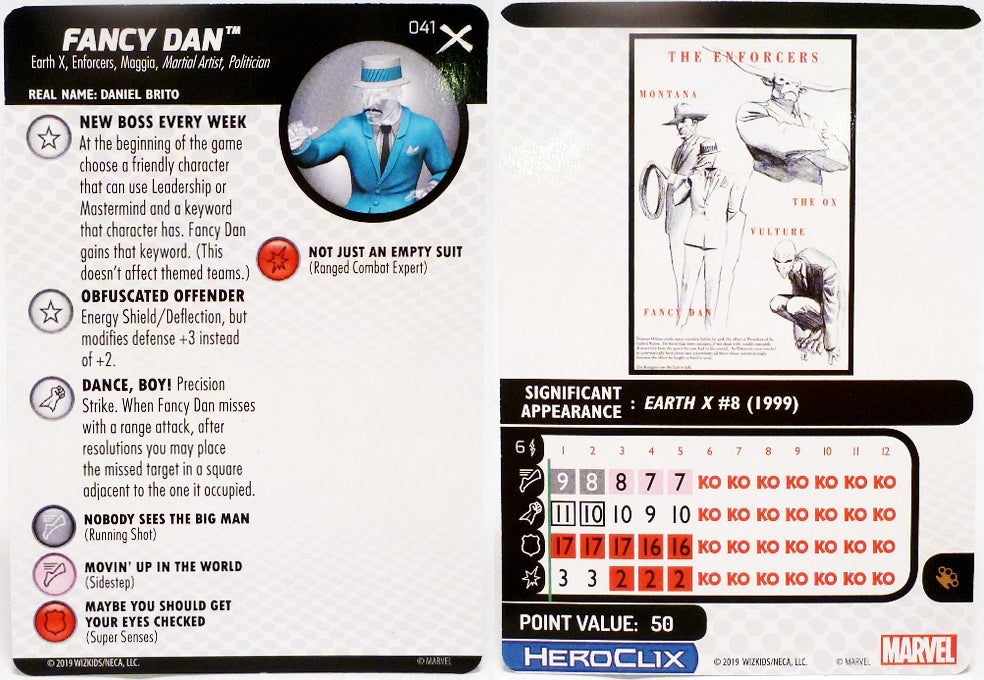 We were lucky enough to pull both sets of Fancy Dans and Oxen, so let's check out their rare Earth X incarnations starting with 041 Fancy Dan. His uncommon doppelganger has ranged and close combat options, but here Danny boy is an absolute menace from far away. He is 50 points with the Underworld team ability, a 6 range, the shared "New Boss Every Week" trait giving Fancy Dan a keyword from a boss, and permanent Energy Shield/Deflection granting +3 protection! The translucent offender starts the game with Running Shot, Super Senses, and a special power giving him Precision Strike and the ability to move a missed target one square. Mid-dial Dan switches to Sidestep and Ranged Combat Expert, giving him even more ranged potency.
If Dan is the ranged half of the equation, surely Ox is the brawler. 043 Ox is exactly that, clocking in at 50 points with the Underworld team ability, "New Boss Every Week," and a second trait granting +1 to his attack and damage for EACH red power on a single target's dial during an attack! The bullheaded Enforcer has a full dial of Charge, the first couple clicks granting it as part of a special power that lets him use his full speed if he's travelling in a straight line. Otherwise he's a straightforward "brick" with Super Strength, Quake, Invulnerability, and Toughness.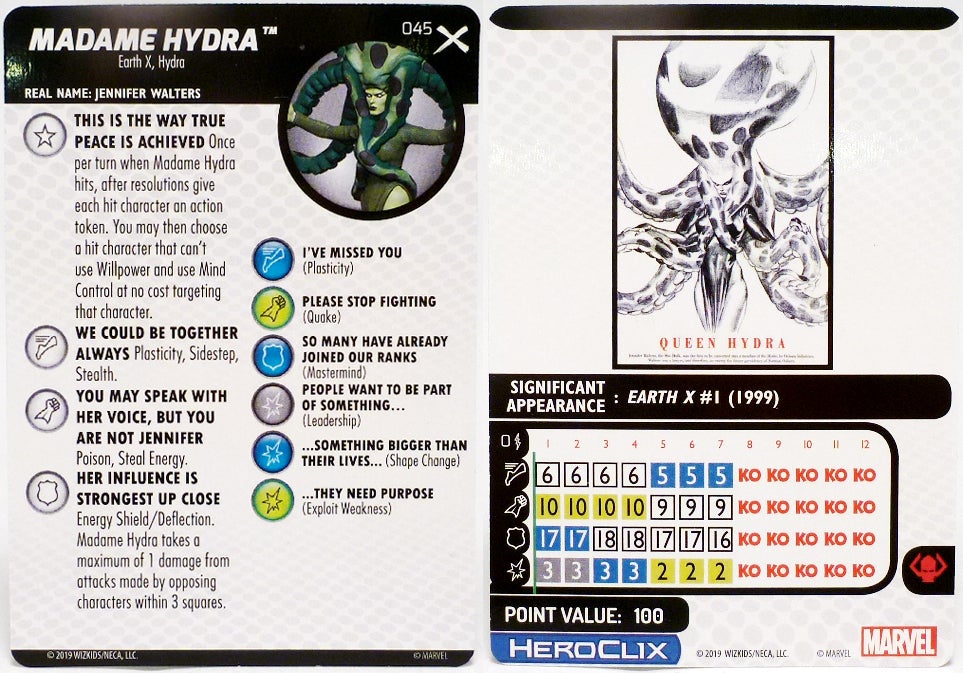 One of the biggest threats to the world of Earth X is that of Hydra, and we've seen several versions of the symbiotic creatures in the commons and uncommons. Well among the rares is their queen, 045 Madame Hydra. A powerhouse at 100 points, this alternate version of Jennifer Walters has the Power Cosmic team ability and a trait with a couple distinct benefits that happen once per turn when she hits: each hit enemy gets an action token, and Madame Hydra can use Mind Control for free against one of them so long as it can't use Willpower. Jen starts the game with Plasticity, Sidestep, Stealth, Quake, Mastermind, and Leadership (the first three via a special power), with mid-dial Shape Change and Energy Shield/Deflection with a cap on damage taken by nearby enemies. Late-dial the Hydra queen grabs her foes with Plasticity and unleashes Poison, Steal Energy, and Exploit Weakness!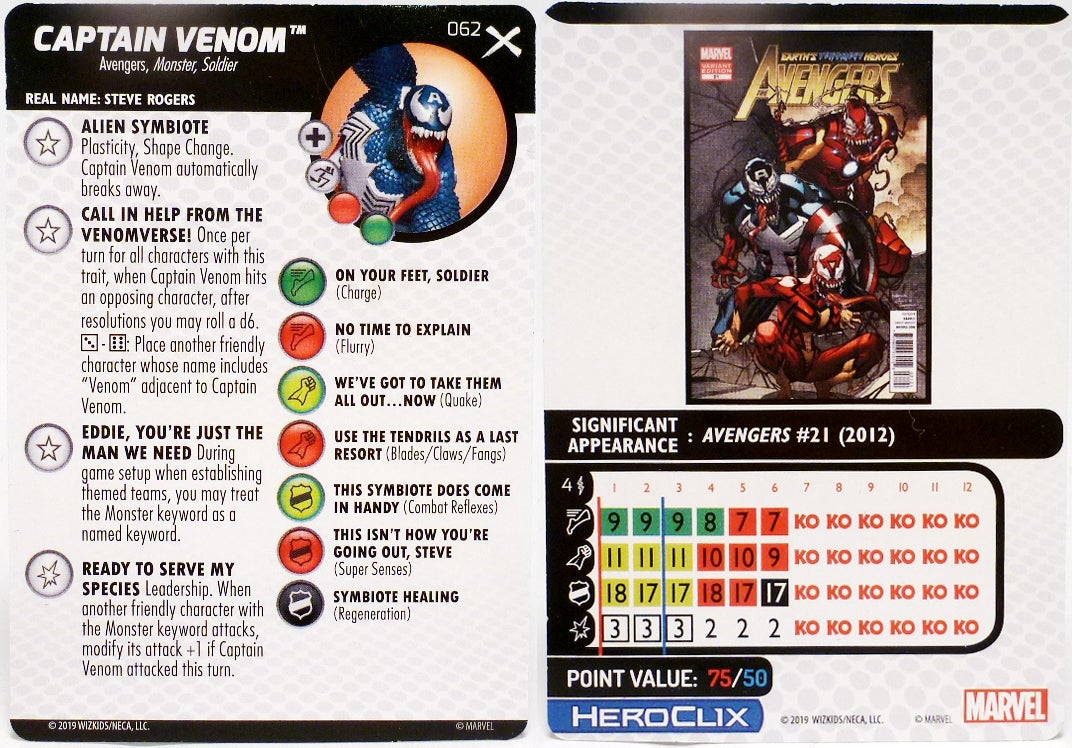 There's only one way we can our reveals, and that's of course with the chase 062 Captain Venom. Through other previews we've some of these incredible Venomized chase characters, and this one is one of the coolest in my opinion. Cap here is one of the cheaper Venoms at 75 points (you can also play him at 50), and comes stocked with Indomitable, a 4 range, Improved Movement ignoring Elevated and Hindering terrain, and no fewer than three traits. "Alien Symbiote" gives him Plasticity, Shape Change, and auto break away, "Call In Help From The Venomverse!" lets him teleport in a friendly "Venom" character after hitting, and "Eddie, You're Just The Man We Need" lets you use Monster as a named keyword! Captain Venom brings the pain with starting Charge, Quake, and Combat Reflexes, and a special power gives him Leadership and a +1 to attack buff for friendly Monsters who attack after Steve. Mid-dial the Captain feels the effects of the symbiote with Blades/Claws/Fangs and Super Senses, and late-dial he gets Flurry and one final click of Regeneration.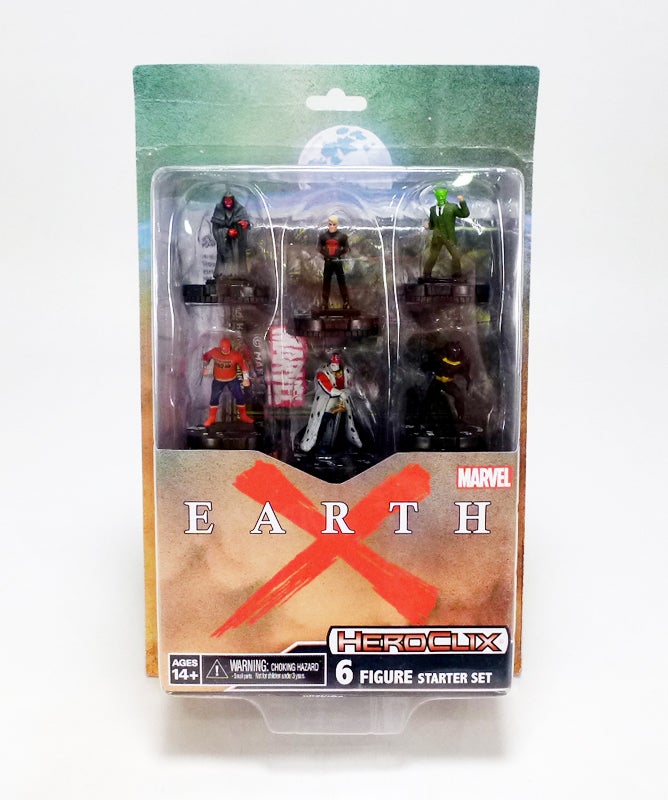 Want even more Earth X? Of course you do! Well, WizKids has the usual array of additional products on the way alongside the main booster expansion. One thing new players are going to find particularly useful is the new Earth X Starter Set! Packed with everything you need to play the game, this pack includes the current HeroClix Core Rulebook (v2018.01) and Powers and Abilities Card, objects, terrain tokens, and dice.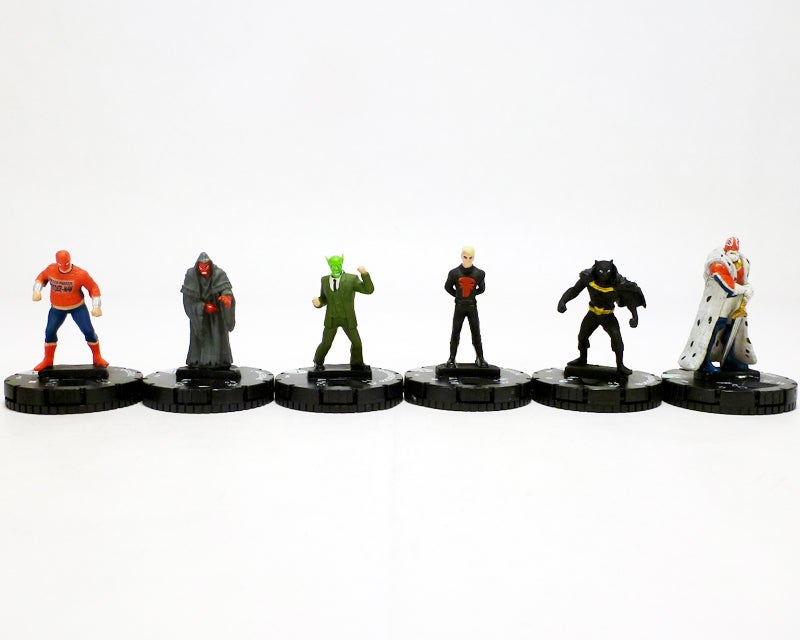 Get into the game with six Earth X figures: Spiders Man, Black Panther, Spider-Man, President Osborn, The Skull, and King Britain. All of these figures share sculpts with their versions in the main booster set, but have all new dials for team building options and additional ways to play these unique and interesting heroes and villains. Each one can be played at 50 points (meaning you have a 300 point team using all six right out of the box), while Black Panther also has a 75 point starting line and both King Britain and Spider-Man a 25 point one.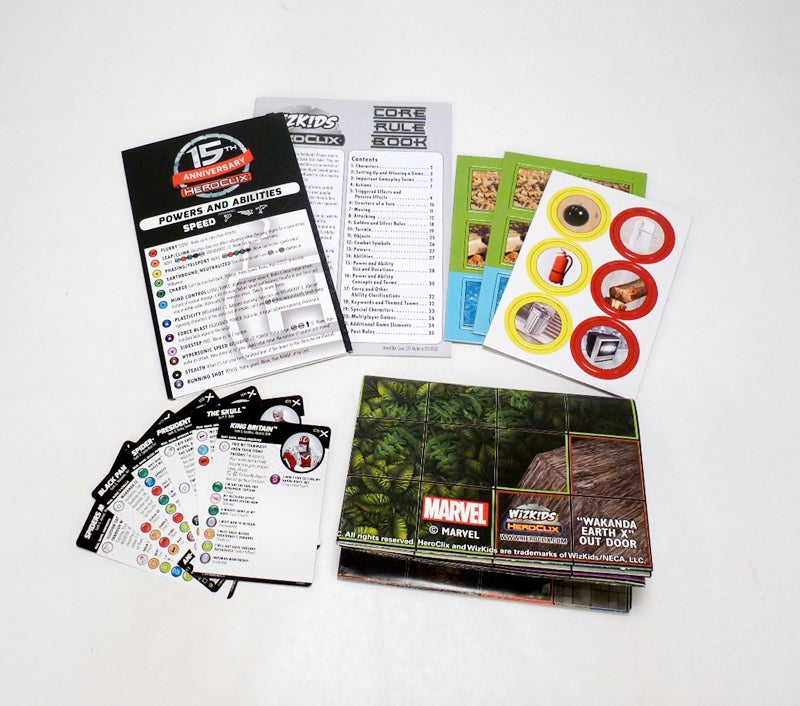 Naturally they all have the Earth X keyword, but you'll also find new options here for your Wakanda, Hydra, Sinister Syndicate, and Excalibur named keyword teams, not to mention generic keywords including Animal, Monster, Ruler, Police, Reporter, Politician, and Mystical. And of course despite having relatively low point values, these figures are highly effective in the current meta even if their dials aren't incredibly long. Spider-Man is the only one of the six without a single special power or trait (though he has no fewer than nine different powers on his dial, plus Improved Movement), while the others have unique abilities like Black Panther's Ani-Men creation trait, and President Osborn hitting enemies with action tokens when he succeeds at Leadership.
Lastly, the Starter includes a double-sided map with the new "Location" rules letting the map winner pay for an added bonus or giving the map roll loser a consolation ability. Wakanda Earth X brings the battle to a lush, and incredibly rendered, outdoor locale with trees, huts, panther statues, water features, and more. The winner here can pay to reroll a Blades/Claws/Fangs use in certain terrain once per turn (with added protection for a Black Panther figure or Animal theme team), while the consolation bonus gives once per game rerolls of a Blades/Claws/Fangs and Super Senses use.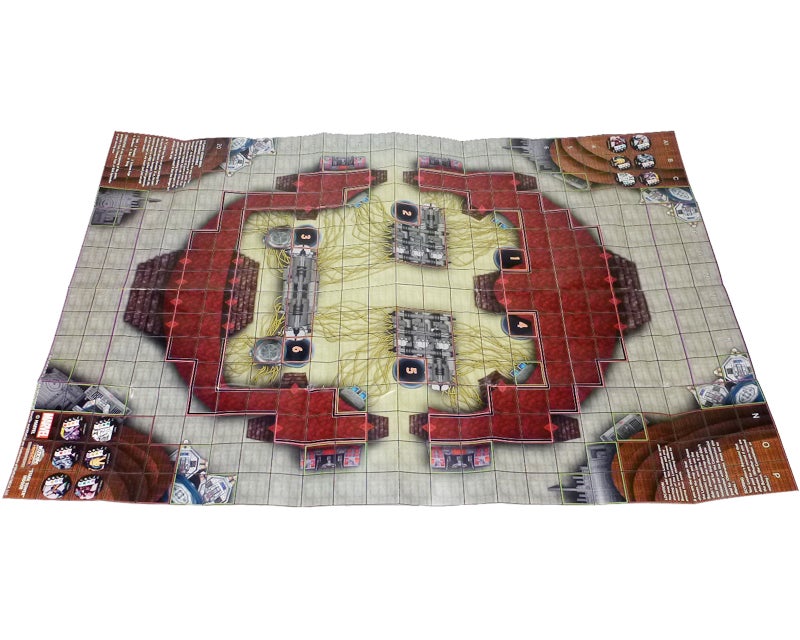 On the other side you'll find Stark Tower with a central battleground surrounded by an elevated rim and plenty of banks of machinery. Here the map winner can opt to give one of their figures the ability to try to summon members of the Iron Avengers (represented by bystander icons on the side of the map, and in pog form in the Dice & Token Pack – see below). On the other hand, if the winner is playing Earth X 056 Iron Man the bonus is free and utilizes the map's slightly different Iron Avengers summoning rules. On the other hand, if the map winner doesn't opt for these then the loser gets the consolation prize of one Iron Avenger added to their team at the beginning of the game.
Something that's somewhat less useful but super fun is the Earth X Dice & Token Pack! This set brings you six light gray and red poker chip-style action tokens featuring shiny artwork of Daredevil, the Skull, X-51, Spiders Man/Spider-Man, Captain America, and Venom.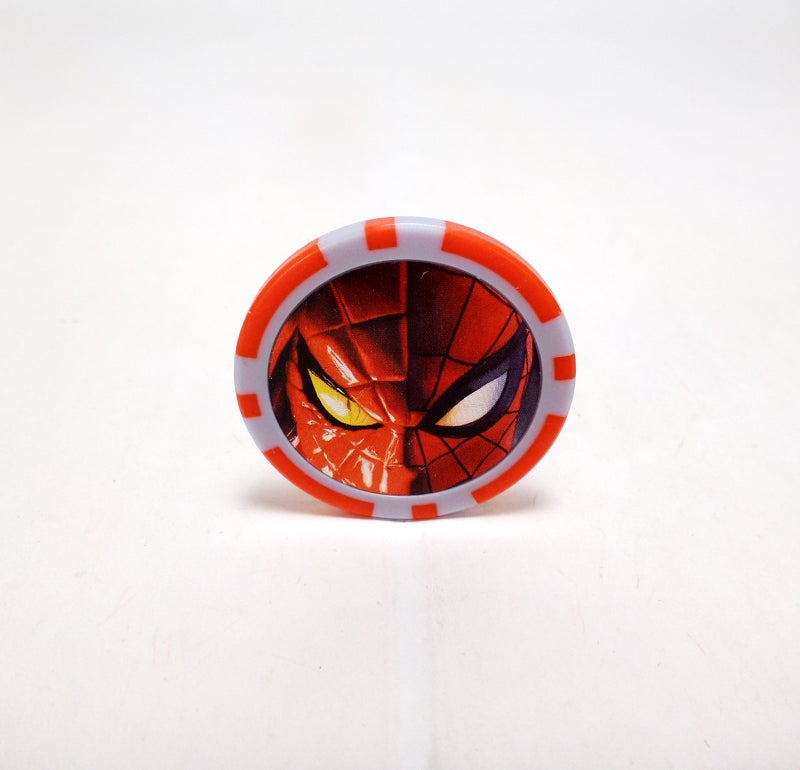 Meanwhile, on the back of the chips is no mere logo, but bystander tokens for the Iron Avengers characters (Tank, Sting, Steelbow, Crimson Sage, Bolt, and Monolith) generated by the super rare Iron Man figure and the Stark Tower map from the Starter Set! The dice in this pack are matching gray with red pips and a silhouette of Captain America on the six sides.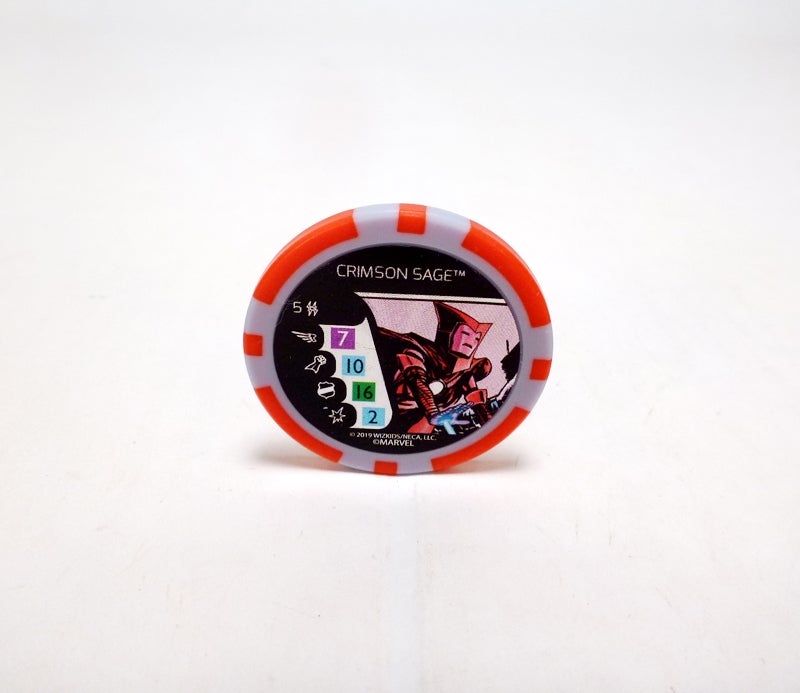 Are you ready to cross universes and visit the strange land known as Earth X? Get your hands on this expansion set, and attendant Starter Set and Dice & Token Pack, when it hits your favorite places to buy HeroClix on February 6th, and check your local venues to get in on exclusive pre-release events running January 23rd to February 5th. Even if you haven't read the tales of Earth X (and you really should; they're fantastic), you'll find some really fun figures in this set who look great and bring interesting mechanics to the game. And if you are a longtime Earth X fan this is the perfect way to collect and play those unique characters and storylines! Check to see if your local venue is on the list on the WizKids Info Network. As always, have fun and good luck with your pulls!
Click here to check out a photo gallery of all the figures from this brick.
Visit HeroClix.com for even more info as well as downloads of rules and maps, and stay tuned to Figures.com as we continue our reviews of new HeroClix!
Review and photos by Scott Rubin
Review samples courtesy of WizKids Games
STARTER SET
DICE & TOKEN PACK
BRICK
---
Keep up with all the latest toy news by following Figures.com on Facebook and Twitter!
To buy action figures, take a look at Hobby Link Japan, BigBadToyStore.com, TheToySource.com, Toynk.com, and BriansToys.com.