Review & Photography by David Yeh
Mark Hamill's The Joker, one of the shining highlights of Batman: The Animated Series has finally received an action figure worthy of Batman's greatest villain. DC Collectibles' highly anticipated The Joker Expressions Action Figure Pack perfectly captures just about any expression that you need him to have. The 32-piece set has, to put it simply, a lot of options. Released this month with a sculpt by Irene Matar, it is THE Joker figure to own.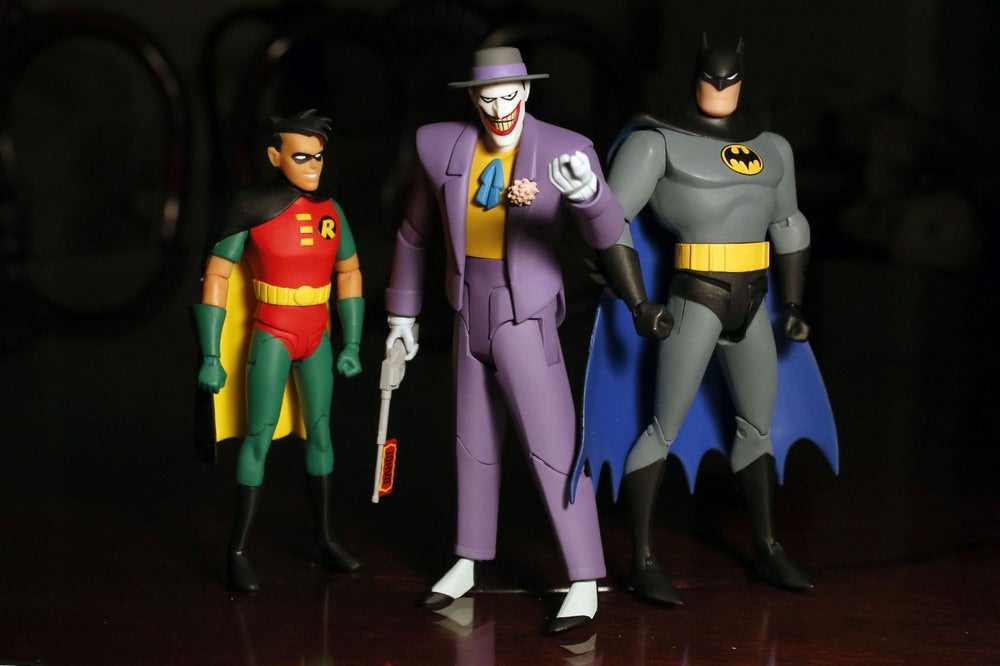 As mentioned already, there are 32 pieces (other sources say 22 but the box says 32) in this set and includes a PVC action figure with eight different head expressions, five pairs of hands, weaponry, duck floaty toy, and a trench coat if you prefer. There's also a deluxe base for optimal posing but Joker can do pretty well standing on his own. All of this comes in an attractive minimalist box where all accessories are nicely displayed. Most everything can be popped out of the plastic tray but there are some twist ties to get through first.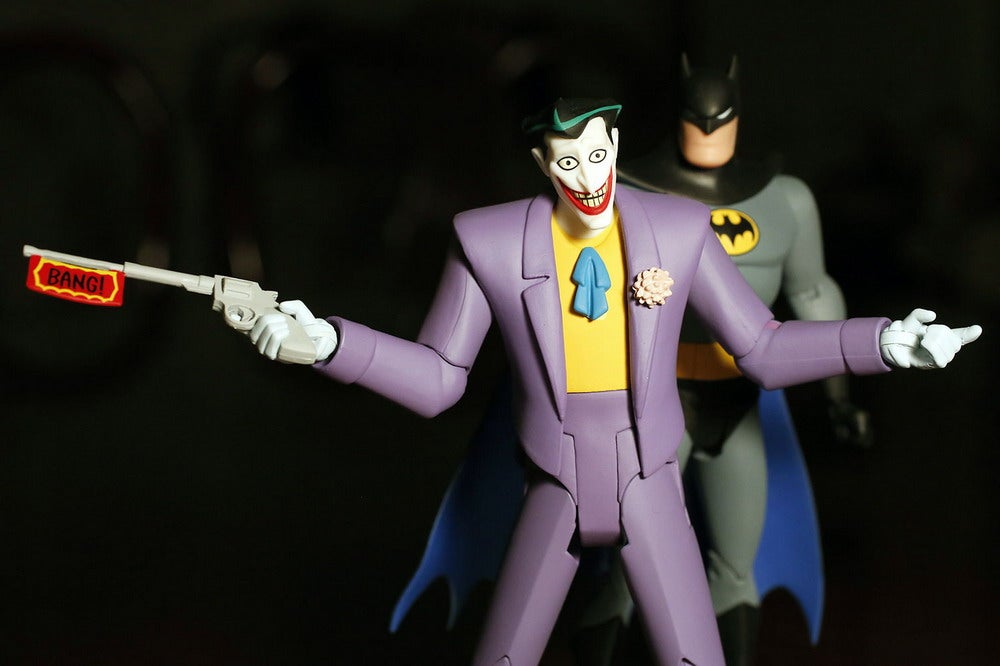 Right out of the box, The Joker is already a perfect figure in his trenchcoat and hat. Changing out of that is easy enough, by simply removing his arms and the trenchcoat, then reattaching the suit jacket and suit arms. I didn't have any issues with any of the limbs, including the hands and head that swapped in and out with relative ease. The Duck Floaty doesn't require anything special, just put the Joker's legs through the hole and it's ready to go.

With eight different heads, the only difficulty is choosing which one you want to use. They're all great but I definitely sided with the one with the hat the most. Paint was clean and sharp throughout the figure and faces with one exception where red lipstick is smudged along his teeth. It's a pretty significant error, but at least there's seven other faces that I can go with instead.
With five pairs of hands, some are best for the Bang Gun/Joker Face Gun, though I did find some difficulty getting a grenade to stay put.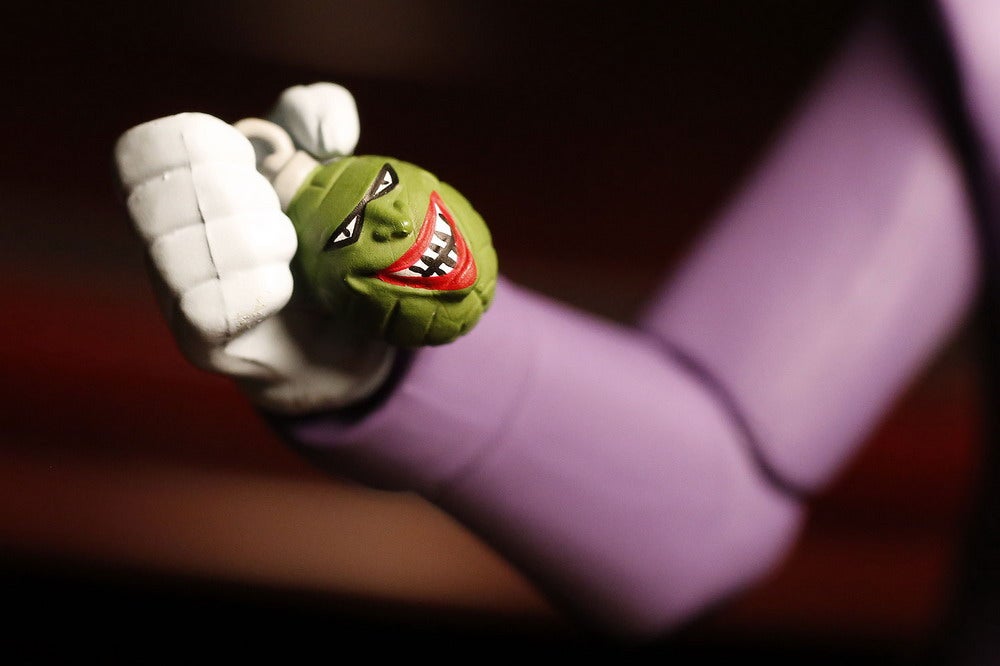 The Joker has 22 points of articulation, which is pretty impressive, though I much prefer the figure just standing instead of in a dynamic pose. With the angular animated designs, they're just sharper when in a neutral stance. There's a standard base which is perfect for standing display and a robotic arm display if you do prefer a more dynamic pose.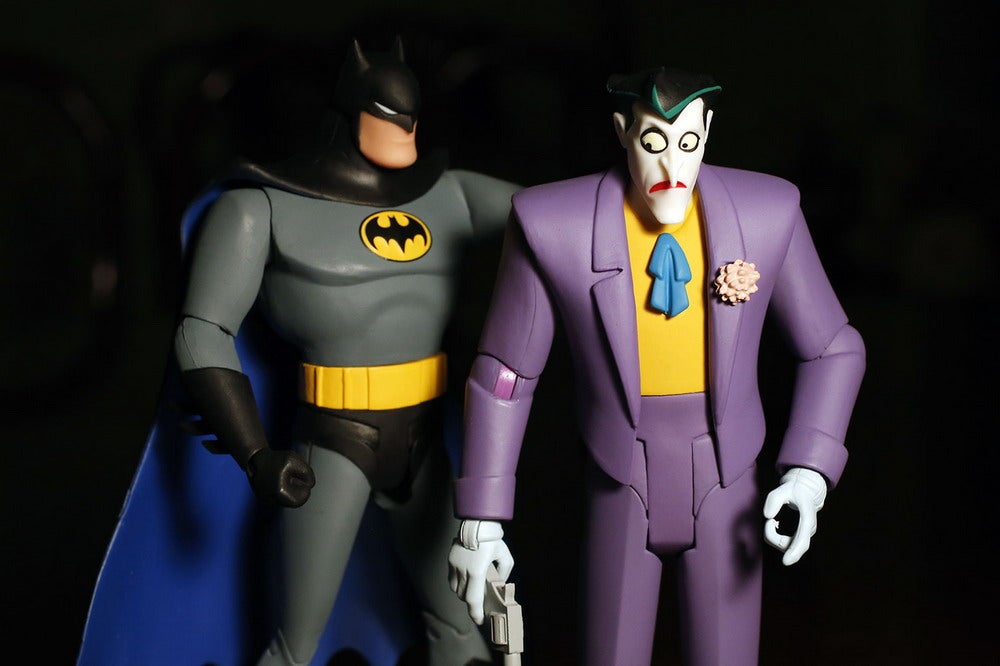 The Joker Expressions is available now and retails for $49.99, but you can sometimes find him for less if you check the various online retailers. With how amazing this set is, it's almost guaranteed that I'll have to pick up the Batman Expressions pack too. No joke.
Review & Photography by David Yeh
Joker Expressions Courtesy of DC Collectibles
---
Keep up with all the latest toy news by following Figures.com on Facebook and Twitter!
To buy action figures, take a look at Hobby Link Japan, BigBadToyStore.com, TheToySource.com, Toynk.com, BriansToys.com, ToyWiz.com, and EntertainmentEarth.com.