Cryptozoic Entertainment has made quite a splash in the collectibles world these last couple years since the company branched out from its traditional gaming sphere.  Fan-favorite licenses like DC Comics and its Bombshells and Ghostbusters got eyes on their products very quickly, and high quality and fun products kept people coming back for more.  Now, Cryptozoic looks to please even more collectors with its upcoming lineup of Street Fighter Knockouts Vinyl Figures!  As we've seen vinyl statues combine a solid feel and lots of detail with a low price point, and that's what you'll find here with Cammy, Chun-Li, and Sakura making up Series 1 of the Knockouts.  These 7 inch stylized figures (designed by Pedro Astudillo and sculpted by Anders Ehrenborg) will be debuting at San Diego Comic-Con next month before a wide release, but we've got a sneak peek at the trio for you today!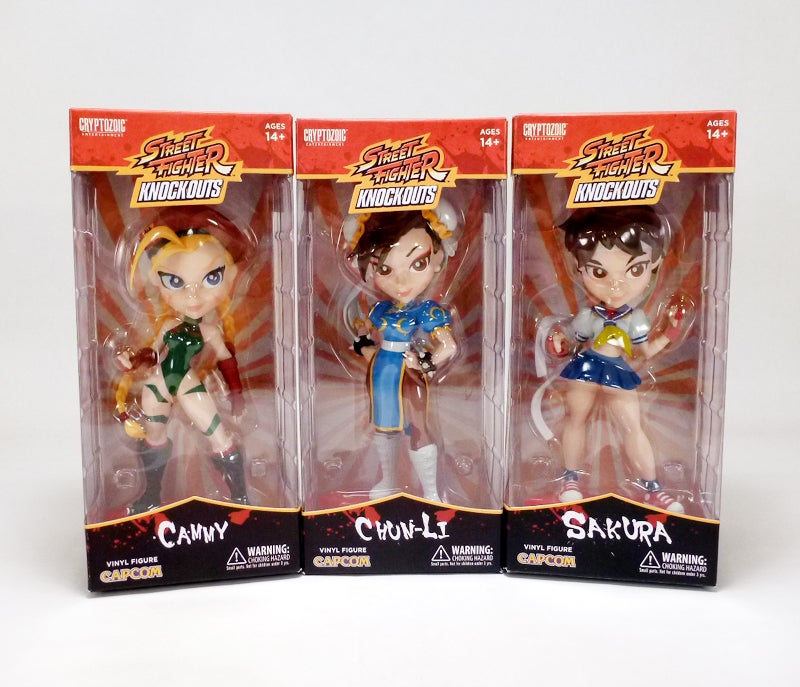 The Street Fighter Knockouts share a standard packaging design, a highly decorated tall window box.  It's got Street Fighter logos all over the place along with Capcom's seal of approval, and each individual character's name is emblazoned on each panel.  The red, yellow, and black color scheme is really eye-catching and with the huge front window showing off the figure inside you definitely could display the box if you're not into opening your toys.  But for the rest of us, well let's dig in and check out these fierce ladies, shall we?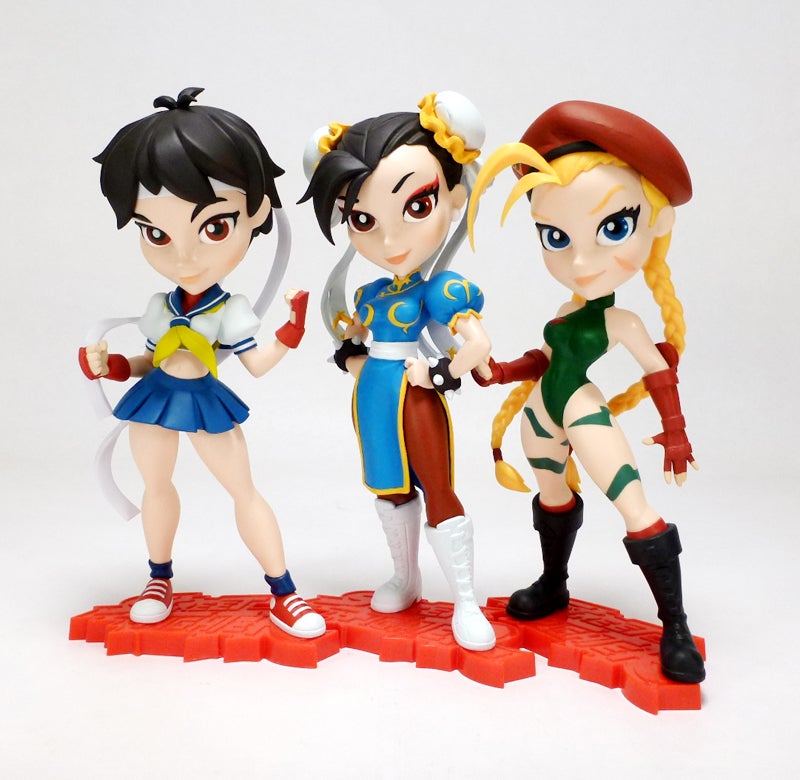 For the first series of Street Fighter Knockouts Cryptozoic went with three of the most popular fighting women right out of the gate.  We've got the classic Chun-Li with her traditional Chinese qipao dress and ox horns hairstyle, young Sakura in her school outfit, and fierce Cammy in green bodysuit with camouflage markings and red beret.  The first thing I noticed about these figures upon freeing them from their packaging was that they are quite heavy.  Again, that's one of the nice things about vinyl figures; they feel substantial and with good bases won't tip over easily.  Each Knockout is approximately 7 inches tall so they'll fit alongside a lot of other statues and figures in your collection, and the exaggerated, stylized look of them is at once fun and tough while honoring the original character designs and not straying into overly sexualized territory.  Each one stands atop (and is attached to) a raised red Street Fighter logo base.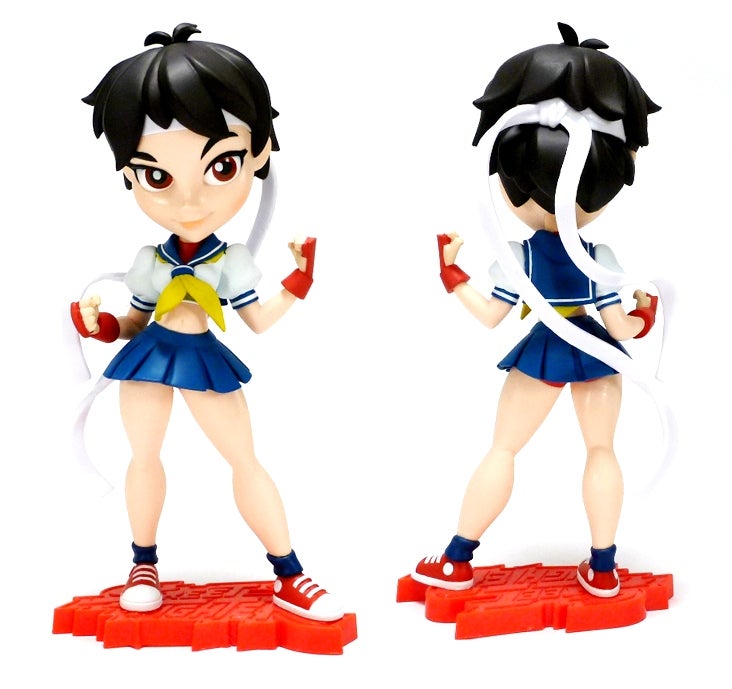 Taking a closer look we'll start with Sakura.  The Japanese girl stands in a fierce pose with her legs spread for balance, hips cocked to one side, and fists up at the ready, but the huge smile on her face shows she's ready for fun.  Her sailor suit is blue and white with a pleated skirt, yellow neckerchief, red underclothes peeking out, red forearm guards and tennis shoes with blue socks, and a white headband wrapped around her short black hair with long tails hanging behind her.  Sakura has good proportions with a large but not too huge head, and I think her smirking face is my favorite of the three.  Along with the others she has a slight blush to her cheeks, and her huge eyes are brown with prominent reflective spots.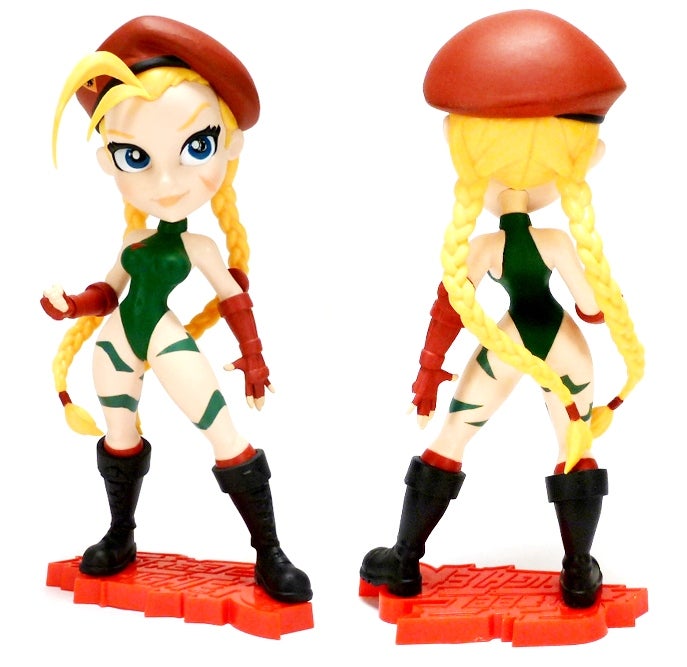 Up next is Cammy, the complicated assassin turned British secret agent.  Her pose seems cocky to me, legs spread wide with a slight lean back and her arms at her sides, one hand clenched in a fist and the other relaxed.  Meanwhile, she turns her head and looks up as if to smile at you with her blue eyes shining.  Cammy's clothing is the most minimal of the bunch with a sleek green thong leotard plus heavy black combat boots over red socks, red forearm guards, and a red beret perched on top of her long blonde hair.  There are some really great details on this figure both sculpted and painted like the logo on her cap and her intricately braided pigtails.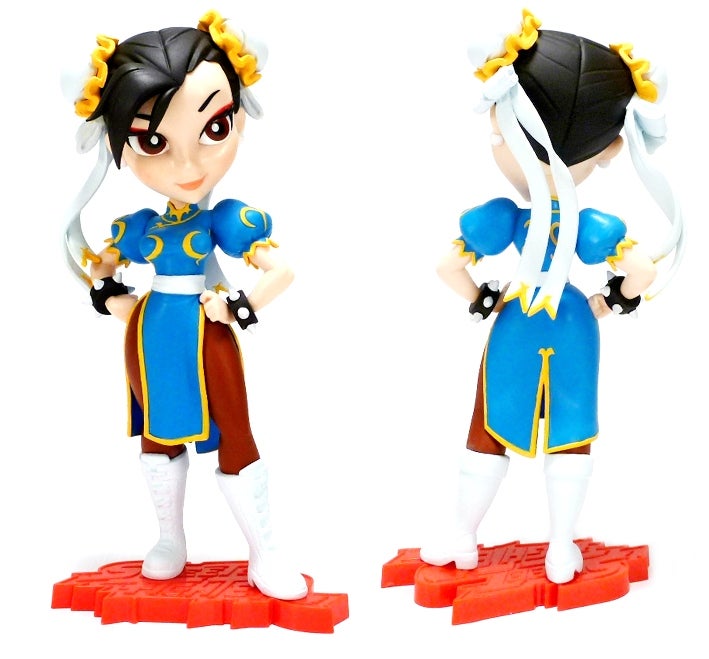 Chun-Li completes the series with a cool look that to me is all about confidence and sophistication.  She shows the least skin with her traditional Chinese clothing yet still has a little cockiness with her pose.  Chun-Li stands with her left leg stuck out, fists at her hips, and her head cocked to the side.  All of her classic design elements are here from the white combat boots and brown tights to the yellow details on her blue qipao, spiked bracelets, and ox horns hairstyle with floating white ribbons.  The fighter's big brown eyes are decorated with daring red makeup, and her nearly immaculate hair has just a few loose tendrils hanging down over her face.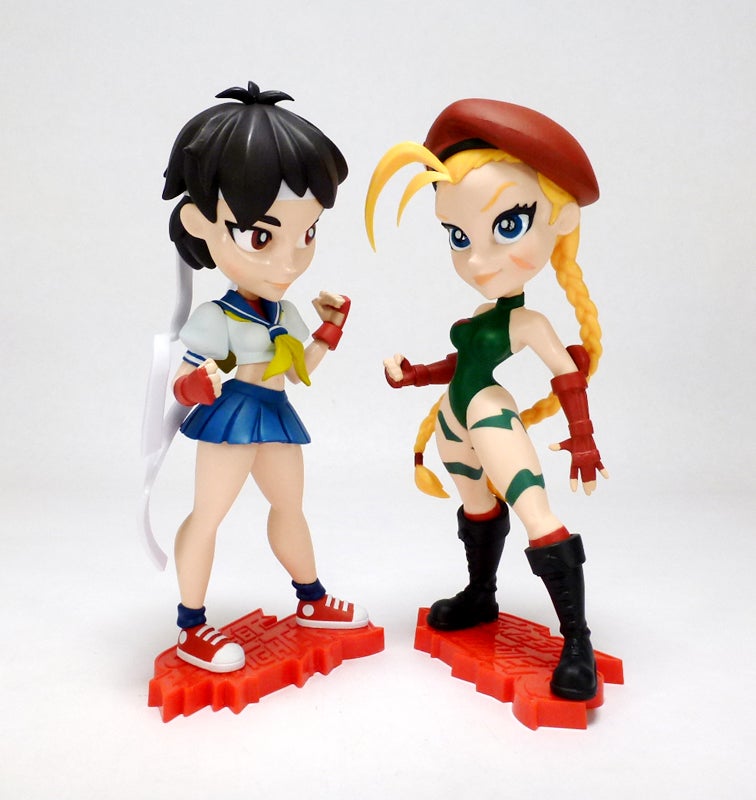 These Street Fighter Knockouts by Cryptozoic are lots of fun and look great.  They're perfect for fans of the fighting game franchise and of these specific characters, but I'd recommend any collector of cool vinyl figures check 'em out.  Series 1 with Cammy, Chun-Li, and Sakura will debut at SDCC before a standard release, and with an MSRP of about $26 each they're a good deal for the size, heft, and detail.  And Cryptozoic is not done; the 7 inch Knockouts will be followed later this year by the first series of Street Fighter Lil Knockouts so keep your eyes out for those.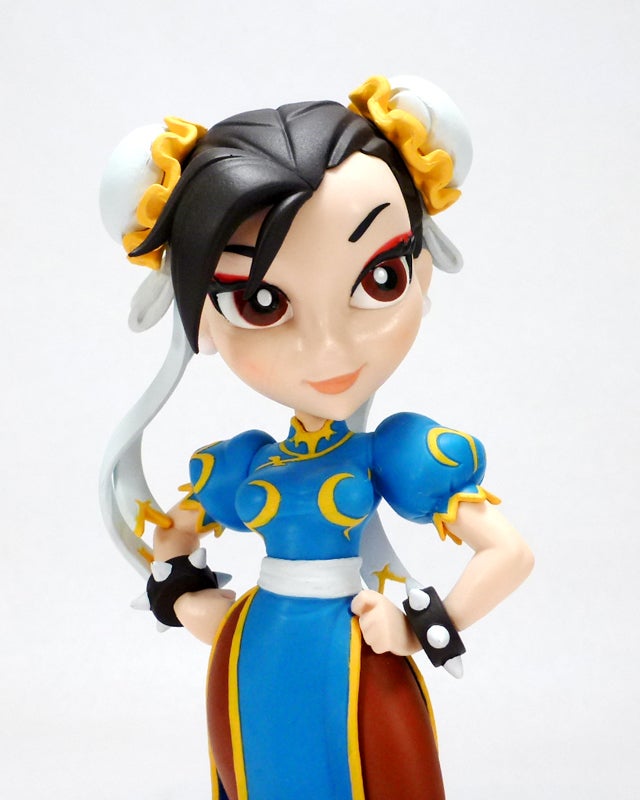 Review and photos by Scott Rubin
Review sample courtesy of Cryptozoic Entertainment
[gallery_bank type="images" format="masonry" title="true" desc="false" responsive="true" display="all" sort_by="random" animation_effect="bounce" album_title="true" album_id="928″]
Keep up with all the latest toy news by following Figures.com on Facebook and Twitter!
To buy action figures, take a look at Hobby Link Japan, BigBadToyStore.com, TheToySource.com, Toynk.com, BriansToys.com, ToyWiz.com, and EntertainmentEarth.com.