Warriors of the Rainbow Blu-ray Giveaway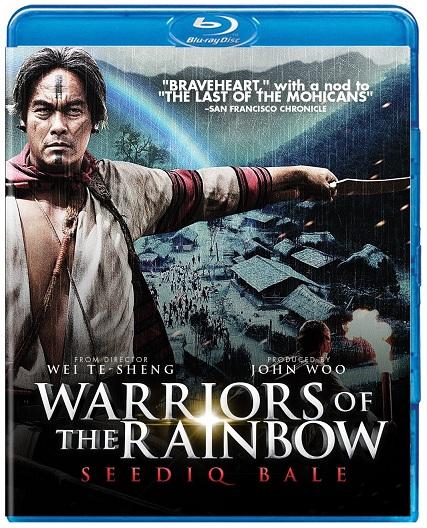 Two lucky winners will each take home the latest international film phenomenon, WARRIORS OF THE RAINBOW: SEEDIQ BALE, on blu-ray. In the mountains of Taiwan, two races clashed in defense of their faiths: one believed in rainbows, the other believed in the sun. Neither side realized they both believed in the same sky. Director Wei Te-Sheng's epic film WARRIORS OF THE RAINBOW: SEEDIQ BALE retells an extraordinary episode from 20th-century history which is little-known, even in Taiwan. Between 1895 and 1945, a Japanese colony inhabited the island of Taiwan and subdued the aboriginal tribes who first settled the land. Seediq leader Mouna Rudo (Lin Ching-Tai) forged a coalition with other tribal leaders and plotted a rebellion against their Japanese colonial masters and while the initial uprising took the Japanese by surprise, they soon sent in their army to crush the rebellion, using aircraft and poison gas. The most expensive Taiwanese film ever made is available on blu-ray and DVD on August 7, 2012 and is produced by John Woo and written and directed by Wei Te-Sheng, whose romantic comedy CAPE NO. 7 received numerous awards and accolades. Now is your chance to own WARRIORS OF THE RAINBOW: SEEDIQ BALE on blu-ray, valued at $29.98.
Simply enter your email address below for your chance to win.
Many will enter, two will win.
Giveaway ends Wednesday, August 8, 2012.
Enter to Win!
LEGAL JARGON
By entering my email address, I understand that I may receive e-mail newsletters from Figures.com and any sponsor of this giveaway detailing news, new product information, sales information, and stock information. No purchase is necessary to win this contest and I can cancel my subscription to the newsletter at anytime. The winners must allow product to arrive in stock and at least 2 - 4 weeks after announcement of winner/s to receive prize. Winner must provide exact street address or shipment of prize will be delayed. Prize will be shipped free to any address located within the U.S.A. International winners must pay exact shipping in order to claim prize. All taxes are the responsibility of the winner. All prizes are non-transferable, with no cash redemptions and no substitutions. All international winners will be responsible for the shipping, duties, tariffs, taxes or import fees assessed to their prize. Some countries outside of the U.S. do not have reliable mail services. In the event that a prize has been stolen or mishandled during shipment, Figures.com will not be held accountable.
RULES
- You may only enter once. Multiple entries will be discarded.
- Giveaway ends 2012-08-08.
- Winners will be chosen randomly from all entries and will be notified via e-mail provided.
- All questions should be directed to: contests @ figures.com