X-Men: First Class DVD Giveaway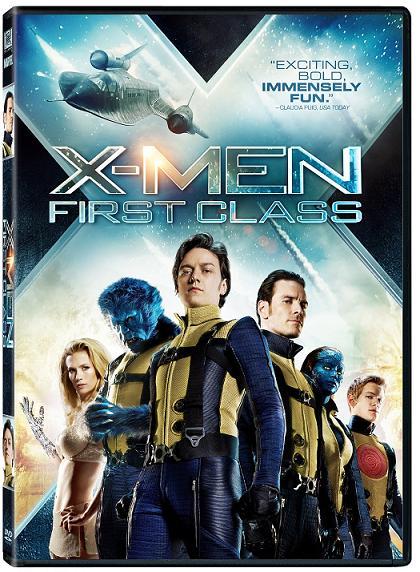 Before they were superheroes, the fate of humanity depended on an extraordinary group of youngsters who went on to become X-MEN: FIRST CLASS. Based on the international bestselling Marvel Comics franchise, this box office hit bursts onto home video Friday, September 9th from Twentieth Century Fox Home Entertainment. Now, two lucky winners will each take home a copy of the new, fan-favorite and critically-acclaimed film X-MEN: FIRST CLASS on DVD, valued at $29.98. All you have to do is enter your email address in the space below and you'll be entered!
Giveaway ends Friday, September 16, 2011. Thousands will enter, two will win!
About X-MEN: FIRST CLASS: Before Charles Xavier (McAvoy) and Erik Lensherr (Fassbender) took the names Professor X and Magneto, they were two young men discovering their powers for the first time, working together to stop the greatest threat the world has ever known. The film features a star-studded supporting cast, including Academy Award®-nominee Jennifer Lawrence (Winter's Bone), January Jones ("Mad Men"), Rose Byrne (28 Weeks Later), Zoë Kravitz ("Californication"), Nicholas Hoult (A Single Man), Lucas Till (Walk the Line), and Emmy Award®-nominee Oliver Platt ("The West Wing"). Special guest cameos by both Hugh Jackman and Rebecca Romijn can also be spotted in the film.
Enter to Win!
LEGAL JARGON
By entering my email address, I understand that I may receive e-mail newsletters from Figures.com and any sponsor of this giveaway detailing news, new product information, sales information, and stock information. No purchase is necessary to win this contest and I can cancel my subscription to the newsletter at anytime. The winners must allow product to arrive in stock and at least 2 - 4 weeks after announcement of winner/s to receive prize. Winner must provide exact street address or shipment of prize will be delayed. Prize will be shipped free to any address located within the U.S.A. International winners must pay exact shipping in order to claim prize. All taxes are the responsibility of the winner. All prizes are non-transferable, with no cash redemptions and no substitutions. All international winners will be responsible for the shipping, duties, tariffs, taxes or import fees assessed to their prize. Some countries outside of the U.S. do not have reliable mail services. In the event that a prize has been stolen or mishandled during shipment, Figures.com will not be held accountable.
RULES
- You may only enter once. Multiple entries will be discarded.
- Giveaway ends 2011-09-30.
- Winners will be chosen randomly from all entries and will be notified via e-mail provided.
- All questions should be directed to: contests @ figures.com