The Avengers: Earth's Mightiest Heroes DVD Giveaway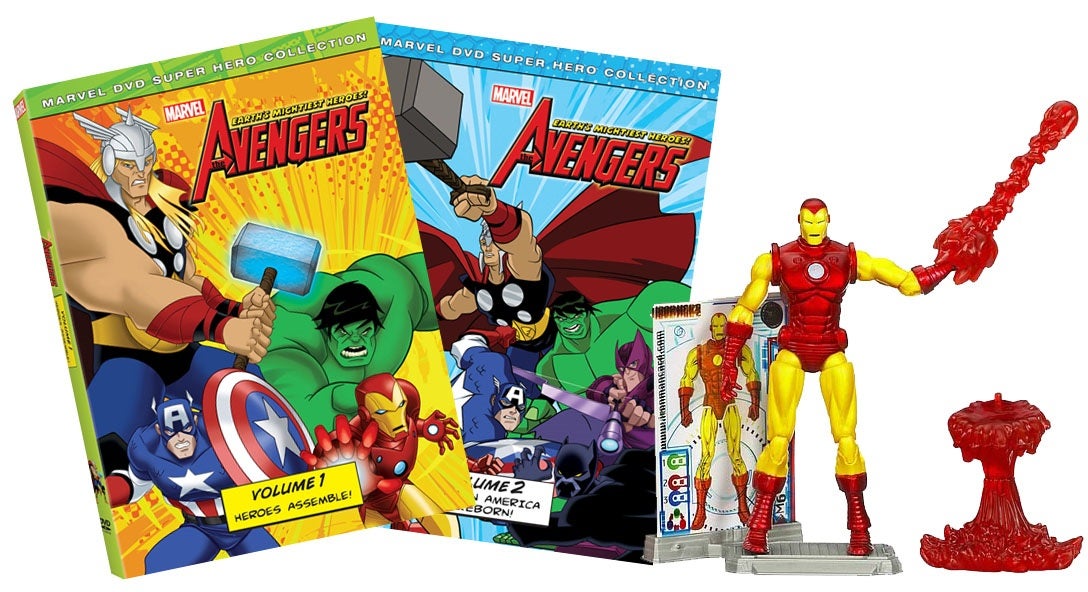 If the planet is threatened by super villains, time traveling conquerors, alien invaders, mythical beasts, or robots bent on the total destruction of humanity, if the forces of evil are so overwhelming that no single hero has the power to save the world, when there is no hope left, there's only one thing to say "AVENGERS ASSEMBLE!"
Thanks to Walt Disney Video, two lucky fans will take home the fan-favorite animated series The Avengers: Earth's Mightiest Heroes Vol 1 & 2 DVDs, available on Tuesday, April 26. Valued at $19.99 each, these two DVDs include every episode from the first season of this awesome animated series featuring the Earth's mightiest heroes: the Hulk, Captain America, Iron Man, Hawkeye, Thor, Black Panther, Black Widow and more! As an added bonus and thanks to Entertainment Earth, both winners will also take home an awesome Marvel Universe Iron Man action figure, valued at $7.99.
The Avengers are the greatest heroes in the Marvel Universe and now you can watch as they take on unbeatable foes and hold back the storm of evil! But enter now, the giveaway ends on Saturday, April 30!
Enter to Win!
LEGAL JARGON
By entering my email address, I understand that I may receive e-mail newsletters from Figures.com and any sponsor of this giveaway detailing news, new product information, sales information, and stock information. No purchase is necessary to win this contest and I can cancel my subscription to the newsletter at anytime. The winners must allow product to arrive in stock and at least 2 - 4 weeks after announcement of winner/s to receive prize. Winner must provide exact street address or shipment of prize will be delayed. Prize will be shipped free to any address located within the U.S.A. International winners must pay exact shipping in order to claim prize. All taxes are the responsibility of the winner. All prizes are non-transferable, with no cash redemptions and no substitutions. All international winners will be responsible for the shipping, duties, tariffs, taxes or import fees assessed to their prize. Some countries outside of the U.S. do not have reliable mail services. In the event that a prize has been stolen or mishandled during shipment, Figures.com will not be held accountable.
RULES
- You may only enter once. Multiple entries will be discarded.
- Giveaway ends 2011-04-30.
- Winners will be chosen randomly from all entries and will be notified via e-mail provided.
- All questions should be directed to: contests @ figures.com