Tron Blu-ray/DVD Giveaway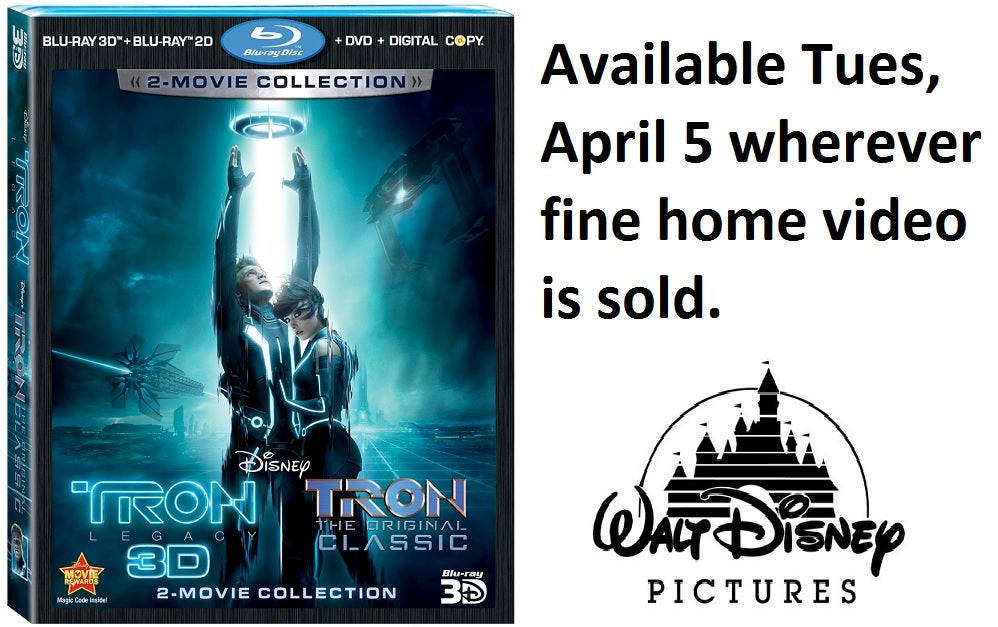 Thanks to Disney Home Entertainment, two lucky winners will each take home a copy of the five disc 3-D Blu-ray/Blu-ray/DVD/Digital Copy set of the most exciting and special effects filled film of the year - Tron: Legacy and the Tron: The Original Classic.
Available on Tuesday, April 5 from all fine home video retailers, this set helps you immerse yourself in the digital world of TRON. Celebrated actor Jeff Bridges stars as Flynn in this revolutionary visual effects adventure that'll blow your mind. When Flynn, the world's greatest video game creator, sends out a secret signal from an amazing digital realm, his son discovers the clue and embarks on a personal journey to save his long-lost father. With the help of the fearless female warrior Quorra, father and son reunite and venture through an incredible cyber universe to fight in the ultimate battle of good versus evil.
Special features include:
• First Look at TRON: Uprising, the new Disney XD animated series!
• Visualizing TRON - How did the filmmakers bring to life the gorgeous world inside the GRID?
• Installing the cast - Hear from all the stars of TRON: Legacy and their experience in making the movie
• The Next Day: Flynn Lives Revealed - What happens immediately following the end of the movie? What is Flynn Lives and who is responsible for their efforts?
• TRON: Disney Second Screen - Using your iPad or computer, watch the movie with exclusive interactive elements available on your 2nd screen
• Launching the Legacy - Beyond the amazing visuals is a rich story filled with an entire world's history and mythology. Discover how the writers and filmmakers created this complex fiction • Disc Roars - Watch director Joseph Kosinski use the raucous crowd at Comic-Con to record actual ADR for the disc game stadium crowd
• Music video - "Derezzed" written, produced, and performed by Daft Punk
Bring home an unrivaled entertainment experience with TRON: Legacy in jaw-dropping Disney Blu-ray 3D! Valued at $79.99, two lucky winners will each take home this amazing five disc set.
Giveaway ends Friday, April 8, 2011. Get on the grid today and enter your email address in the space below for your chance to win!
Enter to Win!
LEGAL JARGON
By entering my email address, I understand that I may receive e-mail newsletters from Figures.com and any sponsor of this giveaway detailing news, new product information, sales information, and stock information. No purchase is necessary to win this contest and I can cancel my subscription to the newsletter at anytime. The winners must allow product to arrive in stock and at least 2 - 4 weeks after announcement of winner/s to receive prize. Winner must provide exact street address or shipment of prize will be delayed. Prize will be shipped free to any address located within the U.S.A. International winners must pay exact shipping in order to claim prize. All taxes are the responsibility of the winner. All prizes are non-transferable, with no cash redemptions and no substitutions. All international winners will be responsible for the shipping, duties, tariffs, taxes or import fees assessed to their prize. Some countries outside of the U.S. do not have reliable mail services. In the event that a prize has been stolen or mishandled during shipment, Figures.com will not be held accountable.
RULES
- You may only enter once. Multiple entries will be discarded.
- Giveaway ends 2011-04-08.
- Winners will be chosen randomly from all entries and will be notified via e-mail provided.
- All questions should be directed to: contests @ figures.com