It's a new week… and a new batch of Diamond Select Toys collectibles arriving at retailers! Characters from Marvel Comics, Marvel Movies, Alien: Covenant, Batman Beyond, Batman: The Animated Series, The Nightmare Before Christmas, National Lampoon's Vacation and the world of H.P. Lovecraft! Check them all out below…
Alien Covenant Xenomorph Vinyl Bust Bank (Pictured Top)
Run! Hide! Save! If you're planning a new life on a distant planet, there's no better way to save up for the trip than with this new vinyl coin bank based on Alien: Covenant! The new film features an even creepier batch of xenomorphs, and this approximately 7" bust captures the creature in exquisite detail. Featuring collectible-quality paint and sculpting, this vinyl bank features a coin slot on the back, and an access door in the base, and comes packaged in a clear polybag. Sculpted by Eli Livingston! (Item # JUN172644, SRP: $22.99)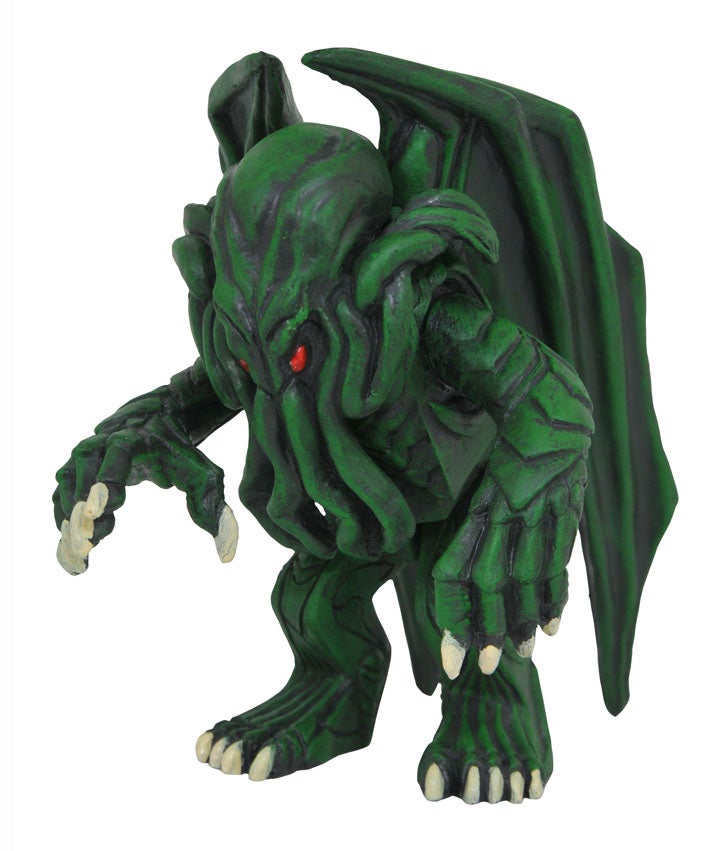 Cthulhu Vinimates Vinyl Figure
It's 2017, and Cthulhu has a new look for a new year! "Old god" and literary superstar Cthulhu is the latest 4-inch figure to join the Vinimates vinyl figure line. With an articulated neck, he can cast his gaze at the faithful and unfaithful alike, summoning all to join his shambling host! Packaged in a full-color window box, Cthulhu is the perfect addition to your Vinimates or Cthulhu collection and will tower over your Minimates mini-figures! Sculpted by Eli Livingston! (Item #AUG172648, SRP: $9.99)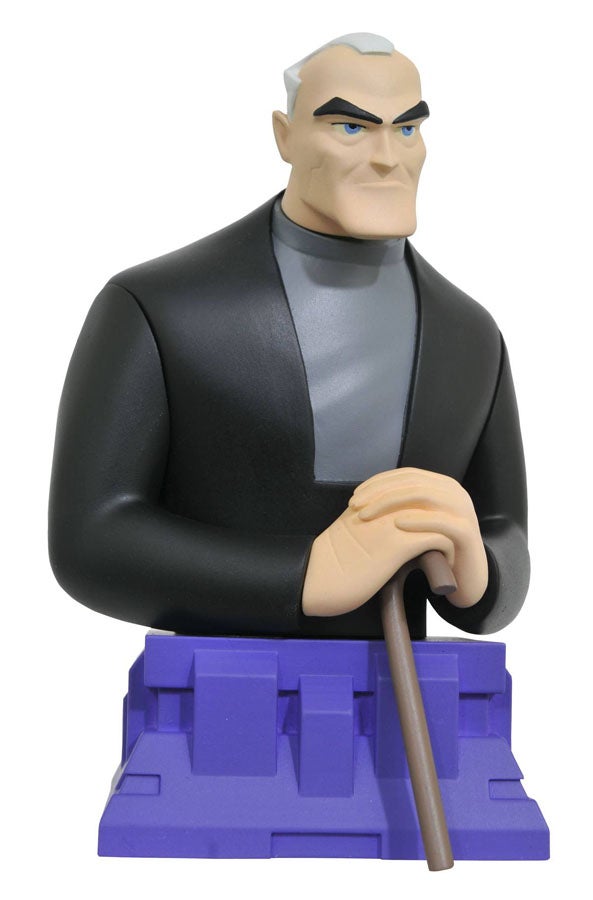 Batman Beyond Bruce Wayne Resin Bust
Time to go back to the future… the future of Gotham City! Not long from now, Gotham has transformed into a high-tech town, and a high-tech Batman has risen to fight the criminal element. Bruce Wayne is retired, but he mentors the new Batman and keeps him informed on old threats when they resurface. This approximately 6-inch resin bust of Bruce Wayne depicts him as he appears in Batman Beyond, and sits on top of a pedestal base inspired by the city's ultra-modern architecture. Limited to only 3,000 pieces, it comes packaged in a hand-numbered, full-color box with a certificate of authenticity. Sculpted by Varner Studios! (Item # JUL172790, SRP: $59.99)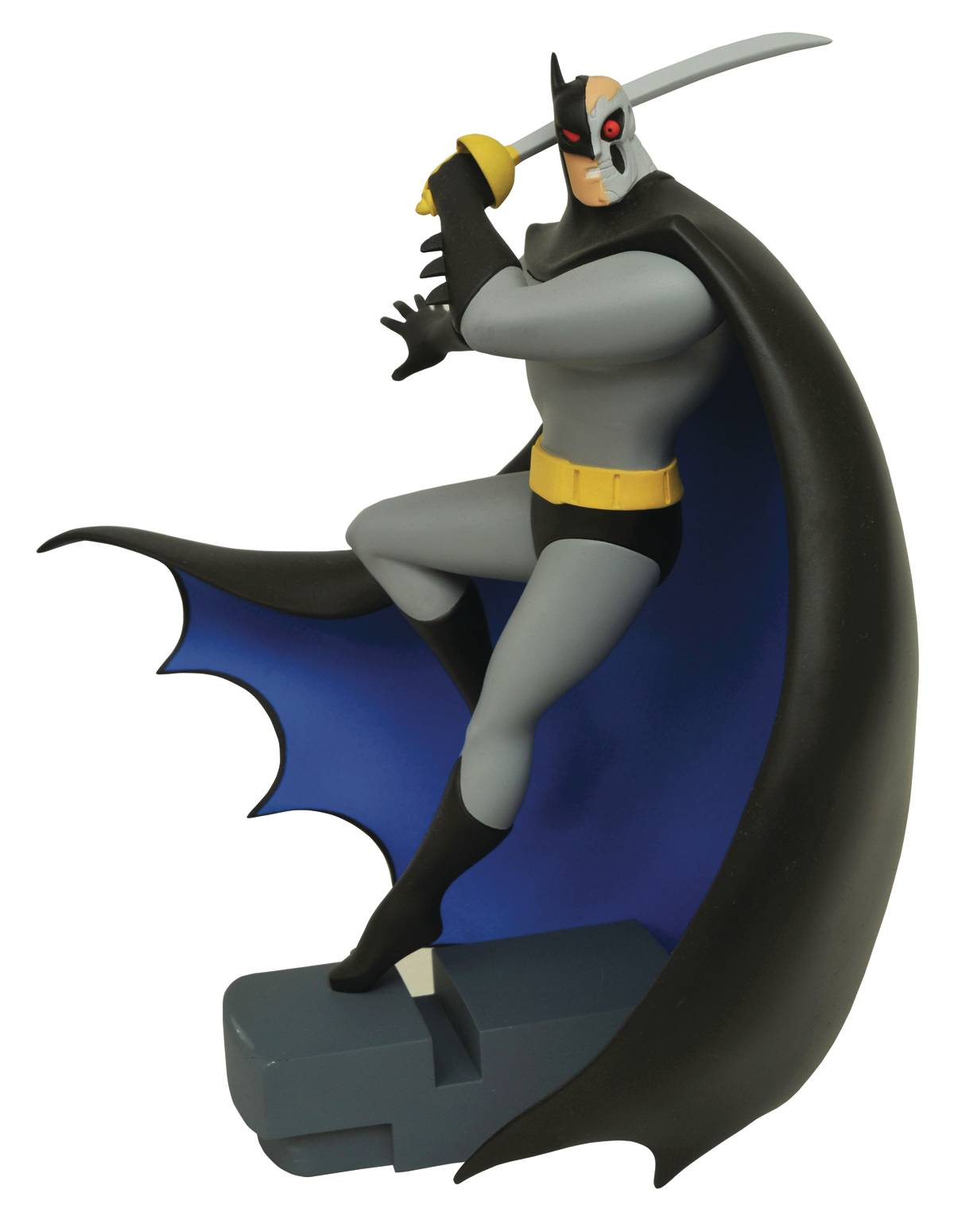 DC Gallery Batman Animated HARDAC PVC Diorama
There is only one Batman now! The Batman duplicate created by HARDAC, the Holographic Analytical Reciprocating DigitAl Computer, is back, and he's looking to replace all of humanity with robots! Based on the episode "His Silicon Soul," this 11″ PVC diorama features new sculpted details revealing the circuitry behind HARDAC's Batman costume, and arms him with a scimitar sword from Batman's own armory! HARDAC is in scale to all Gallery and Femme Fatales PVC figures and comes packaged in a full-color window box. Sculpted by Varner Studios! (Item #MAR172723, SRP: $45.00)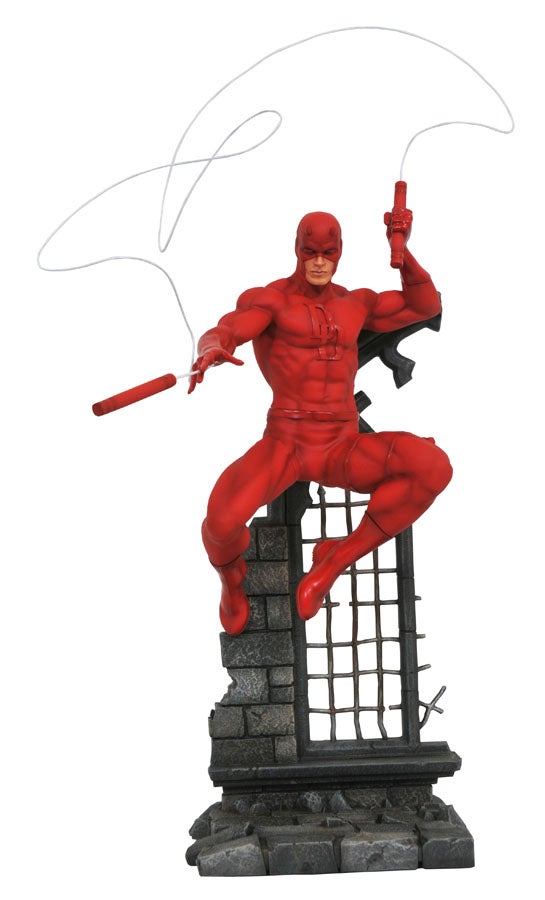 Marvel Gallery Daredevil Comic PVC Diorama
Have you started your Gallery? The Marvel Gallery line has offered characters from Marvel comics, movies and TV, but the newest character has made his mark on all three! Based on his comic book appearance, this 9" scale PVC diorama of Daredevil shows the Devil of Hell's Kitchen leaping from a church rooftop and letting fly with one of his billy clubs. Measuring approximately 11 inches tall, this figure is in scale to all Gallery and Femme Fatales PVC figures, and comes packaged in a full-color window box. Sculpted by Ramirez Studios! (Item #JUN172633, SRP: $45.00)
Marvel Gallery Jessica Jones Netflix TV PVC Diorama
Defenders Assemble! Joining Luke Cage and Daredevil, Jessica ones is the third member of the Defenders to join the Marvel Gallery PVC Diorama line-up! Measuring approximately 11 inches tall atop a New York City-inspired diorama base, Jessica Jones wears her trademark scarf and jacket, and features the likeness of actress Krysten Ritter from the Jessica Jones Netflix TV series. She is in scale to other Marvel Gallery and Femme Fatales PVC Dioramas, and comes packaged in a full-color window box. Sculpted by Varner Studios! (Item #JUL172795, SRP: $45.00)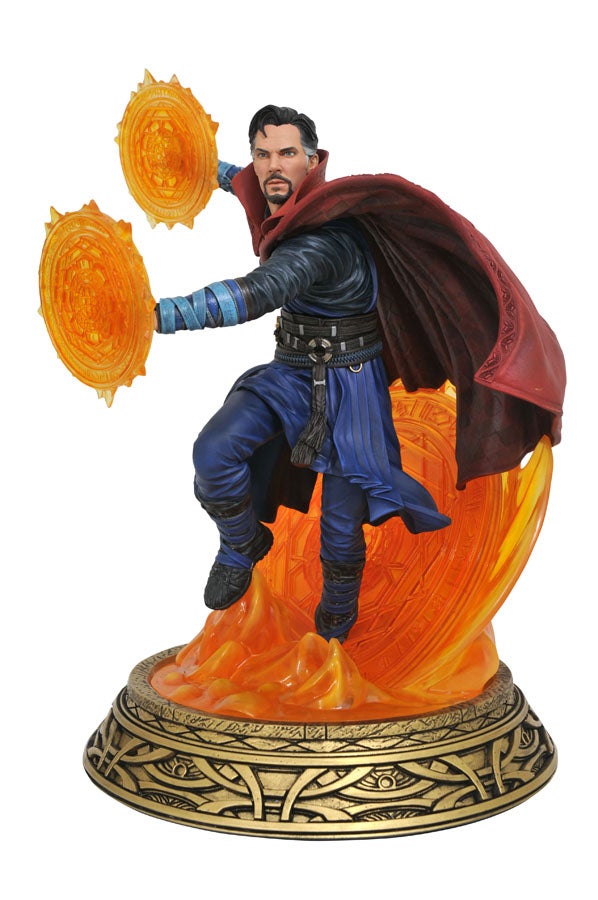 Marvel Milestones Doctor Strange Movie Resin Statue
By the Vishanti! Doctor Stephen Strange has cemented his space in the Marvel Cinematic Universe, and now he has teleported into the Marvel Milestones statue line! Leaping from a portal, Doctor Strange casts spells with both hands in this dynamic statue featuring detailed paintwork as well as translucent sculpted effects. This approximately 14.5" resin statue is limited to only 1,000 pieces, and comes packaged in a full-color box with a certificate of authenticity. Sculpted by Gentle Giant Studios! (Item #MAY172527, SRP: $225.00)
Marvel Minimates Black Panther Movie Box Set
It came from Wakanda! The highly anticipated Marvel Studios film Marvel's Black Panther joins the Marvel Minimates Universe with this exclusive box set! Featuring Black Panther, M'Baku, Killmonger and Shuri, this set of four 2-inch Minimates mini-figures features 14 points of articulation on each figure, as well as fully interchangeable parts. Packaged in a full-color window box. (Item #SEP172485, SRP: $24.99)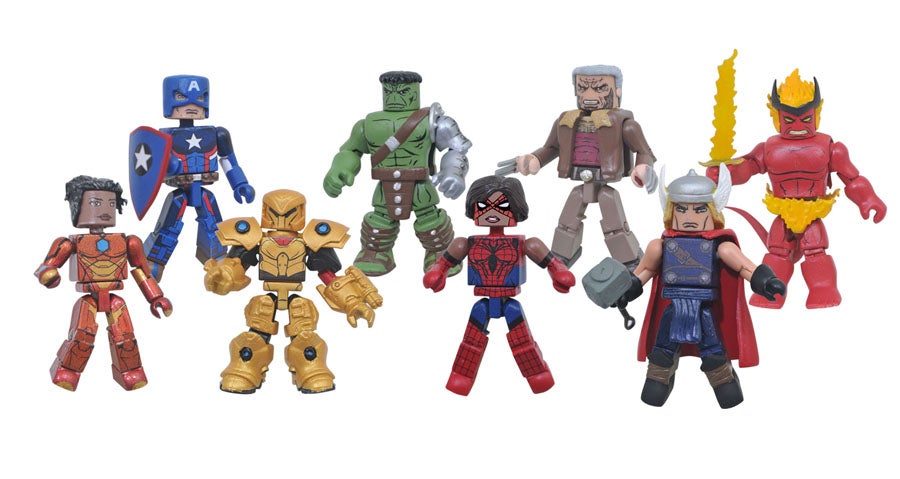 Marvel Minimates Series 74 Greatest Stories 2-Pack Asst.
The record-setting 74th series of Marvel Minimates is one for the ages, and it's only available at comic shops and specialty stores! Spanning four different storylines from Marvel's history, this assortment of four two-packs captures four of the greatest Avengers in four of their most epic battles, with four new outfits and four never-before-made opponents! From the "Surtur Saga," Ages of Thunder Thor takes on the first-ever Surtur Minimate! From "Planet Hulk," King Hulk takes on the first-ever Red King! From "Old Man Logan," Logan takes on the never-made Ashley Barton Spider-Girl! And from "Secret Empire," Agent of Hydra Captain America takes on the all-new Ironheart! Each 2" Minimates mini-figure features up to 14 points of articulation, as well as fully interchangeable parts! Each 2-pack comes packaged in a full-color window box. (Item # AUG172641, SRP: $9.99/ea.)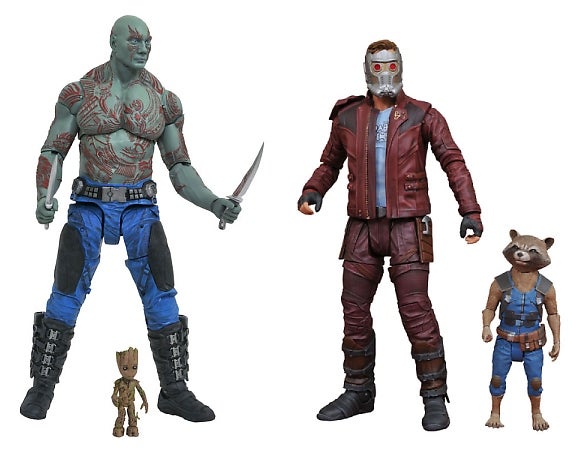 Marvel Select Guardians of the Galaxy Vol. 2 Movie Action Figures
You're welcome! The Guardians of the Galaxy have been one of the most requested additions to the Marvel Select action figure line of the past few years, and now DST is happy to announce figures of Star-Lord and Drax the Destroyer from Guardians of the Galaxy Vol. 2! Measuring approximately 7 inches tall, each figure is based on the actor's appearance in the new film, and comes with a bonus articulated figure — Star-Lord comes with Rocket and Drax comes with baby Groot! Sculpted by Gentle Giant Studios!
Star-Lord with Rocket (Item #JAN172662, SRP: $24.99)
Drax with Groot (Item #JAN172663, SRP: $24.99)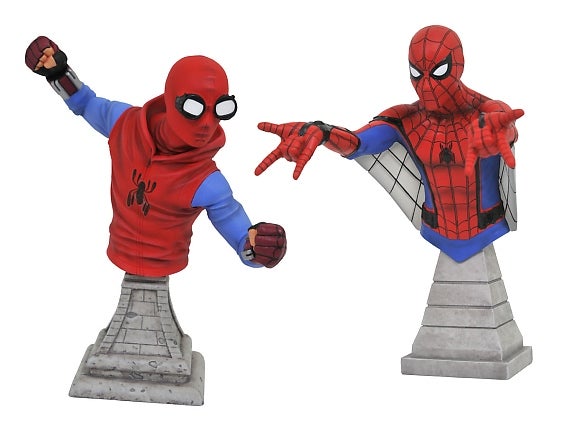 Marvel Spider-Man Homecoming Movie Resin Busts
It's almost time for Homecoming! The first Spider-Man film to be part of the Marvel Cinematic Universe is almost here, and DST is commemorating the occasion with to resin busts based on the film! One depicts Spidey in his high-tech suit, with web wings, while the other shows him in his homemade suit. Each measures approximately 6 inches tall and sits atop a pedestal inspired by New York architecture. Each comes packaged in a hand-numbered, full-color box with a certificate of authenticity. Sculpted by Gentle Giant!
Homemade Spider-Man Suit (Item # JUL172798, SRP: $59.99)
Web-Glider Spider-Man (Item # JUL172799, SRP: $59.99)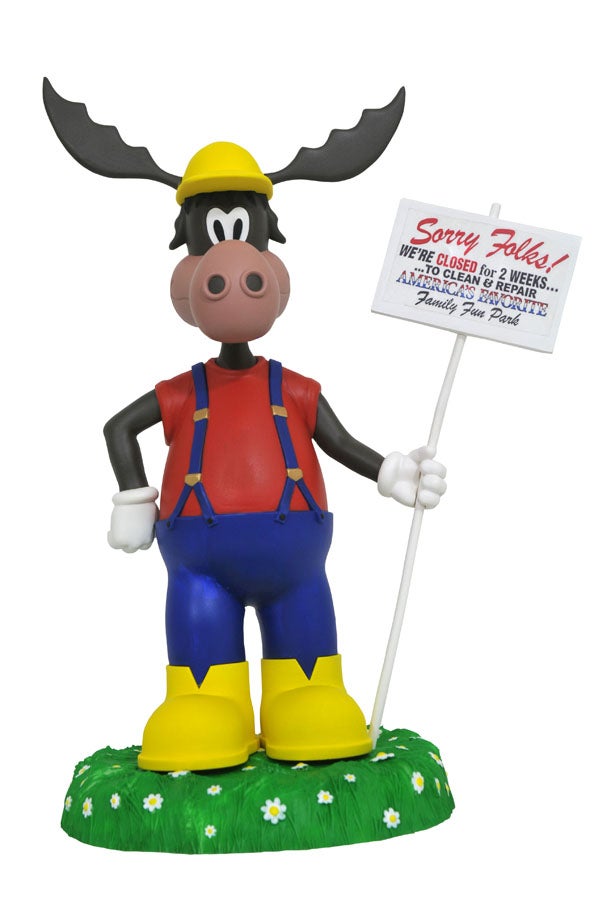 National Lampoon's Vacation Marty Moose Vinyl Bank
Who's the moosiest moose we know? Marty Moose! The beloved mascot of WalleyWorld, who greeted the Griswolds upon their arrival at the magical theme park, is now the latest vinyl bank to come from Diamond Select Toys! Measuring approximately 8 inches tall, Marty will help you save up for your own family vacation, with a coin slot in his back and an access door in the base. Featuring collectible-quality paint and sculpting, Marty comes packaged in a clear polybag. Sculpted by Oluf Hartvigson! (Item #JUN172646, SRP: 22.99)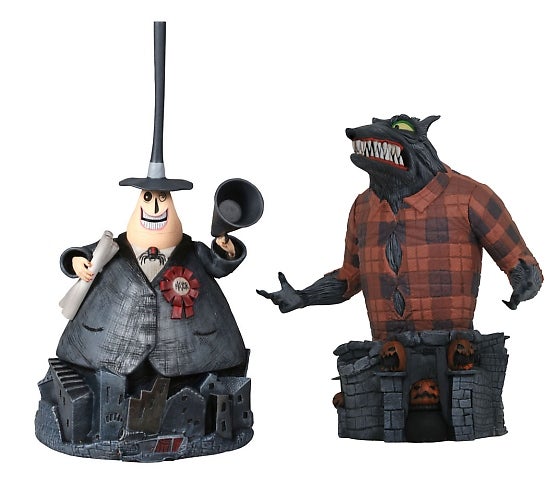 Nightmare Before Christmas Resin Busts
Meet the Mayor of your collectible shelf! Joining Jack and Sally, these highly detailed resin busts of the Mayor and the Wolfman from Tim Burton's The Nightmare Before Christmas each measure approximately 6 inches tall and sit atop detailed bases depicting the buildings of Halloween Town. Limited to only 3,000 pieces each, they each come packaged with a numbered certificate of authenticity in a full-color, hand-numbered box. Sculpted by Joe Menna!
Mayor Bust (Item #JUN172627, SRP: $59.99)
Wolfman Bust (Item #JUN172628, SRP: $59.99)
New DST 1-3-18
Keep up with all the latest toy news by following Figures.com on Facebook and Twitter!
To buy action figures, take a look at Hobby Link Japan, BigBadToyStore.com, TheToySource.com, Toynk.com, BriansToys.com, ToyWiz.com, and EntertainmentEarth.com.