BLAST FROM THE PAST
Cobra Helicopter Attack Deluxe Mission Gear
Released in 1993, large window box set includes: Blue flight suit with gray vest, Black pilot helmet, Face mask w/hose, Helicopter back pack, Bazooka w/projectile, Rope, Pistol w/holster, Knife, and Grenades.
Price: $19.99 – Buy Now!

WEEKLY SPECIAL – SHOP & SAVE $20!
Salute To The US Armed Forces
15% Off All NEW ORDERS of U.S. Figures Sets
Click HERE to Save!
Offer Expires May 31st at 6:00 pm (central).
New Orders Only! Must be ordered and paid by May 31st before our store closes for the day. Cannot be combined with any other special or discounted pricing.
Please note: Sale applies to in-stock as well as pre-orders.
The discount will automatically be applied at checkout.
---
NEW PRODUCTS ANNOUNCED:
---
INCOMING!
Note Regarding Arrival of Pre-Orders: If you have a pre-order for any of the items below, we will charge your credit card and ship as soon as possible. If you left instructions to be notified on arrival, please contact us right away by email or call toll free number 877-404-5637 to make shipment arrangements.
---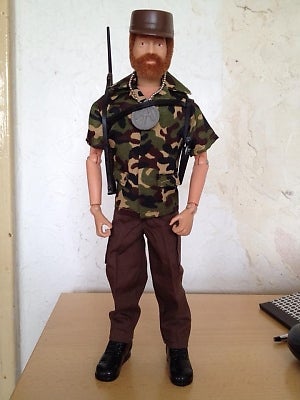 CUSTOM FIGURE OF THE WEEK
Back to Basics by Mart Jennings
Back To Basics themed uniform. Clothes etc. 100% Cotswold Collectibles plus new Gyperman rifle. Action Man 40th body, Elite Jake head and action hands.
Click HERE for larger pic.