By Scott Rubin
CLICK HERE FOR A STEAMFORGED GAMA PHOTO GALLERY TOUR!
Among tabletop gamers Steamforged Games is well known for its long running Guild Ball game that combines unique fantasy characters with fast-paced and fun sports action.  But to a larger video game audience the company is famous for its board game adaptation of Dark Souls.  The project was launched on Kickstarter and garnered the support of over 31,000 people pledging an excess of 4.5 million dollars!  Both games were on display at Steamforged Games' GAMA Trade Show 2017 booth along with plenty of helpful staffers going over all the details.
Guild Ball is set for a banner year as the game has been streamlined to make it easier than ever for new players to get in on the action and veterans to add more characters.  The Guild Ball "Kick Off!" starter box has everything you need for two people to start playing immediately with both Brewers and Masons teams represented by 12 pre-assembled plastic models, a 3×3 foot double-sided pitch board, rulebooks, tokens, cards, measuring tools and templates, dice, and more.  Games are fast and fun, lasting less than two hours, and you can expand your teams with other figures or get into other Guilds like the Alchemists, Morticians, and Butchers.  And while additional figures are currently metal miniatures Guild Ball is moving to all pre-assembled plastic minis this year with easy to collect and field packs of teams of 6.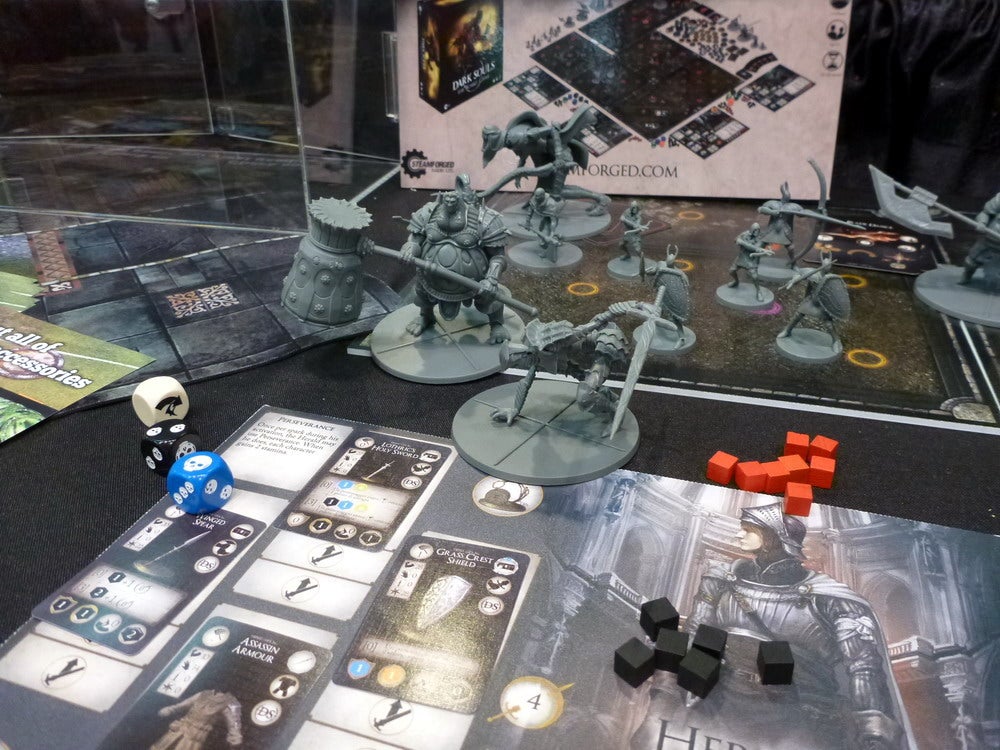 Meanwhile, Steamforged is on the cusp of releasing Dark Souls The Board Game next month and revolutionizing combat and exploration on the tabletop with a unique fighting system, random terrain generation that ensures no two games are ever the same, and of course fantastic miniatures of player characters and freaky monsters (27 in total).
–Scott Rubin
CLICK HERE FOR A STEAMFORGED GAMA PHOTO GALLERY TOUR!
---
Keep up with all the latest toy news by following Figures.com on Facebook and Twitter!
To buy action figures, take a look at MHToyShop, Hobby Link Japan, BigBadToyStore.com, TheToySource.com, Toynk.com, BriansToys.com, ToyWiz.com, and EntertainmentEarth.com.