DC Collectibles, the award winning line of collectibles – directly from the source – DC Entertainment, has revealed an exciting new lineup of statues, action figures and more ahead of New York Toy Fair. In 2017 DC Collectibles will debut a stunning 12'' statue line based on the highly anticipated Warner Bros. Pictures' film Justice League. DC Collectibles will also venture into new product categories by releasing its first-ever Batcave Vignette set inspired by the fan-favorite Batman: The Animated Series TV show. In addition, DC Collectibles will expand its highly articulated action figure offerings – adding new character designs for Batman, Harley Quinn, and Wonder Woman – to current bestselling lines, including DC Bombshells and DC Icons.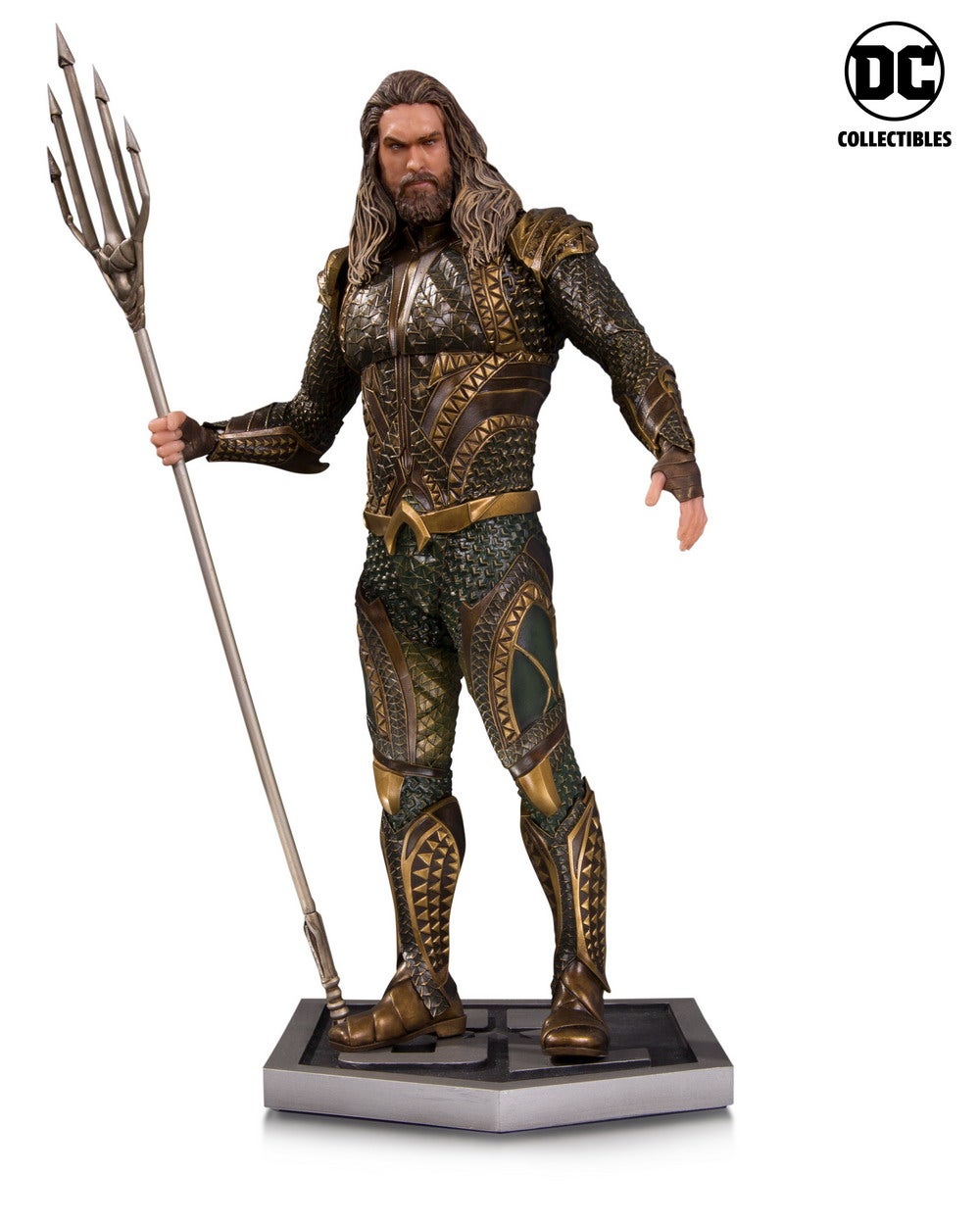 DC Collectibles' new Justice League statue line will allow fans to collect their favorite characters timed to the film's release. The first wave of statues hitting shelves in 2017 includes Ben Affleck's Batman, Henry Cavill's Superman, Gal Gadot's Wonder Woman, Jason Momoa's Aquaman, Ezra Miller's The Flash and Ray Fisher's Cyborg.
"Our new Justice League statue line was produced with unmatched craftsmanship and precise attention to detail and I think fans of these characters are going to be thrilled with the result," stated DC Collectibles Vice President, Kevin Kiniry.
DC Collectibles will also debut a massive 15.5"x 17"x 21" Batman Animated Batcave Vignette (pictured top) that will allow fans to recreate their favorite scenes from the award-winning show and showcase their treasured 6'' BTAS action figure collection. The Batcave will feature a special LED light-up Bat-Computer, interchangeable computer screen graphics and will include an exclusive Alfred action figure with unique accessories.
"The Batcave Vignette is a great example of how we're constantly looking for new ways to capture the most iconic and authentic moments from the DC Universe and reimagine them in three-dimensional form," stated DC Collectibles Executive Director, Creative, Jim Fletcher. "Now Batman: The Animated Series action figure collectors have an entirely new way to display and enhance their collections."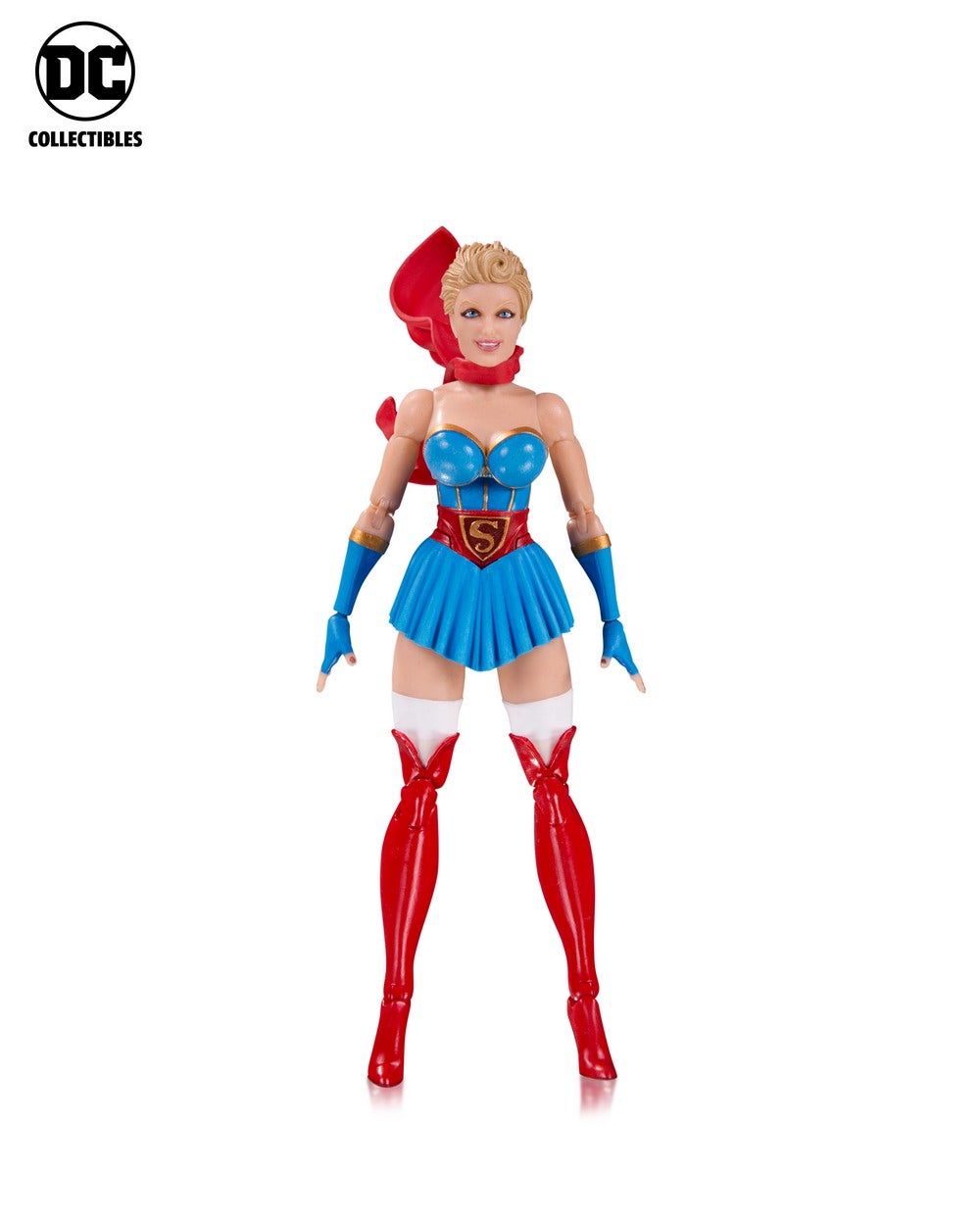 DC Collectibles also plans to expand its popular DC Bombshells collection with new DC heroines Supergirl, Batgirl, Mera, Katana, Hawkgirl, and Bumblebee as 6.75'' action figures in the DC Designer Series. In addition, the clown princess of crime Harley Quinn will once again be reimagined as a DC Bombshells statue, bringing the complete original Ant Lucia concept illustration to life as a deluxe 1940s-designed statue, standing at 12" tall. Joining Harley, Starfire is the newest character from the DC Universe to receive a bombshell makeover and will debut as a DC Bombshell statue in 2018.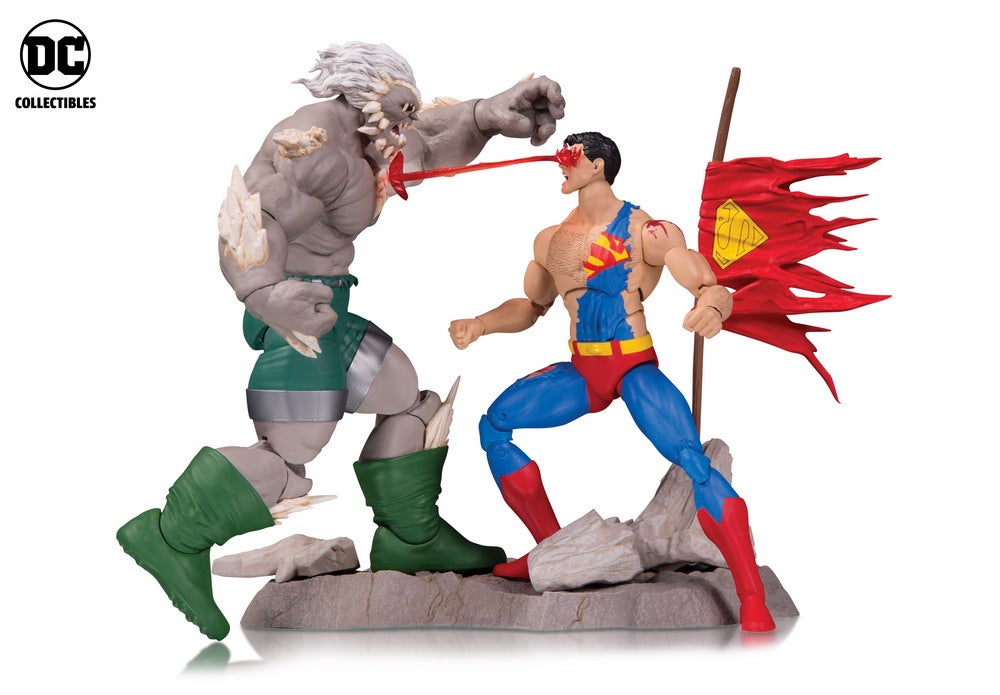 DC Collectibles will add several characters pulled straight from the pages of the bestselling DC UNIVERSE REBIRTH line of comic books to its fan-favorite DC Icons 6" action figure series. The new figures to follow the already announced Justice League action figure 7-pack include Robin and Superboy from the celebrated SUPER SONS comic book from Peter J. Tomasi and Jorge Jimenez, and Supergirl from the SUPERGIRL comic series by all-star creative team Ray McCarthy, Steve Orlando and Emanuela Lupacchino.
In addition to REBIRTH, the DC Icons action figure series will add characters from DC's iconic Hush and Doomsday comic storylines.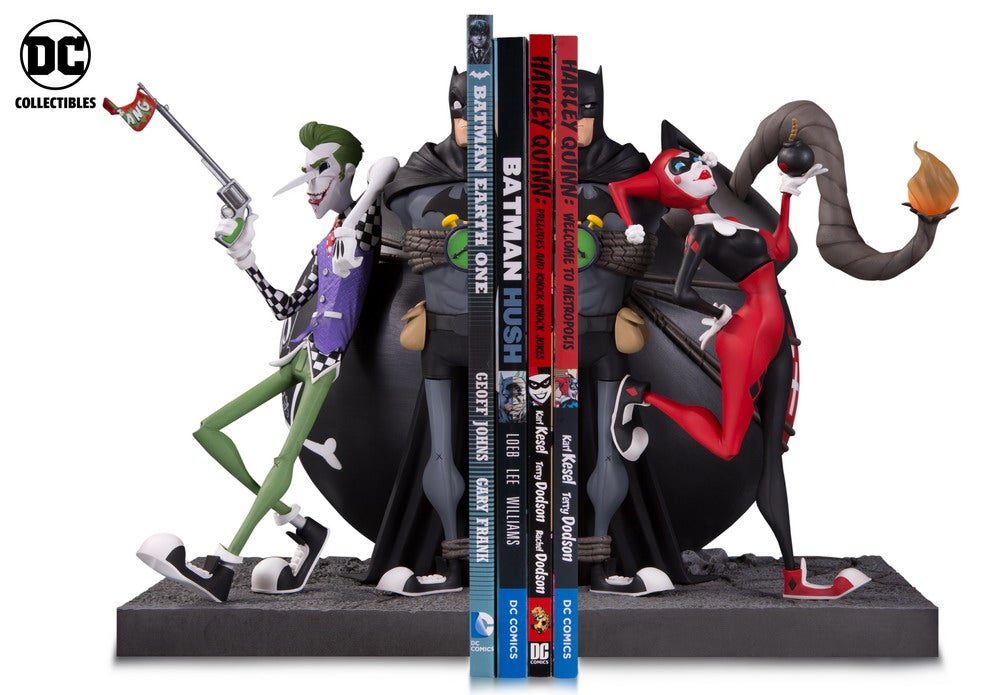 Other new products scheduled for 2017 include new lifestyle items such as The Joker and Harley Quinn Bookends, a working Bat-Signal prop replica, and a new Wonder Woman Bracelets with Lasso and Tiara prop replica set. Additions to DC Collectibles' longest running statue series, Batman: Black & White, are also on tap for 2017 and will feature designs from the comic book industry's top artists Amanda Connor and John Romita Jr., among others. Death from Vertigo and Neil Gaiman's acclaimed SANDMAN comic book series will also be brought to life as a DC Cover Girls statue.
DC Collectibles new product slate includes:
NEW LINE – Justice League Film 12'' Statues:
Tactical Suit Batman
Superman
Wonder Woman
Aquaman
The Flash
Cyborg
Batman: The Animated Series:
Batman Animated Batcave with Bat-Computer Vignette and Alfred Action Figure
DC Bombshells:
DC Designer Series by Ant Lucia 6.75'' Action Figures: Mera, Katana, Batgirl, Hawkgirl, Supergirl, Bumblebee
12'' Statues: Harley Quinn Deluxe, Starfire
DC Icons 6''Action Figures:
Supergirl- Rebirth – Robin & Superboy (SUPER SONS)- Rebirth Action Figure 2-Pack
Doomsday and Superman- Death Of Superman Action Figure 2-Pack
Nightwing- Hush
Batman: Black & White Statues:
Batman by Amanda Conner
Harley Quinn by Amanda Conner
Batman by John Romita Jr.
Batman by Jonathan Matthews
Medium Size Statues:
Batman vs Harley Quinn Battle Statue
Harley Red, White & Black Harley Quinn By Stanley "Artgerm" Lau
DC Cover Girls Death by Stanley Lau
New 2017 DC Collectibles
Keep up with all the latest toy news by following Figures.com on Facebook and Twitter!
To buy action figures, take a look at MHToyShop, Hobby Link Japan, BigBadToyStore.com, TheToySource.com, Toynk.com, BriansToys.com, ToyWiz.com, and EntertainmentEarth.com.