It's like Christmas all over again! Some new items shipped to comic book shops and specialty stores this week from Diamond Select Toys, both hotly anticipated! First up is the Alien Vinimates Vinyl Figure of the Big Chap from 1979. Next up are the Nightmare Before Christmas Santa Jack and Santa Sally dolls, available in solo coffins as well as in a limited edition double-wide with exclusive head sculpts. And finally, there's the full assortment of Plants vs. Zombies: Garden Warfare 2 Select Action Figures, with Rose, Super Brainz, Kernel Corn, Captain Deadbeard and more! Read on for details, then reserve yours at your local comic shop!
Alien Vinimates Big Chap Vinyl Figure
In space, no one can hear you scream with delight at the newest Alien Vinimates vinyl figure! This time, DST is revisiting the original 1979 film, to capture the original "Big Chap" Alien in the Minimates block-figure style. This 4-inch vinyl figure features an articulated neck, so you can customize his pose, and comes packaged in a full-color window box. (Item #NOV162418, SRP: $9.99)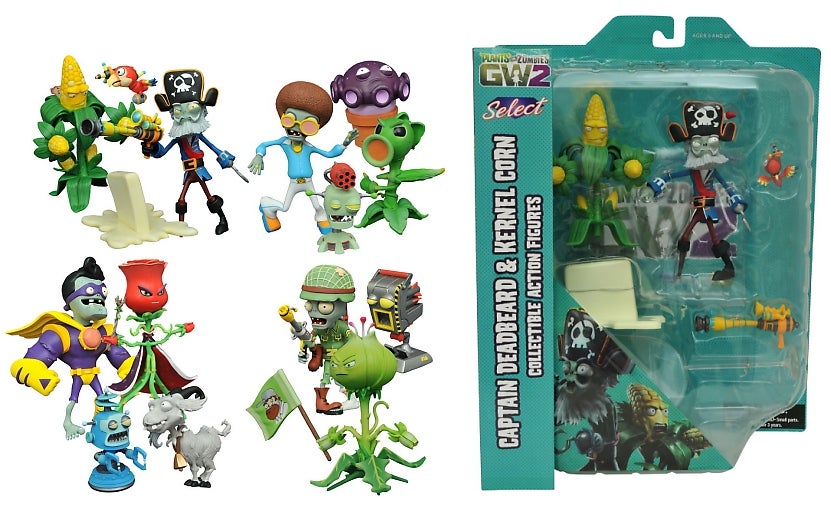 Plants Vs. Zombie: Garden Warfare 2 Select Action Figures Series 1 Asst.
It's the revenge of the vegetables! In the sequel to the hit game PvZ: Garden Warfare, the Plants are battling back against the victorious Zombies, and once again DST lets you bring the battle to your own backyard! This new assortment of four multi-packs includes Kernel Corn (with Butter Assault) vs. Captain Deadbeard (with Parrot Pal), Rose (with Debuffed Goat) vs. Super Brainz (with Electric Lightning Turret), Peashooter (with Toxic Shroom Turret) vs. Browncoat Disco Zombie (with Laser Turret), and Weed (with various accessories) vs. Soldier Zombie (with Rocket Turret). Each figure measures approximately 4-6" tall, and features multiple points of articulation, and each Plant-Zombie pair is packaged in display-ready Select packaging, with spine artwork for shelf reference. Sculpted by Oluf W. Hartvigson! (Item #JUL162603, SRP: $24.99/ea.)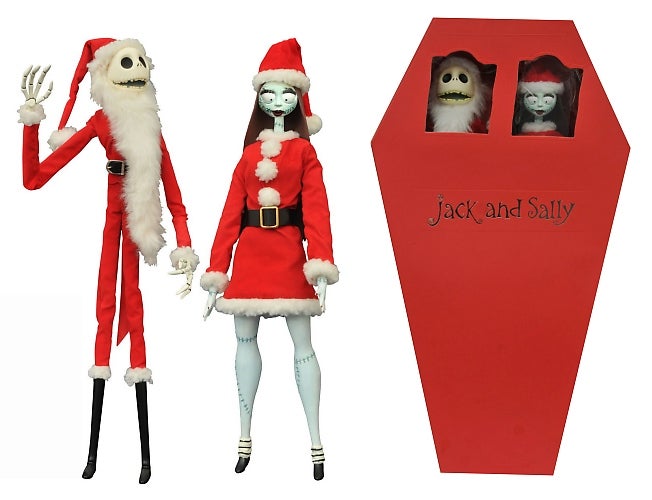 Nightmare Before Christmas Santa Jack Coffin Doll Unlimited Edition
The star of the stop-motion animation holiday classic Tim Burton's The Nightmare Before Christmas is back, and Christmas will never be the same! With an all-new head sculpt, this unlimited, single-packed 16" doll of Jack Skellington in his Santa Claus outfit features a real cloth costume over a fully poseable body, with 12 points of articulation. Packaged in a coffin-shaped window box! (Item #SEP162539, SRP: $49.99
Nightmare Before Christmas Santa Sally Coffin Doll Unlimited Edition
The leading lady of the stop-motion animation holiday classic Tim Burton's The Nightmare Before Christmas is back, and Christmas will never be the same! With an all-new head sculpt, this unlimited, single-packed 14" doll of Sally the Rag Doll in her Santa Claus outfit features a real cloth costume over a fully poseable body, with hidden internal articulation at the knees and elbows. Packaged in a coffin-shaped window box. (Item #AUG162564, SRP: $49.99)
New DST 2-15-17