Diamond Select Toys prides itself on offering the best of all worlds, and the newest offerings from DST come from a whole bunch of worlds! From the world of television, new figures from Gotham, iZombie and Luke Cage! From the world of comics, figures of Gwenpool, Lady Deadpool and Wolverine! From animation, new Catwoman and Aquaman collectibles! And from the movies, a new Back to the Future Time Machine! Read on for more info, and reserve yours at your local comic shop, or order online!
Back to the Future 2 Frozen Hover Time Machine Electronic Vehicle
Is it hot? No, it's ice cold! DST has upgraded their bestselling electronic 1:15 scale Time Machine from Back to the Future with the additions shown in Batck to the Future 2! Having just arrived in our time from 2015, this Version 2 Time Machine has adjustable hover wheels, the iconic Mr. Fusion fuel device, and a thin coating of "frost" over its entire surface, to replicate the effects of time travel. Vehicle measures approximately 14 inches long with opening gull-wing doors, and time-travel lights and sounds are triggered at the push of a button. Packaged in a full-color window box. (Item # DEC162558, SRP: $59.99)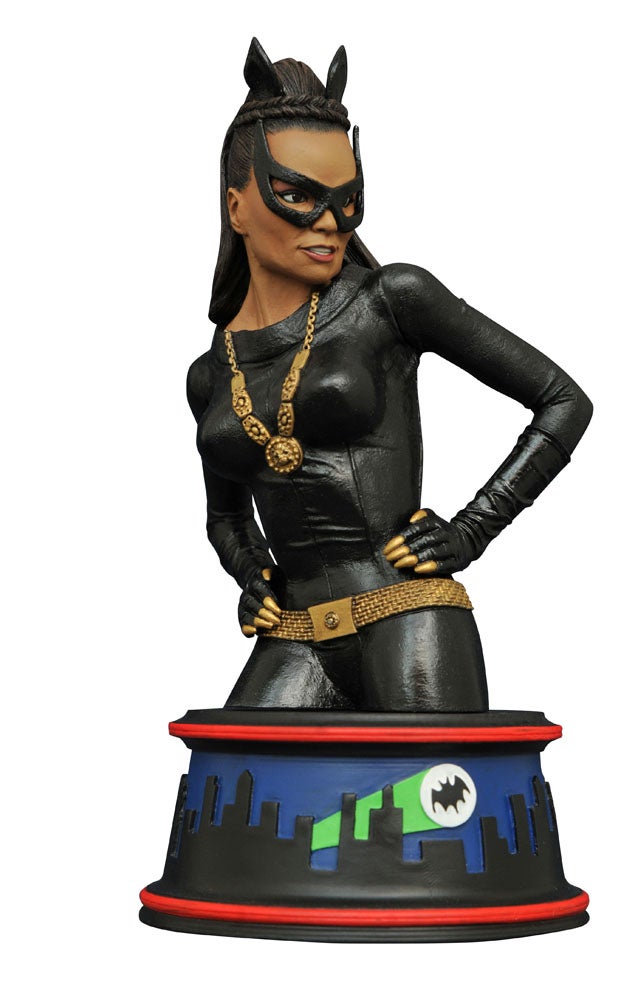 Batman Classic TV Series Catwoman Season 3 Bust
This tiger has changed its stripes! Like many of Batman's classic foes from the 1960s TV series, Catwoman underwent several metamorphoses over the run of the show, and in Season 3, she was played by sultry singer Eartha Kitt! This 6-inch-tall resin bust depicts Kitt as Catwoman, perched atop a colorful base inspired by the show's animated opening credits. It's the purr-fect addition to your Batman Classic TV Series bust collection! Packaged in a full-color box with a certificate of authenticity. Designed by Barry Bradfield! Sculpted by Jean St. Jean! (Item # DEC162560, SRP: $59.99)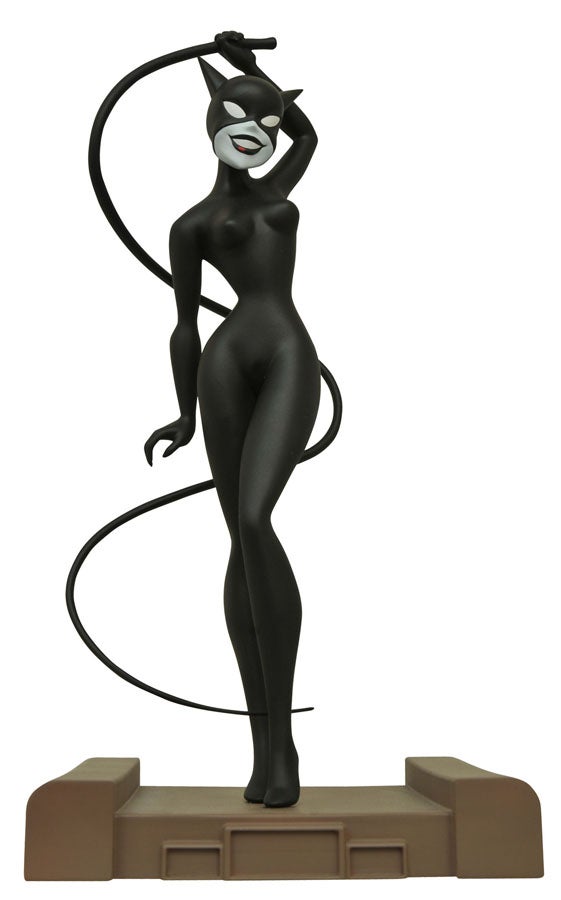 DC Gallery Batman New Adventures Catwoman PVC Diorama
We've never been more excited for a black cat to cross our path! This black-costumed rendition of Catwoman is based on her drastically different appearance in the fourth season of Batman: The Animated Series (titled New Batman Adventures). Standing approximately 10 inches tall, this all-new sculpt shows off her darker, more dangerous look, with pale skin and wielding a whip. This PVC figure features detailed sculpting and paint applications, and comes packaged in a full-color window box. Sculpted by Varner Studios! (Item # DEC162561, SRP: $45.00)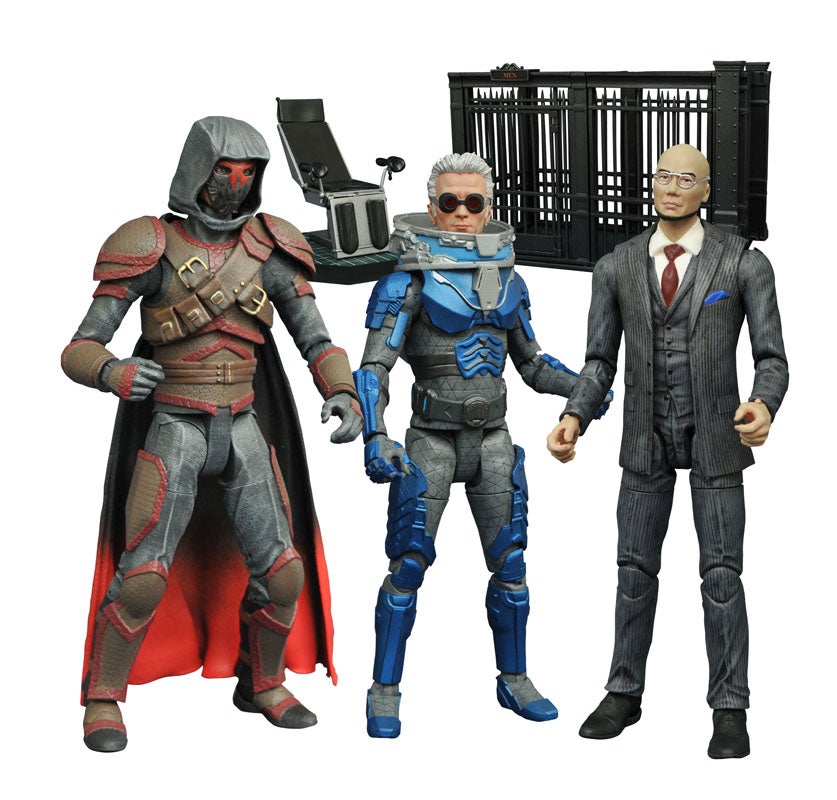 Gotham TV Select Action Figures Series 4 Asst
Just when you thought it was safe to go back to Gotham! The critically acclaimed action figure line based on the hit Fox TV series serves up the Wrath of the Villains, with three new 7" scale figures of Gotham's most dangerous men! Azrael, Mr. Freeze and Professor Hugo Strange each feature up to 16 points of articulation as well as character-appropriate accessories, and each comes with an awesome diorama piece inspired by the show! Hugo Strange comes with the conditioning chair from Arkham Asylum, and Freeze and Azrael each come with part of the jail cell from the Gotham City Police Department! Collect them both to build the diorama and put them in a cell where they belong! Packaged in the display-ready Select packaging with side panel artwork for shelf reference. Sculpted by Gentle Giant! (Item # DEC162557, SRP: $24.99/ea.)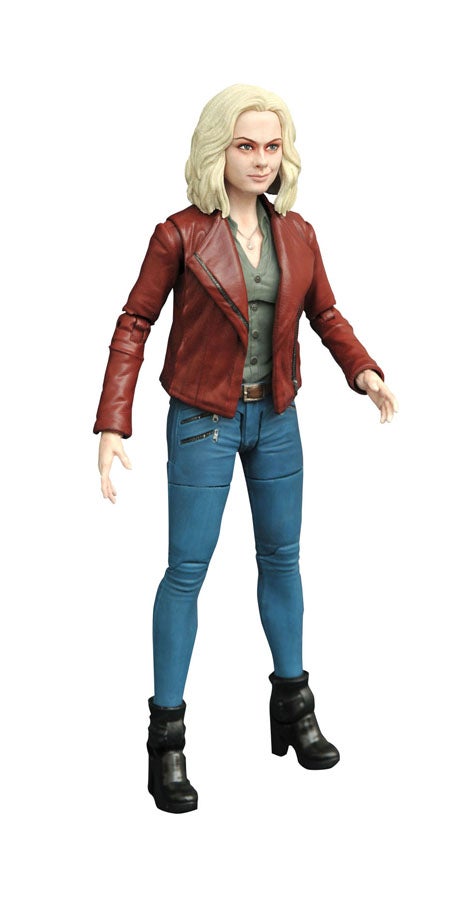 iZombie TV Liv Moore Season 2 Action Figure
Liv Moore is back from the dead! Again! The iZombie action figure line returns with an all-new Liv Moore action figure based on her appearance in Season 2! This new 6.5" action figure of TV's most popular undead medical examiner features a new outfit and head sculpt, plus all-new accessories taken straight from episodes of the show, including a phone, mug, purse, rat and more! This figure features approximately 16 points of articulation, and comes packaged in a full-color blister card. Sculpted by Gentle Giant! (Item # DEC162559, SRP: $19.99)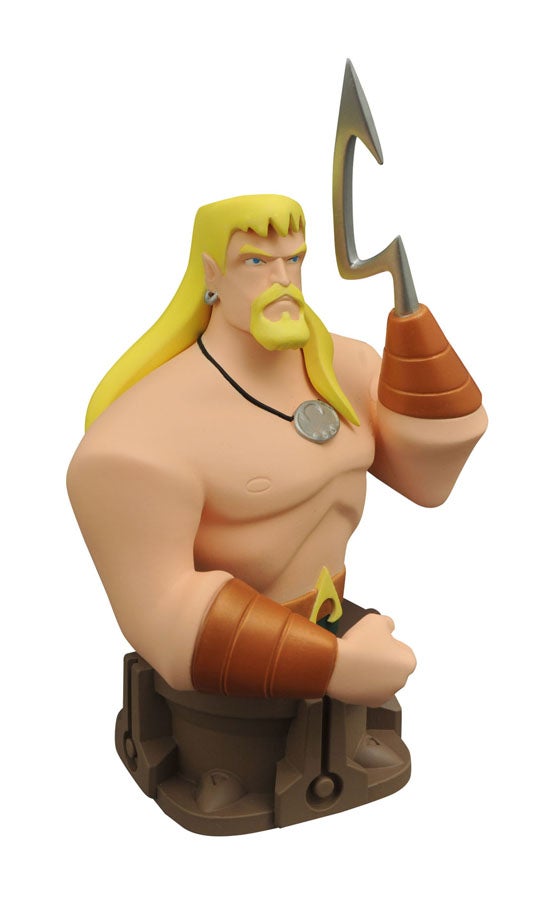 Justice League Animated Aquaman Resin Bust
All hail the king of Atlantis! Based on his appearance in the classic Justice League animated series, this 6.5-inch resin bust of Arthur Curry, a.k.a. Aquaman, features detailed sculpting and paint, The part-time Justice Leaguer and full-time monarch of the Seven Seas sits atop a pedestal base inspired by the League's Watchtower satellite. Limited to 3,000 pieces, it comes packaged in a full-color box with a certificate of authenticity. Sculpted by Varner Studios! (Item # DEC162563, SRP: $59.99)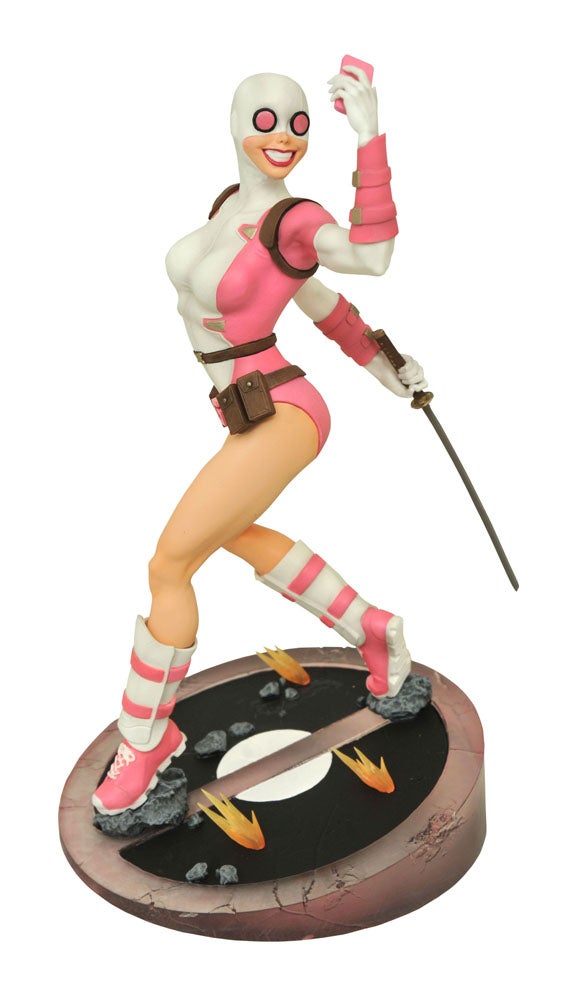 Marvel Gallery Gwenpool PVC Diorama
When Gwenpool takes a selfie, it's time to practice your selfie-defense! Coming from a world where everyone in the Marvel Universe is just a comic book character, Gwen Poole is a rookie mercenary on the rise, and she feels no guilt when her targets are fictional! This 9-inch sculpture, the first merchandise ever made of the hot new character, is made out of PVC plastic and features detailed sculpting and paint, atop a circular Gwenpool logo base. In scale to all Gallery and Femme Fatales PVC figures, Gwenpool comes packaged in a full-color window box. Sculpted by Alejandro Pereira! (Item # DEC162562, SRP: $45.00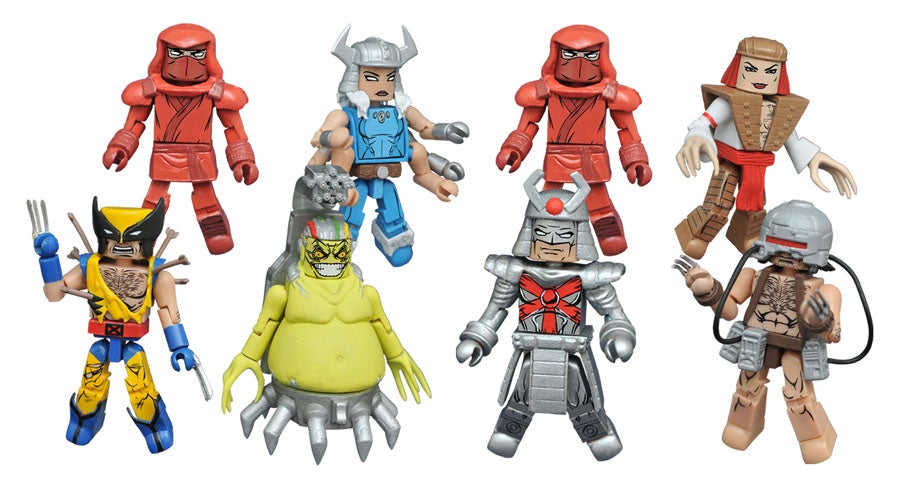 Marvel Minimates Series 72 Wolverine Comic Asst.
Wolverine is the best he is at what he does, and his enemies aren't bad at it, either! This all-new assortment of Marvel Minimates is based on the rich comic book history of Logan, a.k.a. Wolverine, and features four different two-packs: Weapon X Wolverine vs. Lady Deathstrike, the first-ever Minimates of Mojo and Spiral, Ninja Attack Wolverine vs. a Hand Ninja, and the Silver Samurai vs. a Hand Ninja! Each 2-inch mini-figure features up to 14 points of articulation and fully interchangeable parts, including removable helmets, armor and weapons! Each 2-pack comes packaged in a full-color window box. (Item # DEC162568, SRP $9.99/ea.)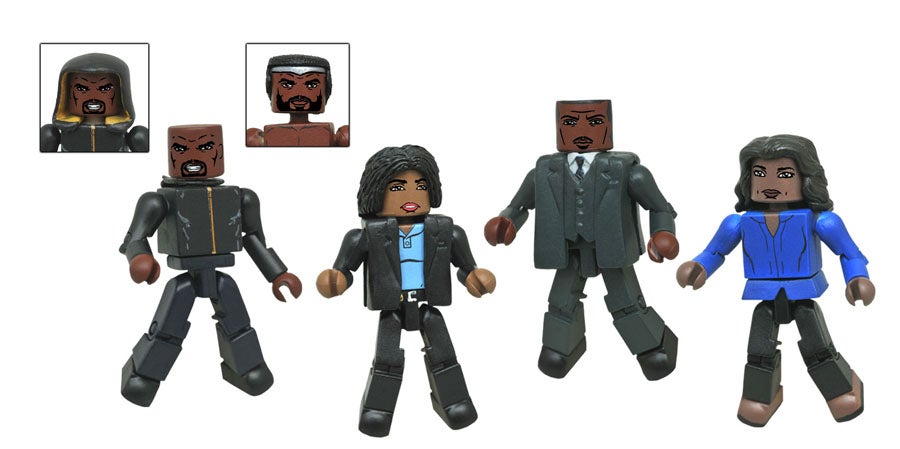 Marvel Minimates Luke Cage TV Series 1 Box Set
Say his name! The newest Marvel TV star is Luke Cage, a.k.a. Power Man, and the Marvel Minimates line is celebrating the release of his first season with a box set of Minimates based on the Netflix series! Luke Cage, Misty Knight, Cottonmouth and Mariah Dillard each measure approximately 2 inches tall and feature up to 14 points of articulation. Each figure features interchangeable parts and accessories, and Luke Cage can transform from his hooded streetwear to his post-experiment Power Man look! Figures come packaged in a full-color window box. (Item # DEC162569, SRP: $24.99)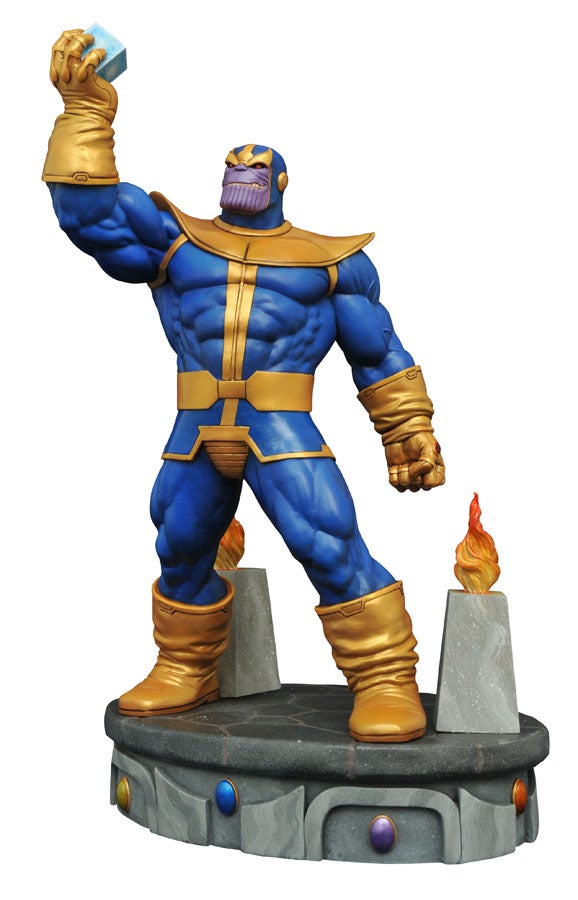 Marvel Premier Collection Thanos Statue
The Mad Titan stands triumphant! With the Cosmic Cube in one raised hand and the Infinity Gauntlet on the other, there is no whim that cannot be granted to Thanos of Titan. This approximately 12" tall statue of Thanos shows him at his most powerful, wearing his classic costume, and places him atop a diorama base. Limited to only 3,000 pieces, this statue includes an interchangeable clenched right fist, without the Cosmic Cube. Statue comes packaged in a full-color box with a certificate of authenticity. Sculpted by Clayburn Moore! (Item# DEC162576, SRP: $150.00)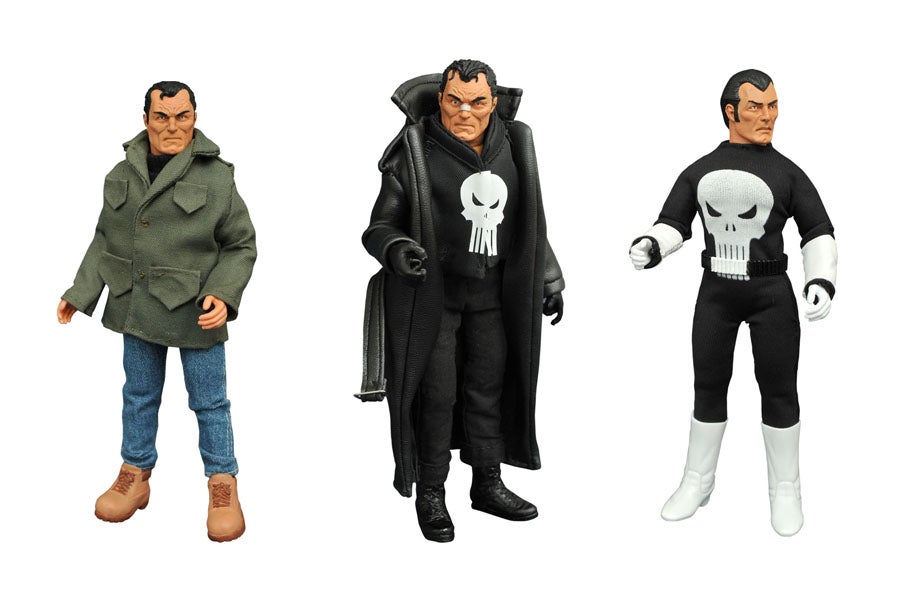 Marvel Retro Cloth Punisher Action Figure Gift Set
Is the Marvel Retro line ready for…The Punisher?! Never released in the classic Mego toy line of yester-year, violent vigilante The Punisher is the latest Marvel character to get the 8-inch Retro action figure treatment from DST! This gift set features one classically-styled white-gloved Punisher figure, in a vintage-style box, plus two additional heads and outfits: a bandaged head with a trenchcoat and bullet-proof vest, and the civilian streetwear of veteran Frank Castle! With interchangeable heads, hands, costumes and accessories, you can display your Punisher however you want! Packaged in a full-color gift tray! Designed and sculpted by EMCE Toys! (Item# DEC162577, SRP: $80.00)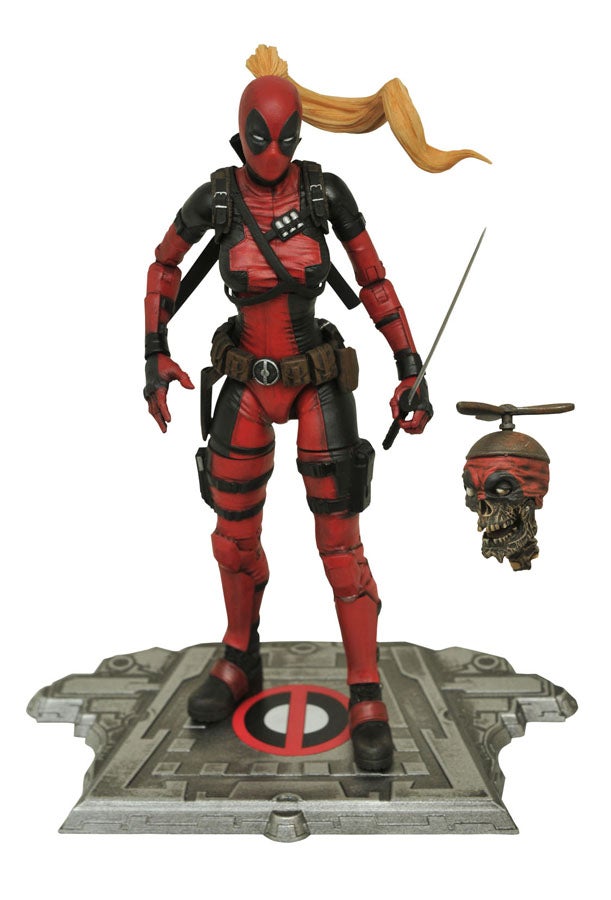 Marvel Select Lady Deadpool Action Figure
The Marvel Select line just got a lot more lethal! The Deadpool from parallel Earth-3010, Wanda Wilson is a part of the rebellion against a fascistic US government, but she's just as deadly as her 616 counterpart! This approximately 6.5" action figure features 16 points of articulation, as well as a diorama base and accessories including swords, a bazooka and Headpool! (Item # DEC162578, SRP: $24.99)
New DST For 2017
Keep up with all the latest toy news by following Figures.com on Facebook and Twitter!
To buy action figures, take a look at BigBadToyStore.com, TheToySource.com, Toynk.com, BriansToys.com, ToyWiz.com, and EntertainmentEarth.com.